The Toronto Blue Jays aren't known as a particularly fast team.
Speed's rarely the best attribute of rosters that skew older, and seven of the nine players in the Blue Jays' current starting lineup are over 30. There are no illusions about the foot speed of a club that ranks 22nd in baseball in stolen bases.
Still, until now, team speed has only been discussed in general terms. But thanks to sprint speed data released by Statcast and MLB Tuesday, we can now assess the Blue Jays' position players' speed with more precision than ever before.
The results confirm what the eye test suggests: the Blue Jays have an especially slow team, relative to the rest of the league. While Ezequiel Carrera and Kevin Pillar bring above-average speed to the outfield, the rest of the club's regulars are average or worse.
In fact, there are three positions at which the Blue Jays feature the slowest runner in the major-leagues: right field (Jose Bautista), shortstop (Troy Tulowitzki) and first base (Justin Smoak). Kendrys Morales, meanwhile, ranks third-last among designated hitters, ahead of Albert Pujols and Victor Martinez.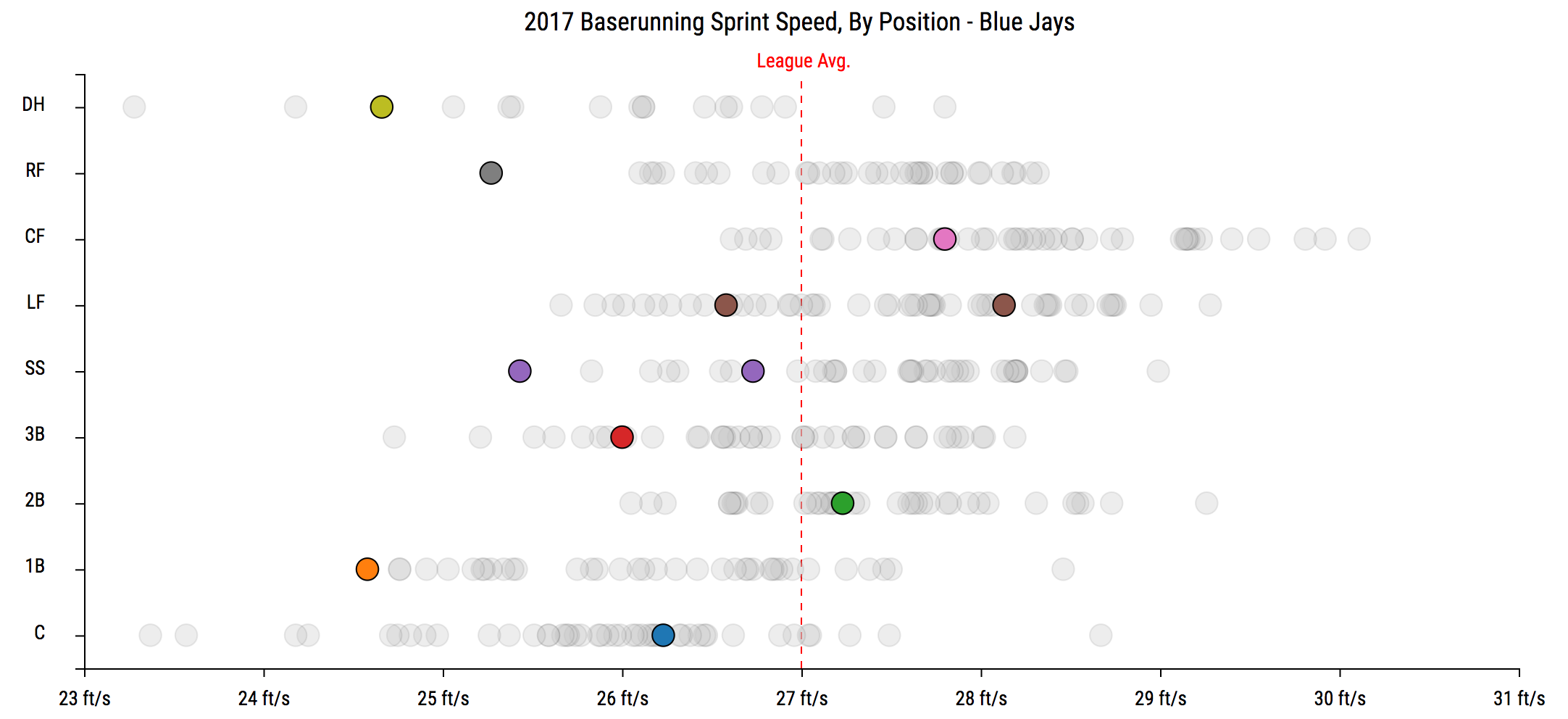 That said, the goal is to win baseball games, not footraces, and the Blue Jays reached the ALCS in each of the last two years even while relying on older players. A bigger reason for the Blue Jays' slow start: an offence that ranks 25th among the 30 teams in runs scored.
| Player | Position | Sprint Speed (ft / sec)  |
| --- | --- | --- |
| Ezequiel Carrera | LF | 28.1 |
| Kevin Pillar | CF | 27.8 |
| Devon Travis | 2B | 27.2 |
| Ryan Goins | SS | 26.7 |
| Steve Pearce | LF | 26.6 |
| Russell Martin | C | 26.2 |
| Josh Donaldson | 3B | 26.0 |
| Troy Tulowitzki | SS | 25.4 |
| Jose Bautista | RF | 25.3 |
| Kendrys Morales | DH | 24.7 |
| Justin Smoak | 1B | 24.6 |
Statcast's description of the new foot speed metric: "feet per second in a player's fastest one-second window." The Major League average on a "max effort" play is 27 ft/sec, and the max effort range is roughly from 23 ft/sec (poor) to 30 ft/sec (elite). A player must have at least 10 max effort runs to qualify for this leaderboard.