DUNEDIN, Fla. – This time last year, Dalton Pompey focused his attention on one goal: making the Toronto Blue Jays' roster. He did it, earning the starting centre field job, but the success didn't last. Two months later, he was in double-A.
This year, Pompey still wants to make the team, but his perspective has shifted. He now realizes the danger of focusing too much on the opening day roster and knows it's a matter of when, not if he'll contribute. As a result, this spring training has been different.
"I put a lot of emphasis last spring on making the team and that's what I did, but after that I really didn't have a plan," Pompey said. "It was like I made the team and then 'what now?' Now I have a different outlook. You use (spring training) as preparation for the season and when the season hits it's go time. That's what I'm trying to lead up to this time around, mentally and physically."
Pompey may need to be patient, since the Blue Jays want him playing every day. That means he's slated to return to triple-A Buffalo as long as Michael Saunders stays healthy.
"If he's not an everyday player right now, especially at the beginning of the season, he needs to be playing," manager John Gibbons said. "Otherwise you stunt the growth a little bit, since he's that young and he's still polishing his game. That makes the most sense to me. He's got a chance to be really good. He needs to be playing one way or the other."
The Blue Jays used 40 position players and 28 pitchers last year. In the course of the upcoming season, they will need more than four outfielders, so even if they break camp with Ezequiel Carrera, Junior Lake or Domonic Brown as the bench outfielder, Pompey's positioned to get his chances eventually.
"For me mentally it's not if it's going to happen, it's when it's going to happen," Pompey said. "That's the mindset that I've taken. Even if it's not now, at the beginning of the season, I know it'll be at some point because like everybody's been saying, it doesn't take 25 guys, it usually takes 35, 40, 45 guys throughout the season."
It'd be understandable if the Blue Jays were tempted to break camp with Pompey given his speed and potential. He showed during last year's postseason run that he can impact games even if he's not starting.
That said, there's a reasonable argument to be made that he should open the season at triple-A. Still 23 years old, Pompey has limited experience in the upper minors. Before last year he'd never even been invited to big league spring training. He's never been a bench player for an extended period, and if he's playing just once or twice a week, the dropoff to another outfielder wouldn't be that steep. Pompey appreciates that it adds up to a dilemma for Blue Jays decision makers: take advantage of the skills he offers now, or prioritize future development.
"Anyone's going to tell you they want to play every day, but at the same time everyone wants to be in the big leagues in whatever capacity they can," Pompey said. "Ask me in five years what I'd rather have done and I'll have a better answer."
It's significant that Pompey ended the 2015 season on a positive note, contributing as a base-stealing specialist in the playoffs.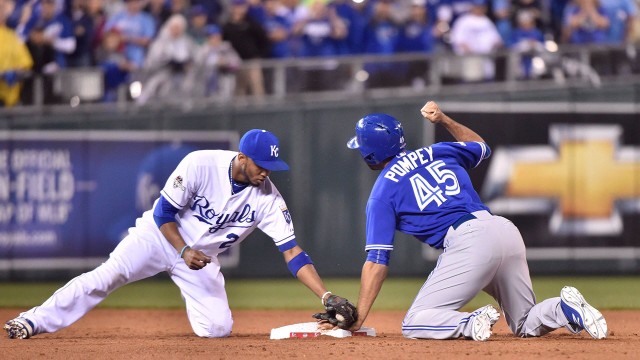 Tim Raines, who made his big-league debut in a similar role, knows first-hand the stress young players feel until they enjoy some success. Raines, the Blue Jays' roving outfield and baserunning coordinator, recalls feeling immense relief after walking, stealing and scoring from second on a wild pitch as a rookie with the Montreal Expos.
"It alleviates doubts. Until you do it you're going to have doubts, especially as a young player," Raines said. "Even the players that are up there wonder 'this guy must be pretty good, he's up here with us, so show me what you've got, young man.'"
No one's asking Pompey to replicate Raines' Hall of Fame calibre career. But Raines sees All-Star potential when he watches Pompey. There's impact speed, switch-hitting ability, some power.
Even so, Raines believes Pompey's outfield routes need work. And the 56-year-old knows it's a challenge for the Mississauga-born outfielder adapt to the demands of big league baseball, especially while playing so close to home.
"A lot of things happened real fast for him," Raines said. "Once you get to the big leagues it's a totally different kind of situation. There are so many other distractions and expectations even before you step on the field."
Handling those distractions becomes a little easier for Pompey, if only because he's gone through the highs and lows of an entire big-league season. He's encouraged by teammates like Chris Colabello, who established himself as a big leaguer despite being removed from the Blue Jays' roster last February.
"I realized last year just because you earn a starting role doesn't mean you're going to have it for the whole season," Pompey said. "You see guys like Colabello who are designated before the season and he came back after a month and he's been here ever since. I'm not too worried about it."
Saunders' injury created space for Pompey and Kevin Pillar last year. There's no obvious opening this season, but Raines says Pompey should still play as though there's a job at stake.
"If I'm him I'm going out there to say 'OK, I made the team last year and it was kind of given to me," Raines said. "This year I'm going to earn it."
"Now it's almost like starting all over again," Raines continued. "Maybe he's thinking there's no chance he's going to make the team because Saunders has already made the team, 'there's no room for me so I know it's not going to happen.' But I think a lot of times if they put themselves in that situation, they're not going to go out and compete. He might not think he has to compete for that job, when in actuality he is competing."
The challenge for Pompey will be balancing the need to impress Blue Jays decision makers with the need to pace himself. To avoid a repeat of last year's early-season struggles, Pompey intends to use the spring to train, not as an extended tryout camp. That'll leave the Blue Jays with a decision to make.
"It's up to him now to prove that he belongs and that he doesn't belong in the minor leagues," Raines said. "In order to do that, he has to go back to the minor leagues if it happens that way and prove that 'I'm too good for this.' Force their hand. Show them you're better than anyone in triple-A."
Pompey may be asked to do just that. This time he'll be better prepared for the challenge.