TORONTO — As Joe Biagini watched the video of his outing Friday night—back in the Toronto Blue Jays clubhouse while his team was still playing, and losing, 11-4 to the Chicago White Sox—the problems he felt on the mound were staring him right in the face.
He wasn't staying within his mechanics. His head was pulling off early as he delivered his pitches. A pitcher's mechanics can be like dominos, a wobble in one area affecting the next. And so, as his head pulled off early, he stated yanking the ball, which was why so many of his pitches ended up well below the strike zone.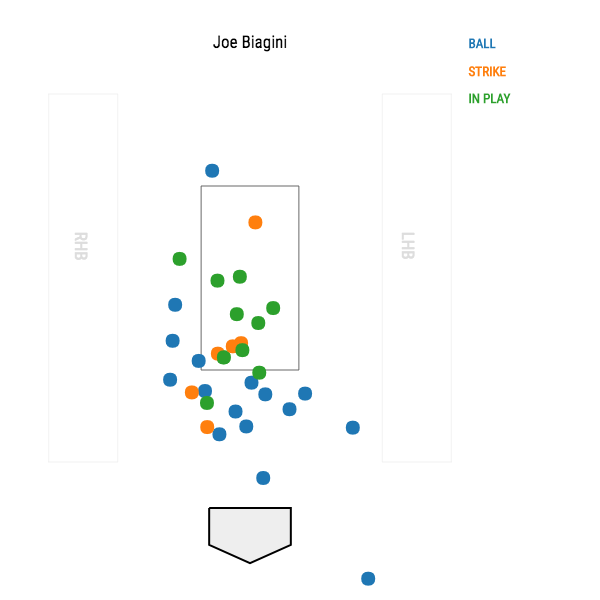 Source: Baseball Savant
It's also why, as he attempted to make an adjustment and find his groove, the pitches he tried to throw further up caught far too much plate. This lit up the eyes of White Sox hitters, all of them in the big leagues because they don't miss.
The mechanical issue is something Biagini struggled mightily with when he was in his early 20s and climbing the minor-league ranks in the San Francisco Giants organization. He worked diligently to learn ways to tame the flaw and eliminate it from his delivery. But, as was the case Friday night, sometimes the issue reappears.
"Every once and a while it kind of flares up a little bit," Biagini said. "Obviously, that's frustrating because you want to give yourself the best chance any time you step on the mound. But sometimes it's hard to tell that's going to happen until you actually get out there. So, I'm quite frustrated with that."
As a younger man, Biagini would overthink on the mound when his mechanics were off, and get in his own head as he tried everything he could to correct his delivery. Now, he knows it's best to keep things simple and continue to attack—best not to make sweeping adjustments but to try to fine tune small areas to lessen the damage and keep his team in the game.
But Biagini couldn't find that groove Friday. He left the game after recording only three outs. New career highs in hits and runs allowed were set. The majority of pitches were thrown either well off the plate or right over it. A soft grounder to the left of the mound was air mailed nearly into the first row of seats.
"Obviously, he was off—there's no question about that," said Blue Jays manager John Gibbons. "He just had trouble throwing strikes. I've never seen that out of him before.
"I just think it was one of those outings. That's the way it goes sometimes. He's been so damn good."
After letting the first two batters of the game reach and going 3-0 to Jose Abreu, Biagini gave in, laying a 94-m.p.h. fastball over the heart of the plate that the White Sox slugger crushed to the wall in right field.
Jose Bautista tried to make a play on the ball but ran out of room, letting it carom off the wall and roll nearly halfway back to the infield as he chased after it. That allowed both runners to score and Abreu to cruise into third with a triple as Blue Jays pitching coach Pete Walker emerged from the dugout to talk to his struggling starter.
Biagini got a couple outs on a ground ball and a sacrifice fly, but then left a 2-0 change-up right over the heart of the plate to Matt Davidson, who roped it into the left-field corner. Two pitches later, Tim Anderson hit a dribbler back to Biagini, but the starter rushed his throw to first, sailing the ball well over Justin Smoak's head, which let Davidson score and Anderson take second.
A ground ball mercifully got Biagini out of the first, but the second began with back-to-back singles, which got Dominic Leone up and throwing in the left-field bullpen for the second time in as many innings. Biagini's very next pitch, a curveball to Melky Cabrera, was hit to the wall in right-centre, scoring both runners. The pitch after that, a cutter to Abreu, was—you guessed it—hit to the wall in right-centre, scoring Cabrera with Chicago's seventh run.
That was the end for Biagini, who faced 12 batters, giving up hits to eight of them and walking another. The boos he received from the Rogers Centre crowd were entirely undeserved considering how strong and reliable Biagini has been since joining the Blue Jays for the beginning of the 2016 season. But there is no questioning that on a humid night under an open roof, Biagini was labouring.
And that happens from time to time for even the best starters in the game. Biagini says it's nice to at least know what was causing him problems, and to have a clear idea of how to clean up the issue and have a better outing his next time out. It'll help him get over what wasn't only his worst start since joining the Blue Jays rotation in early May, but likely the worst appearance of his major-league career.
"I've really been trying to locate my pitches well as a starter, be efficient, and be down in the zone. And I think that that kind of contributed to me kind of pulling off the ball a little bit," Biagini said. "Hopefully I don't waste this opportunity to learn from that.
"I think all the frustration can be channelled into improving yourself for the next time and making sure that doesn't happen again."
With Biagini recording only three outs, Gibbons needed 24 from his bullpen. He got three innings out of Dominic Leone on 44 pitches. Jeff Beliveau was good for a frame, throwing 28 pitches in the fifth and giving up a two-out, three-run homer to Cabrera in the process.
Jason Grilli chipped in a clean sixth; Aaron Loup, a clean seventh. Ryan Tepera and Danny Barnes carried the game to the finish line, meaning the high-leverage tandem of Joe Smith and Roberto Osuna were the only bullpen arms not to see action.
A night like that can often put a bullpen in a stressful position going forward, especially with Saturday's 1 p.m. start presenting a very quick turnaround. But with the Blue Jays enjoying three off-days over their last week and a half, Gibbons said many of his relievers were actually in need of work.
"It's a fine line. You don't want to overdo it. They can sit there for too long and lose their feel," Gibbons said. "If there's anything positive, it's that those guys got some work."
Meanwhile, the Blue Jays offence struggled to get anything going against White Sox starter Jose Quintana, the normally excellent left-hander who has struggled mightily this season, carrying a 5.30 ERA into the night.
Kendrys Morales hit his 14th homer of the season in the second, hammering a 1-0 fastball 417-feet into the outfield seats. And Steve Pearce homered in his first major-league at-bat in more than a month, bending an elevated Quintana fastball just over the wall in left for a solo shot in the third.
Pearce nearly scored another run in the fifth, but was thrown out at the plate on a strong throw from left field by Cabrera. A two-on, none-out situation in the sixth went up in flames when Bautista grounded into a double play and Morales flew out to centre. Russell Martin crushed a Quintana fastball back up the middle in the seventh, but watched as the pitcher snared it and quickly doubled off Tulowitzki at first.
Justin Smoak's 19th homer of the year, a two-run shot with two-out in the bottom of the ninth, was consolation on a grim evening.
It was that kind of night for the Blue Jays—one when promising situations quickly slipped through their grasp. And that kind of night for Biagini, who, for the first time in his six weeks in the Blue Jays rotation, never looked comfortable on the mound. But, as always, there are silver linings. And for Biagini, it's that he knows what was wrong. And he knows how the fix it.
"There's something positive that you can take away from every time that you play," Biagini said. "And maybe the one for today is that I can be confident that I know what needs to be addressed and I have made that adjustment before. And I want to use the past experience and the current knowledge of what's going on to make that adjustment as quickly as I can."