The Toronto Blue Jays played their share of meaningless games from 1994 to 2014. In those two-plus decades between playoff appearances, the Blue Jays were often out of contention by September, or even August.
Since Josh Donaldson arrived in Toronto that's changed. With Donaldson in uniform the Blue Jays have yet to play a single game that doesn't count. It's all mattered, from opening day to the ALCS.
That consistency is an endorsement of Donaldson's play — the Blue Jays wouldn't win as often without him — and yet it doesn't allow for much perspective. When the stakes are high every day, there are fewer occasions for big-picture reflection.
In Donaldson's case, those daily contributions add up in a meaningful way. After hitting 28 per cent better than league average in Oakland (128 wRC+), he has produced at an elite level since arriving in Toronto (153 wRC+). Consider his baserunning (14 steals in 15 attempts) and defence (+16 runs on FanGraphs), and you get a player who contributes in all facets of the game.
Since joining the Blue Jays, Donaldson has been the second-most valuable player in baseball. Only Mike Trout, the no-question-about-it best player in the game, has generated more wins above replacement.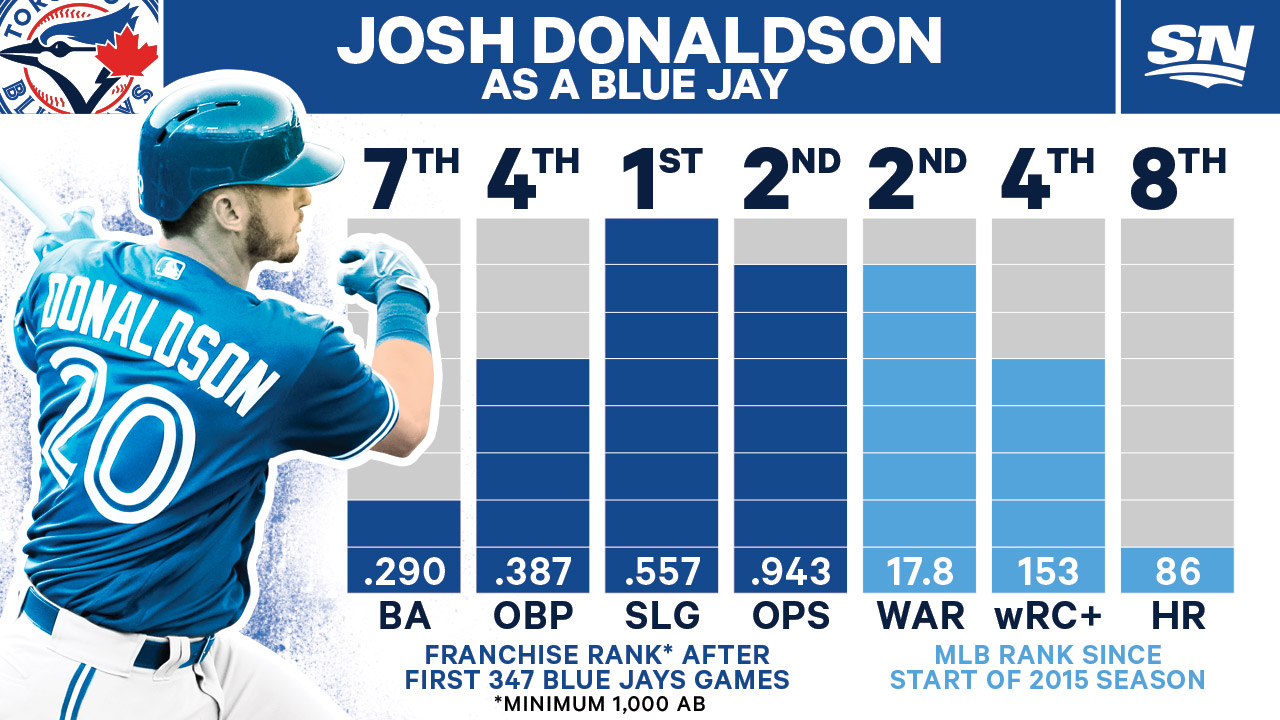 Then there's Donaldson's place in Blue Jays history. In just two-plus seasons, the third baseman has already established himself as one of the top offensive producers in franchise history. He ranks among the leaders in batting average and on-base percentage, and owns the highest slugging percentage of any hitter to bat 1,000 times for the Blue Jays.
Those numbers don't include Donaldson's 20 playoff games, but he has a .325/.402/.597 line in the post-season and a memorable head-first slide to cap off the Blue Jays' 2016 ALDS win over the Texas Rangers.
Where does Josh Donaldson rank among the 40 greatest Blue Jays of all time? Have your say by clicking here.
---
By this point there's no questioning Donaldson's importance to the franchise. He may have played fewer games in a Blue Jays uniform than J.P. Arencibia or Colby Rasmus, but he has already had a lasting impact in Toronto.