Human beings suffer from a curse. When presented with complex sets of circumstances, we're obsessed with finding the simplest answer. Some shaving guy even coined a term to explain this phenomenon. The problem with this obsession with simplicity is that it can sometimes lead us to the wrong answer.
So it goes with our understanding of baseball. It's a complex game full of bewildering statistics. It's also not always played on a level playing field. A base hit off one pitcher can be a lot tougher than one off another. A home run in one ballpark can be a relative breeze compared to its stingier counterpart. Amid all that statistical and context-based noise, we try our best to make sense of it — numbers, players, and legacies.
This is what can lead us to big, red-line conclusions that make our way of thinking much easier. Like this one: Hitters who spent big chunks of their careers playing their home games at Coors Field have no business making the Hall of Fame.
To many voters, this is the crux of the argument against Larry Walker. The Maple Ridge, B.C. native played 9 1/2 of his 17 big-league seasons and 1170 of his 1988 games with the Rockies. His raw numbers look a lot better in Colorado than they do during his six seasons with the Expos and year and a half with the Cardinals. Therefore, he's not a Hall of Famer.
Walker made the all-star game five times… four as a Rockie. He won three batting titles… all three as a Rockie. He led the league in on-base percentage and slugging twice… both times as a Rockie. He won one home-run title… and it happened as a Rockie. And he won one Most Valuable Player award… you guessed it, as a Rockie.
Check out his numbers for each of his three teams.
COL: .334 AVG/.426 OBP/.618 SLG / 36 HR, 117 RBI, 124 R per 162 games
STL: .286 AVG/.387 OBP/.520 SLG / 29 HR, 89 RBI, 107 R per 162 games
MON: .281 AVG/.357 OBP/.483 SLG / 24 HR, 92 RBI, 88 R per 162 games
There's no question that Walker benefited from the mile-high altitude at Coors Field. Looking at the raw numbers above, we see a very good player in Montreal who becomes a superstar in Colorado. And if Walker's simply leaning on home cooking to put up elite numbers, by that logic he shouldn't get to stand alongside Mays, Mantle, and the rest in Cooperstown .
This is far too simple an argument. Moreover, it's one that completely misses the mark on Walker. We can account for Coors Field as an accelerator for offensive numbers, weigh all of his career contributions, and arrive at the correction conclusion: He absolutely belongs in the Hall of Fame.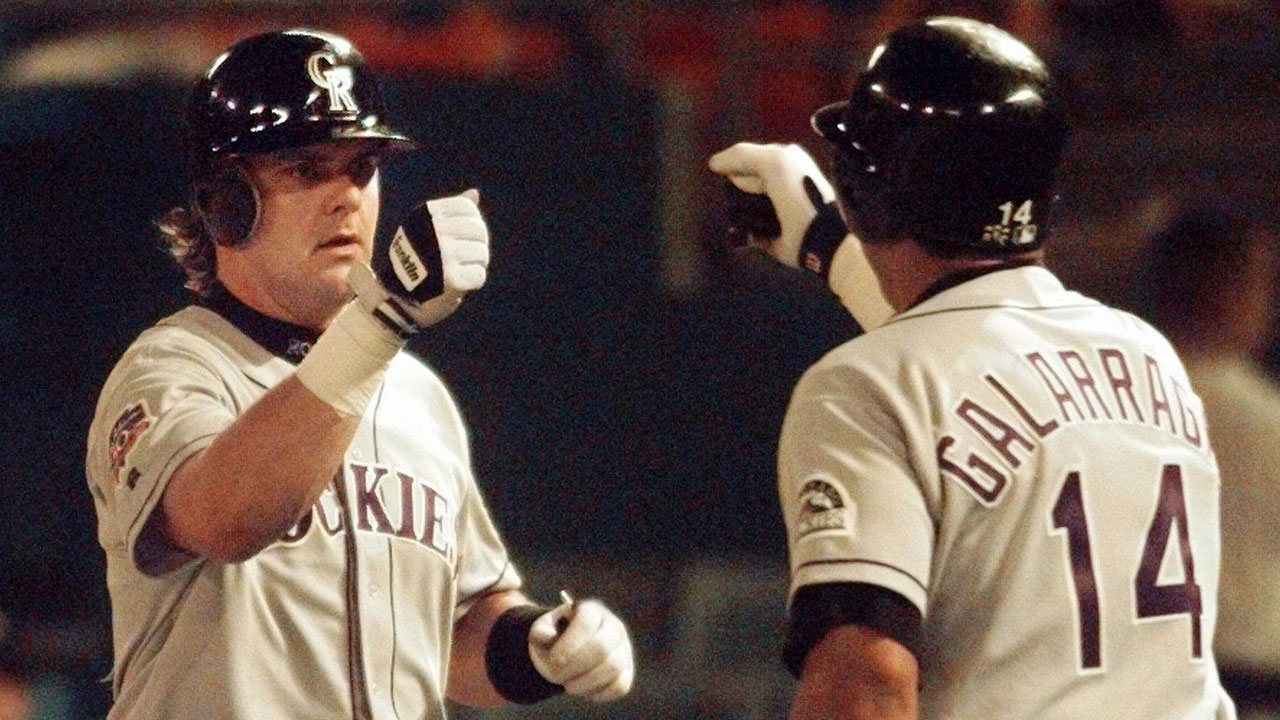 First, consider that Walker spent much of the prime of his career as a Rockie. After a monster '94 campaign with the Expos, he spent his first year in Colorado as a 28-year-old at the height of his physical powers. Injuries held him back a bit those first two years at altitude. But at age 30, Walker embarked on a three-year blitzkrieg through the league, his batting eye and burgeoning power converging to produce an out-of-this-world hitter.
That MVP season came in '97, as Walker batted an absurd .366/.452/.720, smashing 49 homers and knocking in 130 runs. He then hit .363/.445/.630 in '98, and .379/.458/.710 (with 37 long balls and 115 RBI) in '99.
Coors-inflated, you say? Consider this: During that three-year peak stretch, Walker batted an incredible .314/.410/.592… away from Coors Field.
Rather than try to read the tarot cards on home and road splits, we can use more sophisticated metrics to measure Walker's offensive contributions as a Rockie. Baseball-Reference uses OPS+ to adjust for ballpark and league effects when assessing a player's hitting. Coors Field, as we know, was and is an offensive playground. We also have to measure Walker's numbers against those of his peers. The mid-to-late 90s and early 2000s produced an onslaught of video-game stats — in the National League alone, Barry Bonds, Mark McGwire, Sammy Sosa, Mike Piazza, Jeff Bagwell, Gary Sheffield, Chipper Jones, and others delivered numbers that pumped up league averages, meaning to stand out in that crowd you had to be an absolute beast.
Adjust Walker's 1995-2004 Rockies numbers against those backdrops so that he's evaluated as a hitter in one of the most hitter-friendly eras in baseball history, playing in a launching pad of a stadium, and you still get an OPS+ of 147, meaning he produced numbers 47 per cent better than league average. That's the same number put up by Hall of Famers Jim Thome, Willie McCovey, Mike Schmidt, and Willie Stargell during their careers, and also the same number produced by Edgar Martinez, another highly-deserving candidate on this year's ballot who's thus far failed to snag the induction he so richly deserves.
We can also use Weighted Runs Created Plus to gauge Walker's offensive value. wRC+ works a little better than OPS+, since it accounts for the fact that on-base percentage is more directly correlated to scoring runs than is slugging average. Walker was an on-base fiend throughout his career, and his .313/.400/.565 line during his 17 years in the bigs nets a wRC+ mark of 141, 40 per cent better than league average. That's better than Hall of Famers Reggie Jackson, Duke Snider, Vladimir Guerrero, and Jackie Robinson, to name just a few.
Doubters can look past Walker's rate stats, and wonder if his counting stats are up to snuff. After all, Walker played in an era that saw players like Rafael Palmeiro reach big, round numbers like 500 home runs, yet fail to earn induction. Walker's 383 long balls rank just 66th all-time, behind plenty of hitters (Harold Baines! Aramis Ramirez! Alfonso Soriano!) who will never sniff the Hall. Why bend over backwards to vote him in, the thinking goes.
To answer that question, we need to understand the full scope of his talents. Simply put, Walker was a five-tool marvel. He showed off marvelous range, running down baseballs in the gap first as a member of the best young outfield in baseball with Moises Alou and Marquis Grissom in Montreal, then as an antidote to Coors Field's doubles-and-triples-happy gaps in Colorado. He showed off a rocket arm, ranking among the league leaders in assists until opposing base runners simply stopped challenging him. His seven Gold Gloves reflect his many talents as an elite right fielder.
He could run like hell, too. Walker stole 230 bases at a better-than-75-per-cent clip during his career. But, more than that, he was one of the greatest instinctive base runners of his era, going first-to-third on singles and first-to-home on doubles with impressive frequency. World Series-winning manager Terry Francona backed up that praise for Walker's baserunning in a 2016 interview with Rockies blog Purple Row. "What really jumped out at me with Larry that a lot of people don't talk about was his ability as a base runner," Francona said. "He was such a good base runner, like his head was on a swivel. His talent was obvious."
Add up all of Walker's contributions, and you get a much beefier resumé than your typical one-dimensional slugger can offer.
Fangraphs writer Jay Jaffe developed a catch-all stat called JAWS that aims to measure a player's peak and career value, factoring in everything from hitting to defence to base running. JAWS is a great tool to use when evaluating a player's candidacy for the Hall, too. Just round up every Hall of Famer at a given position, then check Player X's number against the median Hall of Famer at that position. That way, your favourite candidate must raise the Hall of Fame's standards, rather than lowering them, in order to be judged worthy of induction.
By JAWS, the top nine Hall-of-Fame right fielders of all time are, in order: Babe Ruth, Hank Aaron, Stan Musial, Mel Ott, Frank Robinson, Roberto Clemente, Al Kaline, Reggie Jackson, and Harry Heilmann.
Checking in at number 10 is our favourite Canadian right fielder, Mr. Walker. By JAWS, Walker also nestles in above the median mark for Hall-of-Fame right fielders.
In other words, strip out Coors Field's funhouse effect, match our guy up against his scary contemporaries in the 90s and 2000s, tally up every run he delivered with his bat and his legs and every run he saved with his glove and arm, then compare him to the greatest who ever played the game, and you arrive at this conclusion: Larry Walker absolutely deserves to go into the Hall of Fame.
For seven years, voters mostly ignored this message, pooh-poohing his candidacy because of Coors, or in some cases because of counting stats or general skepticism about the PED era or because their Corn Flakes didn't taste good one day. The good news is that Walker was one of the biggest vote gainers on last year's Hall-of-Fame ballot, climbing to 34.1 per cent from a modest 21.9 per cent of the vote a year earlier. Even that rate of gains wouldn't be enough to get Walker in, though, given that he only has two years left on the ballot.
So consider this an official plea to Hall-of-Fame voters: Take some actual time to evaluate each of the candidates on this year's ballot. Don't fall into easy traps like eliminating candidates because elevation makes you queasy. Instead, consider the totality of every player's career, and how he ranks against the greatest of all time.
Then, when the time finally comes to fill out your ballot, do the right thing. Vote Walker for the Hall of Fame.