TORONTO – Sometime around 3:30 p.m. Tuesday afternoon, Toronto Blue Jays pitchers and catchers will gather in a conference room within the home clubhouse at Rogers Centre and discuss how to attack the hitters of the visiting Los Angeles Angels.
By then, pitching coach Pete Walker will have completed his background work on the Angels' lineup and distilled his findings for his audience. Their collective goal: to keep runs off the board by strategically attacking the likes of Mike Trout, Albert Pujols and Justin Upton. That's not all, though. Alongside those familiar names there's another middle-of-the order hitter the Blue Jays haven't yet seen: Shohei Ohtani.
It'll be the Blue Jays' first time facing Ohtani since pursuing him over the winter, but his start in Los Angeles goes a long way toward explaining why teams wanted the two-way star so badly. Even though he doesn't play every day, he already has six home runs and a .986 OPS at the plate. Complicating the challenge for Blue Jays pitchers, he's also adjusting week to week as teams try to find his weaknesses.
Initially, the book on Ohtani was simple.
"Move his feet," says Athletics catcher Jonathan Lucroy. "Make him scared."
"Heaters," Lucroy adds, gesturing above the belt and in. "Right here."
When the Athletics faced Ohtani in the opening series of the season, they resolved to test his ability to handle four-seamers inside. They went inside early in the count to establish the inside fastball right away. "And early in the game," Lucroy notes.
"You don't want a hitter to be comfortable," says Athletics reliever Blake Treinen, "So if you have to buzz them in, you buzz them in. There's a misconception when people buzz in, it's like, 'Oh you're trying to hurt somebody.' You're not trying to hurt somebody, you're trying to earn your (share of the) plate."
It worked in the season opener, as Ohtani collected just one single in five trips to the plate. And around the league, other teams seemed to take note. Throughout the month of April, Ohtani saw a steady dose of fastballs in on the hands, as the cluster of green dots shows below.
"It really doesn't matter to me who's hitting if you move their feet and make them scared of the ball," Lucroy says. "If he's worried about getting hit in the neck, he's not going to be covering that plate as well, you know what I'm saying?"
Well, in theory at least. And for a few weeks, teams were content to pitch Ohtani in.
"But then you see what he did against Severino," says Treinen.
Ohtani just took Luis Severino deep pic.twitter.com/LmOAFoI749

— Sports Illustrated (@SInow) April 28, 2018
On April 27, Ohtani faced Yankees starter Luis Severino, who has some of the best pure stuff in baseball. Severino attacked with a 97-m.p.h. fastball in, but by now Ohtani had seen enough inside heaters to adjust. He crushed it over the right field wall.
"It shows he was anticipating that pitch," Treinen says. "It's pretty tough to honour Severino's change-up, slider and heater, but I think he was selling out to a heater in, and he's an athlete."
Once Ohtani made the adjustment to the inside fastball, teams followed suit with an adjustment of their own. Wary of challenging him inside, they largely stopped coming after him on the inner third of the plate in May, as Ben Lindbergh recently showed at The Ringer.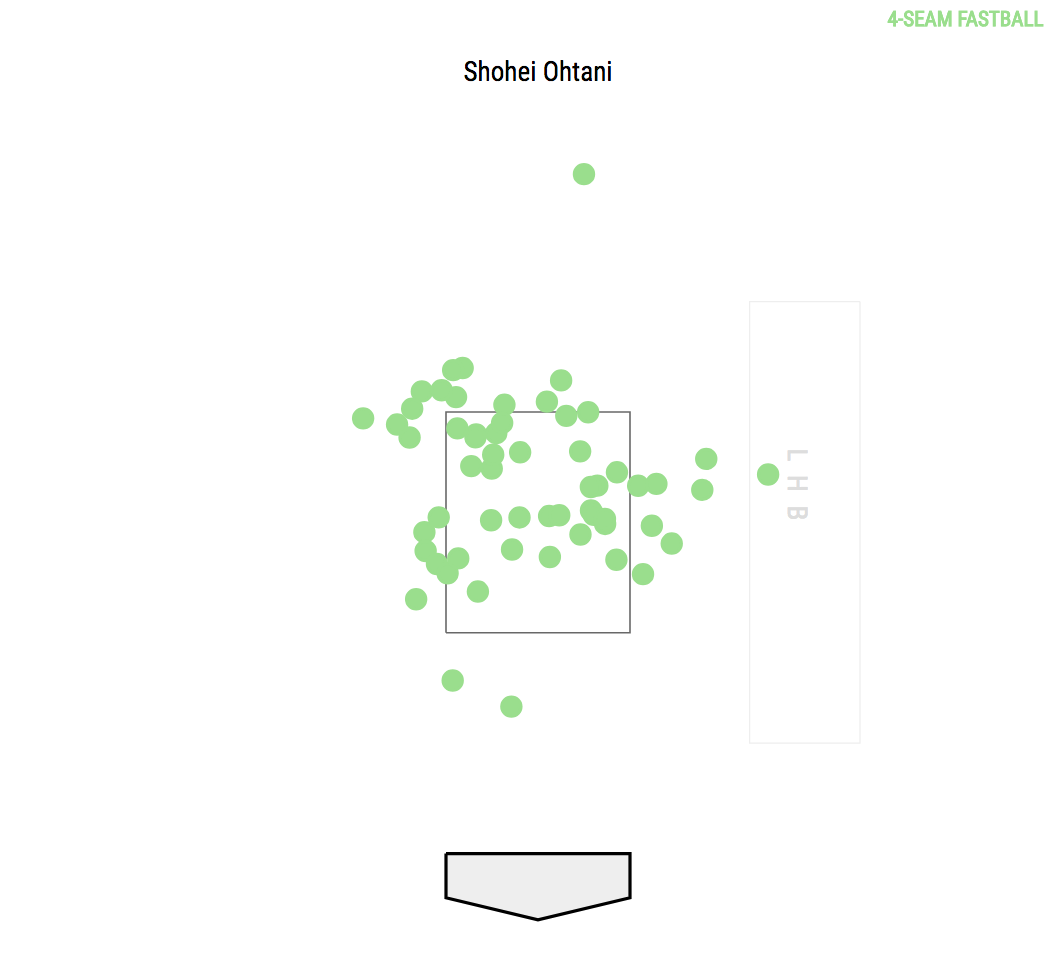 Now, there's no easy way to attack Ohtani the hitter.
"You've got to disrupt the guy's timing as much as possible," says Athletics pitching coach Scott Emerson. "You've got to pitch him up. You've got to pitch him good away, and you've got to change speeds and be unpredictable. Crowd him the best you can and get him thinking what pitch may come, but not throw that pitch."
When Treinen faced Ohtani, he tried to pitch to his own strengths. That meant locating a 97-m.p.h. sinker over the plate, and led to a one-pitch out when Ohtani grounded to second. Still, in the course of Oakland's two series against the Angels, Treinen became convinced that Ohtani will do his share of damage against MLB pitchers.
"You're always skeptical about that stuff when somebody comes over," he says. "But now that he's been able to do it, you can't refute it."
Once Ohtani arrives in Toronto, Blue Jays starters J.A. Happ, Aaron Sanchez and Marco Estrada will look to pitch to their strengths while also trying to exploit his weaknesses. Sounds reasonable enough, but based on what we've seen so far, those weaknesses can shift into strengths from game to game and at-bat to at-bat.
"It's pretty special," Treinen says. "You guys will see it."