As the Blue Jays began their search for a new manager last month, they made no effort to hide their appreciation for the Tampa Bay Rays and Houston Astros. Those organizations are among the most progressive in baseball when it comes to making informed decisions at field level and because of that, the Blue Jays consider them worthy of imitation.
It wasn't a huge surprise, then, when the Blue Jays hired Tampa Bay's bench coach, Charlie Montoyo. While the 53-year-old's leadership experience and people skills would have been enough alone to make him an intriguing candidate, Montoyo's background with one of baseball's most progressive organizations helped, too. The Blue Jays want to innovate, and they believe that Montoyo's openness to doing so will help make them successful.
Chances are we'll see changes from the beginning. Watch closely enough how the 2019 Blue Jays are managed, and you'll notice differences from the 2018 edition of the team in small, but significant ways. For example, expect some Blue Jays outfielders in 2019 to carry baseball card-sized printouts suggesting where to position themselves defensively and Toronto catchers could wear wristbands loaded with information on each opposing hitter.
Then there's the much discussed "opener" strategy.
But just because Montoyo helped implement it in Tampa Bay, that doesn't necessarily mean the Blue Jays plan on radically reallocating their innings in the same way.
Here's why:
"Just because I come from Tampa Bay doesn't mean we're going to do everything that they did over there," Montoyo explained Monday during his introductory press conference in Toronto. "We're a different team and we're going to adjust to what we have. When you guys talk about openers, that doesn't mean that's what we're going to do. We'll put our brains together, talk about it and go from there."
Simply put, the Blue Jays won't adopt the opener just for the sake of doing so. They begin the off-season in search of pitching and if GM Ross Atkins adds two established starters to a healthy rotation before opening day, there would be no need to even consider an opener.
"What every team would prefer is that they'd have five starters that can go seven or eight innings," Atkins said, "but that's hard to find."
The Rays experienced that first-hand when injuries struck last spring. In need of solutions, they tried the opener and it worked.
Later in the season, after the Rays had demystified the strategy, the Oakland Athletics and Minnesota Twins experimented with it, too. In the NLCS, the Brewers started Wade Miley for five pitches before going to the bullpen. And while Tampa, Oakland, Minnesota and Milwaukee are all small markets, even the Dodgers strongly considered an opener in Game 4 of the World Series before settling on Rich Hill. Less than six months after it was first implemented, the idea had developed broad appeal.
As for the Blue Jays, they're at least intrigued by it. When injuries struck in 2018, they used openers of a sort, starting relievers Tyler Clippard and John Axford (though it's no secret that John Gibbons didn't love the tactic). If Atkins doesn't add as much pitching as he hopes this winter, or if injuries interfere next season, there could come a point where the opener does make sense on a more regular basis.
"We just want to win," Atkins said. "You have to always think about short-term (and) long-term outcomes, potential unintended consequences of everything, but I think they proved in Tampa and Oakland to some extent that it can be an effective strategy. If the circumstances suggest that it's a good decision, then we'll certainly consider it."
On paper, the Blue Jays' rotation now features Marcus Stroman and Aaron Sanchez, both of whom missed time with finger injuries in 2018, plus rookies Ryan Borucki, Thomas Pannone and Sean Reid-Foley. Right-hander Sam Gaviglio represents further depth after starting 24 times in 2018.
There's no reason to mess with the routine of an established and effective starter like Stroman, but there are scenarios where an opener would make sense.
Let's say the Blue Jays are facing the Texas Rangers, a team that often stacks left-handed hitters such as Shin-Soo Choo, Rougned Odor, Nomar Mazara and Joey Gallo atop the order. If it's Gaviglio's turn to start, you probably want to limit his exposure to those lefties. One way to accomplish that — in an ideal circumstance — would be by starting left-hander Tim Mayza, who dominates left-handers, and then bringing in Gaviglio once the left-handed part of the order bats.
That's essentially what the Rays did over and over in 2018. On its own, though, the strategy only helps so much. Unless you have talented pitchers who buy in, it doesn't matter. Still, small advantages can build up over a long season.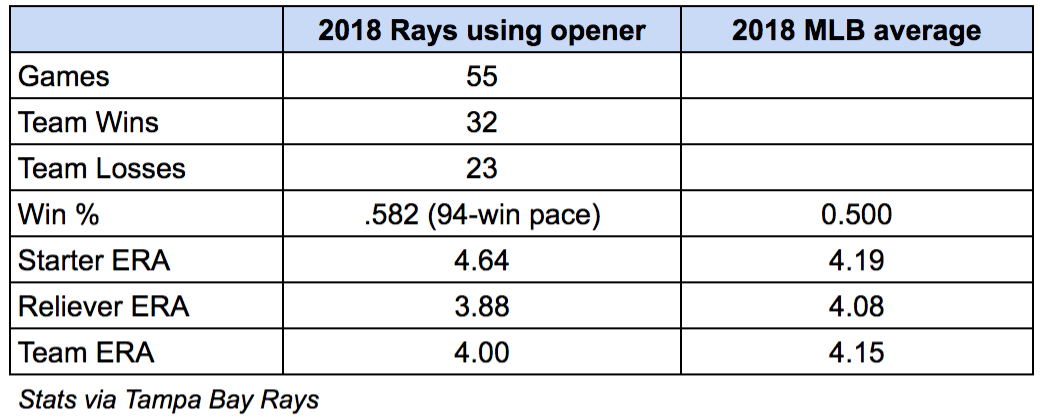 "People (innovate) because there's numbers (behind it)," Montoyo said. "That's one thing I can tell you from being with the Rays: some of those things work."
In Toronto, the path ahead starts with patience. There's no way to say whether the opener makes sense until the off-season ends and Montoyo determines the strengths, weaknesses and temperament of his roster. Only then will the Blue Jays know whether to adapt their own version of the Rays' strategy.
"Part of managing is adjusting to what we have," Montoyo said. "I'm going to adjust to what we've got."