KANSAS CITY — After the Blue Jays bullpen collapsed with two out in the ninth inning Friday night, coughing up four runs to the Kansas City Royals and watching them fall all over themselves celebrating as they walked off with a 5-4 victory, Russell Martin summed things up pretty well.
"That," he said, "is a kick in the junk right there."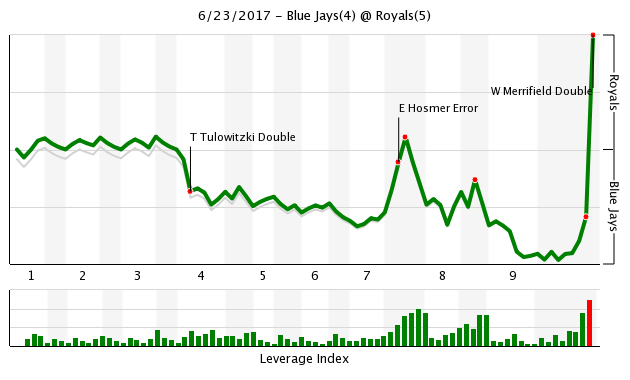 The inning began with the Blue Jays on a high after they'd rallied for a pair of runs off Royals reliever Joakim Soria in the top of the ninth. That padded Toronto's lead to three, and meant Ryan Tepera, who earned the final out of the eighth by striking out Lorenzo Cain on five pitches, would have some rope to work with.
Of course, Tepera was only in that situation because the Blue Jays everyday closer, Roberto Osuna was unavailable. The reasons why are somewhat mysterious. Osuna declined to talk to the media after the game, and Blue Jays manager John Gibbons wasn't in the mood to discuss specifics, offering only: "He wasn't feeling good today. That's all you need to know."
So, Tepera it was. And with a 2.63 ERA and 2.93 FIP this season, he was as good a candidate as any to save the game, despite the fact that three of the first four batters due up for Kansas City hit left-handed. Tepera's been better against right-handers this season, for sure. But he's been strong against everyone (left-handers came into the night hitting .200/.333/.280 in 61 plate appearances against him) and the Blue Jays lack a true shutdown lefty. So, Tepera got the call.
But awaiting him was Eric Hosmer, a hitter who can be pesky as all hell. Tepera got ahead 0-2, and then Hosmer went to work, fouling off six of the next seven pitches. He fouled off four-seamers, two-seamers, and cutters — all well-located and all swatted away by Hosmer.
"That inning was Hosmer's at-bat," Martin said. "Just grinding pitch after pitch after pitch. He was really making Tepera work out there. And it just looked like [Tepera] got a little fatigued. Not that [Hosmer] wore him down, but he made him really work out there."
Give Tepera credit for never giving in and refusing to leave a pitch over the heart of the plate. He finally got Hosmer to fly out with his 10th offering of the at-bat, a 95-m.p.h. fastball up and in. But the damage was done.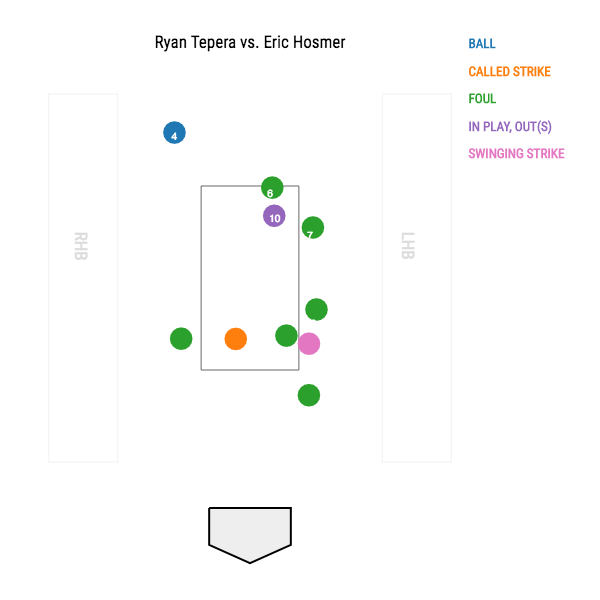 (Via Baseball Savant)
"We got an out but it was a great at-bat by him. Just to make our pitcher work in a stressful situation," Martin said. I'm not trying to make any excuses. But I'm sure [Tepera] was pretty amped and feeling his heart beat a little bit. And that's what you want to do as a hitter. Even if you get out, you want to be a tough out. And he was a tough out."
You could see it in the next plate appearance, as Tepera started Salvador Perez with a ball in the dirt, before leaving a fastball right over the heart of the plate. Perez crushed it, driving it 386 feet to the left-centre field wall for a double.
But Tepera regrouped, getting ahead of the next hitter, Mike Moustakas, before inducing a weak pop up just beyond the infield that Troy Tulowitzki tracked down. That was the 26th out the Kansas City Royals made on the night. It was also their last.
Brandon Moss came up next and, like Hosmer before him, put together a long, gruelling plate appearance. Tepera got ahead 1-2, but then Moss shortened his swing and started fouling off tough pitches, while taking even tougher ones.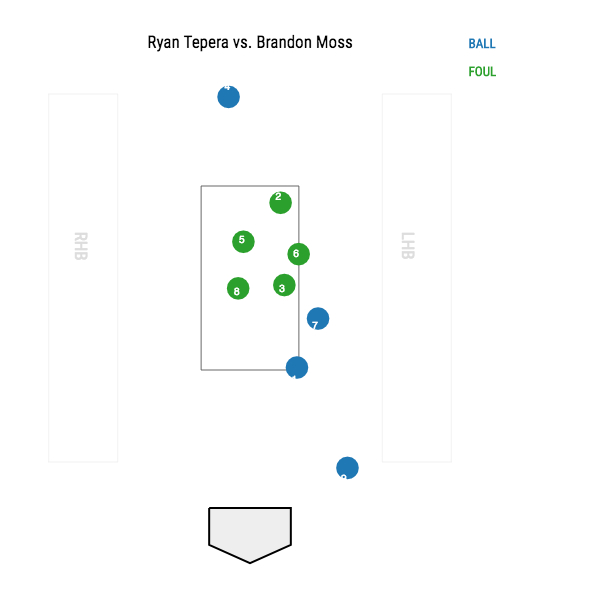 (Via Baseball Savant)
"He just kept battling and battling," Tepera said. "I was mixing up with the fastball and the slider and he just kept battling and I ended up walking him. And that was the key point of the inning, really."
Moss simply would not go away, slowly tilting the count in his favour and making Tepera throw nine pitches, with the final one, Tepera's 29th of the night, badly yanked out of the zone for ball four.
"Moss, he's a good fastball hitter and in that situation you have to make either a quality fastball up to get him to swing through or you make that nasty cutter that kind of falls below the barrel down and in," Martin said. "And after he's seen a couple — he saw the fastball and the sinker, the fastball up, and the cutter — he had a good idea of what [Tepera's] pitches were doing. The longer the at-bat, the more pitches they see, I feel like the more the advantage goes to the hitter."
After Moss walked, Toronto pitching coach Pete Walker came out to the mound for a conference with the entire infield, giving Tepera a chance to catch his breath. Walker talked a lot, and Martin talked a lot, too. At this point, the Blue Jays still had a three-run lead, they still had two outs. Rest, regroup, and get the job done.
Plus, stepping to the plate was Alcides Escobar, not an imposing hitter by any means with a .200/.221/.262 line this season. There was a still a very good chance the Blue Jays would come away with a win — about 95 per cent according to Fangraphs' win expectancy.
But by that point, Tepera had worked so hard, and his stuff had lost so much effectiveness, that when he threw his 32nd pitch of the game, a 1-1 cutter down and in, he left it just a little too far on the plate, which let Escobar serve it into right field to cash Perez from third base.
"I felt like they just got a little comfortable," Martin said of Kansas City's hitters. "And I feel like the stuff, as the inning progressed, not that it diminished a whole lot, but it just didn't have the same crispness as early in the inning."
That, and a platoon advantage, was why Gibbons came out to get Tepera after the Escobar single, and bring in left-hander Aaron Loup to face the left-handed hitting Alex Gordon.
Martin had been beating up Gordon with heaters inside all night, getting him to make outs in his first three at-bats. So, he called for a first-pitch fastball inside, and Gordon was all over it, lining it right back up the middle to score Moss from third. In the dugout, Tepera watched with his hands on his head.
"I wanted to finish it. I wanted to stay in and get Gordon out right there," Tepera said. "But that's how it goes. Sitting in the dugout, there's nothing else you can do."
Back out came Gibbons, and in came Jason Grilli, who was once a closer for the Pittsburgh Pirates and Atlanta Braves years ago. But this year, Grilli's carrying a 6.97 ERA and 7.88 FIP as he's struggled mightily and been relegated mostly to low-leverage work.
Desperate times, though. And as the ninth inning developed, Grilli was told in the bullpen that he'd be called upon if the inning got to Royals leadoff hitter Whit Merrifield. Loup didn't give Grilli much time to get hot. But he had his assignment.
"He knew he would have that guy if it got to that point," Gibbons said. "He knew that. Veteran relievers, they don't need as much time anyway."
Grilli's first two pitches, a fastball and a slider, were nowhere near the zone. But his third was, as he got Merrifield to foul off 94-m.p.h. heat to go 2-1. Then his fourth pitch, another fastball, sailed nearly a foot above the zone. It was 3-1.
"The last thing you want to do is load the bases," Martin said. "So, we stayed aggressive and challenged him."
Grilli threw a 93-m.p.h. fastball on the outer half of the plate, right where Martin asked for it. Whitfield put it in play at 108 m.p.h., all the way to the wall in left, as Escobar scored easily, and Gordon slid in headfirst behind him, ending the game. In their dugout, the Blue Jays began filing solemnly back to their clubhouse. Only one player remained — Osuna, watching Kansas City celebrate.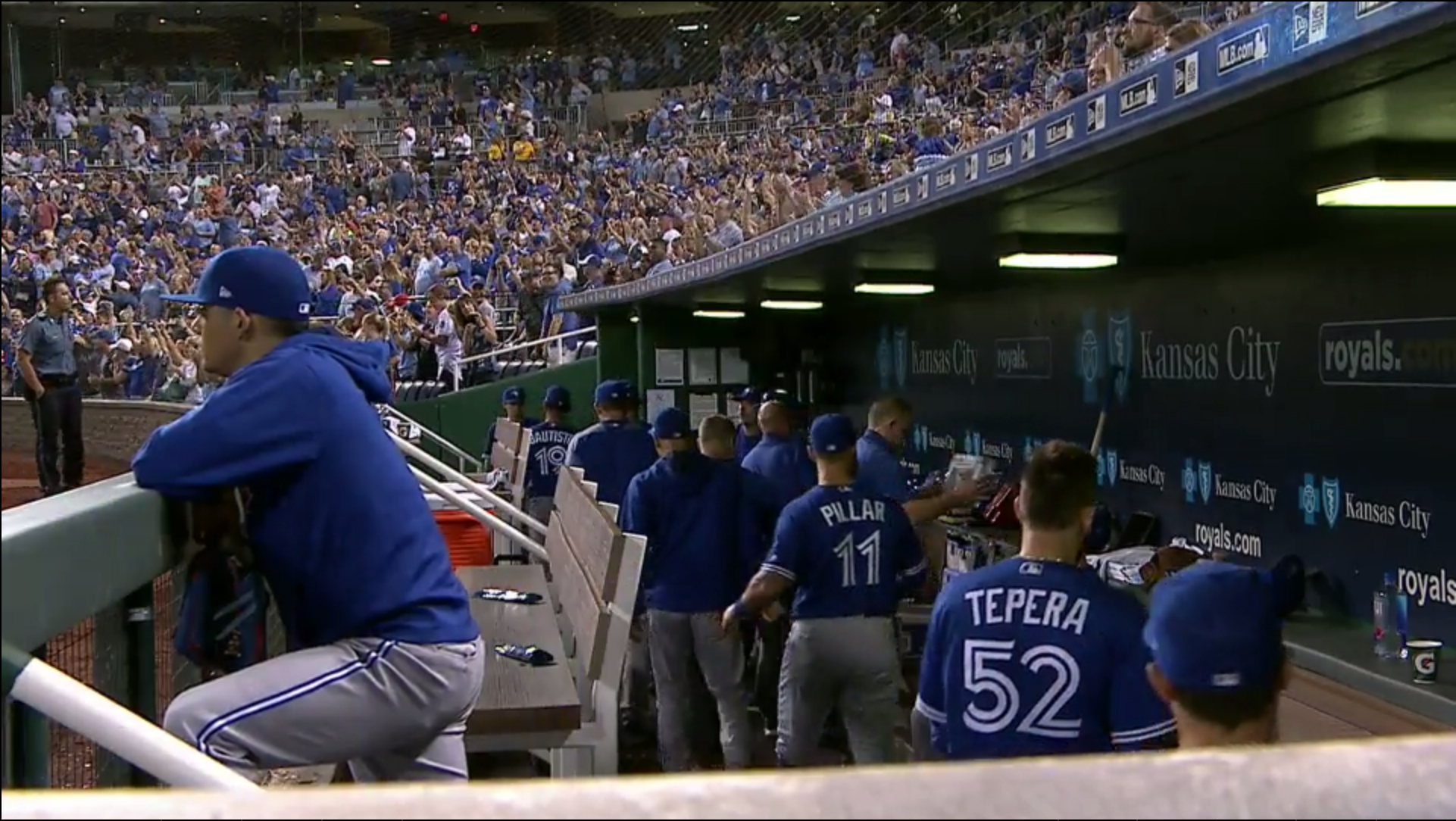 "You're standing there like, 'I can't believe that just happened,'" Martin said. "But we'll bounce back tomorrow. It's another day. We're not going to die from this. We're just going to come back tomorrow and play another tough game."