TORONTO – Realistically, the Toronto Blue Jays would have taken four innings from Thomas Pannone Wednesday.
He last started a game two and a half weeks ago, on Aug. 4. That start, which he made as a member of the triple-A Buffalo Bisons, was also the last time he threw more than 30 pitches or recorded more than five outs.
In that context, four innings would have been respectable. Five? Even better, but let's not get greedy here. After all, the left-hander was making his first big-league start.
Pannone offered that and then some in an outstanding start against the Orioles Wednesday, and the Blue Jays swept Baltimore with a 6-0 win. He attacked the zone, throwing 66 of his 108 pitches for strikes. He picked up his defence, overcoming a potentially costly Teoscar Hernandez error. And, remarkably, he carried a no-hitter into the seventh inning before allowing a single to Trey Mancini.
"I didn't expect that," manager John Gibbons said. "But he's sneaky. The ball jumps on you. He did one hell of a job. It's a great way to make your big-league starting debut."
Pannone knew early on that he was holding the Orioles hitless, but it wasn't until Randal Grichuk made a diving catch to rob Austin Wynns of a hit in the sixth inning that a no-hitter seemed at all imaginable.
"You look at all the perfect games and no-hitters that have ever been thrown, there's always that one play that's just like 'Oh my god, that play was amazing,'" Pannone said. "I was saying to myself 'Maybe that's it.'"
Meanwhile, in the Blue Jays dugout, Gibbons was debating how long he could let Pannone go.
"In this day and age where nobody throws 140 pitches, you don't ever want to get in the way of the baseball gods, so I won't say I was rooting for him to give up a hit, but it didn't bother me when he did," the manager said.
On the mound, Pannone was ready to keep going, even if he'd only thrown more than 100 pitches once all year.
"I didn't know how many pitches I was at, nor did I really care," Pannone said. "I could have kept going."
Mancini's seventh-inning single resolved that dilemma for Gibbons, but led to another big moment for Pannone, who found himself in trouble when Hernandez dropped a playable fly ball in left field to put runners on second and third with none out. Two ground balls and a pop-up later, he had escaped.
"Once the crowd stood up and they got loud, that was an experience I'd never felt before," Pannone added. "A crowd rooting for you that much? It was amazing."
Granted, the Orioles don't exactly compare to the Red Sox or Yankees at the plate. Still, Pannone handled the Baltimore lineup with apparent ease, allowing just one hit and two walks over seven innings while striking out three. Even though left-hander topped out at 90.8 m.p.h., he relied heavily on his fastball, throwing it 82 times and generating 14 swings and misses with it.
"His fastball plays a lot higher than 89 or 90," catcher Danny Jansen said. "It plays like 92 or 93. He can throw it up in the zone, down in the zone (with) good command."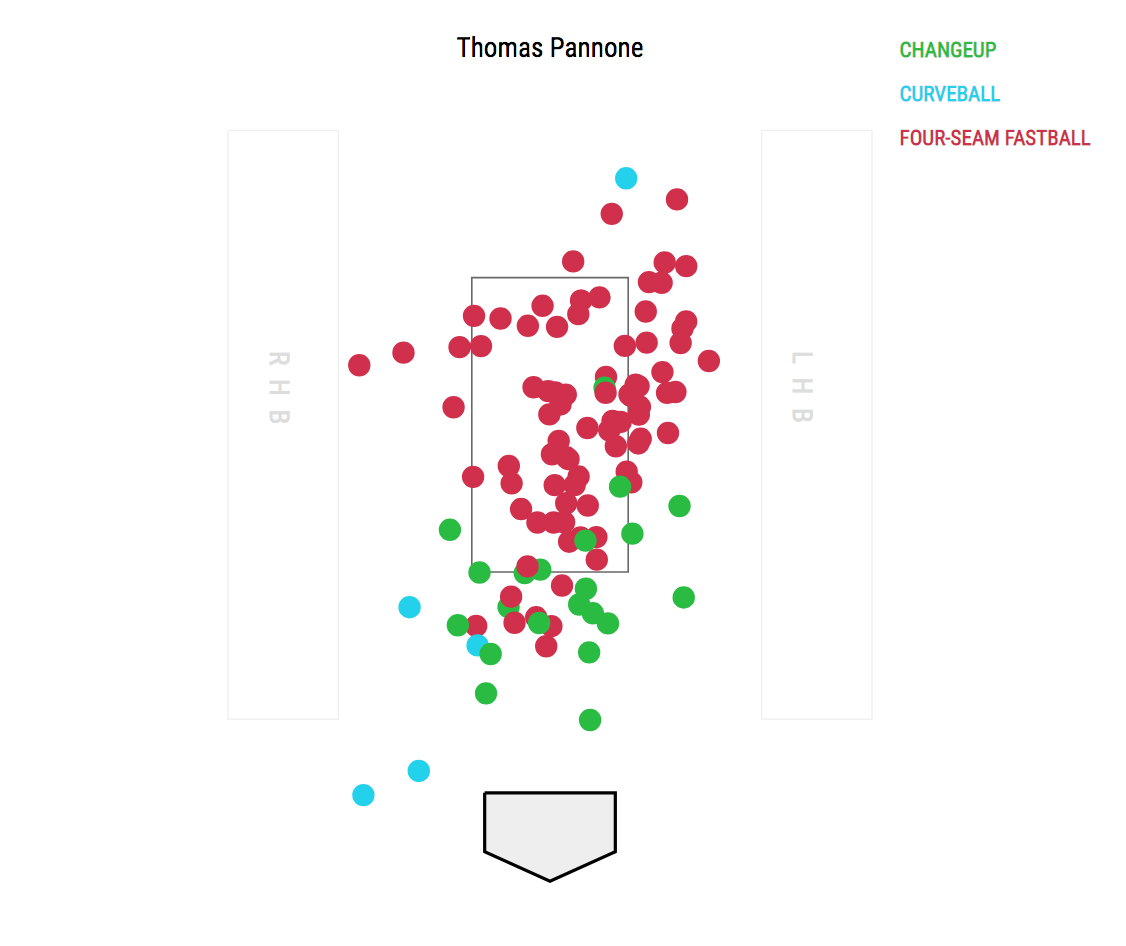 The Blue Jays acquired Pannone last summer in the trade that sent reliever Joe Smith to Cleveland. They began the 2018 season hopeful that he could provide rotation depth, but he missed the first half of the year serving an 80-game suspension for testing positive for Dehydrochlormethyltestosterone, a banned substance.
Though Pannone made his big-league debut out of the bullpen, a need emerged in the rotation when a blister sent Marcus Stroman to the disabled list. With Stroman's timeline still unclear, this wasn't necessarily a one-start audition.
Plus, the Blue Jays have at least considered using a six-man rotation down the stretch and Marco Estrada looks like a potential trade chip for contending teams like Seattle and Milwaukee. Pannone's chances of getting another start or two seem good.
At the plate, Kendrys Morales continued his hot hitting by homering for the fourth consecutive game. Despite an exceptionally slow start, the veteran switch-hitter now has 18 home runs on the season with an .802 OPS and 115 wRC+.
The Blue Jays later rallied against a wild Miguel Castro and added five insurance runs, including a three-run Devon Travis homer. Thanks to Pannone's unexpectedly strong debut, one run would have been enough.
"He couldn't have done any better," Gibbons said.