TORONTO – Up 3-0 in the count with a runner on second and two out Sunday, Jose Bautista knew what was coming. He dropped the bat on his shoulder as Carlos Carrasco began his wind up and watched ball four sail by nowhere near the strike zone, forced into taking yet another walk.
"I knew first base was open and Eddie (Encarnacion) is struggling a bit, so with two out in that situation, I knew they weren't going to throw me anything close," says Bautista. "Sure enough, fastball four feet away. They're not going to give me anything because they think I'm swinging 3-0. But I wasn't."
The reason for opponents to think the Toronto Blue Jays slugger might swing 3-0, however, is there, since the dearth of strikes he's seeing so far in 2014 makes any opportunity to get a hittable pitch one he simply can't pass up.
Before he went 1-for-3 with two more walks in Tuesday's 9-3 victory over the Baltimore Orioles, Bautista led the majors in percentage of pitches seen called balls at 47 percent.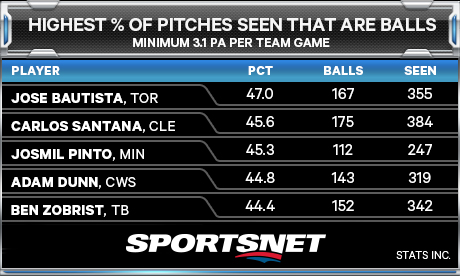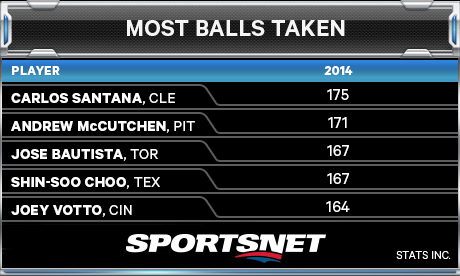 And Bautista had the lowest swing rate at 32.7 per cent of total pitches, according to Stats Inc.
In total, of the 355 pitches he's seen, 167 have been called for a ball, while he's swung 116 times.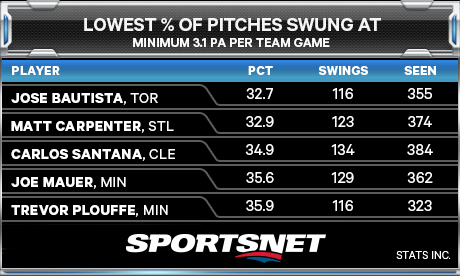 Of his swings, only 16.2 percent have been on pitches out of the strike zone, according to Pitchf/x data, five percent better than his career average. And his home run per at-bat ratio of 10.3 was also best in the bigs.
In simple terms, he's rocking the very rare offering sent his way that catches a good chunk of the plate, and he's spitting at everything else. The way he's approaching his at-bats is the prototype for plate discipline.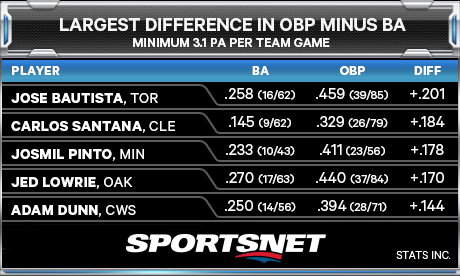 "His discipline has been off the charts because even the strikes he's taken have been marginal pitches, pitchers' pitches," says hitting coach Kevin Seitzer. "He's got to stay right there, take his walks and trust the guys behind him because if he starts expanding just to put balls in play, then he's going to struggle.
"The easiest pitch to hit hard is a strike, the easiest strike to hit hard is one in the middle of the plate, and because they're so careful with him they're either missing bad, or throwing good pitches to hit."
More often than not, though, it's been the former instead of the latter.
At 27.1 percent, Bautista is walking far more often than ever before – his career high of 20.2 percent was set in 2011 – and the way he's being forced to watch four pitches and take his bag can lead to frustration. As he puts it: "It's hard to stay that consistent with your plate discipline when you get paid to swing, and you're trying to make something happen by hitting the ball, but they don't throw anything that close to the plate."
The big question is why pitchers are being so much more careful with Bautista than they've been in the past.
The two most popular theories – and they're connected – is that the four-time all-star is
simply being made the focal point of opposition game-plans, and that with cleanup hitter Edwin Encarnacion and most of those behind him struggling at the plate, no one right now is making pitchers think twice.
"It's evident in certain situations he's being pitched around," says Blue Jays pitching coach Pete Walker. "For the most part there's always one or two guys on an opposing team that you don't want to beat you. You definitely discuss it in your meeting, how you're going to approach it, and if it means there are certain times you're going to pitch around him, you're going to pitch around him. Obviously it's a lot tougher to do when Eddie's hot, which I'm sure is going to be the case soon. I'm sure teams are looking at that, they're being very smart right now, and choosing their pitches wisely to Jose."
Encarnacion has been dealing with the way opponents are pitching him more carefully this season, too, and he broke through Tuesday with his first home run of the season, a three-run shot in the sixth that tied things up.
Still, while Bautista has been the picture of discipline, Encarnacion has at times struggled maintaining the batting eye that helped him to 82 walks and just 62 strikeouts last season.
"They've been very consistent throwing me a lot of pitches out of the strike zone, both outside and inside. I have to make my adjustment," says Encarnacion. "I've got to be more patient at the plate, looking for my pitch and looking for the mistakes."
In other words, be more like Bautista.
"The eye that he has, it's unbelievable how he takes all those pitches," says Encarnacion. "The approach he has at the plate and the way he selects his pitches to hit, I don't know how he does it but it's impressive."
That it is, although Bautista isn't taking all the credit for it since more often than not, usually pitchers aren't really tempting him much. In his first four at-bats, when the game was in doubt, he saw 15 pitches, only five of them for strikes. Then, with the Blue Jays up 9-3 after three-run homers from Brett Lawrie and Melky Cabrera in the eighth, he struck out on four pitches to bring his total for the day to 19 pitches and eight strikes seen.
The Orioles clearly weren't interested in pitching to him before things were settled.
"I have noticed that a lot of the balls I take are further out, they're not even close, which is obviously making my decision not to swing at them even easier," says Bautista. "I can't tell you why, I have no idea why it's happening."
In past seasons, Bautista has at times purposely expanded his strike zone in order to try and make things happen, "but that was on different teams with different players
performing differently," he says.
"Right now, I don't feel like I have to do that," he adds. "I'd rather have Edwin hit with runners on base and rely on our pitching and defence that are performing pretty well."
The challenge for Bautista will be to maintain that mindset over the course of a long season. Continually being forced to keep the bat on his shoulder won't be much fun, but that may very well be what this season has in store for him.
"He knows what it takes to be good," says Seitzer. "I don't want him to change anything. It's going to be guys behind getting it going to where they're going to have to pitch to him because the guys behind him are dangerous as well. Eddie is going to come around, and he's going to be picking up the slack RBI-wise when he gets it going. I envision that happening sooner than later, very soon actually."
Encarnacion's homer Tuesday may have been an important step in the right direction. Until he ignites, Bautista may have little choice but to keep on taking.