The Toronto Blue Jays added another veteran arm to their pitching staff Thursday, signing Mat Latos to a minor-league deal.
Does the name Latos ring a bell? Of course it does, because the right-hander isn't that far removed from being one of the better young pitchers in baseball.
From 2010 to 2014 he was a combined 56-40 with a 3.27 ERA and 1.16 WHIP, averaging 8.2 K/9 and a paltry 2.6 BB/9. While pitching for the San Diego Padres and Cincinnati Reds during that span he was known as an innings eater and even finished eighth in NL Cy Young voting in 2010.
Things have been different lately, though, with Latos coming off two rough seasons, split across five different organizations.
Let's learn a little more about the Alexandria, Va. native.
Name: Mat Latos
Position: Starter/reliever
Throws: Right
Age: 29
Height: Six-foot-six | Weight: 245 lbs.
Contract status: Minor-league deal worth $1.5 million plus incentives at the MLB level
Blue Jays bullpen becoming softer?
It's tough to say where exactly Latos fits in with the Blue Jays, should he make the team out of spring training. The right-hander has primarily been a starting pitcher throughout his career and the Blue Jays appear set in that area with a strong five-man rotation.
The bullpen could be an option for Latos and it's not something that's entirely foreign to him — he made five appearances out of the pen as recently as this past September for the Washington Nationals.
If Latos does join the Blue Jays relief corps, he'd become the latest in a line of recently added soft-tossers. Latos's fastball velocity dipped to 90.2 mph this past season from 94.2 in his rookie year of 2009. The former number is just ahead of right-hander Joe Smith's 2016 average fastball velocity of 88.3. Meanwhile, lefty J.P. Howell was even slower, averaging 85.3 last year.
Throw in Aaron Loup and Mike Bolsinger — two more relievers vying for jobs — and this could be a bunch that makes Mark Buehrle proud.
[relatedlinks]
Cat Latos
And here we thought athlete pets in Toronto couldn't get any better than Jazzy Kadri. Turns out the feline belonging to Maple Leafs centre Nazem Kadri has a new rival in Cat Latos.
Mat and his wife Dallas purchased the adorable cat in 2012 and it gained instant fame on baseball blogs and social media.
With posts like these, how can we argue?
Weight watch
Latos opened the 2016 campaign with the Chicago White Sox and was actually off to a superb start on the mound, going 4-0 with a 0.74 ERA and .151 opponents' average in 24.1 innings.
Then things got ugly fast and he spiralled so far that the White Sox released him by mid June.
Latos caught on with the Nationals, who were adamant that the right-hander get back in shape if he wanted to be called up to the major league club. He listened and once he became fitter, the right-hander made six starts in the minors and fared extremely well, before landing in Washington in September. He only pitched in six games for the big-league club, and wasn't great for the Nationals during that stretch.
It'll be interesting to see what kind of shape Latos is in when he shows up to Blue Jays camp in Dunedin, Fla.
The Critter
Latos throws a unique pitch that's been dubbed The Critter by a former coach, as detailed by Eno Sarris of Fangraphs in 2015.
The pitch, which is clocked around 80 mph, can sometimes act like a changeup and other times like a 12-to-6 curveball.
"I was told in high school that it would never be a realistic pitch in the big leagues," said Latos of the pitch he admits to using in two-strike counts.
Check out the unique, hybrid knuckle curve/changeup grip he uses before "flicking" the ball: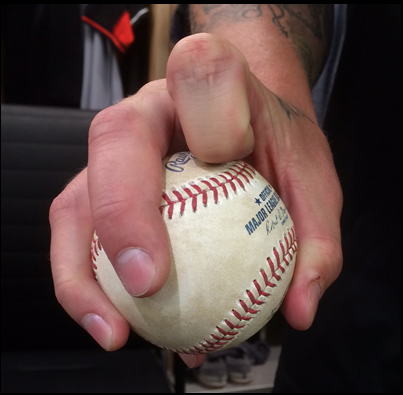 Eno Sarris/Fangraphs