TORONTO – During a casual conversation inside the Toronto Blue Jays clubhouse, the performance of 2017 first-rounders Logan Warmoth and Nate Pearson with the short-season-A Vancouver Canadians came up. How old are they? someone asked. Warmoth is 22, Pearson is 21, someone replied. Roberto Osuna is 22 and finishing off his third big-league season, a third person noted. Think about how incredible that is, he added.
That bit of perspective is worth remembering given the overwrought hysteria and ridiculous hot takes that followed the closer's two blown saves, Nos. 9 and 10 of the season, this past week. Without doubt Osuna is in the first extended period of struggle in his young career, with six blown saves and an 8.10 earned-run average in 17 appearances since July 29. And since the Blue Jays lost each of those six games, naturally the mind wonders what might have been had he converted them all.
Some concern is definitely warranted.
But the talk of shutting Osuna down for the season? Of giving him a break? Of experimenting with other relievers to close out games before the year ends, you know, just in case? Each is more asinine than the idea before it, especially when he's determined to finish the year on a high note.
Toronto Blue Jays on Sportsnet NOW
Want to stream every Blue Jays games this season? Sportsnet NOW has you covered. Catch every Blue Jays game, marquee MLB matchups, the playoffs and entire World Series.
"It's hard, especially because we were four games out of the wild card, I blew a couple of games and it put us in a situation where it was even harder," Osuna says in an interview. "Obviously it's embarrassing for me to go out there and not be able to get the job done and make my team lose and say bye to the post-season, something we really wanted this year. It sucks. But I can't give up.
"I've got to keep thinking positive, going out there and trying to do better. I've got a lot of frustrations because I've been costing us a lot of games. Being this young, 22, and not being able to do my job, it sucks."
One of the toughest things about being a closer is that's it's impossible to cover up a bad day the way an 0-fer at the plate or an error in the field can get hidden by the performances of others. Ninth-inning struggles take place under the brightest of spotlights. And Osuna set an impossible standard for himself the last two years, converting 56 of 65 save opportunities after jumping right from A-ball to the majors.
Really, a period of adversity should have been expected sooner or later. Even Mariano Rivera, the gold standard for lights-out ninth innings, blew nine saves in his first full season as New York Yankees closer. He was 27 at the time. At Osuna's age, The Sandman was in A-ball.
Consider this, too: Over the past three years, including the playoffs, no reliever has logged more innings than Osuna's 220 frames.
"He's our closer," says pitching coach Pete Walker, dismissing any notion of backing off the all-star. "We love him. He's a competitor. He's in a little bit of a rut as far as finishing games. But his velocity has taken an uptick, he's back to 95 pretty consistently. His breaking stuff is fine. It's just a matter of him executing, and maybe a couple of times, pitch selection.
"He's our guy. We want him out there, and we'll continue to give him the ball to close out games."
Reasons to cease doing that would be if Osuna was trying to pitch through an injury, which he's not, if he was collapsing mentally into himself, which he isn't, or if he was at a loss on how to escape his struggles, and he's not.
The right-hander didn't close Saturday's 5-4 win over the Detroit Tigers because of a bad neck manager John Gibbons hoped would sideline him only a day or two.
A focal point for him over the final three weeks of the year is to go back to the predominantly fastball/slider usage he employed the past two seasons.
This season he's incorporated a very effective cutter and a good sinker into his mix, helping him run off a 31-game stretch from April 29-July 6 in which he allowed only three runs on 13 hits and three walks with 41 strikeouts in 29 innings. It was one of the most dominant stretches of his brief career.
The new pitches came at the expense of his fastball usage, which was down 25 per cent from last year, and the velocity on his four-seamer suffered, dipping to an average of 93.7 m.p.h. last month, down substantially from the 96.6 he averaged last year.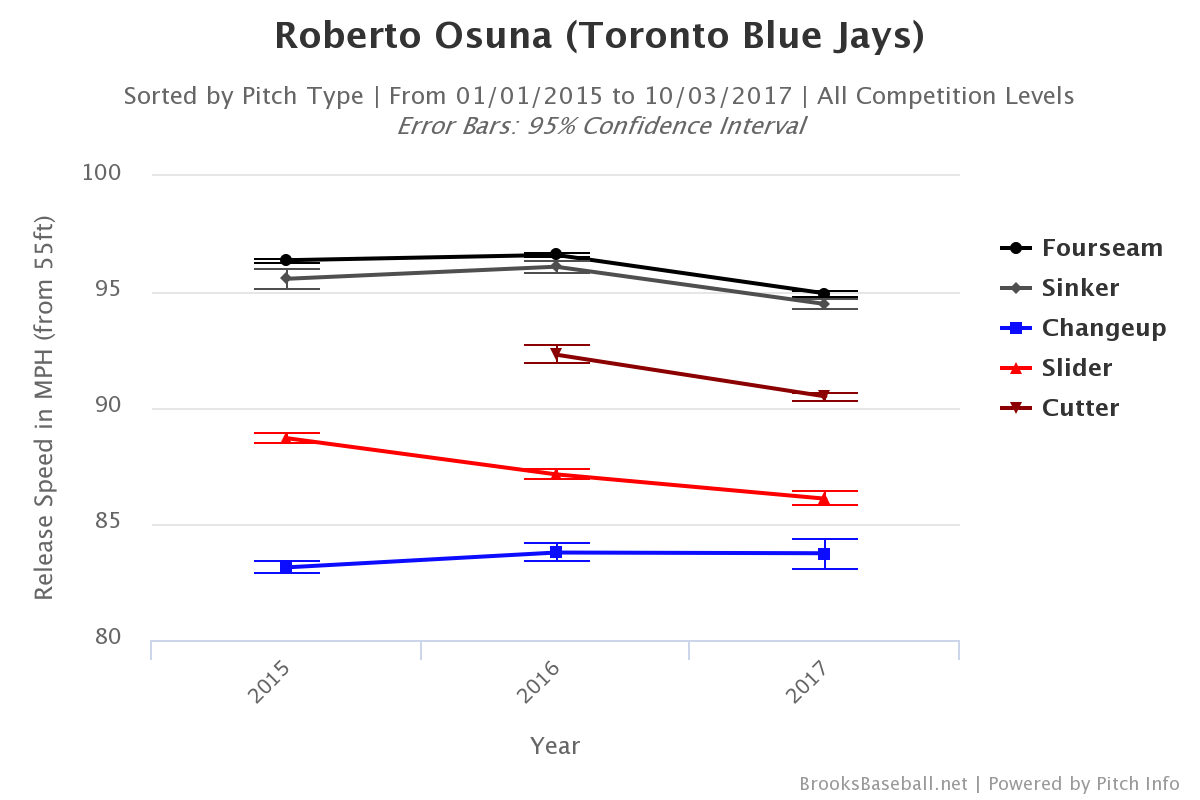 "Lately they've been looking for my breaking ball and cutter down and away, and I've been making some mistakes right in the middle," says Osuna. "Definitely in 2015 and even last year I was throwing more fastballs and then the slider. Those were the only pitches I used. This year I've got the cutter, change-up, slider, fastball, so there are more options.
"When you have so many options and you don't know how to play them, that's what happens."
There's also reason for Osuna to not go overboard in changing what he's done this year. His peripherals are all right around where they were the previous two years, although his strikeouts per nine innings is up and homers per nine is down. Intriguingly, his Fielding Independent Pitching mark of 1.83 is half his ERA of 3.66, suggesting he's pitched to some bad luck, too.
Curiously, Osuna for the first time also has extreme home/road splits, posting a 1.97 ERA in 32 innings over 33 games at home and a 5.67 ERA in 27 innings over 28 road games. Eight of his 10 blown saves have occurred on the road, including the last five.
"I didn't even know that," says Osuna. "It is really weird. But I go out there with the same mindset every day, trying to get three outs and that's it. I try not to think too much about the situation but this is all part of baseball. There are a lot of ups and downs, you have a good month, then you struggle for two weeks and then your numbers go up again. It is what it is. Obviously I'm trying to make adjustments and when you're in a slump, there's nothing you can do, you've got to keep working hard and not give up."