DETROIT – There are, on rare occasion, anomalies in the baseball draft and two of the better examples of players to slip through the cracks are both starting centre-fielders in the American League East.
In 2010, the Tampa Bay Rays selected Gold-Glove winner Kevin Kiermaier in the 31st round, 941st overall. A year later, the Toronto Blue Jays chose Kevin Pillar in the 32nd round, 979th overall. Only 15 big-leaguers on an opening day roster this year were drafted later than them, among that group Blue Jays reliever Jesse Chavez, a 42nd round pick of the Texas Rangers in 2002. The odds against them ever getting this far were beyond overwhelming, yet they are stark reminders of the draft's fallibility.
"I was at a Division 2 junior college in the Midwest, probably not a lot of people even heard of my junior college," Kiermaier, who attended Parkland College in Champaign, Ill., says in a recent interview. "There would be scouts there and I had two scout days, one each year, and I felt like I showed enough to prove that I can throw, run, hit, do all that. For whatever reason scouts just wouldn't pull the trigger earlier. Thirty teams passed up on me 30 rounds in a row, so there's something lost in the loop there. Essentially it all comes down to the opportunity, and me and Pillar made the best of our opportunities, ground it out through the minor-leagues, and now we're here being the starting centre-fielders in the AL East."
Says Pillar: "I admire where he came from, I respect guys that get drafted late and are able to go out there and even more I respect the way he plays."
***
To put the unlikelihood of their ascent into context, consider the following numbers:
Of the 653 drafted players on an opening day roster this year, 143, or 21.9 per cent, of them were among the top 30 picks;
Beyond that, 386, or 59 per cent, of them were chosen in the top 150;
Only 74 players of the 653 players, or 11.3 per cent, were chosen in the 20th round or later.
From perception biases to systems that give high draft picks far more opportunity to succeed, players chosen in the lower rounds face far more obstacles to making it in the majors. It can take years of extended success in order to eliminate labels.
---
LISTEN: Kevin Pillar and Kevin Kiermaier join Mike Wilner on Sportsnet 590 The FAN
---
"They've got to prove it year after year after year," says Blue Jays manager John Gibbons, a first-round pick of the New York Mets in 1986 who spent a decade coaching in the minors before joining the Blue Jays staff in 2002. "The guys that get selected high, they're investments to an organization, naturally they stick a lot more money in those guys. When you get picked late, what guys like that have to hope for is that the guys that play the same position as them aren't the big bonus babies.
"People always go, 'Well, he was picked so late,' and the baseball world is like, 'There's got to be something wrong.' That's probably the way it's perceived. Plus if the team sticks $1 million into somebody, that kid's going to get an opportunity more than this guy."
***
Players selected in the first few rounds of the draft typically feature multiple physical tools – the ability to hit, hit for power, run, throw and play defence for players; velocity, command, strong secondary pitches for pitchers.
Generally, the longer a player lasts in the draft, the fewer tools he has and there are more warts to his game, or perhaps to his makeup. By the time teams get into the late 20s and early 30s, scouting directors are often gambling on a single, extreme skill, or some lone element of a player, that piques some interest.
For Kiermaier and Pillar, that element is their relentless style of play, one that drives them at times to find ways to contribute outside the boxscore and deliver beyond their tools. It's an intangible that's difficult to articulate and even more difficult to grade. A common phrase in the game is that they are players who simply help teams win.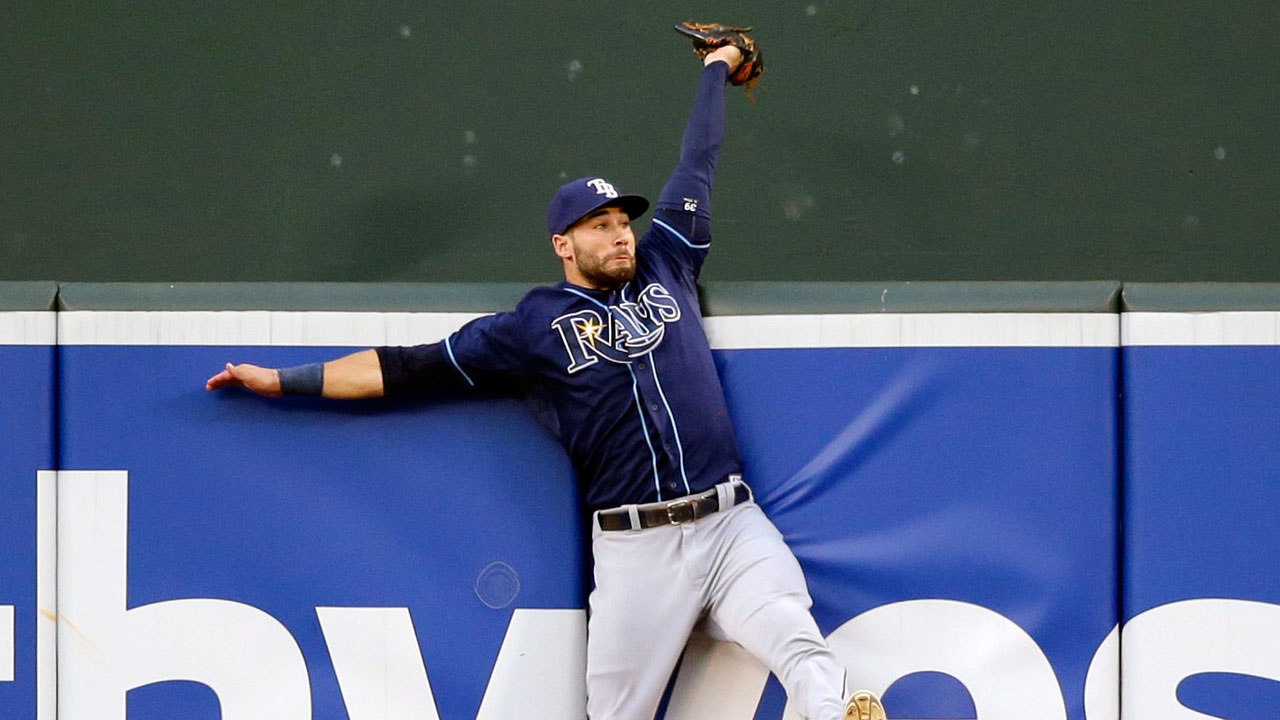 "Guys that are willing to do whatever it takes for the team," is how Kiermaier puts it. "A lot of guys say that, but if you watch guys play the game, and since we're talking about us, we're the guys that will literally do whatever it takes to win. We've created a little defensive reputation for ourselves, but at the same time, we can make a lot happen in the batter's box, too. … It comes down to whatever you're willing to do for the team. We're willing to put our bodies on the line like probably not a lot of guys in baseball would do. Me and him, we're not afraid to take risks and it's a huge momentum swing for teams."
Pillar describes it this way: "He plays like a man possessed and he pretty much runs until you make him stop. It's the same way I want to play, he's just a little bit faster than I am."
***
Linked by their position, their style of play and where they were drafted, Pillar and Kiermaier have developed a friendship to go along with their on-field rivalry.
During the second game of the season, Kiermaier turned a base hit to centre into a double when he "ran in my face," says Pillar, who responded in the seventh when he chased down a Steve Pearce smash and made the catch as he crashed forehead first into the wall in left-centre. "Every time we play against them, I take it personal against him and try to raise the bar," he adds. "I know he's trying to do the same thing."
Kiermaier, who led all centre-fielders with a Defensive Runs Saved of 42 and Ultimate Zone Rating of 30 last season, beat out Pillar (whose totals of 14 and 14 in both advanced metrics didn't include his 8 and 1.5 accumulated in left field) for the Gold Glove last year.
The competition between the two is on hold right now while Kiermaier recovers from two fractures in his left hand suffered while diving for a fly ball late last month. He's expected to miss 8-to-10 weeks.
"He pretty much had the same path as me, pretty much had to grind it out in the minor-leagues and nothing was handed to him," Kiermaier says. "I love the way he plays the game and it's pretty cool that me being a 31st rounder and him being a 32ndrounder how we've handled our business so far for our short careers in the big-leagues, it surprises a lot of people with us being late-rounders like that. He's fun to watch, he's a playmaker out there and I respect that way he goes all-out, all the time and he's fearless out there in the outfield. I'm the same way. I know we have a little friendly competition going on and hopefully for many more years to come. I wish more people played the game like him."