CLEVELAND – Devon Travis blinked in the camera lights and looked down at his feet in front of him. The residue from his eye black left little specks under his eyes; he shook his head and bit his bottom lip. Standing outside the Toronto Blue Jays clubhouse, being careful not to put too much weight on his right leg, the second baseman tried to make sense of what he's been going through lately. But the answers weren't there.
"You know, I felt great. I progressed all week, passed all of the tests I needed to pass. Felt good going into the game today. It's just… unfortunate," Travis said after exiting Game 1 of the ALCS when he re-aggravated the knee injury he's been carrying for quite some time. "It's tough. Sometimes you want to go back and you want to ask, 'why?' I try not to do that. It's unfortunate, man. I don't know what exactly is going on with me right now to cause all this."
The Blue Jays have called it a bone bruise in Travis' right knee, and he says it's an ailment he's been playing through for nearly a month. The pain was manageable for most of that time, up until the morning of the second game of the ALDS in Texas, when Travis woke up and knew something wasn't right.
He went straight to Globe Life Park in Arlington and met with the Blue Jays training staff to try to get through the pain. It was decided that a cortisone shot might help. So, Travis had a 10-centimetre needle driven into the outside of his right knee, the hope being that the magic of artificial hormones would subside his inflammation and numb his pain for long enough that he could get through the post-season.
But with one out in the fifth inning of Friday night's game, Travis' first in more than a week, things took a dour turn. Cleveland Indians outfielder Coco Crisp bunted back to the pitcher, and Travis was forced to sprint over to first base to cover the bag.
At some point on that play, he took a very wrong step and immediately felt a sharp pain in his injured knee. He didn't tell anyone about it at first, but the very next batter hit a weak groundball to the right side, and when Travis went to run after it he didn't have his right leg beneath him.
"It kind of felt like it was giving out a little bit," Travis said. "And that was it."
Travis hopped on his left foot all the way from the shallow outfield grass to first base. Marco Estrada, who was covering first, saw Travis struggling and threw his arms in the air, motioning to the dugout for a trainer to take the field.
Blue Jays assistant athletic trainer Jeff Stevenson raced out and put his hand on Travis' right shoulder, talking to the 25-year-old as he took quick, nervous breaths. John Gibbons followed soon after, took one look in his second baseman's eyes, and told him he was done. Edwin Encarnacion rubbed a dejected Travis on the head as he limped off and headed straight to his clubhouse.
"It hurt pretty bad," Travis said. "It's pretty similar [to the pain I felt in Texas,] just this one was more acute. Before, I never did one thing where it was like 'damn.' But tonight, I was like 'damn.'"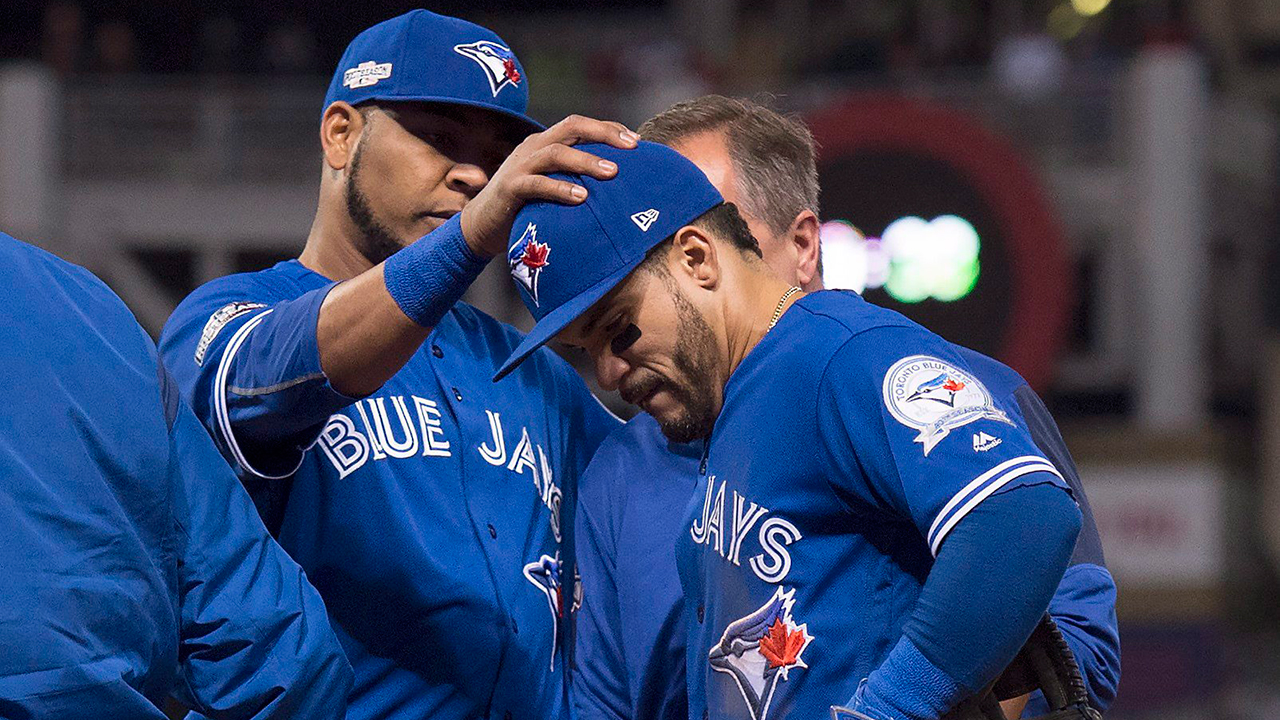 (Photo Credit: Nathan Denette/CP)
Travis will have an MRI either Friday night or first thing Saturday morning. The Blue Jays will examine that MRI, compare it to the one Travis had a little more than a week ago, and determine a course of action. There is, at an absolute maximum, only two-and-a-half weeks left in the team's season. The calendar is not on Travis' side.
Of course, the Blue Jays wisely added utility infielder Ryan Goins to their roster for this series specifically to protect against what happened Friday night. While Travis cleared a gauntlet of agility tests in Toronto prior to the ALCS, the Blue Jays still took the safe route and carried Goins, who replaced Travis in the fifth inning. Goins is one of Travis' best friends on the team. Any increased playing time he receives in Travis' absence will be a conflicting experience.
"I went on the DL for the first time in my career this year and it was really hard to sit back and watch in mid-July," Goins said. "So, I can only imagine what he's going through in October, during playoff baseball."
Long after the game, Travis sat in the Blue Jays clubhouse in a blue t-shirt and shorts, having long conversations with several of his teammates. The stout infielder is one of the most cheerful, friendly presences in the Blue Jays room, whether he's talking to his teammates, staff, or the media. Often, it can seem like every day is the best day of his life.
Friday certainly started that way when Travis got to the ballpark and saw his name in the lineup. But it ended much differently.
"I know how much it kills him to not be a part of this," said Blue Jays centre fielder Kevin Pillar. "And he's doing anything and everything he can. He's the first one here, last one to leave. He's doing treatment at the hotel. Whatever it takes to get out on the field. It's sad to see. A guy so young and so talented and just some freak accidents and some freak injuries haven't allowed him to stay on the field. He's a huge part of this team, and when you see him go down you really feel for him and you really feel for our team."