TORONTO – With pitchers and catchers having reported to Blue Jays spring training in Dunedin, Fla., the shortest Toronto off-season in over two decades has wrapped up.
It was neither a hustly nor a bustly winter for the Jays, at least as far as the active roster is concerned but really, nothing was going to live up to what happened in the last week of July 2015.
But now that the bodies are in camp, it's time to peer ahead to how the team might look as it heads south, believe it or not, to open the regular season in St. Petersburg, Fla., on April 3.
There still exists the idea in some quarters that spring training is a tryout of sorts, that it's a routine thing where someone out of the picture can have an outstanding spring and wind up making the team. That can happen, but only extremely rarely. Simon Pond did it back in 2004 and Colt Hynes made the team last year by not allowing a run all spring. Both of them were back in triple-A before the end of April.
Which is why, while it's going to be fun to watch talented youngsters like pitchers Conner Greene and Sean Reid-Foley, big-stick infielder Rowdy Tellez and super-toolsy outfielder Anthony Alford during the Grapefruit League season, there's no chance that any of them will be making the team, no matter how good a spring they might have. (Note – I would have said the same thing about Roberto Osuna a year ago. Extremely rare.)
Barring the unavoidable spring injuries, manager John Gibbons, general manager Ross Atkins and president Mark Shapiro pretty much know what the roster is going to look like on opening day.

Blue Jays second baseman Ryan Goins works out last week in Dunedin, Fla. (All photos courtesy of Frank Gunn/CP)
If healthy, spots are all but guaranteed to Marcus Stroman, Marco Estrada, R.A. Dickey, J.A. Happ, Aaron Sanchez, Jesse Chavez, Brett Cecil, Drew Storen and Roberto Osuna on the pitching side. Position player-wise, Russell Martin, Edwin Encarnacion, Justin Smoak, Chris Colabello, Ryan Goins, Troy Tulowitzki, Josh Donaldson, Michael Saunders, Kevin Pillar and Jose Bautista will all be suited up at the Trop on that opening day Sunday afternoon.
That's 19 names, nine of which are pitchers, leaving six relative question marks. One would think that would be three pitchers and three position players, but Atkins and Shapiro have both mentioned the value of an eight-man bullpen. Personally, I think that's too much – I've referred to it in the past as a blight on all that is good about the great game of baseball – but we'll see how things shake down with the new bosses.
For now, let's say the Blue Jays break camp with 12 pitchers. At least one more lefty is needed in the bullpen (remember, the Jays took three southpaws out of camp last season – Cecil, Aaron Loup and Hynes), and that's very likely to be Loup. Pat Venditte is an interesting guy, a switch-pitcher who really dominated left-handed hitters in his brief look with the Oakland A's last season (they hit .116/.188/.256 in 48 plate appearances), and he could push Loup for a spot, but Loup is the clear favourite going in.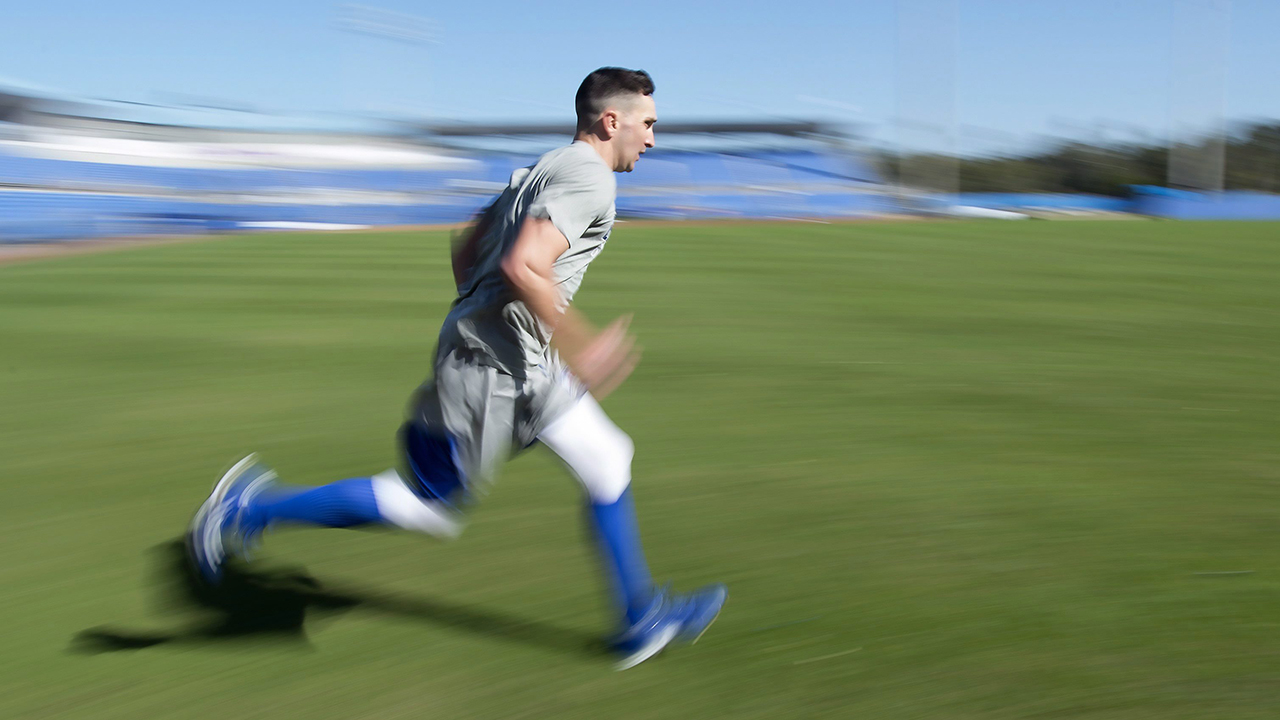 Reliever Pat Venditte runs sprints in Dunedin, Fla.
There needs to be a long reliever, and that's Chavez if Sanchez starts the season in the rotation. But there's a decent chance that Sanchez winds up back in the bullpen, somewhat because of durability concerns but much more because he has the ability to dominate as a reliever while it's not likely that he'd be a dominant starter this early in his career.
There's no question Sanchez would likely be a fine middle-to-bottom of the rotation starter, which is pretty impressive considering he doesn't turn 24 until Canada Day, but there's a strong argument to be made that he can have more of an impact on the Jays' success as a reliever with the team in win-now mode.
If Sanchez is in the bullpen, Chavez is more than likely in the rotation, though the Jays will look at Gavin Floyd there, too. It's hard to ignore how brilliant Chavez has been in the early-season the last couple of years, though. The repatriated righty has posted a sparkling 2.98 ERA and 1.190 WHIP in 187.1 combined innings in April, May and June the last two seasons, with 164 strikeouts. That's a nice, if half-season, weapon to have.
If Chavez makes the starting five, then Floyd is likely the "long man" every team hopes it will never need, which leaves just one open spot in a seven-man bullpen. Steve Delabar, who comes to camp out of options, will make his case for that spot against Venditte, Bo Schultz, Ryan Tepera, David Aardsma and Arnold Leon. If Roberto (the former Fausto Carmona) Hernandez happens to sneak into that long relief spot, Floyd becomes more of a short reliever, health permitting.
If Sanchez is in the starting five, then Chavez likely takes Floyd with him to the bullpen, and maybe Floyd becomes the 2016 version of Joe Blanton – he did look awfully good in relief for the Indians last September, along with one of Delabar, Venditte, Schultz, Tepera, Aardsma and Leon.
Righty Joe Biagini, selected by the Blue Jays in the Rule 5 Draft at the winter meetings, is in tough to stick, which means the Jays will either have to offer him back to the Giants for half of the $50,000 draft price or try to work out a trade to retain his rights so they can send him down. The acquisitions of Floyd and Storen likely spelled the end of any slim chance Biagini had to make the team.
It's incredible to have gone through the entire projected pitching staff and not once mentioned the Blue Jays' opening day starter from just last season, but Drew Hutchison definitely finds himself on the outside looking in heading into camp. Should a starting pitcher go down due to injury, he may very well be the first one on whom the Jays call, but if everyone stays healthy, Hutch starts the season in Buffalo. Pitching staffs are fragile, though, so it would be no surprise to see Hutchison make 15-20 starts in the big leagues this season, with something to prove.
As far as the hitters go, the three open spots (with a seven-man bullpen) will go to a backup catcher, a utility infielder and, likely, a fourth outfielder. There is a chance, though, that Colabello can help out with that by learning to play left field this spring. Colabello was a horror show in the outfield last season, pressed into emergency duty and never having done it before. But if he can work all spring to make himself into a passable left-fielder – not great, just someone who can catch the balls that are hit to him – then that could allow the Jays to take an extra infielder, a third catcher, or (ugh) an eighth reliever.
The backup catcher is almost guaranteed to be Josh Thole, though you can bet that Tony Sanchez, a non-roster catcher the Pirates took fourth overall in 2009 and who has hit a combined .261/.345/.462 in triple-A the last two years, will soon declare his willingness to learn to catch the knuckleball.
Barring the incredibly unforeseen, Darwin Barney will get his first chance to be a "real" Blue Jay and break camp as the middle infield backup to Goins at second (as Devon Travis starts the year on the disabled list, rehabbing his surgically repaired left shoulder) and Tulowitzki at shortstop. The fantastic gloveman came to the Jays last season in September, after the playoff eligibility deadline, and while he helped out quite a bit, it was with the knowledge that he wasn't going to be able to be part of the team during its post-season run. The only way that Barney doesn't make the team (again, barring injury) is if Maicer Izturis blows everybody away in camp. Izturis's tenure in Toronto was an abject failure, and he's coming to spring training on a minor-league contract in hopes to get a chance to make up for that. If Izturis can somehow still play at the level we never saw with the Jays – a huge longshot given his almost two full years on the sidelines – he could be a solid utility infielder. But that's highly unlikely.
The last spot on the roster ideally goes to someone who could spell off all the outfielders, a guy who hits right-handed (to give Saunders a breather against tough lefties) and can play centre field (so that Pillar doesn't have to play 159 games again – a workload that may have contributed to some of those deep offensive valleys he went through last season).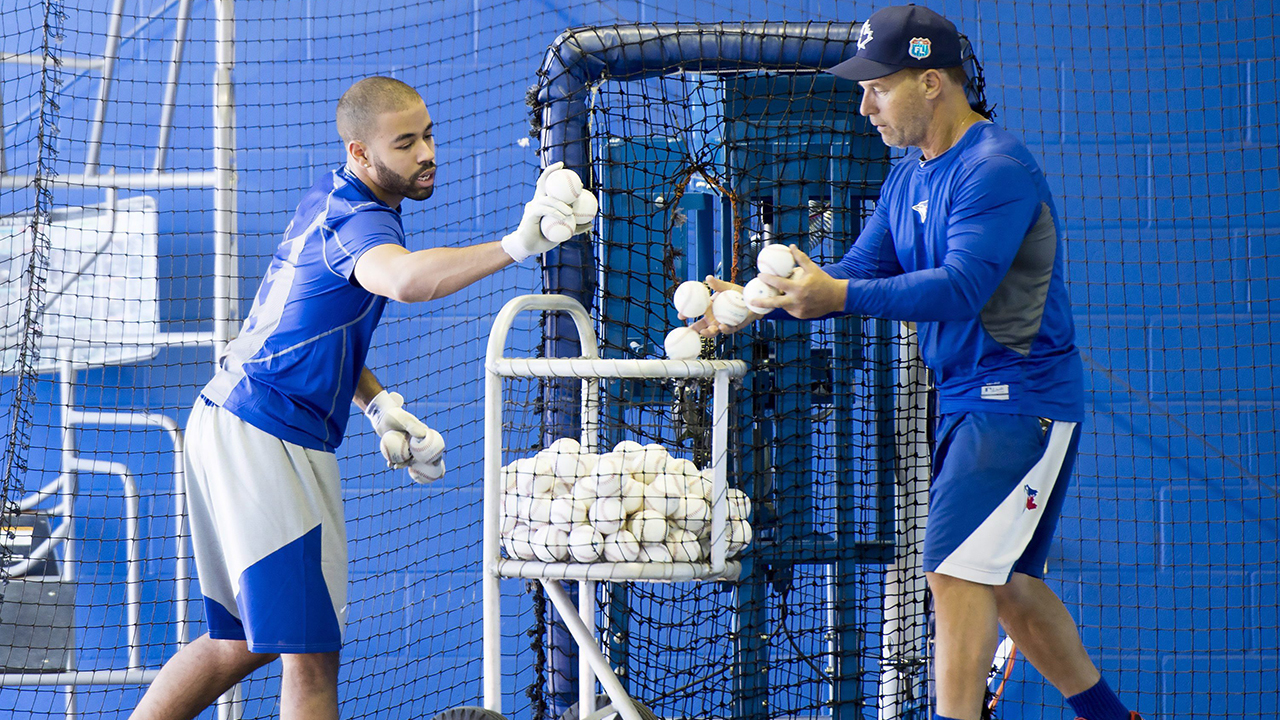 Dalton Pompey, left, works in the batting cage with minor-league coach Dave Pano in Dunedin, Fla., on Saturday.
Right now, the Blue Jays only have one guy like that, and that's Dalton Pompey, though the switch-hitter is a better bat left-handed than right-handed. It's far from ideal to have a 23-year-old with sky-high potential spend a year as a bench bat in the majors when he could be getting 500 plate appearances in triple-A.
The Jays will have to select their fourth outfielder out of a pool that appears to include Ezequiel Carrera, Darrell Ceciliani and Junior Lake.
Carrera spent a lot of time with the Jays last season, and can play a decent enough centre field, but he hits left-handed. Same with Ceciliani, who was a rookie with the Mets last season. Lake has been up and down with the Cubs for a couple of years and is much more of a corner outfielder, but he does hit right-handed and did beat up on left-handed pitchers as a rookie.
One of the problems could be solved if Saunders's knee lets him play a good enough centre field to have him be the option out there when Pillar needs to take a day. If he can, then Lake probably has a big edge in the battle for the final spot.
There are certainly questions to be answered as spring training dawns in Delightfully Different Downtown Dunedin, but – barring major health issues – there aren't that many. The Blue Jays seem only to really need to settle on their seventh reliever and fourth outfielder, and with issues that small, they're in a very good position to defend their American League East crown.