TORONTO – Colby Rasmus and the Toronto Blue Jays are so over, and assessing what happened and how things got here is complicated.
The uber-talented but struggling 28-year-old arrived via trade in July 2011 as "a distressed asset," in the words of St. Louis Cardinals GM John Mozeliak, produced 5.6 wins above replacement over 399 games, looked like an all-star at certain points, a future wash-out at others, and left those around him any and all of dazzled, frustrated, awed, disappointed and confused.
Now, unless the Blue Jays can peddle him to a team with a sudden need – the Milwaukee Brewers come to mind with centre-fielder Carlos Gomez out two weeks due to a left wrist sprain – Rasmus will be relegated to the bench for his final month with the Blue Jays before free agency. In his place, manager John Gibbons plans to ride Kevin Pillar and Anthony Gose, the platoon combination in centre field for the majority of the club's 25-7 run through May and early June.
Basically, it's same house, separate beds with the mistress around for Rasmus and the Blue Jays until their divorce is completed, no qualifying offer to gain draft pick compensation forthcoming.
Can you say awkward?
SHIFTING THE BLAME
Rasmus's struggles this season are well-documented, and while he owns a .726 OPS with 21 doubles and 16 homers in 95 games before Thursday's play, he has also struck out 116 times in 333 at-bats, a career-high 32 percent. Those numbers are down from his 4.8-WAR season in 2013, when he posted an .840 OPS with 26 doubles and 22 homers in 118 games. His play in the outfield has ebbed, too, with his Defensive Runs Saved rating going from 11 last year to minus-7 this one.
There's no single, easy explanation for why Rasmus' performance has declined so sharply, but factors surely include the more effective way teams have shifted him defensively this season, a pull-centric approach divergent from the middle-of-the-field philosophy preached by hitting coach Kevin Seitzer, and a month-long absence with a hamstring injury. On July 31 he was also disciplined for missing the hitters' advance meeting before a series opener in Houston against the Astros, which can't have helped.
Then there may be some elements of luck, or lack of it, at play, too, as the chart below suggests.
Line drive percentage
2014 – 24.3 %
2013 – 22 %
Career – 19.9 %
Batting avg. on line drives
2014 – .684 (39-for-57)
2013 – .794 (54-for-68)
Career – .735
Batting avg. on ground balls
2014 – .215 (17-for-79)
2013 – .327 (32-for-98)
Career – .256
To blame the discrepancies there on the shift alone is too simplistic, but without doubt the shift has eaten into both his batting average on line drives and on ground balls.
RASMUS: 'IT'S TOUGH MAN'

An ongoing debate in baseball is how hitters should try to beat the shift. While embracing Willie Keeler's advice to "hit 'em where they ain't," seems the logical course, for some players intentionally hitting the ball the other way can be difficult and counterproductive. Few can aim the ball like Ichiro Suzuki.
As Rasmus explains during a recent interview: "This year they're just covering the (right) side of the field, last year they might have moved the second baseman over a little bit, but there was still a pretty good sized hole. The problem is for me, if I try to change it, if I back up off the plate, that doesn't help me none, because they're just throwing me in, hard in, soft in, just to try to get me to hit into it. For me to try to look to hit that ball the other way, which is what I did for a little bit of time, I was hitting even worse, and I wasn't having good contact. To me, I felt like I'm going to take my chances trying to hit it through it. Get up on that plate, and if they're going to try to throw it in, I'm just going to try to turn on it."
Trying to shoot pitches on the inner half of the plate to the opposite field, "is not that easy," adds Rasmus, "especially when they pound you in. Since the all-star break, they've pounded me in a lot, which is good because I've been crushing balls, but I haven't had the luck, the balls just haven't been finding holes. They're standing right where I hit it, you know what I'm saying? Bullets. Like if it would have been to the left or right five feet ain't no way they catch it. It's tough man."
David Ortiz used to drop the occasional bunt to make teams rethink their shifts on him, and Rasmus infuriated Colby Lewis by laying one down last month.
Would he consider using that approach more often?
"If I try to bunt and I just give up an out by a bad bunt, then I'm defeating the purpose anyways, right?" says Rasmus. "You want to have a situation where you can actually get a good bunt down because after the Colby Lewis thing, all the third basemen play in and then with two strikes they back up."
In a 5-4 win Aug. 23 over the Tampa Bay Rays, Colby Rasmus opened the decisive 10th with a two-strike bunt single, eventually scoring the winning run. Bunting with two strikes is a risky move since a foul ball can lead to an out but, "it's what I used to do when I was coming up," he notes.
"If I thought they were going to throw a breaking ball or try to backdoor something, those are easier to bunt that way," he says. "But if they're going to pound me in with fastballs, trying to bunt it that way is going to mess me up. And I've thought about bunting some to first base, but I haven't done it. I've been feeling good swinging the bat, to bunt, I might miss an opportunity of getting a good pitch I can crush somewhere. That all runs through my mind real fast and not knowing the best thing to do sometimes, I feel like since the all-star break I've been playing pretty good, I've been snakebit."
SEITZER: 'LET IT TRAVEL'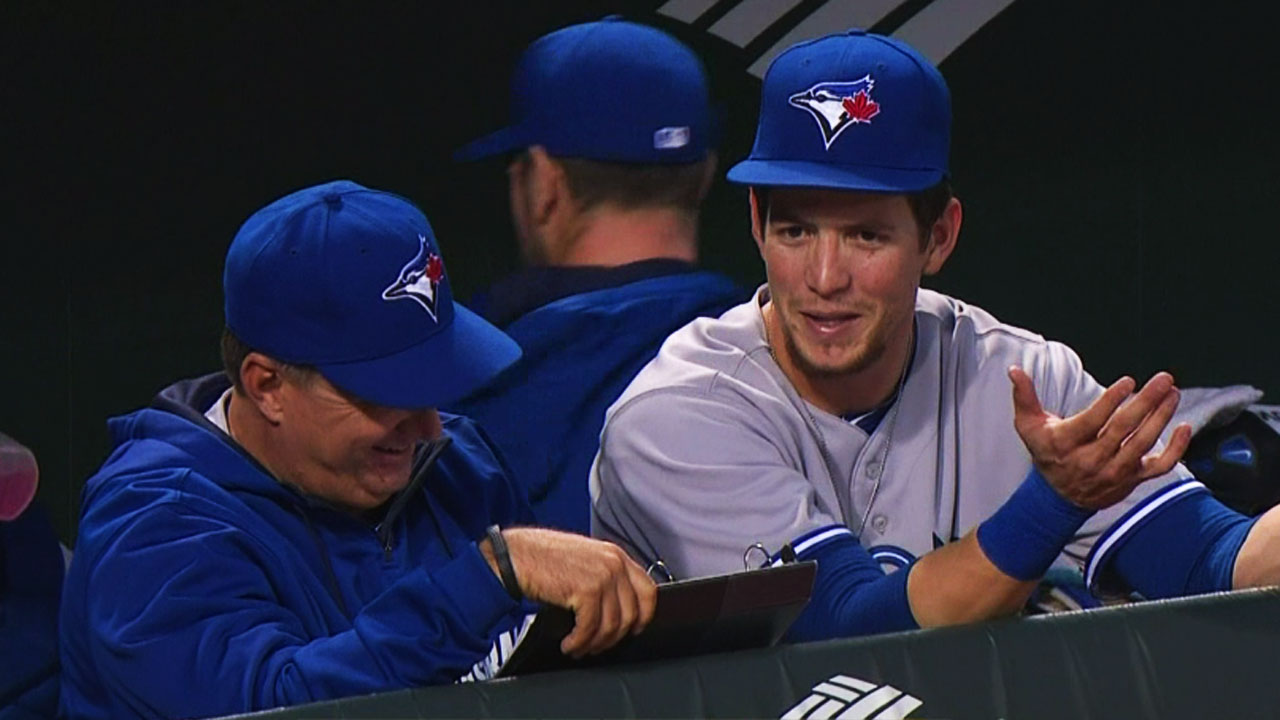 At the time of his hiring, Seitzer's middle-of-the-field philosophy seemed to be at odds with the pull-happy nature of several of the Blue Jays' top hitters, including Jose Bautista and Edwin Encarnacion.
His general approach to beating the shift?
"The big thing is to get on top of the ball and let it travel, that's the biggest thing," Seitzer says in a recent interview. "A lot of time you'll see a shift on the infield but not in the outfield, and that's because normally pull type hitters will roll over stuff down in the zone, and anything they try to go away with or they're late on, they hit it in the air. That's the biggest thing, you have to change your swing path and really focus on getting on top, and what it will result in is a lot more line drives through the shift and put you in better position on breaking stuff. But that's a conscious decision hitters have to make in order to go up there with a mindset to beat it, instead of just do the normal thing."
One school of thought in the game is that trying to get pull hitters to go the other way diminishes their effectiveness, and that they're better off sticking with their strength. Seitzer doesn't disagree but says trying to use the opposite field "is not something you do all the time."
"For example, a two-strike approach because you don't want to get fooled on off-speed stuff, is you try to battle the other way on a fastball," he explains. "All you have to do is make a conscious decision to get on top as you battle the other way, and that will allow you to shoot some balls through the right side, and you'll see, with Jose Bautista especially, when he gets two strikes a lot of times they'll move back over because they know he wants to drive the ball before two strikes, but then depending on RBI situation, point in the game, they may not even shift on him right out of the gate because they don't want to give him that free RBI, because they've seen him do it. That's the biggest thing, you just need to prove to other teams that you're willing to do that, that you can do that, and then all of a sudden it will start balancing the field again. If guys don't want to make that adjustment, that's a personal plan of attack that I can't force, I can only encourage."
AN OUTSIDE VIEW
Rays manager Joe Maddon has made his reputation by embracing the unorthodox when it comes to in-game decision making and dealing with his players. That's what makes his thoughts on hitters beating the shift so interesting.
"I just encourage them to be who they are," he says. "We've done things with different guys, Matt Joyce was bunting more earlier in the season, now he's found his stroke, and even with the shift he's still hitting (.263). When it comes down to the shift, and everybody wants to talk about it, to me, if you want to beat the shift, really pay attention to your minor-leagues. That's where it starts. Everybody thinks it's easy for players to make adjustments once they get here. It's not. If you've been doing one thing for six, seven, 10 years one way, and all of a sudden you get to the major leagues, camera in your face, bright lights, every game counts, and you want a guy to try and do something different? It's not going to happen. All this stuff about the shift, and legislating against the shift, if you want to quote unquote beat the shift, teach guys to utilize the whole field when they're younger. Pure and simple."
So if a pull-happy player is regularly hitting into extra outs because of the shift, that's something the team and player have to live with?
"Yup," replies Maddon. "The guy that's really turned it around is Ortiz, he was able to really start hitting the ball to that area (in left-centre), but he had the great advantage of playing at Fenway Park, too. If you're a left-handed hitter and being shifted upon, the best remedy to that would be to play in a ballpark with a short left field where you can play pepper with the wall. That really encourages you to want to do that. So if you're going to play in a normal-sized or big ballpark, you're left-handed and you pull the ball a lot, and all of a sudden you want to hit the ball the other way, it's not really the same. The wall aids in the healing process mentally regarding how to do that."
LIVING WITH THE RESULTS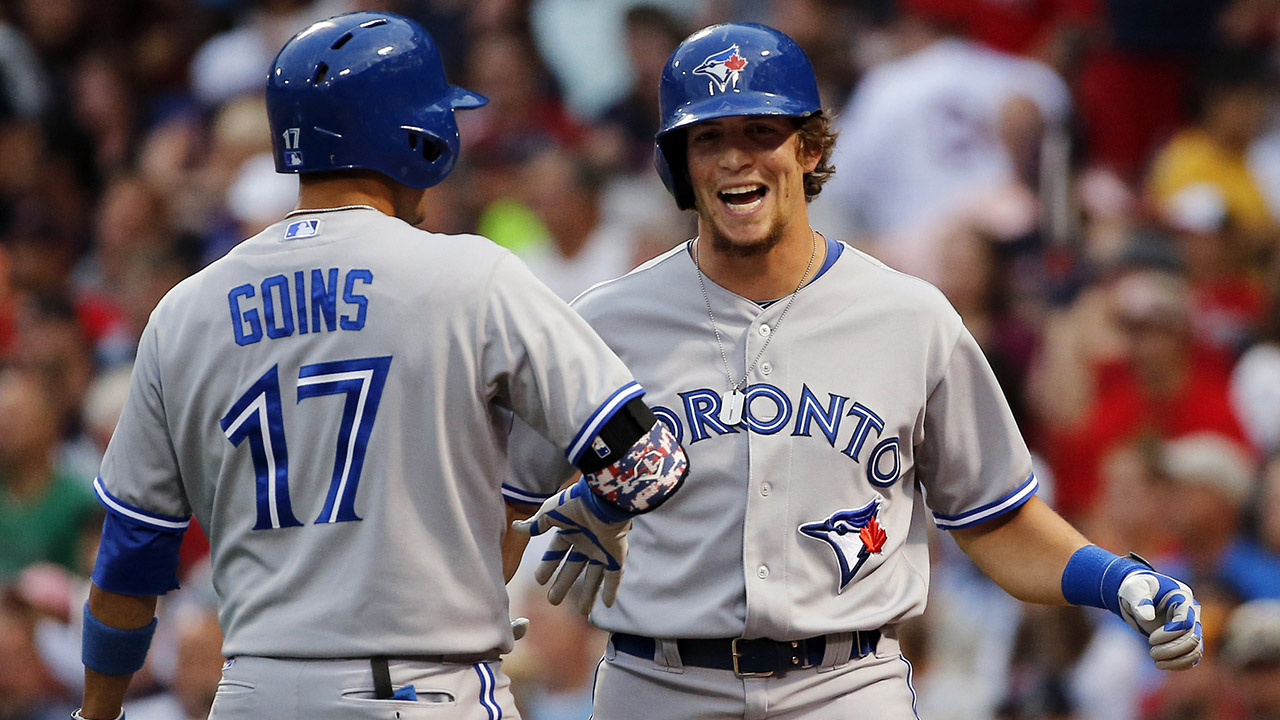 Taking 100 swings immediately after a bad night at the plate in search of a mechanical adjustment to resolve the issues of the moment used to be commonplace for Rasmus. His penchant to overwork himself is one reason the Blue Jays feel he wore down in 2012, when a brilliant first half gave way to a brutal second half.
Understanding how counterproductive and detrimental that process was has allowed Rasmus to better cope with losing hit after hit into the shift. He may not like the results, but he can live with them if he hits the ball hard.
"I've gotten a lot better with that," he says. "In the past, I would get real mad, work out real hard, and go in the cage and take a bunch of hacks thinking I have to work my way out of it, which is what the Cardinals made me think, and got my mind wrapped around with the harder you work, the better it's going to be, the more you're prepared, the better it's going to be. And really, I was just wearing myself out.
"Now, if I crush one into the shift it makes me mad, but it's like, dude, I hit the ball hard, what am I supposed to do? They're just playing better defence than what I'm able to hit. That shift and everything is just going to weed out pull left-handed hitters, we'll fall off, be gone and then the game will change. There won't be those power pull hitters, there will be those guys that just slap the ball around.
"When I was in double-A my manager used to tell me, 'You've got to hit a homer to get a hit, man,' because they would play the shift on me like that. I'd get up on the plate, they'd be like, OK, we're going to throw him fastballs in. That's what I want, pow, pow. So I've dealt with it for a good while, but I've never had a season where I hit this many that hard and they're just standing right there. Or they're standing so far back, they're making a diving play.
"We've got guys in here that just hit little bleeders and little dinkers, you know? I don't ever get any of those, never. Balls never fall for me. My hits are, like pow, suck on that, you know? That's the way it's been my whole career, for whatever reason, it's just the way the game works out for me."
In 2013 for the better, and in 2014 for the worse. In 2015, it will play out with a team other than the Blue Jays.