Baseball has not only been "America's past time," it's been a male dominated space for much of its existence. In recent years the gender ratio within the game has changed.
The latest sign of change was when the Mets recently announced they hired ESPN's Jessica Mendoza as a baseball operations advisor. Mendoza's areas of focus will be player evaluation, roster construction, technological advancement and health and performance.
MLB is working hard to create more pathways for women to evolve in the sport and a young Canadian is the beneficiary this weekend.
The inaugural "MLB Grit" initiative is underway. It's a high school baseball invitational designed specifically for girls who play baseball at the Texas Rangers MLB Youth Academy in Dallas, Texas. Representing Canada in the expose is Caitlin Tomotsugu, a highly recruited outfielder and right handed pitcher from Vaughn, Ont., who is considered among the best high-school female players Canada is currently producing.
Tomotsugu has been playing baseball since the age of five and has since won three national championships playing provincially with Team Ontario before competing on the Canadian Under-21 prospects team.
Caitlin and the other 59 girls in attendance will receive development training, as well as a competitive tournament at Globe Life Park, home of the Texas Rangers.
Along with Tomotsugu are five women who competed in the Women's Baseball World Cup in 2018. The players will also receive presentations regarding the collegiate recruiting process, as well as alternative careers within baseball from Kim Ng, the highest ranking female Senior Vice-President for Baseball Operations with Major League Baseball and the highest ranking Asian American female baseball executive.
In between on field instructional sessions and before the real games started, Caitlin took time to fill me in on what the experience means to her.
Sportsnet.ca – What's the MLB Grit experience been like thus far?
Caitlin Tomotsugu – It's been pretty cool. Females with jobs related to baseball have conducted informal sessions with us. I thought that was pretty cool. I'm pretty excited about playing in the Texas Rangers' stadium.
SN – Have you always played baseball instead of softball?
CT – I started playing baseball, I'm still playing baseball. The only time I started playing softball was in high-school when I wanted to have a little fun.
SN – Why did you choose baseball instead of softball?
CT – Initially I joined baseball because of my brother. When I was five I wanted to be just like him. So, he was playing baseball I had to play baseball. After that I loved the sport and stayed with it.
SN – What are your goals within the sport?
CT – One of my main goals is to make the national team, something I'm currently working towards. After that there isn't really a league here in North America so making the women's national team is top priority.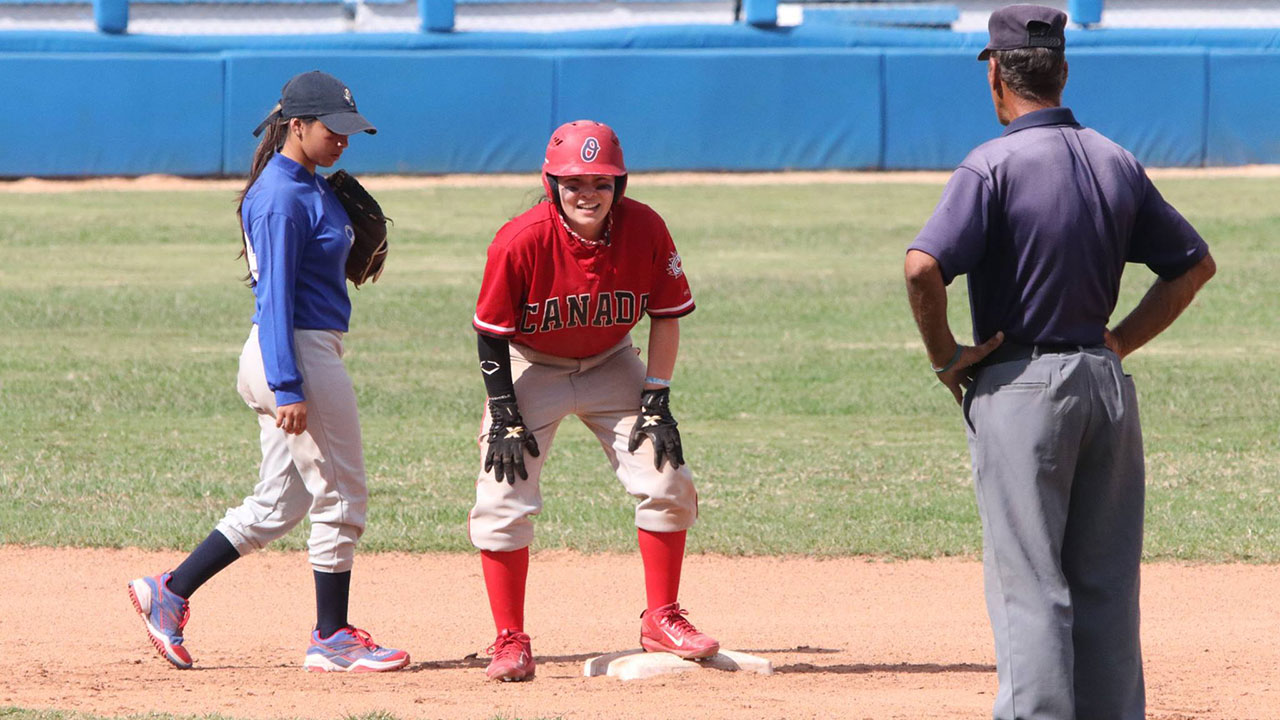 SN – Do you wish there was a baseball option in university or professionally in North America?
CT – Oh Definitely! Having that option would be so amazing. It would mean that I didn't have to switch sports to keep playing in university. I've had a few offers to play softball. That could be an option for me. Some of the other players in Ontario are doing that so I'm think about doing that too.
SN – Do you intend to pursue a career in baseball?
CT – I never really thought of that as an option before this week. Right now, I'm applying for engineering academically. If there is something related to engineering in baseball, I'll see where the game can take me.
SN – What's it mean to you to be invited to represent Canada at MLB Grit?
CT – It feels amazing. I's something special because right now I'm among the young women that are coming up and will be the next generation of Team Canada and the sport. That gives me confidence. It's inspiring because I see that other people see the potential in me.
SN – What in-sport women inspire you?
CT – There are so many women that inspire me. The main ones are on the national team like Ashley Stephenson and Kate Psota. I've played with them on the boys' loop. Just playing with them and seeing their passion for the sport is inspiring.
SN – Are you treated differently because you are a girl playing baseball?
CT – That is something that I definitely deal with pretty often. Whenever I'm at a tournament and people ask me what I play and I say baseball they say "don't you mean softball" and I have to correct them and say "No, baseball." They assume softball is just like baseball but the girls' version. It's upsetting to see that people still have that view. But girls' baseball is becoming bigger every single year which is evident in having this tournament here. I think in the future we'll see baseball is for everyone and not just for men. I'm proud that girls are playing baseball and I'm one of them.
SN – What impact could initiatives like MLB Grit have?
CT – This is giving more opprotunities for girls, specifically for younger girls to know there is a place for you in the game. There is stuff that girls can do in baseball so it should inspire other young women to take up the sport. Then eventually it will grow into a more mainstream thing.