Dale Scott was an MLB umpire for 32 seasons and worked 3,897 regular season games, including 91 in in the post-season where he worked three World Series.
He announced his retirement last week at age 58 after suffering four concussions in five years, bringing an end to an impressive career which became ground-breaking in 2014 when Scott announced he was gay, making him the first openly LGBT official in MLB and any of the four major sports.
While Scott's retirement was big news across baseball, it turns out Scott's career had all kinds of Toronto connections. Despite having worked nearly 40,000 innings and seen more than a million pitches, he said in an interview in Outsports recently that the inning that stood out most for him was the one no Blue Jays fan will ever forget either: the seventh inning of Game 5 of the 2015 ALDS. It was Scott who was working home plate for the deciding game and mistakenly called time after Blue Jays catcher Russell Martin's errant throw, setting the stage for nearly as hour's worth of unparalled drama.
On At the Letters, Ben Nicholson-Smith and Arden Zwelling take fans inside the Blue Jays and around MLB with news, analysis and interviews.
But Scott's Toronto ties run deeper: The last game of his career was at Rogers Centre on April 14 when he was taken from the field on a spinal board after being hit by a foul tip off the bat of Orioles' slugger Mark Trumbo. He also worked the first-ever baseball game at SkyDome and he was the umpire in 2016 for the Rangers-Jays brawl, one of the most violent he has seen in his career.
I caught up with Scott by phone from his home in Portland, Oregon:
SN: You have said that the seventh inning of Game 5 of the 2015 ALDS was one of the most memorable moments of your career. What sticks with you?
DS: If you had told me right before I was walking to home plate for a deciding Game 5 that we would have two or three bench clearings, two or three stoppages of play because people have thrown stuff on the field, a couple of ejections and a rule that I've never seen in almost 30-plus years in baseball and I'd have the first protested game of my career, I might have retired before the game, because it was insane. [laughs]
[But] I just remember coming off the field and with this huge sigh of relief. 'It's over,' you know? It was one thing after another.
I mean Russell Martin throwing the ball and it ricocheting off [Shin-Soo Choo's bat]? What was that? How many times does that happen, you know?
I was just exhausted. I put it all out there.
And then I had to write reports all night because they had to be in as soon as possible because it was a protest. I literally was up all night in my hotel writing stuff up and making sure it was correct and I had an early flight and I never slept all night.
You can't predict something like that, you know?
SN: Do you have any experiences that rival that one?
DS: My first playoff game behind the plate was Mariners-Yankees in Game 2 of the Divisional Series in 1995. I went 15 innings and five hours and 13 minutes. The game didn't start until 8 p.m. Jim Leyritz hit a walkoff and it was starting to rain. If they hadn't walked it off we might have gone another inning and then it poured and it poured all the next day. We were so lucky to get out of there with a decision.
That was just a long, intense game, but it didn't have the stuff we had in Toronto. The dramatics, the rulings and the arguments. That was an umpire's nightmare, my friend [laughs].
SN: Did you see what happened at the time? Did you see the ball actually hit the bat?
DS: Yeah, yeah I did.
SN: Because you could have been looking at your shoe at that moment, it was such an innocent play:
DS: Absolutely.
But what was funny in all that mayhem, I noticed Russell Martin didn't say a word and as you know Russell has a tendency to say things when he wants to say things [laughs].
And in the middle of this argument with John [Gibbons, Blue Jays manager] as I'm explaining what was going on, I was looking over John's shoulder and in my mind as I'm talking to John I'm like, 'I know we have this 100 per cent right now because he [Russell] knew he had made a mistake, obviously and felt horrible about it. Everyone else was in hysterics, 'it can't be this, it can't be that,' and I'm looking at Russell and he's not saying a word, so I figured 'that shows me something.'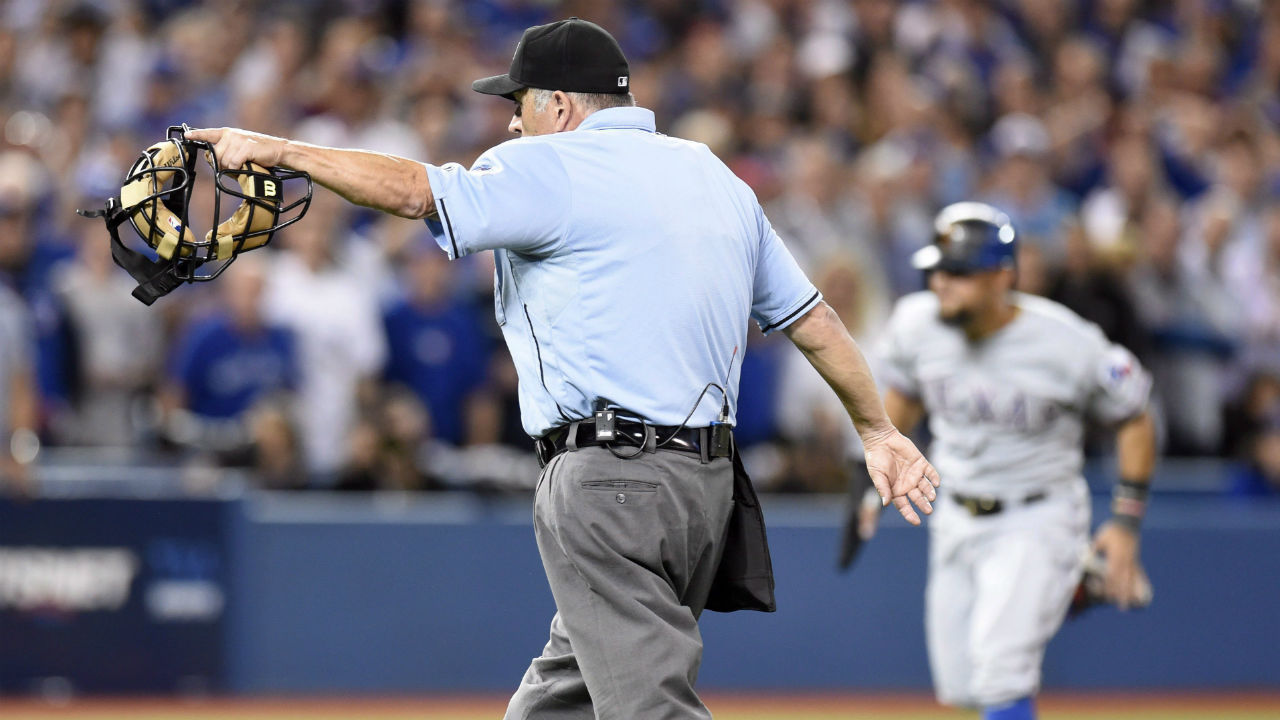 SN: You explained at the time you conflated two rules. How long until you figured out you were wrong?
DS: Right when I had my hands up in the air [to call time] it just flashed in front me: 'No, Dale, that's a live ball, there was no interference.' But I had already called time.
The way the ball ricocheted it was nowhere near a fielder and the guy [Rangers baserunner Rougned Odor] broke for home immediately. So I got the guys together and said 'I think I might have screwed this up. I called time but that ball's live'. And they said, 'yeah, that ball's live, and it wasn't near anybody.'
So I said, 'all right guys, I'm going to score this guy and I'll take on John.'
SN: Take him on?
DS: I knew it was going to be just an earthquake. But I also knew that even though I had mechanically made a mistake by initially calling time-out, the common sense, right thing to do was to score him and that's what we did.
At one point I said, 'John, do you want to get run over this? We have to move on now.'
He said, 'No, I don't want to get run over this', so I said, 'OK, we have to go.'
SN: Had the ball ricocheted to a fielder the ruling would have been different?
DS: That's why I double-checked. I knew the answer but I wanted to make sure we were all on the same page. If the ball had gone to Donaldson or to the pitcher, even if they didn't make a play I would have had to send [Odor] back because [the Jays] would have had a legitimate argument that they didn't make a play because I called time. But because the ball was nowhere near anyone so my calling time had nothing to do with the outcome of the play. But I couldn't have made that decision if someone had fielded it even if he hadn't thrown home because now they have a legitimate complaint: 'you called time.'
SN: When you grant them the run are you looking for shelter at that point?
DS: I remember at one point one of the police officers was standing next to me and he says: 'When this game is over we're going to have one guy on each of you, to get you off the field. You can do what you want, but my advice is to run.' [laughs]. And I said, well, I'm going to take your advice.
Luckily for us, as far as the fans go, Jose Bautista does his thing [his three-run shot in the bottom of the seventh], you know and we got out of there without any issues because everyone was real happy.
Ironically the next year it's my crew in Texas for the big fight.
SN: Really? You're the Forrest Gump of Toronto sports officials.
DS: We get the next year's schedule and I'm going down it and immediately I'm like: 'We have Toronto at Texas. Oh my God.'
And then I looked at it and saw they were in Toronto a couple of weeks before so I thought maybe they'll get it out of their system up there. And of course nothing happened up there and the first two games in Texas nothing happened and in the final game we had nothing between the teams, I ejected the [Rangers] first base coach and some yelling and screaming, whatever, but nothing between the teams.
But by the seventh inning or whatever I was thinking maybe we're going to get through this without anything. And then boom. Here we go.
I've seen a lot of baseball quote-unquote fights, but a lot of them are like slow dancing or whatever. But that one in Texas and one way earlier in my career, Oakland at Milwaukee, were big-time hits. It was an actual fight.
SN: Was Toronto a city you felt more comfortable in given the nature of the LGBT community here?
DS: Some cities were better than others and Toronto was way up there in the top five for that because it is an open city and very welcoming. I remember one year I was there for [Canada Day] and there was a gay softball tournament and I had a bunch of friends there for that and I had a really fun weekend. The games got in the way of the good time [laughs]. Toronto is one of my favourites, for sure.
It's ironic how many times it's come up in my career. That playoff game was my last playoff game ever. I didn't work the playoffs in 2016. Of my 91 post-season games, that was number 91.
I first came up when they were still playing in Exhibition Stadium and I was on the crew that opened SkyDome. I had third, second first in that series.
I have always loved Toronto. Some guys don't like it because of the hassle of going through customs back and forth, but it's always been one of my favourite cities.
But Toronto is a good city and it's always been pretty friendly except for that night they were throwing s— at me [laughs].