Shortly after Toronto was eliminated from the American League Championship Series, R.A. Dickey met Aaron Sanchez in the middle of the Blue Jays locker room and said goodbye.
"Might not see you tomorrow," the 41-year-old knuckler said, shaking the fresh-faced ace's hand, pulling him close. "I'll be watching you dominate. Proud of how you work."
Next to them, a pack of reporters crowded around Jose Bautista, asking questions about what might have been the slugger's last game in a Jays uniform.
Dickey went back to his stall, where he'd been busy packing up the artifacts he'd collected in his four seasons in Toronto.
As wooden shelves grew bare, Dickey thought about his first day in the city when he didn't know where Mississauga was, before he'd visited the Royal Ontario Museum with his kids, or went camping in Algonquin Park. He remembered walking down the corridor in the clubhouse lined with photos of pennants and World Series victories. He remembered walking into his first press conference, where he put on his white Blue Jays No. 43 uniform, and sat next to then-GM Alex Anthopoulos answering a question about how excited he was to start the next chapter of his journey.
"Now it's time to say goodbye," Dickey said. "It's a weird feeling."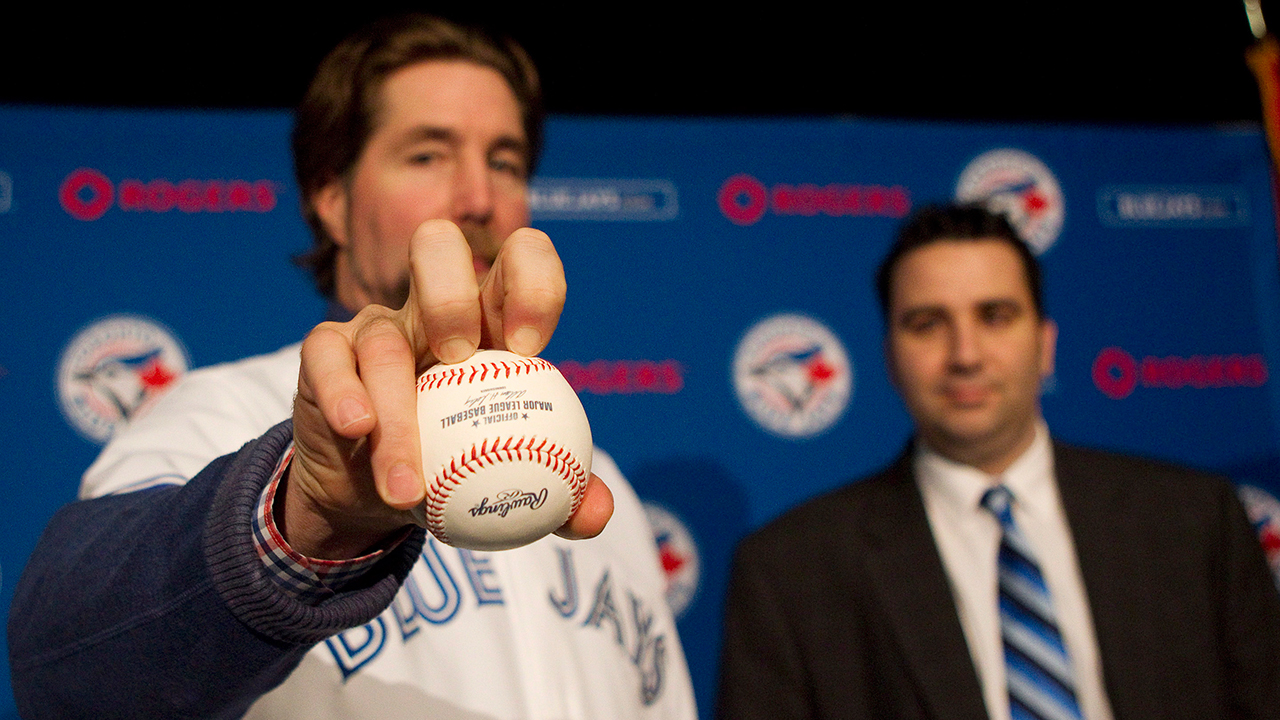 R.A. Dickey stands with then-Blue Jays GM Alex Anthopoulos at his introductory news conference in Toronto on Tuesday, January 8, 2013. (Chris Young/CP)
---
As a free agent, Dickey harboured no illusions about his future in Toronto.
He arrived in the city after winning the 2012 NL Cy Young with the New York Mets. His unlikely resurrection as a knuckleball pitcher near the end of a journeyman career was the best story in baseball at the time. The trade that brought him to Toronto was part of a series of aggressive off-season moves in 2013 intended to infuse life back into a middling franchise. The Jays gave up some top prospects for Dickey. Most notably, Noah Syndergaard, who has since emerged as a bona fide ace with possible roots in Norse mythology.
A man of many metaphors, Dickey's tenure in Toronto flew much like his signature pitch. When he was on his game, he was an essential part of the Jays rotation— baffling hitters, forcing weak grounders and pop-outs. But when his knuckleball didn't dance, opponents took full advantage.
Many fans adored him, but many groaned whenever he took the mound. And as long as Syndergaard continues to grow into one of the game's most fearsome pitchers, the trade that brought Dickey to Toronto will be lamented by Jays fans who dream about what the team's rotation would look like with Thor slotted in.
But hindsight is often an amnesiac, and almost always unfair. Whether fans want to credit him or not, Dickey was part of Toronto's regular-season success these last two seasons, when the franchise burst to life and Rogers Centre was packed with more fans than any other stadium in the American League.
This post-season, with the Jays boasting the best starting rotation in the AL, Dickey was left off the roster. He watched from the dugout as the Jays' future pitched its way to a second straight appearance in the ALCS. It was something he'd been a part of, and he took pride in that.
"For me, not being on the roster, and look around and know that I'd be a number three on a lot of teams in the AL, that's a testament to how good these guys are," he said. "And I'm the only one that's leaving."
Dickey wouldn't be there the next day when most of the others cleared out their lockers—some for the winter, others forever. He intended to head home to Nashville in the morning, where he'll spend the next couple months with his family and forget about baseball for a while. If any opportunities arise for next season, he said, he'll decide about his future then.
As for Toronto, this was the end.
"It's staying in my heart," he said, reflecting on electric crowds and October baseball. "I'll never forget it."
And then R.A. Dickey went back to packing; filling up the boxes, until his stall was almost as empty as it was the day he came.