Heading into the 2017 baseball season, nobody predicted that Justin Smoak would end up representing the Toronto Blue Jays at the all-star game — and as the starting first baseman, no less.
Smoak's surprising season — in the first half, he slashed .299/.364/.587 with 23 home runs and 55 RBI — makes him more than deserving of an all-star nod.
He's not the first unexpected Blue Jay to get the honour, though. While representatives of Toronto teams past have typically been big-name players, there have been some unlikely all-stars, too. And while Smoak may be headed to his first of many all-star appearances, some of those players never recaptured the glory days of their single greatest season.
Today, we present a ranking of the top six flash-in-the-pan Blue Jays all-stars — players who had one spectacular season with Toronto — with the biggest anomaly season earning the No. 1 spot.
6. Alfredo Griffin
A shortstop who suited up for the Blue Jays for a total of eight seasons — between 1979-84, and again in 1992 and 1993 — Griffin earned his all-star appearance in an unusual way. In 1984, he travelled to the game as the guest of teammate Damaso Garcia, who had been selected as Toronto's representative. When Alan Trammell, a shortstop for the Detroit Tigers, pulled out due to injury, Griffin was chosen as his replacement because he was already present at Candlestick Park in San Francisco.
While Griffin was never selected as an all-star again, he did enjoy a long major-league career — while he was never a superstar, he experienced more success than simply one brief season of fleeting glory. Technically, then, the four-time World Series champion doesn't deserve to be on this list. He made the cut solely because of the bizarre way in which he landed a spot in the all-star game.
5. Michael Saunders
Saunders is only one year removed from his all-star game appearance, and already the outfielder is no longer playing in the majors.
In the first half of 2016, Saunders hit .298/.372/.552 with 16 home runs and 42 RBI; in the second half, he slashed just .178/.282/.357 with eight home runs and 15 RBI. The second-half slump represented a downward trend from which the Victoria native still hasn't bounced back.
The 30-year-old, who earned his entry to the all-star game as the Final Vote winner, signed a one-year, $8-million deal with the Philadelphia Phillies in January. In June, he was designated for assignment. If Saunders does make a comeback, he could do it as a Blue Jay: on June 28, he agreed to a minor-league deal with Toronto. If he finds what he's been missing, he may yet bounce back, proving that his success last season — and through 2012-14, when he put up strong numbers — wasn't an anomaly.
4. Ricky Romero
Romero, a fan favourite in Toronto, pitched two decent seasons for the Blue Jays before earning an all-star nod in 2011. The left-handed pitcher posted an ERA of 2.92 across 32 starts that season as Toronto's ace. He earned his all-star spot as a replacement for Jon Lester, who was injured.
Once his all-star season was over, Romero never recaptured the success on the mound he enjoyed in 2011. The following season, the California native posted an ERA of 5.77 across 32 starts and led the majors in walks with 105. Romero made four appearances in 2013, two of them starts, posting an ERA of 11.05. He struggled with injuries and was released by Toronto in the spring of 2015. He hasn't made an appearance in the bigs since Sept. 25, 2013. In May, Romero signed a deal with the Toros de Tijuana of the Mexican Baseball League.
3. John Buck
John Buck's best season, 2010, saw him reach the all-star game as a replacement for Victor Martinez, who could not play due to injury.
Buck posted a career-best OPS+ of 114 that season and was worth 2.3 WAR, per FanGraphs. He also notched 20 home runs for the first (and last) time in his career, including a memorable three-home-run night. The catcher spent four more years in the majors, representing five different teams. He never again posted numbers that were anywhere close to all-star worthy.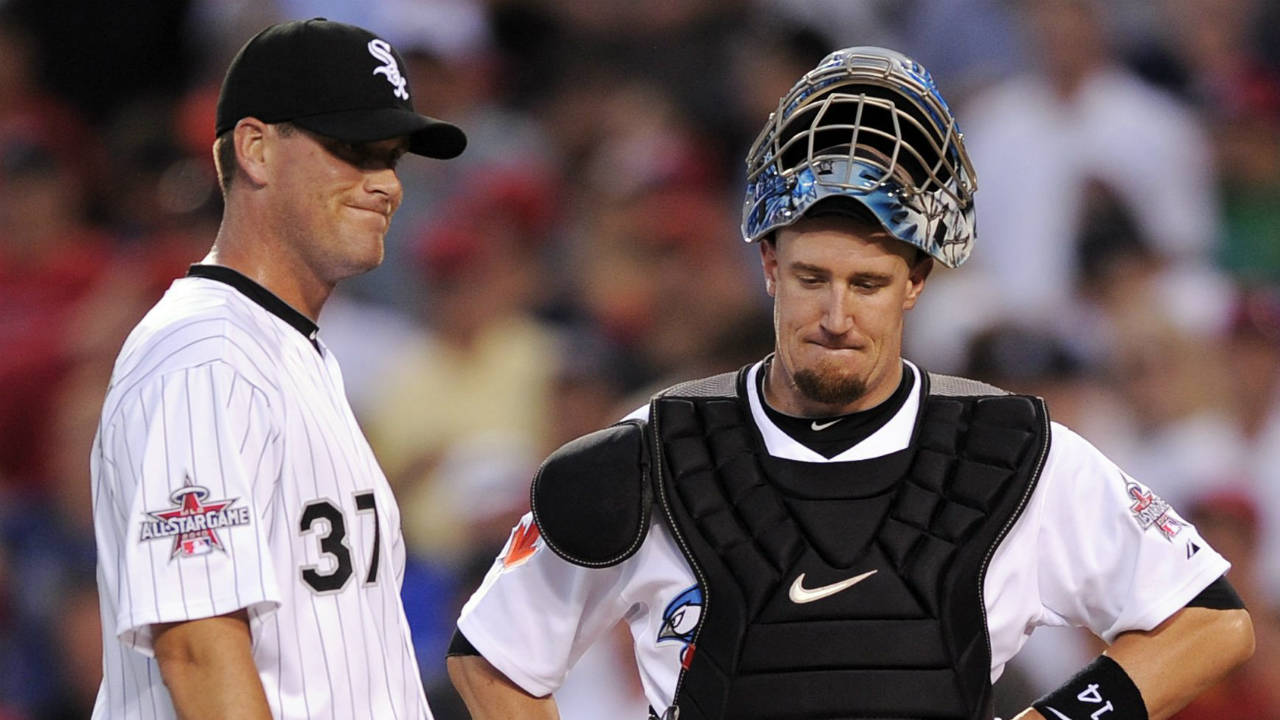 2. Dave Lemanczyk
A right-handed starter who pitched for Toronto between 1978-80, Lemanczyk's best season came in 1979, the year he served as the Blue Jays' lone representative at the all-star game.
Lemanczyk made his debut in 1973 and had never before posted an ERA below 4.00. In the season that preceded his all-star appearance, the native of Syracuse, N.Y., posted an ERA of 6.26 across 29 starts. In 1979, he lowered that number to 3.71 across 22 starts.
The season after his all-star appearance, Lemanczyk made 10 appearances for the Blue Jays before being traded to the California Angels. He made 21 appearances for the team, two of them starts, and posted a season ERA of 4.75. Lemanczyk retired following the end of the 1980 season.
1. Steve Delabar
Right-handed reliever Steve Delabar is only four seasons removed from his all-star appearance, when he represented the American League alongside the likes of Mike Trout, Miguel Cabrera and David Ortiz.
Delabar earned his entry to the all-star game as the Final Vote winner. In 2013, Delabar made 55 major-league appearances, posting an ERA of 3.22 and a FIP of 2.72.
Delabar's all-star appearance seemed to represent the climactic moment of a Cinderella story. The former substitute teacher had clawed his way not only to the majors, but to the pinnacle of the sport.
The glory was relatively short-lived, though. Delabar's ERA climbed with each successive season, and in March of 2016, he was cut from Toronto's roster. In April of this year, the 33-year-old was handed an 80-game suspension after testing positive for a performance-enhancing substance.
Delabar was released by Cleveland on July 5. He last pitched in the big leagues on May 21, 2016, while suiting up for the Cincinnati Reds.