Jeff Moore is a former college player and Division I college coach who's now based in Florida, where he scouts and writes about baseball full-time.
Coverage of prospects is at an all-time high, but that increase has simultaneously increased expectations. We want our prospects to turn into rookie sensations upon arrival in the majors and we cast them off even more quickly when they don't.
It's all Mike Trout's fault, really. The immediate success of the Los Angeles Angels' star centre fielder redefined the bar for all young players when, in reality, it should be looked at as an extreme outlier. What Trout has done – three top-two AL MVP finishes in his first three seasons – isn't just rare, it's historic.
Six rookies are expected to play key roles for the 2015 Toronto Blue Jays. Taking into account scouting reports, projection systems and historical comparables, we can alter our expectations to a more realistic level.
---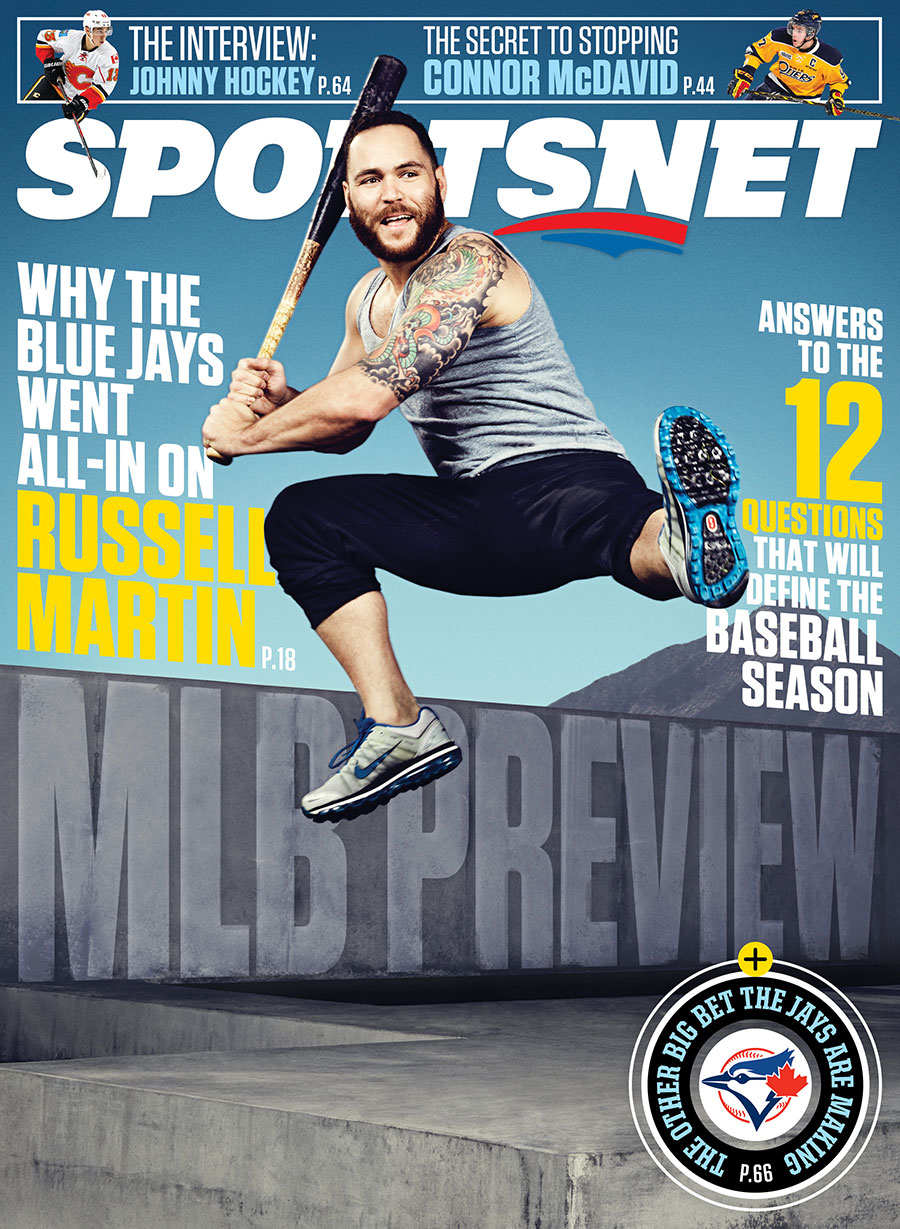 Sportsnet Magazine's MLB Preview:
Why the Blue Jays went all in with Russell Martin, and answers to the 12 questions that will define the baseball season. Download it right now on your iOS or Android device, free to Sportsnet ONE subscribers.
---
Dalton Pompey, OF
Overall Future Potential: 60 (potential all-star)
Realistic Present Role: 50 (major league regular)
Pompey's climb through the minors last season surprised even his biggest supporters, of which I established myself as one when I pegged him as a potential all-star and likely future regular early last season. Even then, however, I wouldn't have predicted his ascent so rapidly.
My assessment of Pompey as a potential all-star came with a comparison to Shane Victorino, but that was for Pompey's prime. At just 22-years-old, we can't expect that prime to begin in 2015, no matter how much he's altered his developmental curve.
It's extremely rare for centre fielders his age to qualify for a batting title, an indication of the challenge he's up against. Since 1969, 1258 MLB teams have taken the field and only 21 of them (1.7 percent) have fielded a regular centre fielder who was 22 or younger. That alone stacks the odds against Pompey.
He's projected by PECOTA (the advanced projection system generated by Baseball Prospectus) to hit .234 with eight home runs, a .650 OPS and 25 stolen bases. Projection systems are generally conservative, and a .234 batting average seems a tad low, but in today's diluted offensive environment, that season would be only slightly below major league average. Coupled with strong defensive and baserunning skills, Pompey should be an average MLB centre fielder, even if he struggles to hit .250.
Looking from all three perspectives, we can see that Pompey should become a pretty successful everyday player with the potential for slightly more. That said, expecting anything more than MLB average production out of him in his rookie season would require him to take his development yet another step further and join some elite company.
Aaron Sanchez, RHP
Overall Future Potential: 65 (No. 2 Starter)
Realistic Present Role: 50 (in late-inning relief)
Having talked to a number of scouts who have seen Sanchez throughout his minor league career, one name continually comes up – A.J. Burnett.
Before Blue Jays fans balk at that comparison, it's worth nothing that Burnett has had a long, successful career that most pitching prospects would kill for. The peaks and valleys made for one heck of a ride, but half the longevity and achievement of Burnett would make Sanchez a success story.
The comparison exists because of the pure stuff, and because of an inability to harness it (Burnett struggled with command early in his career). In the bullpen last year, Sanchez appeared to have a better idea of what his stuff was doing, but the track record of guys who walk 4.8 batters per nine in the minors isn't strong once they get to the major leagues. That explains why PECOTA projects Sanchez to post a 5.49 ERA in 136.2 innings this season.
Between the long track record of wildness and multiple comparisons to a pitchers who battled similar control issues, it will be difficult for Sanchez to turn things around by this season. Even his improved command as a reliever last season came at the expense of his change-up, which he all but abandoned late in 2014.
In the bullpen, however, he was able to get away with his inconsistencies and be more effective. A repeat of his 1.09 ERA is about as likely as him turning into Greg Maddux, but there is reason to believe he can be a successful reliever this year should the Blue Jays decide to change course. There is less confidence to be had about him learning how to throw strikes as a starter overnight.
Daniel Norris, LHP
Overall Future Potential: (60, No. 2/3 starter)
Realistic Present Role: (55, No. 3/4 starter)
In a combination of the backstories of the first two rookies, Norris had an ascent similar to Pompey's last year. He also presents a contrast to Sanchez in that there's not nearly the same gap between his future potential and his realistic role.
Norris is extremely talented, with a fastball/slider combination that will keep him employed for the next 20 years, assuming he's healthy. But since 1990, only four left-handed pitchers have even thrown enough innings to qualify for the ERA title at 21 or younger (Rick Ankiel, Scott Kazmir, Brett Anderson, and CC Sabathia). They did so with varying levels of success, but their limited company alone suggests it's unlikely Norris can be counted on for a full season of starts.
The PECOTA projections forecast 100.2 innings with 100 strikeouts and a 5.04 ERA for Norris, likely because of  his limited track record, early struggles in the low minors, and rapid ascent last season.
The scouting community is more bullish on him for this season based on his more recent developments and progress with his tertiary pitches.
Still, expecting him to join the rotation and succeed immediately, or to reach that number three starter status right out of the gate, is unrealistic. Additionally, with just 124.1 total innings under his belt last season, it's likely that the Blue Jays will watch his workload closely this season.
Devon Travis, 2B
Optimism surrounds Travis because of his minor league track record. Gaudy batting averages have a way of doing that, but the scouting reports don't match the production. He could hit for a decent average, but with just adequate on-base skills, below-average power, and — despite strong stolen base totals in the minors — below-average speed, Travis doesn't project to ever be more than an average regular, and for this year will likely be a below-average option. Still, that may be the best the organization has to offer and an improvement on Toronto's 2014 second basemen.
Roberto Osuna, Miguel Castro, RP
Osuna and Castro are rare cases. Both are immensely talented but neither has any sort of track record and neither has ever been a regular reliever. Both are 20 and neither has played above the Class A Florida State League. At least Castro has had minor league success. Osuna has struggled at both full-season levels he's tried.
There are virtually no expectations to be had with this duo. Both are in over their heads, entering a role they know nothing about. For now, they will try to get by on talent alone.
All of the prospects turned Blue Jays rookies give fans a reason for excitement. They're exciting players and together they form a solid young core for the future. That said, it takes a while for players to reach their peak, so in the meantime it's important to keep expectations grounded.