HOUSTON – Seriously, shout out to Clayton Richard. Forget the numbers for a minute, we all know how gross they look, and respect the effort. The dude is 35, coming off surgery on his left knee that prematurely ended his 2018 season, and a stress reaction in his right knee that delayed the start of his 2019. He's sitting 90 with his fastball and rarely gets swing and miss. That's a tough way to take a mound and go out and pitch.
Yet there he was standing in against the Houston Astros buzz-saw Saturday, fighting and scrapping his way through 23 batters faced, getting 15 outs.
On a micro level, he won't be happy allowing five runs in five innings on seven hits and two walks because he's a competitor. "It's better than going short, but that's really setting the bar low," is how he put it.
But on a macro level for the Toronto Blue Jays? All that's really on the table for them is development and plugging holes to survive, especially against championship-calibre clubs likes the Astros.
In that vein, Richard pushed through the challenge of pitching on those been-through-a-lot knees to do just that in a 7-2 loss, eating innings a day after Aaron Sanchez only made it through three frames. By no means was it a gem, but it was a game outing from a pro's pro.
"I want to help the team win and there's no greater motivation at this level than the joy of winning baseball games and there's nothing worse than the misery of losing baseball games," said Richard. "That motivation comes from the competitive nature of the game and wanting to come out on top and wanting for the other 24 guys in the clubhouse and the coaching staff and everyone else that puts in so much time, to help push the needle over to the winning side."
Richard isn't interested in using his knees as an excuse – "everybody is dealing with something," he points out – but aside from managing the grind on his joints, he's also working through a hurried build up because of an exposed roster. Saturday was his fifth start, and it marked his first time through five innings, even as he struggled with his mechanics and had several bad misses to his arm side.
Michael Brantley was hit in the back during the first inning while Garret Stubbs had to scramble out of the way in the second on one of two wild pitches issued by the left-hander. It would have been three had someone been on base when a slider to Yuli Gurriel sailed toward the on-deck circle in the third.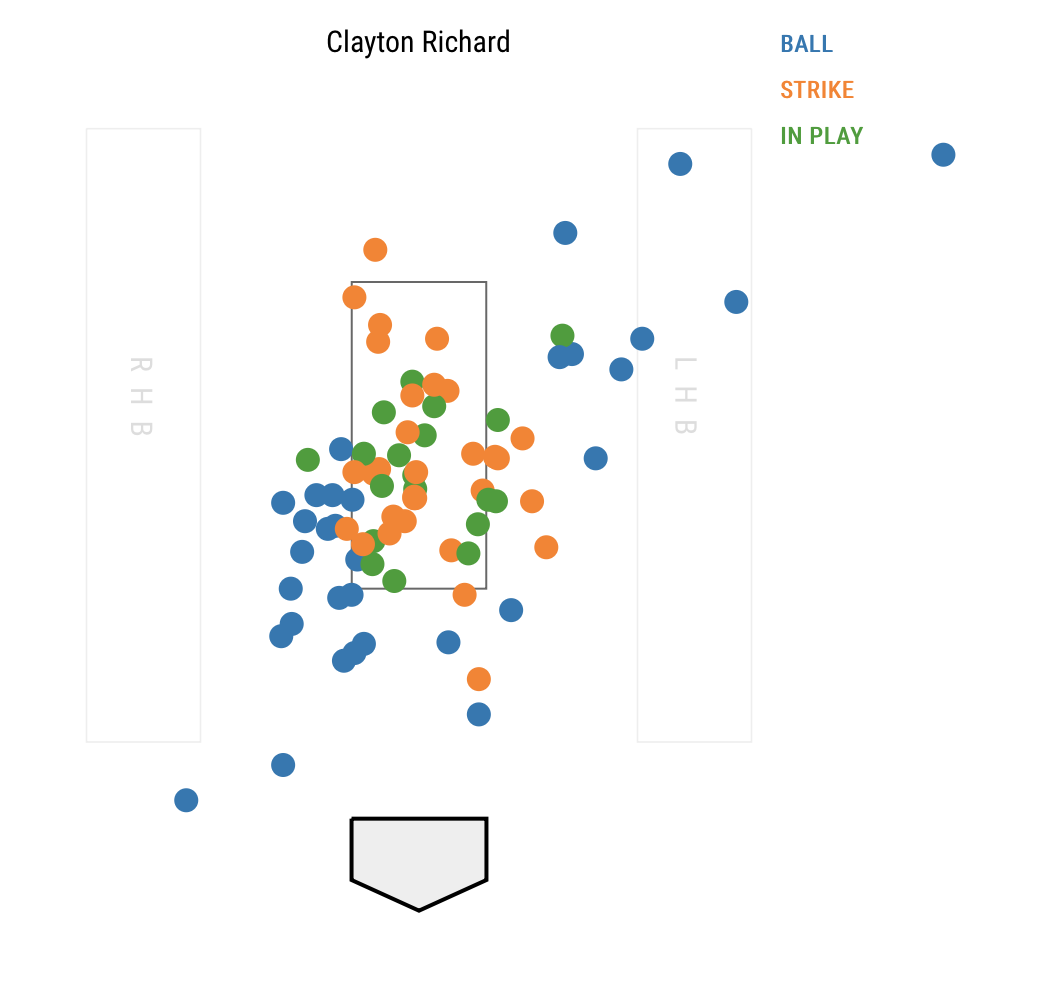 Still, Richard might have had one run less on his tab had Cavan Biggio, playing first base with Justin Smoak getting some rest for a sore leg, collected a Stubbs grounder with the infield in that instead allowed a second run to cross in the second.
In the third Yordan Alvarez did what he was supposed to with an 80 m.p.h. middle-middle cookie, while doubles by Jack Mayfield and Myles Straw plus an Alex Bregman single tacked on two more runs in the fourth for a 5-0 Astros lead. That was game over, even with five more frames to go.
"It's definitely getting more consistent when we're doing side sessions, finding it more consistently there," Richard said of smoothing out rough spots in his delivery. "Unfortunately in the game action with hitters in the box and the big-league atmosphere, it hasn't been consistent enough. That's something I'll continue to relentlessly work on to find answers and do everything I can to clean that up."
What's amazing is that the Astros still feature this kind of firepower even without Jose Altuve, George Springer and Carlos Correa, a trio of all-stars who along with Bregman anchor one of the best offences in the game. Add in a rotation featuring Justin Verlander – whom the Blue Jays are fortunate to miss in this series – Gerrit Cole and the impressive Framber Valdez, who struck out eight in six innings of two-run ball, and you see why they're playing nearly .700 baseball.
No team will want to face them in October.
The Blue Jays, on the other hand, keep creeping closer to .300, continually throwing stuff to the wall in search of something, anything that sticks.
Enter Nick Kingham on that front, the former top-100 prospect acquired Thursday from the Pittsburgh Pirates for cash considerations who joined the club late Friday. He threw a bullpen after the team's 15-2 beatdown from the Astros to shake off the rust that accumulated back home in Charlotte while he was in DFA limbo.
"It was a whole lot of silence, really, waiting to hear what happens," Kingham said of waiting for his fate to resolve. "Nobody knows except the teams, who are talking to one another, but I didn't hear anything until it was all done. I wasn't getting updated or anything along the way."
The second player to wear Munenori Kawasaki's No. 66 this season, following Jimmy Cordero's one day stay in it, Kingham's first pitch with the Blue Jays was a fastball that Josh Reddick sent 401 feet over the wall in right centre. Three pitches later, Jack Mayfield hit his third double of the day and later came around on a Myles Straw single.
Kingham managed to get through the seventh unscathed despite a pair of Houston hits and it sounds like the Blue Jays are intrigued enough by him that he'll get some run, out of the bullpen for now, perhaps as a starter eventually.
"Sometimes change is good, sometimes it doesn't make a difference," said Kingham, who spent a decade in the Pirates system. "My time there was awesome, no complaints at all. I guess people thought it was time to go in another direction. That's what happened."
Necessity, after all, is the mother of all opportunity in baseball, and the Blue Jays are featuring a lot of both right now.