TORONTO – The eighth inning had already unravelled on the Toronto Blue Jays when Roberto Osuna made his big-league debut April 8, 2015, a 3-1 lead turning into a 4-3 deficit as the New York Yankees rallied against Aaron Loup and Brett Cecil.
There were runners at second and third with one out and Alex Rodriguez due up to face the young right-hander, who at 20 years and 60 days would become the youngest pitcher to appear in a game in club history.
Osuna fell behind 2-0, rallied to even the count, and then froze Rodriguez with a changeup for strike three. Stephen Drew then flew out to end the inning.
"When I was in the bullpen, I wanted A-Rod," Osuna said afterwards. "When I went in and I saw A-Rod over there, I was very comfortable, not nervous or anything like that."
And the 2-2 change that froze one of the game's greatest hitters ever?
"We prepared him for that pitch," he said matter of factly, as if it's totally normal for pitchers that age to do such things.
Ben Nicholson-Smith is Sportsnet's baseball editor. Arden Zwelling is a senior writer. Together, they bring you the most in-depth Blue Jays podcast in the league, covering off all the latest news with opinion and analysis, as well as interviews with other insiders and team members.
Almost immediately, Osuna became a star among Blue Jays fans enamoured by his backstory of emerging from humble beginnings in his native Sinaloa, Mexico thanks to his thunderbolt for a right arm, as well as by his bravado and impossible poise with games on the line.
During the 2015 and '16 seasons, he recorded some of the club's highest leverage outs since Tom Henke and Duane Ward were in the Blue Jays bullpen. His reliability spawned the #OsunaMatata hashtag across social media whenever he was given the ball. Over time, his appeal grew broad enough that companies made him a product pitchman.
All of that was lost this past May 8, when Osuna was arrested by Toronto police and charged in the assault of a woman. Hours later Major League Baseball placed him on administrative leave, ahead of an eventual 75-game suspension. He disappeared from the public's view, and was traded to the Houston Astros on July 30. His case remains in the courts, with the matter up again Tuesday afternoon amid ongoing talks in search of a resolution.
That remarkable rise, troubling fall and lingering legal proceedings make Osuna's first visit to Rogers Centre on Monday with the Astros a return like no other in Blue Jays history.
Since his arrest, there's been an irreconcilable disconnect between the Osuna who shoved on the mound, and the one who is alleged to have committed an assault, an incident Major League Baseball investigated and deemed worthy of the third longest suspension ever handed out under its domestic violence policy.
The Blue Jays have never explicitly said that they traded Osuna for closer Ken Giles, righty David Paulino and pitching prospect Hector Perez because of the arrest, but they certainly have left enough grey for people to interpret it that way.
Speaking to reporters after the deal, general manager Ross Atkins said, "we do feel a responsibility to the fans, we do feel empathy for the fans and we ultimately work for the fans. That's how we view our jobs. We are human. It is very difficult for accusations not to influence us in some way. Having said that, this made sense for the organization from a baseball perspective."
In this MLB and Toronto Blue Jays podcast, Dan Shulman takes a look at the human side of baseball. Because everyone in the game has a story.
Meeting with reporters Sept. 7, president and CEO Mark Shapiro refused to speculate on whether Osuna could have successfully pitched for the Blue Jays and again wouldn't specify how the assault charge factored into his departure.
"I would say it was one variable, and there are always a multitude of variables that go into every decision, and the current situation or status of a player personally, professionally, legally, everything, is certainly a variable. That's it. I'm not going to say anything more on Osuna."
As a court resolution looms – Domenic Basile, Osuna's lawyer, has said he's seeking a peace bond but that if the case goes to trial, that his client will plead not guilty. The only defining judgment so far has come from Major League Baseball, which investigated the incident and ruled harshly by its standards.
The issue of domestic violence arose again Friday when Chicago Cubs shortstop Addison Russell was placed on administrative leave by baseball after his ex-wife claimed he physically abused her in a blog post, an allegation he denied. Across the sport the threshold for forgiveness is being tested in multiple ways during a season in which old posts with racist, homophobic or misogynistic messages have also been dug up in the Twitter accounts of Josh Hader, Trea Turner, Michael Kopech and Sean Newcomb.
There's been a lot of bad in varying degrees to process.
Time has allowed past violators of baseball's joint domestic violence policy to regain normalcy and acceptance on the field, with New York Yankees closer Aroldis Chapman at the top of that list. He started out the 2016 season serving out a 30-game suspension, ended it as a World Series champion with the Chicago Cubs and then signed an $86-million contract as a free agent.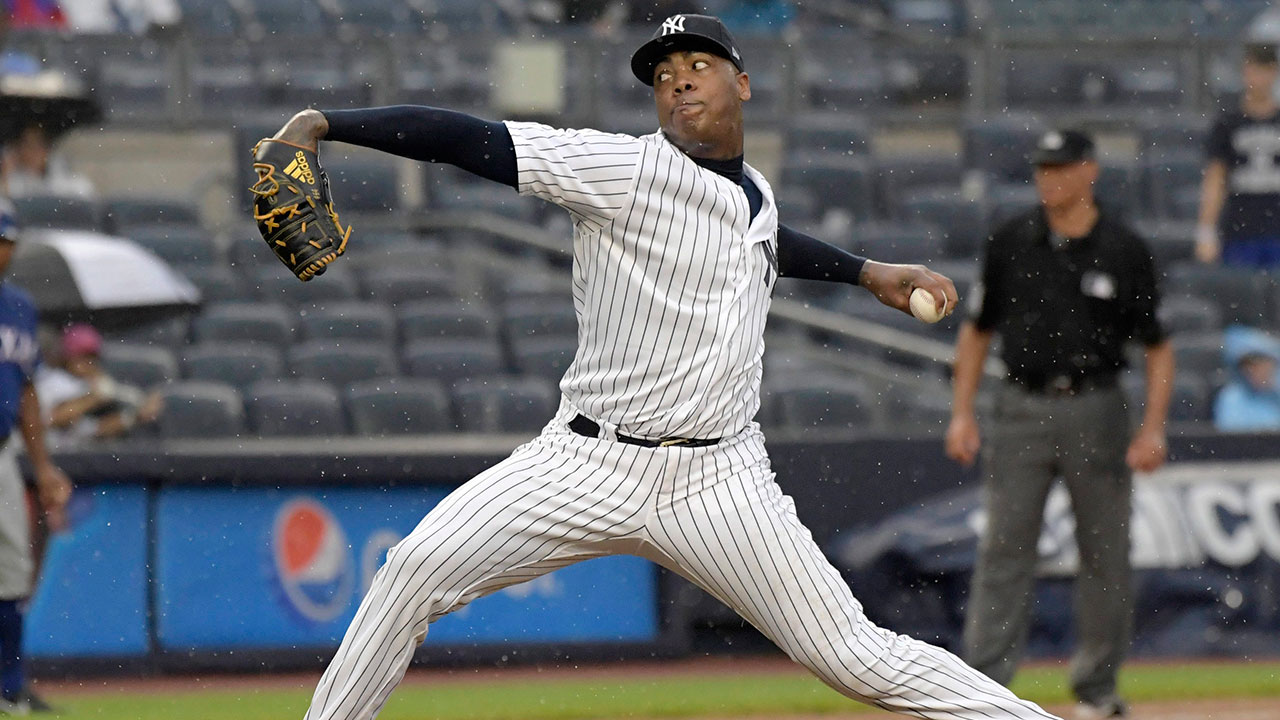 Talent, ability and on-field success can quickly rehabilitate a pariah, deservedly or not.
Osuna did a lot of great things with the Blue Jays, and people loved him for it. He's alleged to have done a very terrible thing yet to be ruled on in court, and he's with the Astros because of it.
His return to Toronto Monday is a troubling reminder of both what was and the disturbing manner in which that was all lost.