TORONTO – For 13 years Tom Foley waved home Tampa Bay Rays baserunners. He watched balls roll into corners and scoot up the middle and made enough correct split-second decisions that – well, we did tell you he was a third base coach for 13 years, right?
Now, Foley is the Rays bench coach. Tuesday, as the Rays stretched, he leaned against the railing in front of the visitors dugout at the Rogers Centre and predicted that "something" will happen before this four-game series is over: something weird or maybe funny or maybe even a little memorable or – worse – game-deciding.
Word is already out: the new Rogers Centre turf is some sort of living, breathing, bringer of erratic stuff. It's where ground balls go to die, at least until it gets worn in. They were still talking about it in the Rays clubhouse: a swinging bunt by Toronto Blue Jays second baseman Devon Travis in the eighth inning of Monday's 2-1 loss.
"I don't know if any of us have seen a ball do what that one did," said Foley, lauding catcher Rene Rivera for a strong play to get the out at first.
---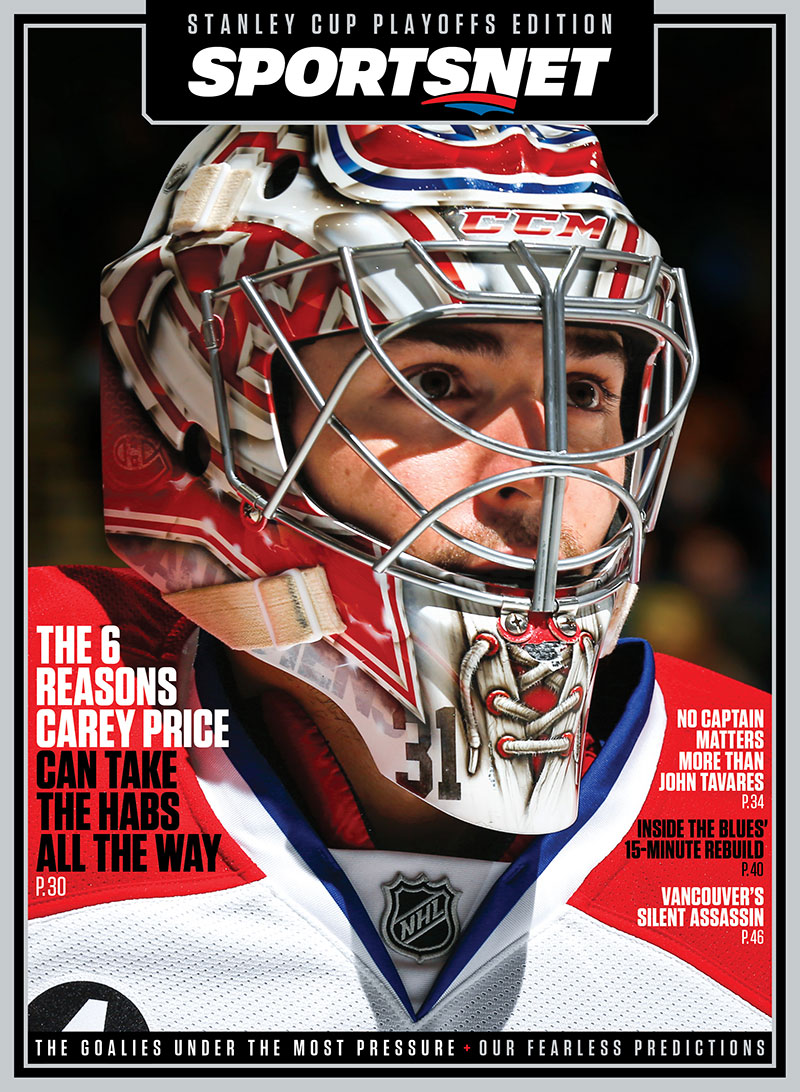 Sportsnet Magazine Stanley Cup Playoffs
Edition: The six reasons why Carey Price can take the Montreal Canadiens all the way. Download it right now on your iOS or Android device, free to Sportsnet ONE subscribers.
---
"It is what it is: over time, we've seen these turf fields clean themselves up just by playing on them – by getting use," said Rays manager Kevin Cash, the former Blue Jays catcher who's in his first season in the new role. "The one screwball thing that happened was the swinging bunt with Rene. He made a heckuva play on it. It probably wasn't the truest baseball hop you'll see."
The new turf became a storyline the second that Blue Jays home-opening starter R.A. Dickey walked out in his civies a little more than three hours before game time, picked up a ball and flicked it toward the mound from halfway between the dugout and mound. It barely made it. So did some of the line drives during batting practice.
Once the game started, the new turf essentially subtracted a base from balls that landed in front of outfielders. The rubber particles or crumbs poured on the turf to make it spongier presented an issue for shortstop Asdrubal Cabrera, who needed eye drops after making a play on a Travis bouncer in the third inning. Some artificial surfaces use a mix of sand and rubber; the new surface uses rubber particles exclusively.
Blue Jays manager John Gibbons suggested before the game that the new surface could be an equalizer, given the way the home runs usually fly out of the Rogers Centre. One Blue Jays player noted that "it's almost like they've given us a new stadium, or at least a place that plays like a different stadium."
If you can throw a two-seamer and get an opponent to beat a ball into the ground, well, have at it.
Jose Bautista believes the true nature of the field won't be known until the pellets are "spread out a bit," and, yes, he wonders how the new surface will absorb or reflect heat once the roof is open. The old surface turned into a super-heated pool table top in the summer sun.
Blue Jays left-fielder Kevin Pillar, who saw a ball that might have been a triple on the old surface turn into a hustle double, said that the surface "almost feels like longer grass." And it is noticeably longer, which stadium operations hope means it will retain its depth better, while also perhaps negating some of the wear and tear on muscles and limbs that was a common complaint of the old surface.
"I had (Blue Jays) first base coach Tim Leiper hit me every type of ball in batting practice: short hops, line drives. I'd let balls fall in front of me … whatever," said Pillar. "I think the safest thing to do is just go get each ball, because if you wait back, aggressive baserunners are going to be able to turn some of them into doubles."
Indeed, the Rays told their players during batting practice to attack any ball in front of them; they told catchers Rivera and Bobby Wilson to break like hell down the line on any bunt – and, according to Foley, they played one of the shallowest shifts you'll see against Justin Smoak. The defensive charts used by the Rays for Blue Jays hitters still hold true, Foley said. But adjustments for depth will be important.
Can the Blue Jays turn this into a home-field advantage? Know this: shortstop Jose Reyes, whose range has become an issue, dived for and caught a one-hopper to end the second inning on Tuesday that might have made it into the outfield on the old surface. With an aging Reyes at shortstop and a rookie second baseman in Travis still feeling his way defensively, it can't hurt.
But those who get all worked up about small-ball might want to adjust their mindset at least initially: to score in this place, you're going to have to put balls over the fences.