Not even the remnants of a Category 4 hurricane could prevent the Toronto Blue Jays and Baltimore Orioles from contesting an entirely inconsequential nine innings of baseball Monday night before what can generously be described as dozens at Camden Yards.
The Blue Jays won, 5-0. No one got hurt, which is a plus. And even though what's left of Hurricane Florence delayed first pitch by a half hour, each team got through its 27 outs in only two hours and 16 minutes. That's what makes these guys professionals.
Of course, that's not all that happened. Here are a handful of takeaways from Toronto's 150th game of the season.
Jansen's big drive
Danny Jansen gave the Blue Jays more runs than they'd need by hitting the second home run of his young MLB career in the second inning. He made outs in his next two trips, but one of them was scorched off his bat at 99-m.p.h. and required a slick running grab by Baltimore left fielder Trey Mancini to prevent another extra-base hit.
Jansen now has a .346 OBP with a 115 wRC+ over his first 78 big-league plate appearances. The sample's obviously small, but it's still encouraging to see the 23-year-old catcher carrying over his strong on-base ability from the minors to the majors. Jansen had a .390 OBP over 360 triple-A plate appearances this season before he was called up in August.
And it's always important to remember where the offensive baseline is for catchers. This season, a league-average catcher has a .305 OBP with an 84 wRC+. Jansen is well ahead of that benchmark, and even the much-maligned Russell Martin looks good in comparison, with a .338 OBP and 91 wRC+ on the season.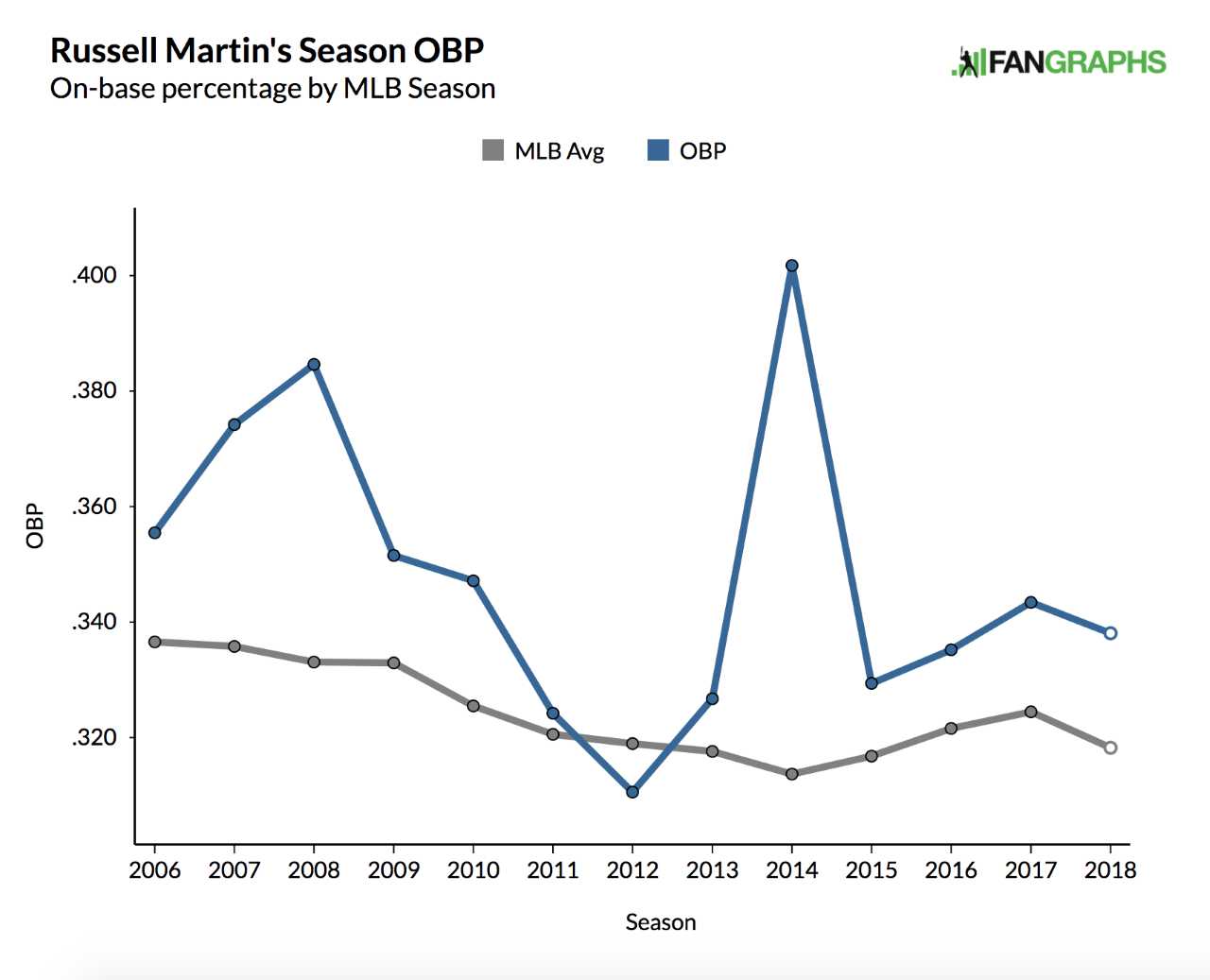 Borucki throws a gem
Baltimore may be MLB's worst team, but its offence still scored five runs or more in three of the four games preceding this series. Plus, the Orioles got to Ryan Borucki for five runs on eight hits only three weeks ago.
That's why Borucki should get full credit for how dominant he was Monday night. The rookie left-hander held the Orioles to only three hits over eight shutout innings, striking out seven and walking only one. This is what the strike zone looks like when Borucki has everything working: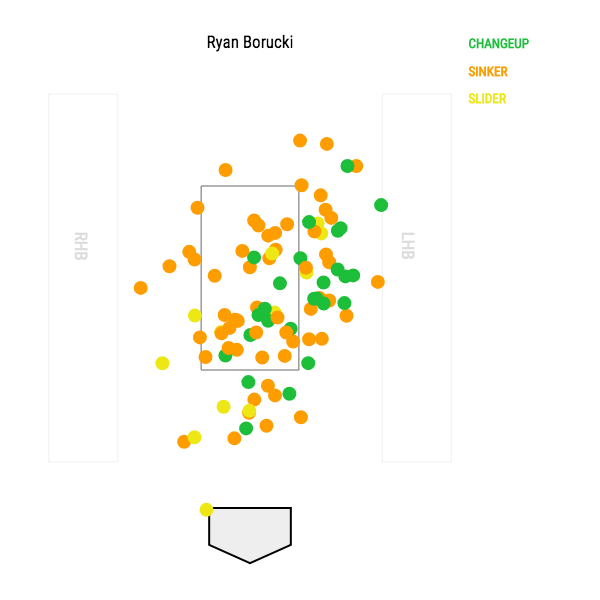 Sinkers at the knees for groundballs. Sliders below the zone for awkward swings. Change-ups away from right-handed hitters for swinging strikes. That was the formula, as Borucki worked quickly, efficiently, and confidently, throwing 64 per cent of his pitches for strikes while inducing 14 groundballs versus only six in the air.
Every single Orioles hitter put at least one ball in play on the ground. All three of Baltimore's hits were singles, and one of them came off John Andreoli's bat at only 67-m.p.h. with an eight per cent hit probability.
Yes, Borucki was really, really good. It was his third strong effort in a row, and he now has a 3.86 ERA over his first 15 major-league outings, which puts him eighth among rookie starters with at least 70 innings pitched. Barring the unforeseen, he's a lock to be in Toronto's rotation to begin 2019.
Drury likely done for the year
As Sportsnet's Arash Madani reported from Baltimore, utility infielder Brandon Drury is unlikely to see the field again this season.
The 26-year-old has been sidelined since early August with a fracture at the base of his left pinky finger, an injury that was originally diagnosed as a contusion by the New York Yankees just days before they traded him to the Blue Jays. Considering the brief and meaningless nature of Toronto's remaining schedule, plus the fact the club is currently carrying eight active infielders (including Martin), there isn't much sense in Drury attempting a comeback.
It's a frustrating end to a frustrating year for Drury. He began 2018 as New York's starting third baseman, but ended up spending the bulk of his season in the minors after losing his job while sidelined due to migraines and poor vision.
The trade to Toronto was meant to be his second fresh start of the season after the Arizona Diamondbacks shipped him to the Yankees last winter. But he played just eight games with the Blue Jays before his fractured hand was correctly diagnosed.
In all, Drury finishes 2018 with only 86 major-league plate appearances, in which he hit .169/.256/.260 with a 41 OPS+. That pales in comparison to how he performed with Arizona between 2016 and '17, when he posted a .275/.323/.453 line with a 96 OPS+ over 979 plate appearances.
That's the type of production the Blue Jays will expect to be Drury's floor in 2019. His versatility will be a benefit to whoever's managing the club (Drury has at least 200 innings of big league experience at second base, third base, and both outfield corners) and the right-handed hitter deserves the opportunity to show what he can do when healthy and settled.
Alford finally arrives
Anthony Alford joined the Blue Jays Monday in Baltimore and will be with the club for its final 13 games of the season. He's been at home waiting for this day since the triple-A Buffalo Bisons season ended earlier this month. And while the official line from the club's front office is that Alford's recall was delayed due to a lack of playing time, there is also a strategic reason the Blue Jays held him down until now: service time.
Sportsnet's Shi Davidi does great work as usual breaking down all the cold, capitalizing details. In the end, Alford's potential of qualifying for Super Two status has been all but nullified, meaning the Blue Jays can continue paying him at or close to the league minimum for an extra season, even if he breaks camp with the big-league club in 2019.
On one hand, you can't fault Toronto's front office for gaming the collectively-bargained system and doing everything it can to put itself in the most advantageous position. As a fan, you want your team's executives to be shrewd and cunning.
But on another, you feel for Alford, who will have to wait longer until he's eligible for arbitration and the opportunity to earn a seven-figure salary for the first time in his career. Toronto's playing time excuse rings particularly hollow considering the club is still carrying the same six outfielders it has for the past two weeks.
Blue Jays executives constantly espouse how dedicated they are to maximizing the development of young athletes. That's why Toronto is currently carrying enough position players to field two full batting orders. With that in mind, it's hard to argue that Alford benefitted from sitting at home for two weeks versus being in the majors learning from big-league coaches and players.
Let this be a reminder not to talk yourself into the possibility of Vladimir Guerrero Jr. cracking Toronto's roster out of spring training next year. If he spends the first couple weeks of the season in the minors, the Blue Jays can delay his free agency by a full year. And if Toronto's front office is willing to manipulate the service time of a player like Alford, why wouldn't they do the same to the best prospect in baseball?