ARLINGTON, Texas – Rougned Odor pimped a second-inning home run, admiring a drive off a 74.9 m.p.h. changeup from Clay Buchholz that travelled an estimated 418 feet to right field. He smiled as he watched it go, flounced his way around the bases, saluted third-base coach Tony Beasley and then pointed to the sky as he touched the plate, pounding his chest, pointing to his teammates, and then engaging in an elaborate series of handshakes.
Look, fun is good and baseball needs to let the kids play. It's just pretty rich coming from a player batting .122 and in an 0-for-21 rut coming in, and a franchise that went all holier-than-thou about Jose Bautista's bat flip in Game 5 of the 2015 American League Division Series.
So, an early-May Sunday is the right time to swag out? Cool, got it.
Rougie being Rougie is at least on brand for games between his Texas Rangers and the Toronto Blue Jays, whose once ferocious rivalry has been tamed by the near wholesale changes to both rosters amid ongoing rebuilds.
Odor starred as the counter-villain to Bautista long before his punch in the infamous brawl between the teams May 15, 2016, and remains a polarizing figure. Even last season, he mocked Marcus Stroman's delivery hitch by directing a crotch-grab toward the righty.
There's little of that animosity left, the Rangers now a club that can hit but doesn't pitch and the Blue Jays a team that can pitch but not hit, although they didn't do much of either during a 1-5 road trip, capped by Sunday's 10-2 drubbing.
"I wasn't even thinking about (the rivalry) to tell you the truth," said Blue Jays manager Charlie Montoyo. "I saw it on TV, the fight and all that. But I didn't feel it. A different manager over there (in former Blue Jays shortstop Chris Woodward). A different manager over here. I didn't feel it, not one time."
Buchholz worked his command-and-control game through a quick first but went Joey Gallo single, Asdrubal Cabrera double and Odor homer in the second.
Eric Sogard – batting .375/.470/.696 in 15 games since his promotion from triple-A Buffalo on April 16 – hit a solo shot for his career best fourth homer, in the top of the third to get the Blue Jays back in it.
"Just trying not to do too much and getting good pitches to hit," Sogard said of what's been working for him. "I love seeing a lot of pitches and working the counts, the more pitches I see the more comfortable I get, so that's something that's been putting me in a good position."
But Buchholz surrendered a three-run shot in the bottom half as the Rangers opened up a big edge they kept adding to.
Montoyo, coping with a rotation that covered only 25.2 of the club's 52 innings on the road trip, was forced to ride out Buchholz longer than he ideally would have liked, getting four innings and a 7-1 deficit from the right-hander.
Derek Law, Elvis Luciano, Tim Mayza and Ryan Tepera all followed out of the bullpen, and catcher Luke Maile then came out for the eighth inning to ensure the Blue Jays still had something in the tank for Monday's series opener against the Minnesota Twins.
"Now we're good," Montoyo said of his bullpen.
Buchholz, who now has a career 7.18 ERA in 31.1 innings over six starts at Globe Life Park, threw 76 pitches, nearly all of them of the stressful variety.
"I wouldn't have minded going out there and throwing 115 pitches," he said. "It's a last resort going to a position player pitching. I've been through it before. It doesn't feel good, but everybody knows the bullpen has been pretty taxed over this road trip, especially. To only go four, it's another blow. But hopefully us as starters, first of all, get a bit deeper into games and help our bullpen out."
Livestream the Toronto Blue Jays on the most popular devices. Plus, get over 150 marquee MLB matchups, the Home Run Derby, All-Star Game and Postseason.
Maile featured a knuckleball that Stacast recognized as a slider or changeup, and his velocity ranged from 59.4-86.6 m.p.h., allowing him to give the Blue Jays a three-up, three-down inning.
He got Jeff Mathis on a grounder to short, Delino DeShields on a flyball to right and Shin-Soo Choo to strike out swinging on his hardest pitch of the day.
"Obviously it's not encouraging when somebody like me comes in to pitch," said Maile, who hadn't pitched since he was 13- or 14-years-old but was asked if he could go an inning midway through the game. "You've just got to make the most of it and I feel like we did that."
Maile practised throwing a knuckleball while coming up through the Tampa Bay Rays system, where pitching co-ordinator Charlie Haeger ran "kind of a knuckleball program," the catcher said.
"He basically told me, 'When you're shagging BP, just throw them back in as a knuckleball and you'll get used to it,' and that's what I did," Maile recalled. "It was OK today. I was kind of disappointed – I cut my nails (Saturday), so I think I can be a little bit better than that. They were a little shaved down. But I still wanted to bring it out."
Maile threw 15 pitches, nine for strikes. It appeared that home-plate umpire Chad Fairchild even squeezed him on a couple of calls.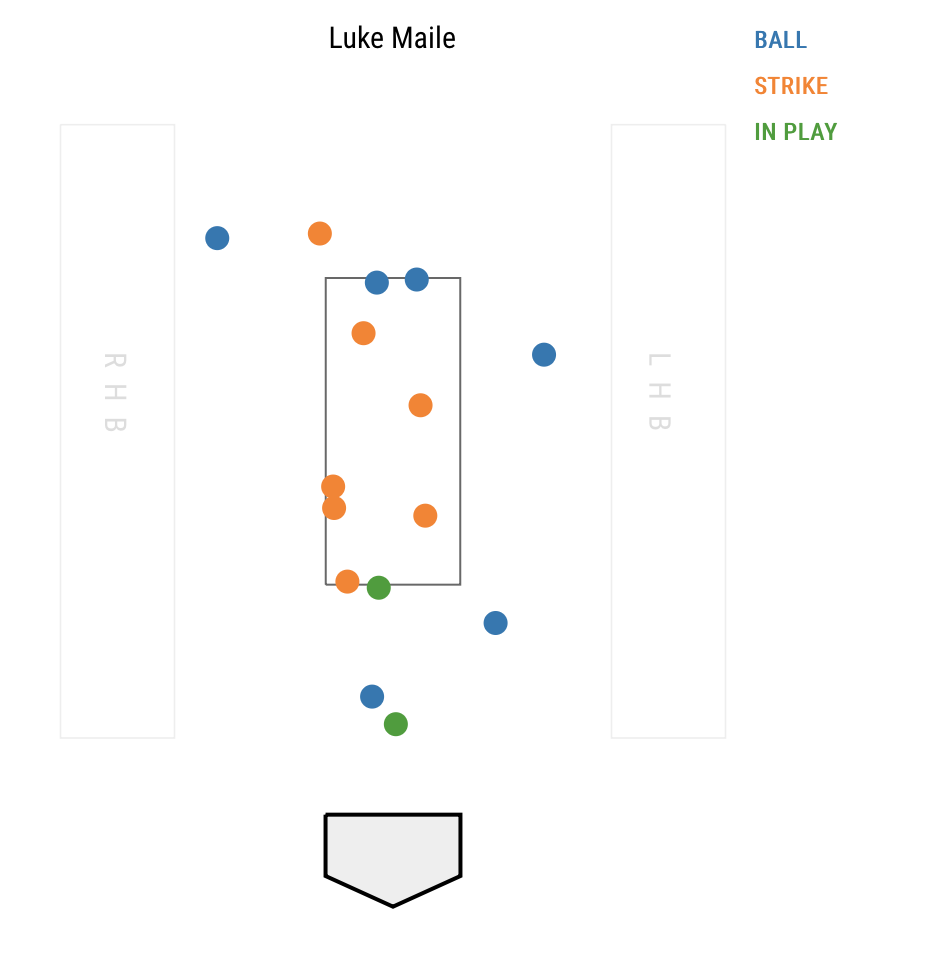 "I was just trying to remember to duck (on the mound), honestly," said Maile. "I was pretty nervous about that. I told some of the guys the pitcher looks a lot farther away when I'm catching than the catcher looks when I was pitching. So, it was a little bit intimidating. But worse thing that happens is something comes back at me, so just finish in a ready position, try and catch it."
The Blue Jays could have used more innings like his to keep the game from slipping away.
In the ninth inning, Vladimir Guerrero Jr., hit a potentially game-ending double play ball to third base, Cabrera relayed it to Odor at second but a hard slide by Billy McKinney prevented him from making a throw to first.
Odor looked down, McKinney got up and ran back to the dugout and that was that, not a sideways glance or angry word exchanged, the surest signal of how the times between these teams have changed.