TORONTO — Toronto Blue Jays general manager Ross Atkins made an impromptu appearance in John Gibbons' office prior to the manager's daily media session Tuesday. It's a rare occurrence, and it almost always means he has bad news.
"Aaron Sanchez," Atkins said, "had surgery today."
It was on Sanchez's right index finger, the same one that's been causing him trouble for the bulk of the 2018 season. Atkins added that, based on the information the Blue Jays have thus far, he expects Sanchez to make a full recovery in time for 2019 spring training.
"Hopefully this clears it all up and there's no looking back — because he's important to this team," Gibbons said later. "They make a living with their fingers, those pitchers. And when it's that tender every time you grip a ball and let it go — it's just constant."
Dr. Steven S. Shin, an orthopaedic surgeon and the director of hand surgery at the Kerlan-Jobe Orthopaedic Clinic in Los Angeles, performed the operation. He was one of at least three specialists — there have almost certainly been more since the beginning of the process — to offer insight and advice with regards to Sanchez's ongoing issues.
Sanchez's finger odyssey this season has been a long one, and we don't yet know the full extent of it. Sanchez's surgery was scheduled for 3:00 p.m. ET (12:00 p.m. in Los Angeles) and when Atkins announced it about an hour later, he believed it was still ongoing.
For that reason, the Blue Jays provided scarce details as far as what type of procedure Sanchez underwent and what problem it was intended to address. It's expected the club will have a more fulsome update on Wednesday after consulting with Dr. Shin following the operation.
What seems safe to assume now is that Sanchez is experiencing an issue beyond the mere "contusion" the club cited when it placed him on the disabled list on June 23. Sanchez was shut down completely for about two weeks at that time, before beginning to play catch in early July and eventually working his way back to throwing off a mound later that month.
Sanchez began a three-outing rehab assignment on Aug. 9 and finally made his return to Toronto's rotation on Aug. 25 following an absence of more than two months.
Upon rejoining the Blue Jays, Sanchez revealed the source of his injury: a freak suitcase accident the day of his June 21 start against the Los Angeles Angels that left the bottom third of his finger badly swollen. Sanchez lasted only an inning that day in a failed attempt to pitch through the injury before 200 friends and family members who had made the drive to Anaheim from his hometown of Barstow, Calif.
Following a pair of rough outings in his immediate return from the DL, Sanchez appeared to be settling in, throwing a quality start against the Tampa Bay Rays on Sept. 5, followed by a gem a week later against the Boston Red Sox, which saw him allow only one run over seven innings.
But he came out of his next start after only 75 pitches — a four-run, four-inning outing against the Baltimore Orioles that will go down as his last of 2018. Sanchez's fastball velocity in that final appearance stood out in sharp contrast to where it was in the four that preceded it: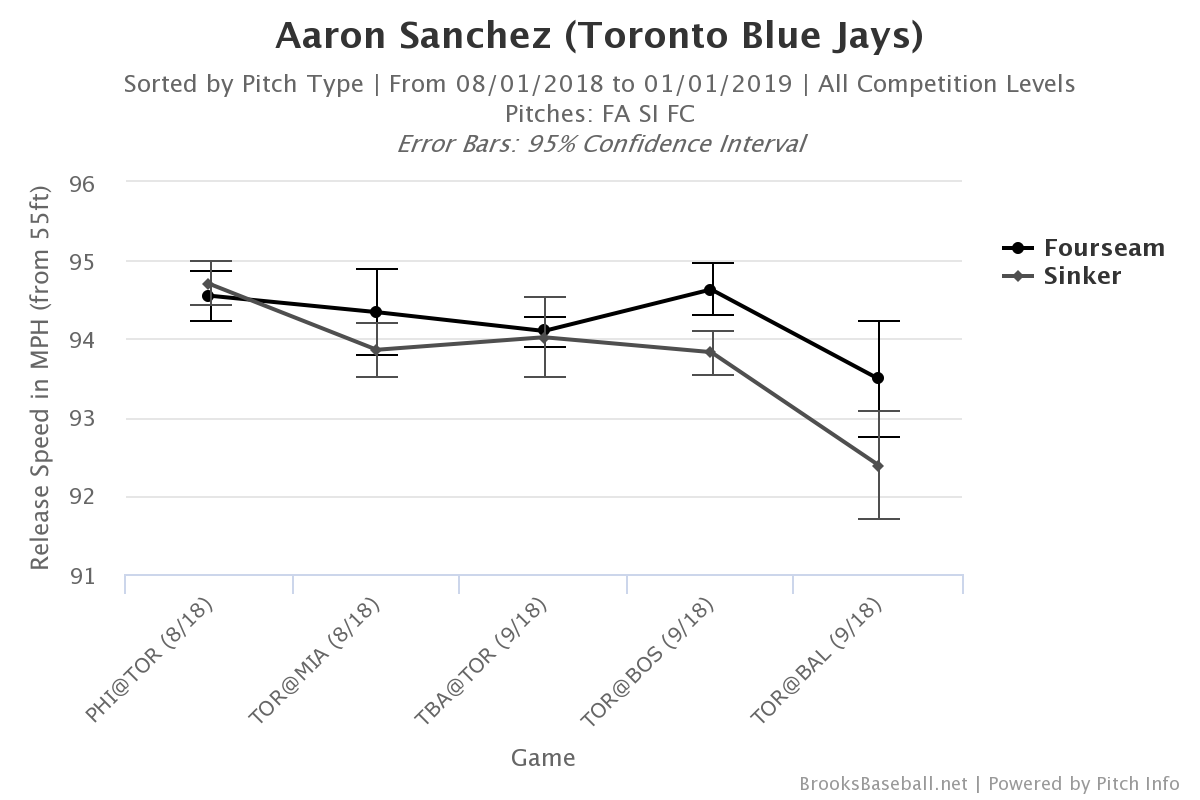 Whether Sanchez has been pitching through something for some time or recently suffered a further injury to the one he spent two months recovering from remains to be seen. All we know today is that he underwent surgery on his right index finger. The procedure could have a variety of outcomes, from being merely exploratory to correcting ligament or tendon damage.
Sanchez is understandably frustrated. After missing all but 36 innings of his 2017 season due to recurring blister issues, this year was meant to be one of rejuvenation. Starting fresh in spring training, Sanchez had his sights set on returning to the pitcher he was in 2016, when he led the American League in ERA and made his first all-star team.
But now 2018 will go down as another calamitous campaign. Sanchez finished with a 4.89 ERA over 105 innings pitched, matching the career-high he set last season with 5 BB/9.
"He was on top of the world a couple years ago and then he's been knocked down," Gibbons said. "That's a big part of the frustration. He hasn't been able to do much the last two years."
Meanwhile, Lourdes Gurriel Jr.'s season is also over after the rookie infielder suffered a grade 2 strain of his left hamstring while running out a groundball during Monday night's game. The 24-year-old finishes his first major-league season with a .281/.309/.446 batting line, with 11 homers over 65 games.
Gurriel truly found his groove after returning from an early-season demotion. He reached base safely in 37 of his final 44 starts, batting .311/.343/.482. At one point, he strung together an 11-game multi-hit streak, the longest ever by an MLB rookie and tied for the longest in American League history with Shoeless Joe Jackson and Sam Rice.
After bouncing between the majors and minors this season — and missing nearly a month due to knee and ankle injuries suffered during a second-base slide in late July — Gurriel will enter Blue Jays camp in 2019 well positioned to spend his first full season in the big-leagues.
"He's done a tremendous job. And he's just gotten better and better," Gibbons said. "The first go-round, he starts struggling a little bit, we send him out — and ever since he's come back it's like he's got more confidence. He's playing short and he's gotten better there by being out there every night. He's always had the ability to hit. He had that great streak — that historic-type streak. He's done a lot of good things."