TORONTO — The daily demands on a big-league catcher are relentless well before he sets foot on the field and settles in behind the plate for nine innings of physical abuse. Consider the schedule of Toronto Blue Jays rookie Danny Jansen, who recently shoe-horned in an additional 10 minutes of cage time against a velocity machine into his pre-game routine:
• Meetings with pitching coach Pete Walker, bullpen coach Matt Buschmann, coach John Schneider and the day's starting pitcher to review scouting reports, plans of attack and download any other information that may come in handy


• A body maintenance and preparation routine of stretching, exercises and various treatments as needed


• Some hitting in the cage and perhaps batting practice on the field


• Fifteen minutes in the weight room an hour or so before first pitch


• Ten minutes with the velo machine immediately afterwards


• On the field about 30 minutes before first pitch for some catch to get the arm loose, followed by a set of pitch-blocking drills and a series of footwork exercises to prepare for throws to second and third base


• Catch the starter's warmup in the bullpen


• Play the game.
Really is quite the list.
"It's hasn't doubled but it has increased since getting to the big-leagues," Jansen says of his pre-game work now compared to the minor-leagues. "I'm fine-tuning routines, offensively as well, trying to find some time (for hitting) because defence, trying to get my pitcher through seven and what I'm going to do with the bullpen is always the priority. That's always the challenge — building your routine, changing it and finding different things that work for you."
For those reasons, Jansen's slow start at the plate thus far — .183/.261/.232 in 93 plate appearances over 27 games — has to be considered a little differently than those of other young players on the Blue Jays right now.
While certainly the 24-year-old has batted well below expectations, he's made a number of significant strides as a defender that because of his position, take precedence over everything else.
His work there rates quite highly in FanGraphs' catchers framing metric, sitting third in the majors at 3.1 runs above average. Playing time and reps factor into how the numbers accumulate, but he still ranks ahead of catchers with similar or even heavier workloads like Christian Vazquez, Austin Barnes, Tucker Barnhart and Yasmani Grandal.
Pretty good company.
"Defensively I've felt really good," says Jansen. "I've changed some things, I've evolved in my setup to be a little more narrow, my glove has evolved closer to my body trying to receive those balls to get my pitcher through more innings and to help them as much as I can. Throwing has been improving big time, so everything has been a lot better since last year."
Given all the work it's taken to secure those gains, it's understandable that the offence has yet to come around, even though he's been known for his bat working up through the minors.
General manager Ross Atkins believes that in evaluating his progress to date, "the mental toll and the physical toll that a catcher has, especially a young one," has to be factored in.
"There are so many things that are new to him," says Atkins. "The mountain of information he has to download to just compete as a catcher is exceptional. … It absolutely has to impact his ability to prepare as a hitter, to have a routine as a hitter, and then to ultimately perform as a hitter.
"What we are extremely pleased about with Jano is just his body language, his leadership, his professionalism. He's not taking his offence into his defence. The energy and body language he has, even when he has a passed ball or he doesn't get the runner stealing a base, his toughness, is impressive and easy to see."
Still, that doesn't mean Jansen is becoming complacent with the bat.
The new time he's made for the velocity machine is aimed at getting his eyes and mind ready for the hard stuff he'll face at the plate. Rather than simply taking hacks at mid-90s heat, he moves up halfway between the batters box and pitching machine and looks to take the ball the other way, trying to get as much barrel on it as he can.
"When you do that a couple times and you back up, it becomes slower," says Jansen. "The whole thing is you have to slow the game down, and you have to practice harder than you play for that to happen."
Though Jansen's hard contact rate is up to 43.3 per cent from 20 per cent during his late-season stint in the majors last year, his groundball rate has spiked from 32.3 per cent to 52.5 per cent. Essentially, he's beating the hard contact into the ground, something Atkins suggests is a product of being too aggressive and not selective enough at the plate.
"You've seen them pitch him in a great deal and he's offering at it," says Atkins. "That will turn, that will change for him as well as he gets accustomed to (the major-leagues). The reality of it is the pitching is so much better than anything he's seen. He seems already to be adjusting."
The data certainly bears out that assessment, as the majority of groundballs Jansen has hit has come on pitches down and in.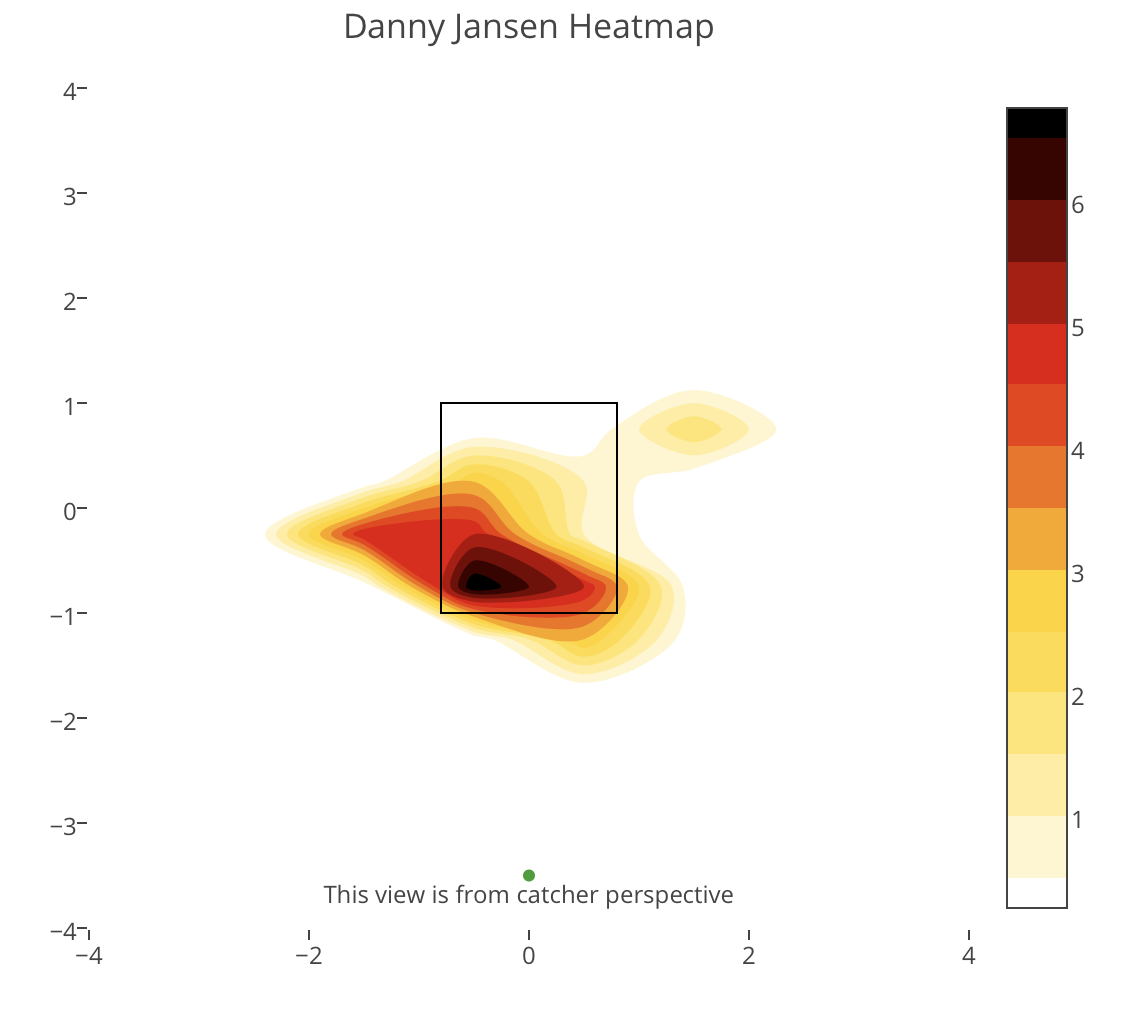 And the same goes for what he's swinging to produce the groups of contact Statcast classifies as poor/weak.
Jansen says his focus right now is on bringing a competitive mindset to the plate and chasing good at-bats as opposed to chasing hits. And as he waits for his numbers to normalize, he's got the defensive gains to remind him of the progress he's making.
"You can be so solid back there and that's the No. 1 goal, but, obviously, you want to contribute offensively," Jansen says. "But if you're doing your stuff behind the plate, if you're blocking it and if you're not noticeable back there, nothing is getting past you, you're making the routine plays and you're stealing some pitches, you're quiet, that's really the whole goal.
"The hits will come. I've started out slow, I've started out really hot but I know I can hit, I know I have a natural ability to do it. Having that defence, contributing that way, definitely keeps you sane sometimes, know what I mean?"