At the end of the 2016 season Justin Smoak ran into Ross Atkins in the Toronto Blue Jays clubhouse.
Atkins, the Blue Jays general manager, asked him a question. Smoak, the first baseman, as he so often had over an unsatisfying tenure in the big-leagues, was once again searching for answers after an abysmal end to his season during which he struck out in 30 of 73 plate appearances, with just three measly extra-base hits to his credit.
Frustration and negativity became constant companions, causing Smoak to tinker and brood and doubt, desperate for ways to unlock the abilities he still believed he had.
Atkins knew how much churn existed behind Smoak's stoic façade, so he asked the slugger if he'd consider talking to a sports psychologist.
"I was like, 'I'm open to it. I've never done it before,'" recalls Smoak. "I'd talked to sports psychologists before, but it was more, 'hey, whatever.' But I was open to learning and open to trying to figure things out."
[snippet id=3319157]
Midway through the off-season, Paddy Steinfort, the Blue Jays' head of mental performance, headed to Charleston, S.C., where the two had lunch and it was there that things started to come into focus for Smoak.
Throughout his career, Smoak would spend countless hours in batting cages, swinging until his hands were blistered and bloodied, seeking a physical fix to his struggles at the plate. But what he really needed to fix was his mental approach to a relentless game of failure.
"I got in my way a lot," says Smoak. "I wanted to change things all the time when things didn't work out. I never stuck with one thing probably as long as I should have."
So he and Steinfort began a dialogue, embarking on a process that would bring together his off-season workouts with agent Hunter Bledsoe, the changes in his swing he'd made with Blue Jays hitting coach Brook Jacoby, and the lessons he picked up from watching teammates like Jose Bautista, Josh Donaldson and Edwin Encarnacion.
With a .294/.350/.575 slash line with 23 homers, 13 doubles and 31 walks, Smoak's first-half emergence is the most pleasant surprise of the season for the Blue Jays, bringing him to Miami, where he'll be the starting first baseman for the American League in the all-star game.
"I've never been more free in my career in the big-leagues than I am right now," says Smoak. "I'm just going out there playing the game of baseball. I'm not thinking about anything else and in the past when you start to struggle, you think about what everybody else is thinking about you and this and that and the next thing you know, you're in an 0-for-30. My mind is free and I'm excited to show up to the ballpark every day and play the game."
***
To a certain degree, what Justin Smoak has done in 2017 is go back to his roots as a player, when he dominated at Stratford High School in his native Goose Creek, S.C. and grew into one of the top prospects in the United States at the University of South Carolina.
At 6-4 and 220 pounds with power from both sides of the plate, the game had long been easy for him. Asked what his client was like back in the day, Bledsoe, who along with brother Dustin has represented Smoak since his junior year in high school, replies simply, "Better than everybody else."
The Texas Rangers selected him 11th overall in the 2008 draft and a mere 135 minor-league games later, he made his big-league debut. Stardom was supposed to soon follow, but Smoak didn't hit the ground running, posting a .670 OPS in his first 70 games in the majors. Some growing pains were to be expected and on July 9, he and three others were traded to the Seattle Mariners for Cliff Lee and Mark Lowe as the Rangers made a push for the World Series.
[snippet id=3305549]
In the land of Starbucks things went from bad to worse, and 16 games later he was back in triple-A Tacoma. A month and a half after that he was back in the majors and he fared well in 14 games to close out the season, but some flaws were revealed, and the movement back and forth from Seattle to Tacoma would soon become a pattern, repeating itself over and over for the next four years.
Smoak didn't know how to handle it.
"I'd never failed at any level," he says. "Yeah, I got called up early, but at the same time, I expected that. That's what I wanted, that's what any kid wants. You always feel like you're ready. I'm not going to say I wasn't ready. I feel like physically I was ready. Mentally, I probably wasn't just because I'd never failed at this sport in my entire life and two, three weeks in I'm hitting .200 and I'm like what's going on? Yeah, I'm hitting some homers and stuff like that, but failing for me was the hardest part."
Still, there was some success. In 2013, he established a career high in home runs at 20, walked a career best 64 times and posted a solid .746 OPS. Both he and the Mariners felt a corner might have been turned. But Smoak reverted right out of the gate in 2014. Just 63 games into the season, he was back in Tacoma.
"There were some points," he says, "I'd break everything coming in to the clubhouse and that just wasn't me."
When Smoak got home after the season, he phoned Bledsoe, a former Vanderbilt slugger whose career peaked at double-A Jacksonville in the Dodgers system, and asked for help.
"He's always been very simple in how he's approached it and he's always been good enough physically that he could get away with inefficiencies," says Bledsoe. "His inefficiencies as a player didn't show up until he got to the big-leagues."
Those inefficiencies included issues in his weight balance and transfer in the lower half of his body and an uppercut swing that kept his bat from travelling on-plane through the strike zone. They got to work on repairing those problems. But the Mariners, meanwhile, had seen enough, and declined to tender him a contract rather than giving him a raise in his second year of arbitration eligibility.
All of a sudden, a can't miss kid's career was in limbo.
***
The Blue Jays, meanwhile, were readying to make changes after a disappointing 2014 season. Among their plans was trading first baseman Adam Lind.
As progress toward the deal that eventually sent Lind to the Milwaukee Brewers for Marco Estrada was made, Justin Smoak's named popped up on the waiver wire. A handful of people in the Blue Jays front office liked him, including assistant general manager Andrew Tinnish, Joe Sheehan, now an assistant GM who at the time headed the club's analytics department, and operations analyst Jason Pare, who now oversees analytics for the Miami Marlins. They put in a claim and landed Smoak but soon after non-tendered him because he was going to make $4-$5 million in arbitration.
Alex Anthopoulos, the Blue Jays GM at the time, was lukewarm about re-signing Smoak, but put a $1-million, one-year deal on the table for the slugger.
"I think it was one in the morning," Anthopoulos told Sportsnet back in 2015, "I asked guys as a joke, 'If we're going to sign him back, how badly do you want this guy? Are you pounding the table?' They're like, 'Yeah, we're pounding the table.' I asked, 'Would you stand on the table?' So then Andrew and Jason stood on the table. They were like, 'Yeah, we want this guy.' I'm like, 'Joe, you want him?' He's like, 'I'm not standing on a table.' I'm like, 'Then we're not going to sign him. If you stand on the table, we're going to sign him, call him back and say we've got a deal.' So Joe stood on the table and I called him back and said we have a deal."
The Blue Jays' interest in Smoak was sincere.
"If you looked at the way he was hitting the ball and where he was playing at the time in Seattle, there were some things that maybe suggested there was more there," says Sheehan. "At the time we weren't really sure what our first base situation was going to be and he sort of fit as a piece of that solution. The way he was hitting the ball, if you translated that to here, we felt that was a pretty good fit for our park and our team at that point."
The interest was mutual, which is why Dustin Bledsoe, Smoak's other agent, didn't feel the need to take his player to the open market. He, too, felt the Blue Jays would be the perfect fit and his client totally bought in, eager to join a veteran laden team that had lived through the game's ups and downs.
"That was probably one of the best years of my career learning-wise," Smoak says of 2015. "I really learned how to go about my business."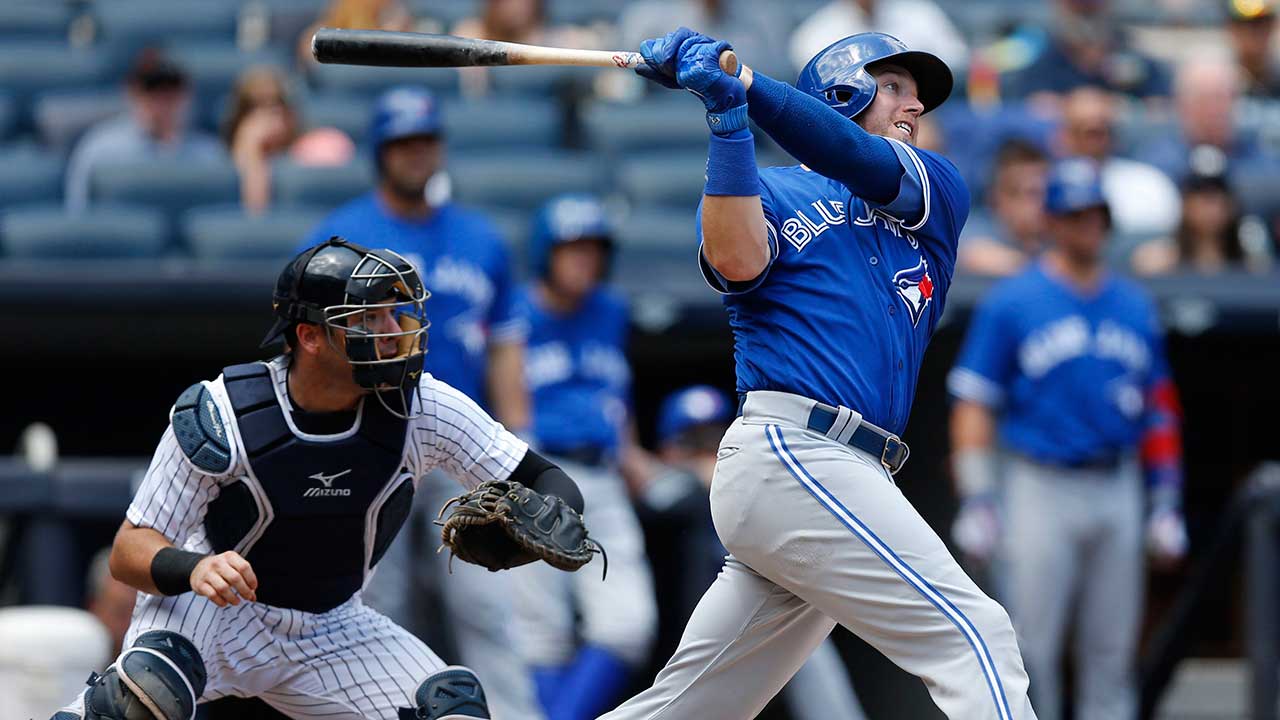 Sharing time at first base and DH with Edwin Encarnacion and Chris Colabello, Smoak ended up hitting 18 homers in only 328 plate appearances while driving in a career-best 59 runs as part of baseball's best offence. A reasonably productive start to 2016 helped convince the Blue Jays to extend him for two years and a guaranteed $8.5 million, but he soon began to struggle, lost playing time and eventually fell into a slide he couldn't escape from.
"He was chasing the hit," says Brook Jacoby. "He wanted to play and he wanted to help the team and it was counterproductive for him."
***
After their lunch meeting in Charleston, Smoak and Steinfort continued to talk and then during spring training, they talked some more. In pursuit of success, Smoak had made a habit of internalizing failure. He couldn't let go of bad at-bats, breeding a negativity he'd carry like an anvil. In search of a quick fix, he'd head to the batting cage, and tweak everything. Steinfort helped him quiet the noise.
"The No. 1 thing I feel I've learned is a lot of the time when I was going through struggles, I was thinking about myself, are my hands here, is my weight here, what's going on, instead of competing," says Smoak. "It's a game – you've got to compete. I feel like at times I lost track of that. I was up there thinking about myself and the next thing you know, this guy is throwing 95 and the ball is on top of me – you've got no chance."
Bledsoe saw an example of that competitiveness early this season. He can't remember the exact at-bat, but he watched Smoak fall into an early two-strike hole, spit on a few chase offerings, foul off some tough strikes and eventually fly out.
"Even though he didn't get a hit, the pitcher knew he existed in that box," says Bledsoe. Immediately afterwards he sent Smoak a text of encouragement, saying that if he continued to put up at-bats like that, the production would follow. It has.
"I'm playing the chess match, playing the game," says Smoak. "Yeah, there are times I sit on heaters. Yeah, there are times I sit on off-speed and when I'm thinking that way, then I don't think about myself, I don't think about what I'm doing, mechanically. I'm thinking about, I'm on the heater, I'm on the curveball, whatever. Everything I do physically, I'm not thinking about any of that. It keeps me in a better frame of mind."
In turn, that allowed him to trust in and leverage the changes to his swing, particularly from the left side, he made with Brook Jacoby and Bledsoe. They worked to balance Smoak's setup by having him start with his weight distributed evenly between his left and right legs. They also eliminated a twist in his upper body "that caused him to curl out from the front side and get around balls and hook balls," says Jacoby.
In keeping his head steadier, he's better able to track pitches, leading to improved discipline.
Smoak's contact rate is up from 72 per cent last year to 80.4 per cent, his swinging strikes are down to 8.5 per cent from 12.7 per cent and is his chase rate is at 28.1 per cent, down slightly from 30 per cent last year. And contrary to the launch-angle revolution in baseball, he's levelled his swing to eliminate the uppercut and is finding green in the middle of the field, which he's using 38.7 per cent of the time this year, compared to 28.3 per cent last year, drawing nearly equally from the pull and opposite field sides.
"The simplest way for me to say it is I've stopped trying to hit homers – and I've hit more than I ever have," says Smoak. "When you would see me coil, or you'd see the whole number on the back of my jersey, it was because I'm trying to hit the ball 500 feet. I'm big enough and I'm strong enough that if I square it up it's going to have a chance. You don't have to hit it 400 feet every time, they can barely go out, too. But I feel like being in that position, it's enabled me to keep my swing in plane longer, it's enabled me to hit more pitches – the curveball, the slider – it's enabled me to lay off pitches."
***
Whenever Smoak gets off track, he also has a checklist he can refer to with hitting keys from Bledsoe and mental keys from Steinfort. No longer does he head to the batting cage grasping for answers, ending up with a full revamp of his swing. He's now equipped to methodically work through problems using guided principles.
"That puts guardrails up on the alley," says Bledsoe. "Players are always trying to knock down the pins, but often times they get in the gutter. When someone has a really good plan, a really good blueprint, a really solid foundation in who they are and what they're trying to do, then they always hit those bumpers and get redirected back toward the pins."
Atkins points to Smoak's plan as a key ingredient in his consistency so far. The fact that he has a process to lean on gives the GM confidence that the progress of 2016 is for real, not just a small-sample-size anomaly.
"Objectively, there aren't any holes in what he's doing," says Atkins. "He's doing it the hard way – by making consistent hard contact and hitting the ball as hard as anybody in major-league baseball right now. He's using the whole field right-handed and left-handed. He's really one of the better players in major-league baseball right now."
On Tuesday night he'll take a deserved place alongside all the other all-stars, long elusive success finally in hand.
"It feels great, there's no doubt," says Smoak. "But at the same time, I feel like it's three months. You've still got three months left. Still got to keep it going."