BOSTON — Perhaps nothing was more illustrative of the sheer disarray the Toronto Blue Jays roster has been in over these final days before the all-star break than the image of Ryan Tepera walking into his team's clubhouse at Fenway Park Sunday morning, hauling two suitcases and a duffel bag full of equipment, after taking a four-hour, out-of-state journey for no reason at all.
Saturday evening, Tepera drove two hours to Portland, Maine, where he was scheduled to pitch an inning for the double-A New Hampshire Fisher Cats on Sunday. Tepera's been on the disabled list with right elbow inflammation for two weeks. Sunday was meant to be his first rehab outing.
But Toronto got only 18.2 innings from its rotation over the first six games of the club's current road trip, asking an already over-taxed bullpen to cover the remaining 24.2. Many of Toronto's relievers were completely out of gas. We could spell it all out for you, but it would take a couple hours to read, and the chaos of this reliever usage chart from FanGraphs does it stronger justice than words ever could: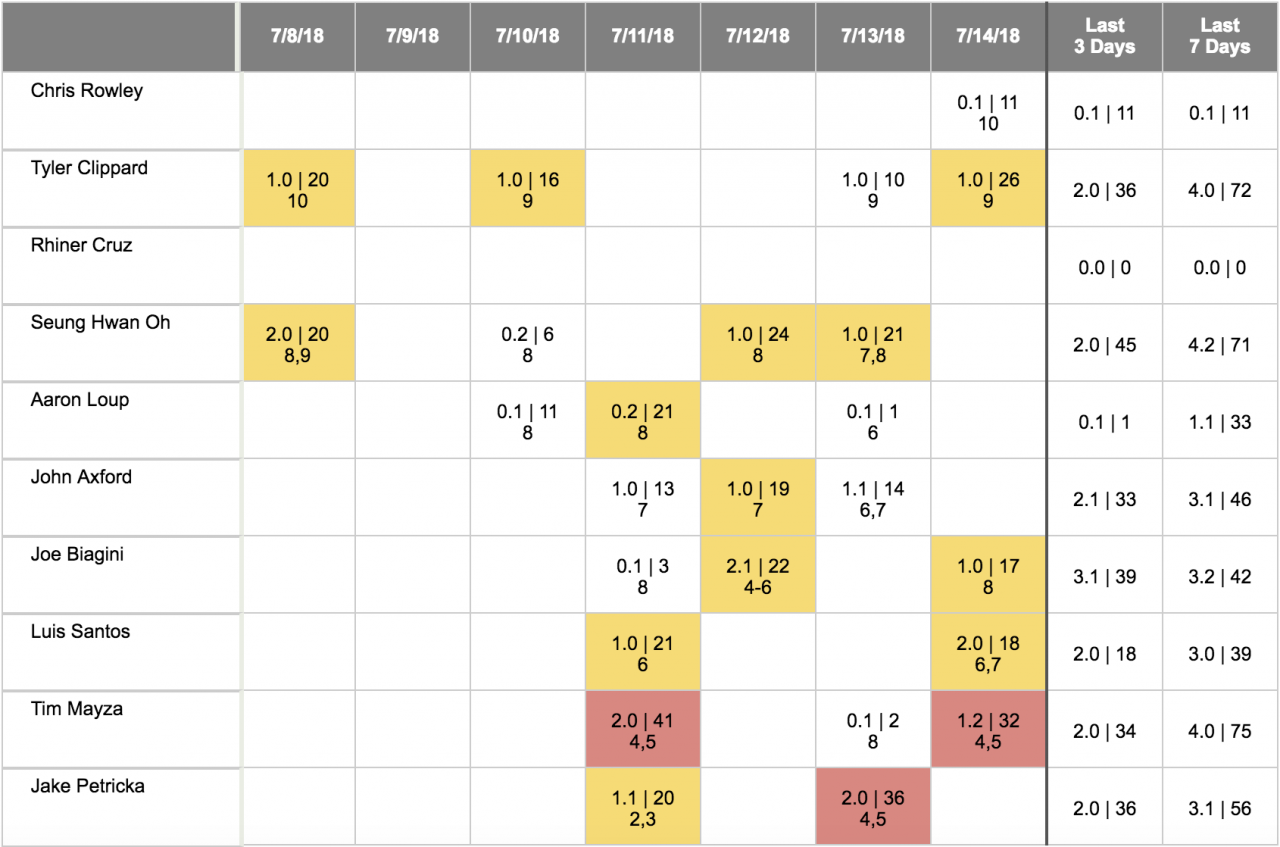 When the club took a step back and assessed the furious inferno raging in its bullpen after Saturday's game, it decided Tepera's rehab outing might be put to better use at the major-league level. So, Saturday night, not long after he arrived in Portland, Tepera got a phone call telling him to keep his bags packed — he was going to have to drive the two hours back to Boston the next morning, where he would be activated from the disabled list prior to Sunday's game.
Meanwhile, the club's starting centre fielder, Kevin Pillar, was slumped on a couch in the middle of the room, his right arm in a sling after he suffered a grade 1-to-2 sternoclavicular joint sprain in Saturday's game, an injury that will hold him out for as many as six weeks. Not far away, its promising rookie, Lourdes Gurriel Jr., emerged from the trainer's room and walked slowly through the clubhouse. He suffered a concussion Saturday and will miss at least a week.
When the Blue Jays lineup was finally sorted out and posted on a bulletin board — only a little more than two hours prior to first pitch — it listed 11 relievers in the bullpen and only two players on the bench. Russell Martin, that day's starting catcher, was also the club's backup infielder at second base, shortstop, and third. Kendrys Morales, the designated hitter, was next up.
It's a mess. An utter mess. One that made the fact the Blue Jays came into the game having lost three of four, and eight of 12 in the month, practically negligible. As they confront calamity after calamity in a season that, following a 15-10 April, was actually once considered promising, the Blue Jays are now merely trying to get to the all-star break before anything else goes wrong.
They've arrived there now. After a 5-2 loss to the Boston Red Sox Sunday, Toronto will have the benefit of four days in which they don't have to play baseball — a necessary, perhaps even urgent, opportunity to get things back on the rails.
Meanwhile, Sunday's on-field product was not crisp. In the first inning, Devon Travis committed an error on a soft Mitch Moreland groundball that could have resulted in an inning-ending double play, but instead extended a frame in which the Red Sox scored twice. In the fifth, Teoscar Hernandez allowed a routine fly ball in left field to drop literally right next to him, giving Boston a leadoff double that came in to score moments later. In the seventh, Aledymis Diaz watched a perfect throw from Martin behind the plate bounce off the inside of his glove at second, allowing Mookie Betts to slide in safely with a stolen base.
Lapses in concentration like those didn't help what could have been a strong outing from Blue Jays starter Marcus Stroman. He pitched five innings, allowing four runs (three earned) on five hits while striking out four.
"My team picks me up a ton. A lot of those times (when there are defensive miscues) I feel like I put an emphasis on making better pitches, not necessarily my teammates," Stroman said. "They pick me up all year. I should be able to pitch better at times like that when my team doesn't have my back, because they've had my back a lot of times."
Stroman had an effective mix of his two-seamer, cutter and slider on the day, throwing 62 per cent of his pitches for strikes. But he, too, was nearly befallen by the cruel karma the Blue Jays have been experiencing of late, when a 92.1-m.p.h. Xander Bogaerts liner caught him in the lower left leg in the fifth.
Stroman stayed down for several moments and received attention from Blue Jays head athletic trainer Nikki Huffman before remaining in the game and getting J.D. Martinez to make the final out of the inning. Stroman did not return for the sixth. Although, with his pitch count at 95 on a very humid day at Fenway Park, it's likely the Blue Jays were planning to lift him at that point regardless.
"It didn't feel good at all," Stroman said of the comebacker. "But I'm someone who prides myself on being able to go out there regardless of whatever little bumps and bruises I have. I'm going to be out there competing no matter what."
At least Tepera got to pitch after his Portland adventure, retiring the side in the seventh on 24 pitches in his first appearance since June 27. Jaime Garcia — last seen on a major-league mound June 19 before he hit the disabled list with left shoulder inflammation — returned as well in his new role as a reliever.
How'd that go? Garcia lasted only four batters, walking three. He threw as many balls in the dirt — five — as strikes. A fitting conclusion to a cursed week.