TORONTO – Miguel Castro's signing with the Toronto Blue Jays is the kind of story a scout can humble-brag about. The 20-year-old wunderkind, signed for a mere $43,000 as an international free agent on Jan. 5, 2012, is in many ways a fluke. Kids that talented rarely slip through the cracks, and when they do, they almost never graduate to the big-leagues as quickly as he did.
Yet here he is, a closer in the majors two weeks into his rookie season, each time out becoming more and more the type of acquisition that earns scouts raises and general managers plaudits. Really, it's crazy, especially when you consider everything that had to happen for things to play out this way.
First the New York Mets, and then the Philadelphia Phillies passed on Castro. Marco Paddy, the Blue Jays' longtime director of Latin American operations, left for the Chicago White Sox, who named him special assistant to the general manager – international operations. To replace him, the Blue Jays lured Ismael Cruz and his group away from the Mets. And Cruz, who had wanted to sign Castro with the Mets and kept tabs on the right-hander all along, was ready to pounce when the Phillies let Castro go.
"I wouldn't have done it if I didn't really like the kid," Cruz says in an interview. "I have to give Sandy Rosario (the club's director, Dominican Republic) credit, too. We stood by the kid the whole time."
Castro is the first international signing made by Cruz and his crew to reach the big-leagues since his arrival. This is how it happened.
***
The first time Cruz laid eyes on Castro was in the leadup to the July 2 international signing date in 2011, after a tryout at the Mets complex in the Dominican Republic. Like he is now, 16-year-old Castro was long and lean and already bringing it at 91 mph.
Cruz, the director of international scouting for Mets, asked the native of La Romana to stay in camp for an extended look.
"We had for two months and when it got to July 2, I liked him, Sandy (Alderson, New York's GM) liked him, but I was not the man to give the OK to sign him," says Cruz. "We were going to sign him for $200k, but a couple of Mets pitching coaches and my supervisor didn't like him.
"The Mets pitching guy was scared that his body was all lanky, too much strain on his arm. They get too technical on stuff like that. By experience we know those guys, we've got them like that, they're going to come up."
Still, Castro's body type is unusual for a pitcher – a Blue Jays official once compared him to basketball star Kevin Durant – and his slight frame raises questions about his durability.
The Mets never made an offer, leaving Castro to wonder what happened.
"They just watched me pitch, they never really talked to me about anything," Castro says in comments interpreted by Blue Jays third base coach Luis Rivera. "They were trying to sign me but they didn't tell me why they didn't sign me.
"I was so young, I wasn't really thinking that was the end. I was thinking there were more teams out there and there are more opportunities to come work out with someone else."
***
After things broke down with the Mets, Castro eventually found his way to the Phillies and began working out there. Again, he showed well, and again, there was interest in signing him, only this time an agreement for $180,000 was reached, pending a physical.
That's when things went sideways.
"My body was fine, but they didn't know about my arm, they thought there was something wrong with my arm," says Castro. "So they held me back for two weeks after I signed, I didn't pitch. I asked the trainer what was going on, and he said, 'We have to wait for the full results.'"
So Castro sat idly and waited for the verdict on his future. It didn't go well.
"The guys from the States came over, talked to me, and their trainer told me my arm probably wasn't good enough for two innings, in the long run I was going to get hurt," Castro recalls, "so they voided the contract.
"I was unsure about my arm because two organizations were talking about it. It was hard for me knowing I had already signed a contract and then they voided the contract. I was worried about my future."
Castro was thinking about going back to school, imagining which professions might suit him, but change was afoot. Paddy was leaving the Blue Jays for a promotion with the White Sox, and Cruz, who had ties to several members of the club's front office from their time working together with the Montreal Expos/Washington Nationals from 2002-05, had been tabbed as the replacement.
He was ready to hit the ground running.
"I caught wind in November that Castro failed his physical and at that moment, I was transitioning from the Mets to Toronto," says Cruz. "I told my scouts to get a hold of him, we'd give him a shot, but we're going to give him a physical, too."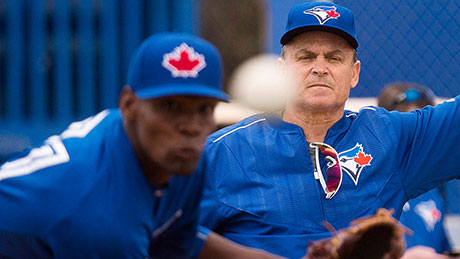 (Nathan Denette/CP)
***
Cruz had barely settled into his new job when he called Blue Jays GM Alex Anthopoulos to discuss Castro, whom he wanted to sign for $180,000. "You get to a new organization and the first thing is to ask for money," Cruz recalls sheepishly. "Alex asked me who is this guy, tell me about him, and he gave me the OK to sign him."
The pre-existing relationship with Cruz kept Castro from looking too hard for other teams, and he went to the Blue Jays complex for a tryout that was essentially a rubber stamp. Castro was a little concerned about being out of shape because of the Phillies-imposed shutdown, but Cruz told him he wanted to sign him.
"They told me after the tryout don't go home, stay here, we're going to make a decision on you," says Castro. "That's when they signed me."
The trick was going to be the physical, and the Blue Jays had the same concern about the elbow that the Phillies did – the ligament was sound, but there were remnants of a past injury. Cruz describes the damage as similar to an injury sustained by Jeurys Familia; in 2013 the Mets reliever underwent surgery to remove loose bodies and bone spurs from his throwing elbow.
He wasn't concerned about Castro's health, but Cruz wasn't sure how Anthopoulos would react.
"I called Alex back, I told him the kid has a little problem in the elbow, I'm OK with lowering the bonus because I really want the kid," says Cruz. "He said, go ahead, do it, no problem.
"If it would have been his shoulder, I would have worried about it, but elbow when you're young – it was nothing with the ligament – go ahead and give the guy a shot."
Says Anthopoulos: "If I hear passion on the other end of the line from a scout, I'm not going to say no."
The Blue Jays lowered the bonus to $43,000 and Castro accepted, Cruz finally getting his man.
***
At long last signed, sealed and delivered, it was then the real work started, with project No. 1 getting Castro to bulk up.
"I've done everything to get him to gain weight," says Cruz. "I had him go eat five times a day. He would start practice at 10 a.m., go inside to the cafeteria, have an early lunch, go back, then at 1 p.m., have another lunch, then at 3 p.m., come back to eat again.
"But there is no way. Spaghetti at midnight and that didn't do it."
What was it like eating so often?
"I enjoyed that," Castro says, smiling. "I knew I needed to gain some weight."
While he didn't pack on the pounds, Castro did pack on the velocity while playing in the Dominican Summer League in 2012. He came to the Blue Jays throwing a heater and a slurve, but Pablo Cruz, Ismael's father, taught him a changeup while a slider quickly replaced the slurve.
Off the field Castro developed, too, fulfilling all his responsibilities.
"He comes from a very poor family," says Cruz. "He's always been humble, quiet. He'll play around with the guys, never causes problems. I only remember one time that I had to put him in the cafeteria to wash dishes because he didn't show up on time for English class.
"Besides that I don't have any complaints."
In 2013, the Blue Jays moved him to the United States and he pitched in four games for rookie ball Gulf Coast League and Bluefield. The next year he dominated at single-A Vancouver before getting brief tastes of advanced A-ball with Lansing and then Dunedin.
"I got more speed on my fastball, improved my pitch location," says Castro. "I worked on my body and my mind."
***
During his annual tour of the Blue Jays' affiliates, Anthopoulos took notice of Castro in Vancouver and was so impressed that he called Cruz and told him that with that one signing he'd earned himself another decade of work.
"I remember when he called me up, I told him, 'Get it in writing,'" Cruz says laughing. "He's been great with us, he's given us a lot of freedom to work."
Anthopoulos started talking up Castro during the general managers' meetings this past November and the now 6-5, 190-pounder arrived in camp with an outside chance of making the team. Then he and fellow phenom Roberto Osuna quickly became the talk of camp, eventually winning roster spots.
Whenever a player breaks through to the big-leagues, Anthopoulos likes to send the signing scout a signed and framed jersey from the player as a token of gratitude. The Blue Jays brought Cruz and Rosario in to Dunedin so they could help break the news to Castro.
"Castro was a great job, I felt it would be a nice thing to show our appreciation," says Anthopoulos. "This was their first international signing that got to the big-leagues with us. It was nice for them to see that."
Cruz, his father and Rosario also accompanied the Blue Jays to Montreal, while the elder Cruz and Rosario also made the trip to New York for opening day, where they saw Castro make his big-league debut.
"The way Alex treated us was unbelievable," says Cruz. "He flew us in with the team, that stuff, nobody with the Nationals or the Mets did for us with all the major-leaguers we got for them. The way he treated us, it goes a long way."
Castro, meanwhile, remains in gratitude to Cruz and Rosario for sticking with him.
"They had the confidence and the trust in me even though I didn't sign with the Mets or the Phillies when I was there," he says. "That means a lot to me.
"All I need to do is continue to work hard and prove and show people that I belong in the big-leagues and can stay in the big-leagues."
Is there a small part of him intent on showing the Mets and Phillies what they missed out on?
"I'm doing that," he says with a grin.