This one's going to leave a mark on Toronto Blue Jays fans.
Some felt it was inevitable, while others maintained hope. But on Tuesday afternoon, the reality that free agent left-hander David Price would not return to the Blue Jays began to sink in as reports surfaced that he agreed on a seven-year, $217-million deal with the Boston Red Sox.
Naturally, Twitter exploded as the largest domino in this year's free agent market fell.
Pete Abraham of the Boston Globe got the madness started:
Not long after, Blue Jays right-hander Marcus Stroman chimed in with a few heartfelt tweets about his now former teammate.
He even interpolated some Drake lyrics:
Stroman also took to Instagram: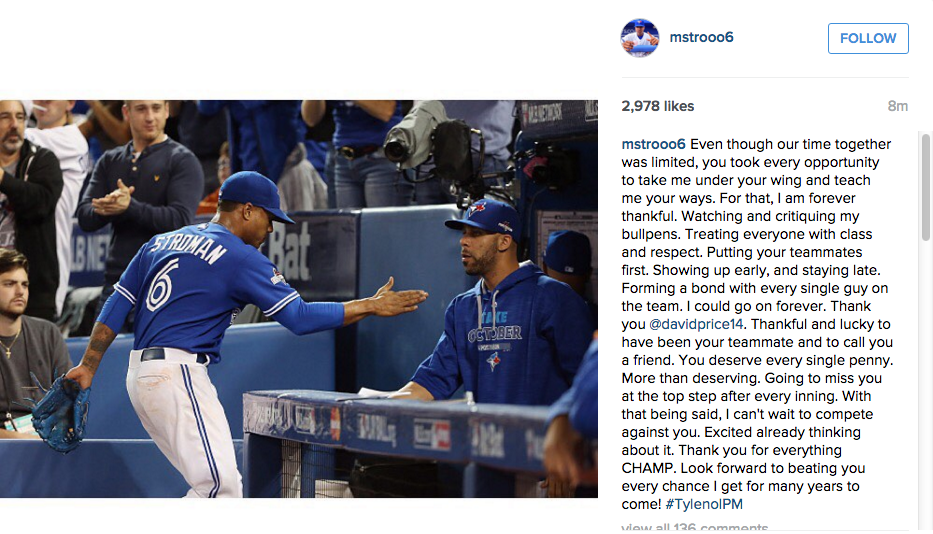 Blue Jays centre-fielder Kevin Pillar let it be known that Price is now a frenemy:
Media outlets and reporters provided instant commentary on the Red Sox signing:
Meanwhile, Blue Jays fans voiced their displeasure. Some were upset:
While others were just sad:
RogersCentre popcorn on Twitter

On the other hand, many Blue Jays fans were understanding of the left-hander's decision: