DURHAM, N.C. — Marcus Stroman and David Price are close friends; they text almost daily, they chirp each other on Twitter, and a couple weeks ago Price was spotted rocking one of Stroman's "StroShow" snapbacks.
But the 24-year-old Stroman, tasked with filling Price's Jordans at the front of the Blue Jays rotation in 2016, has an idea of how Toronto fans can serenade the new $217-million ace of the Boston Red Sox when he returns to Rogers Centre in April.
"I think it'd be cool if they booed him," Stroman says while eating lunch in Durham, N.C., where he's spent the past month training at Duke University. "He's on a division rival—you have to boo him. There's no friends when it comes to competition."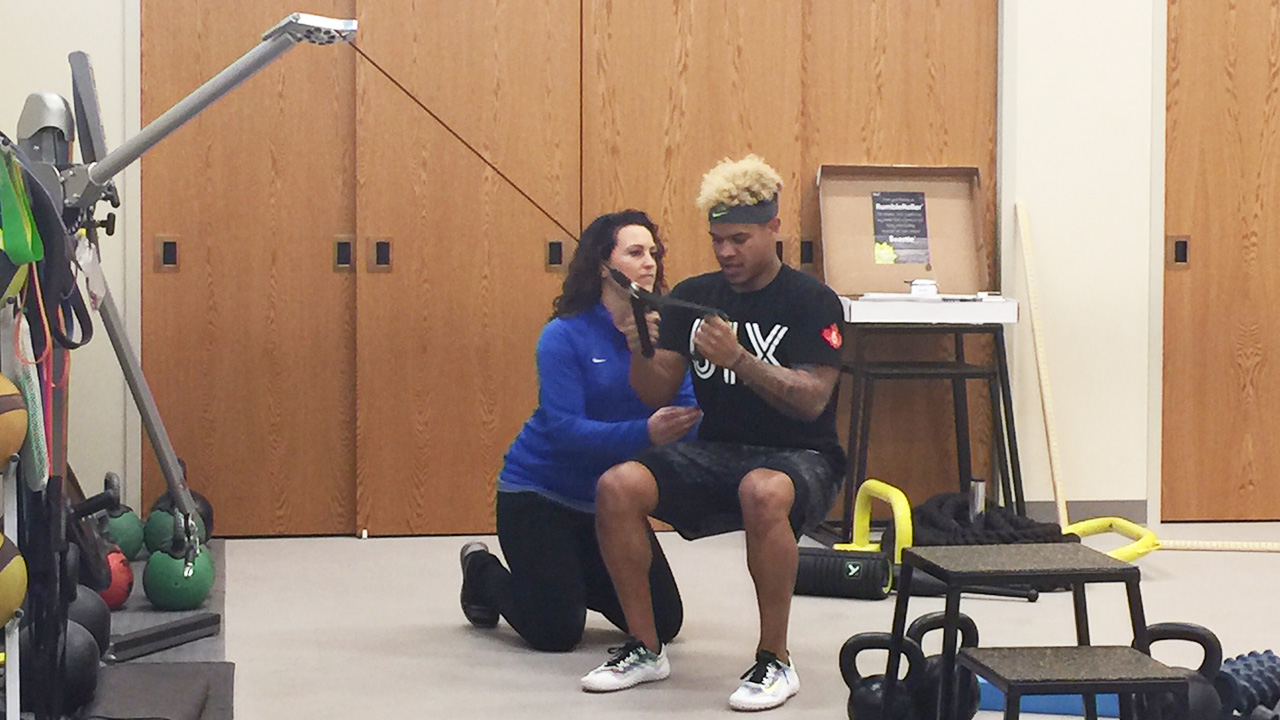 Stroman is pictured training in North Carolina.
Shortly after Price accepted the largest contract ever awarded to a free agent pitcher, Stroman pulled up the Blue Jays schedule and found all the occasions he'd be playing against the Red Sox. It just so happens that Boston will be in Toronto for the Blue Jays' home opening series in early April, and it's likely that Price will pitch in one of those games.
Stroman may get the chance to take the mound opposite his idol during that series or he may have to wait. Either way, he's hoping the Rogers Centre crowd is behind whoever's pitching in a Blue Jays uniform instead of Price, who made 11 nearly flawless starts for Toronto down the stretch in 2015, winning nine of them.
"I'm happy he's in Boston—I'll get to see him all the time," Stroman says. "And I get to pitch against him. It's awesome. I get to pitch against one of my role models, one of my mentors and one of my buddies. It's going to be fun. I've been texting him about it. It's going to be a fun rivalry for a bunch of years."
Stroman's been in close contact with Price throughout the off-season—before, during and after the 30-year-old accepted the massive contract. He had a pretty good idea that Price wouldn't be returning to the Blue Jays once he heard about the Red Sox offer, and wrote his friend a long Instagram tribute moments after his signing became official.
---
Download it now:
iOS | Android | Windows
---
"He deserves every penny—I'll be the first person to say that," Stroman says. "There's not many guys like him in the game of baseball. Honestly, there's not. He's the first one on the field, he's the last one to leave, he's the glue that keeps everyone going. He seeks relationships with everyone in the clubhouse. And I'm talking everyone—even staff. Everyone loves him. He does it the right way. He definitely left a legacy—with me and with the team as well. One of the best guys I've ever been around in baseball."
Going into 2016, Stroman will lead the Blue Jays rotation with two of his closest friends in the game—Price and Rays right-hander Chris Archer—pitching in the same division. He's more than a little excited about it.
"I can't wait to go out there and compete against those guys," Stroman says. "It gives you those bragging rights when you're off the field—you can talk a little crap, you know? It's going to be so much fun."