BOSTON — Marcus Stroman probably knew it was his last batter, his last inning at least. His pitch count was beyond 100 on a hot afternoon at Fenway Park, and over his left shoulder the Toronto Blue Jays bullpen was busy with two relievers throwing. But he also knew Toronto's relief corps was stretched thin and he had to give his team some innings. If he could just get one more out, carry his team through six, it could make a world of difference.
At the plate, Eduardo Nunez. Not a masher but always a tough plate appearance — a scrappy hitter whose 84 per cent contact rate is well above league average. Stroman had gotten ahead of him 0-2 before missing badly with three straight well outside the zone, one of which went for a wild pitch, allowing a runner on first to cruise into second. Done messing around, Stroman reared back and went right after Nunez with a full-count cutter up in the zone.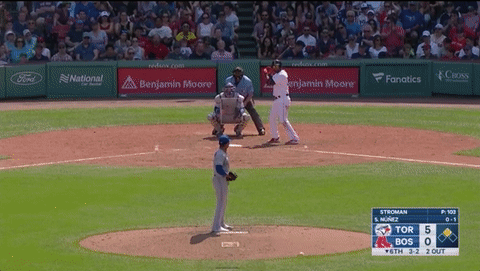 Strike three swinging. Fired all the way up, Stroman struck a pose at the end of his follow-through for a beat, looking right into the Red Sox dugout and letting out a loud, "Yeahhhh!," before bouncing off the mound toward his own. He skipped and nodded his head as he went, and was greeted at the top step by his manager, Charlie Montoyo, who gave him an emphatic high-five. Stroman slapped Montoyo on the chest and went striding into the dugout to celebrate with his teammates.
"I love it," Montoyo said afterward. "That's who he is. And that's why he's that good."
It was a classic Stroman moment, perhaps one of the last he'll have in a Blue Jays uniform as the 28-year-old starter went six scoreless against the Red Sox on Sunday, helping Toronto win 6-1 and take two games of three against the defending World Series champions on the road.
"I feel so comfortable when he's pitching," Montoyo said. "I'm just sitting back and letting him go."
Stroman had a few moments like that. In the second inning, he was clapping his hands above his head and roaring at Lourdes Gurriel Jr., after the Blue Jays left fielder earned his fifth outfield assist in 27 games since converting to the outfield, gunning out Brock Holt at the plate with a throw measured over 90-m.p.h. by StatCast.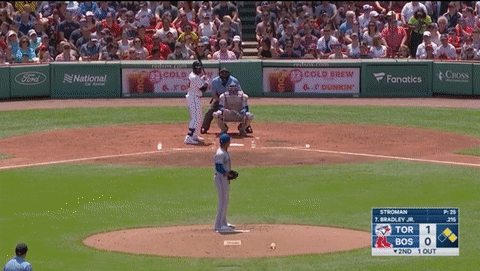 And with two runners in scoring position and two out in the third, Stroman was yelling and slapping his glove after third baseman Brandon Drury made a great play on a slow grounder, throwing J.D. Martinez out at first with a split-second to spare.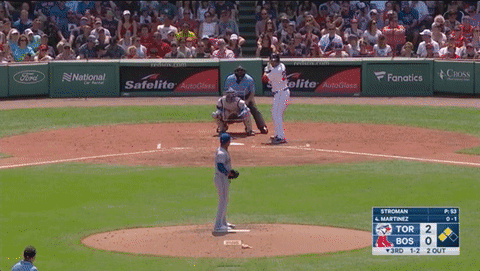 "Oh, it's contagious," said Gurriel, who went 3-for-5 with a double. "When you see a pitcher like that, like Stroman, he definitely pumps up everyone on the team. And you could see it out there in the way we played today."
Stroman's rarely dull, that's for sure. And so far this season, he's rarely been anything but his best. Sunday was the eighth time in his last nine that he's held the opposition to three earned runs or less, and the fifth time in his last eight that he's allowed only one.
He pulled his ERA down to 3.04, good for ninth among American League starters, and crossed the 100-inning mark for the fifth time in his six MLB seasons. Currently averaging just under six innings per outing, Stroman could reach 200 innings for the third time in his career if he makes 16 more starts, which would bring him to 33 on the year.
Just which uniform he'll make those starts in remains a mystery. The Blue Jays have been motivated to move Stroman for some time, and the better he pitches as the July 31 trade deadline approaches, the more likely he's traded for futures as Toronto continues to rebuild. He could certainly help any contender across the league, and big performances like Sunday's against tough, playoff-bound lineups like Boston's go a long way.
Ben Nicholson-Smith is Sportsnet's baseball editor. Arden Zwelling is a senior writer. Together, they bring you the most in-depth Blue Jays podcast in the league, covering off all the latest news with opinion and analysis, as well as interviews with other insiders and team members.
Stroman's now excelled twice against the Red Sox this year — once at home and once on the road — combining to allow only a run over 12 innings pitched. This time, he threw 63 per cent of his pitches for strikes, earning six of his outs on the ground, two in the air and six more via strikeout. He set a new season-high with 16 swinging strikes and got better as the game went on, retiring 11 of the final 12 batters he faced.
"This lineup, one through nine, is incredible. So, I think it's just more of an emphasis on being locked in every single pitch and making sure that I execute," Stroman said. "You can't afford to just have pitches where you kind of take off or just kind of throw pitches in the zone. Because they'll do damage."
Pitch-tracking services would have you believe that he did it with a barrage of sliders, but you can never really trust those numbers when it comes to Stroman. He'll feature as many as six different pitches throughout the season, depending on how he's feeling with them. And Sunday, many of his offerings that were classified as sliders were actually cutters that moved a ton.
"Yeah, cutters, to be honest," he said. "I feel good with my repertoire. I feel like I have one of the best sinkers in baseball, but I feel like I don't even have to throw it at certain times."
In that sense, it was a trademark Stroman day all around. A strong, efficient outing. A little bit of bravado afterward. And plenty of emotion on the field of play. Stroman's always said he loves performing in big spots, loves taking on dangerous lineups in hostile environments with plenty on the line. At 20 games under .500, the Blue Jays aren't playing for much these days, but Stroman's still pitching like they are.
"It's Sunday, it's Boston, it's however many people here, screaming. Defending World Champs. To limit that team to no runs over six is huge. It's hard to do, you know what I mean?" Stroman said of the emotion he channeled during the game. "I was really locked in all day. So, that's just me showing emotion and the passion I have for the game. I couldn't care less who judges me or who says anything about it. They can all keep it quiet."