Aaron Sanchez's last 11 strikeouts have come on fastballs, none slower than 96 m.p.h. and many were against some big names. Evan Longoria, Dustin Pedroia, Derek Jeter, Yoenis Cespedes and Ben Zobrist have all come up empty against the 22-year-old reliever's heater.
It's his go-to pitch, one Sanchez throws 85 percent of the time, or about as often as R.A. Dickey throws his knuckleball. It crosses the plate with an average velocity of 97.2 m.p.h. and, when paired with his curveball, it has been overwhelming big league hitters.
"He's going to use his fastball. He has great movement. He throws strikes with it and I'm the type of guy where if it ain't broke, don't fix it," Toronto Blue Jays catcher Dioner Navarro says. "He's got such great movement and great control of it, we're going to keep using it."
But while Sanchez has used his fastball to generate his last 11 strikeouts, that's not by design. The streak has taken place simply because it's his go-to pitch whether he needs soft contact or a swinging strike.
"I get ground balls and I get swings and misses. For me it's just — that's what I throw," Sanchez told Sportsnet. "As for the pitch, I've got huge confidence in it, so I'm not afraid to throw it, but I wouldn't say that my thinking's any different than it is on a curveball or change up."
Aaron Sanchez's 2014 strikeouts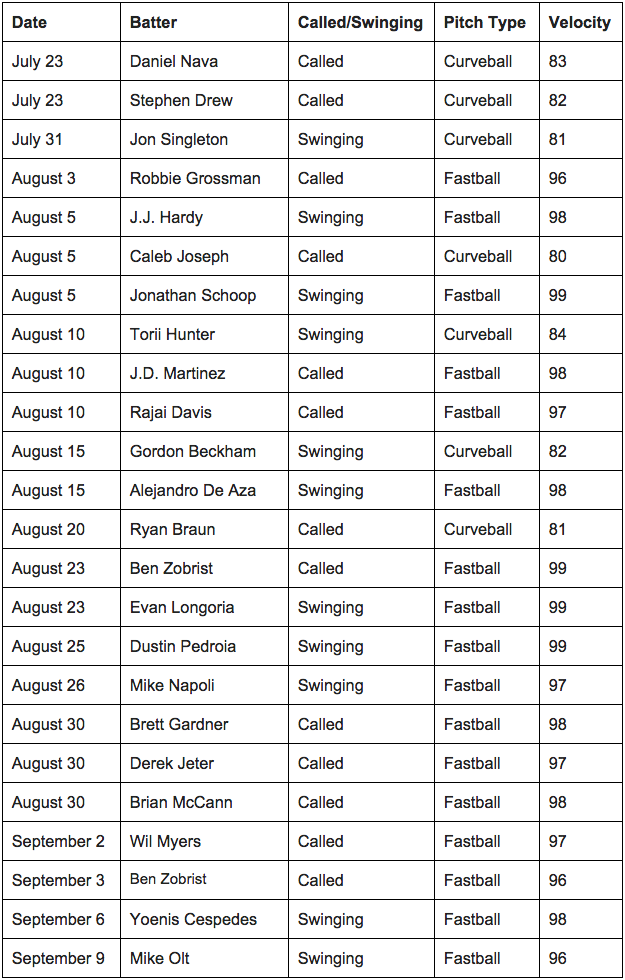 Sanchez relies on his curve too, throwing it 13.9 percent of the time. He used the curve to generate his first three big league strikeouts, but there are games when he doesn't need to use it.
"That's a big punchout pitch for me," he says. "I've gotten a couple chances to do it here, but when I come in the game late in the game, I'm just trying to get as many outs as I can. If I don't use it, I don't use it."
There's no questioning the results. In 25.2 innings spanning 18 big league appearances, the 2010 first round selection has struck out 24 batters with an ERA of 1.40 and an exceptionally high 66.1 percent ground ball rate. With results like that it's no wonder he has quickly become one of manager John Gibbons' most trusted relievers and — whether he's starting or relieving — will be a key piece of the 2015 staff.
A few months ago this kind of performance seemed unlikely. Sanchez, who started the season with double-A New Hampshire, walked 57 batters in 100.1 minor league innings before getting promoted to the big leagues. For context, no qualified MLB starter has a walk rate that high this year, and just eight qualified relievers do.
But Sanchez's command has been spot on since debuting July 23, as the Barstow, CA product has walked just four in 25.2 innings. Navarro says opposing batters walk away impressed 'all of the time.' What do they say?
"'He's nasty,' 'where's this kid been,' stuff like that," Navarro says. "Especially when you get that kind of movement. A lot of people throw 96-99 m.p.h., but when you have that kind of movement it's pretty special."
Looking back, Sanchez says his minor league walk totals 'can be a little bit mis-construed.' He believes his command was better than those early-season boxscores might have suggested.
"All of my stuff moves, so it's tough for umpires behind the dish to get a good read on it," he says. "I'm not saying that's what happened down there, but I don't know what's changed. Obviously I've just come up here and attacked hitters."
While a missed call or two might have cost him in the minors, it's worth noting that 13 of Sanchez's 24 MLB strikeouts have been called strike threes. He's getting the calls that eluded him in the minors, and — no doubt about it — his ability to freeze hitters plays a role in those called strike totals, too.
In total, Sanchez has 24 MLB strikeouts and there's no question which one stands out the most in his mind.
"Obviously Derek Jeter. I can't front on that," Sanchez says. "This is a dude that I watched growing up. Me and my idol. I don't think it's going to sink in. It hasn't really sunk in yet. Until he's off the diamond and he's retired, I think that's when it's going to be. I think that's when it's going to really sink in."
Sanchez played some shortstop in little league, wearing Jeter's No. 2 a couple of times as a tribute to the Yankees' shortstop. Striking him out with a called fastball at 97 m.p.h. in front of a packed house was unforgettable.
And if Sanchez had gone to his curveball, there's a pretty good chance that would have done the job, too. Neither one of his go-to pitches has been particularly hittable this year, as the likes of Longoria, Mike Napoli and Ryan Braun can attest.
The next step will be integrating the changeup. It's a pitch he rarely needs in games, since he's going through the order one time at most. For now he works on it before games, since he'll need it if and when he transitions back to a starting role.
But that's for next year. For now we know what American League players have found out the hard way: Sanchez's fastball-curveball combination can overwhelm hitters at the highest level.