Another MLB season has come and gone and the Boston Red Sox emerged as World Series champions for the fourth time in 15 years.
The weather is getting colder but the hot stove is about to kick into overdrive as free agency opens. We've taken a look at the position players, now here are the 10 best pitchers seeking new contracts this winter.
Position: Starter
Age: 29
2018 stats: IP: 200 | ERA: 3.15 | WHIP: 1.05 | SO: 246 | BB: 48
Former team: Arizona Diamondbacks
Potential fits: Yankees, Giants, Braves
Even with the all-star season he just put together, Corbin has managed to fly somewhat under the radar. That's about to change as the right-hander is sure to sign a lucrative, long-term contract as the top arm available on the market. Boasting an elite 11.1 K/9 rate and a 2.47 FIP that was more than half a run lower than his ERA, Corbin's numbers jump off the page. There has to be a bit of a concern over his injury history (he missed the entire 2014 season after undergoing Tommy John surgery) and inconsistency year to year, but that shouldn't stop the suitors from lining up on his doorstep.
Position: Reliever
Age: 30
2018 stats: IP: 62.1 | ERA: 2.74 | WHIP: 0.99 | SO: 96 | BB: 31
Former team: Boston Red Sox
Potential fits: Red Sox, Cardinals, Phillies
An all-star in eight of the past nine seasons, Kimbrel has been as consistently dominant as any closer in MLB, as evidenced by his career K/9 rate of 14.7. The Red Sox will most likely extend the flame-throwing righty a qualifying offer, meaning he would be tied to draft pick compensation if another team were to sign him. The price tag will surely be high, so he's probably only a realistic option for big-market teams, but the payoff is huge as his presence instantly anchors a bullpen.
Position: Starter
Age: 30
2018 stats: IP: 204.2 | ERA: 3.74 | WHIP: 1.31 | SO: 153 | BB: 58
Former team: Houston Astros
Potential fits: Astros, Rockies, Braves
The lone Cy Young winner on this list, Keuchel is set to cash in as he hits free agency for the first time. He's a proven top-of-the-rotation player, although 2018 was far from his best showing. He had a solid ERA and logged 200 innings for the third time in his career, but gave up an MLB-high 211 hits and saw his strikeout rate drop by a full point. Nonetheless, he remains a steady performer and his three Gold Gloves certainly won't hurt his case this winter.
Position: Starter
Age: 34
2018 stats: IP: 167 | ERA: 3.13 | WHIP: 1.16 | SO: 201 | BB: 64
Former team: Houston Astros
Potential fits: Astros, Giants, Mariners
Morton's career has taken off since joining the Astros in 2017. The veteran is coming off a year in which he went 15-3 and struck out 10.8 batters per nine innings en route to his first all-star appearance. The right-hander turns 35 later this month, so a lengthy contract likely isn't in the cards, but he's an ideal target for a franchise looking for a short-term commitment.
Position: Starter
Age: 28
2018 stats: IP: 111 | ERA: 3.81 | WHIP: 1.12 | SO: 101 | BB: 20
Former team: Boston Red Sox
Potential fits: Red Sox, Yankees, Brewers
No one on this list saw their stock rise as much as Eovaldi's did in the second half of this season and into the playoffs. The Houston native was traded from Tampa Bay to Boston in July and the change of scenery did wonders for him. A league-average pitcher for the bulk of his career, Eovaldi took off with the Red Sox, pitching to a 3.33 ERA (2.88 FIP) in 12 games. His most memorable outing came in Game 3 of the World Series when he pitched six innings of relief in Boston's eventual 18-inning loss. One major concern to prospective teams is that Eovaldi has already undergone Tommy John surgery twice at age 28.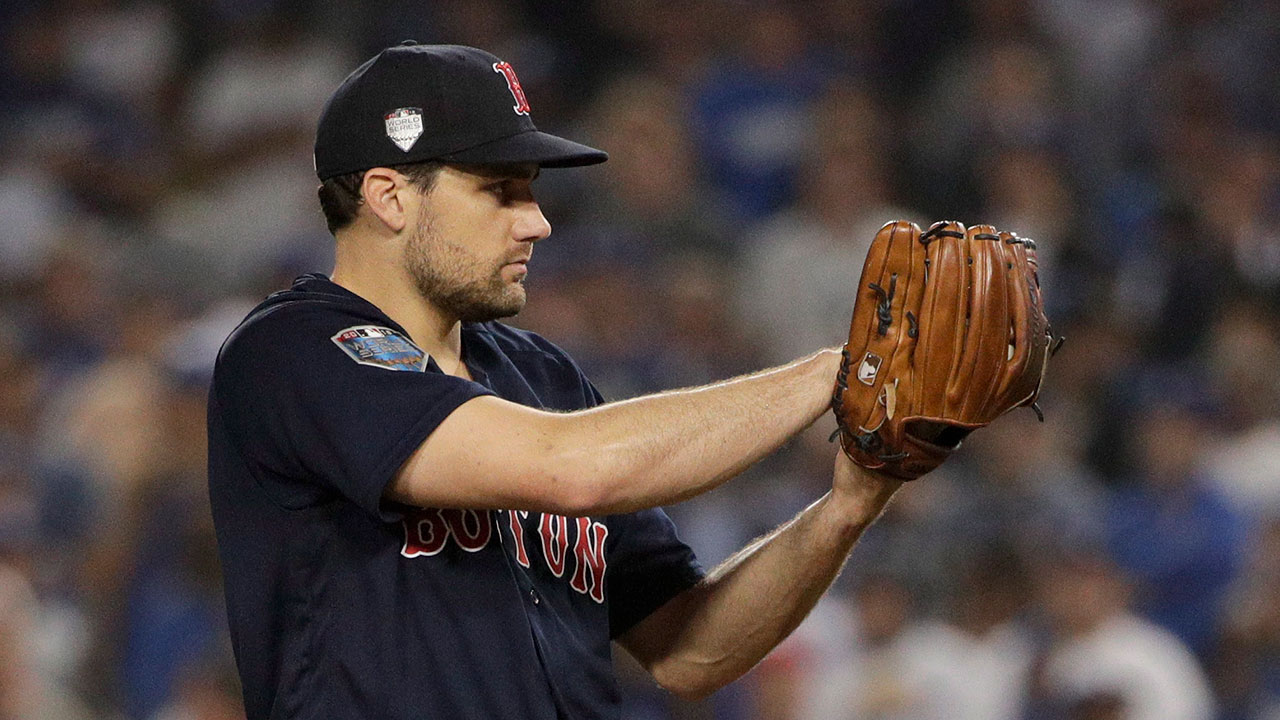 Position: Reliever
Age: 32
2018 stats: IP: 77.2 | ERA: 2.43 | WHIP: 0.99 | SO: 112 | BB: 36
Former team: Colorado Rockies
Potential fits: Rockies, Cardinals, Braves
Ottavino picked a perfect time to go out and have the best season of his career. With relievers being relied on more than ever in today's MLB, the 32-year-old will happily take his 2.43 ERA (2.74 FIP) to the open market and see what type of contract he can command. The New York native is also particularly valuable because he's proven capable of logging more than one inning at a time. What makes Ottavino's stats even more impressive is that they came at Coors Field — a notoriously hitter-friendly stadium.
Position: Reliever
Age: 33
2018 stats: IP: 34 | ERA: 4.24 | WHIP: 1.38 | SO: 45 | BB: 16
Former team: Cleveland Indians
Potential fits: Indians, Red Sox, Yankees
After posting a sub-2.00 ERA in four consecutive seasons from 2014-17, Miller is coming off his worst year since making the transition to a full-time relief role. Injuries didn't help as the left-hander battled through a troublesome shoulder that led to three separate stints on the disabled list. It became clear that Miller wasn't the same pitcher upon his return, as evidenced by his declining walk and strikeout rates. He might not garner the type of contract he would have last off-season, but this is still a player who can provide multi-inning dominance out of the bullpen when healthy, which becomes increasingly useful come playoff time.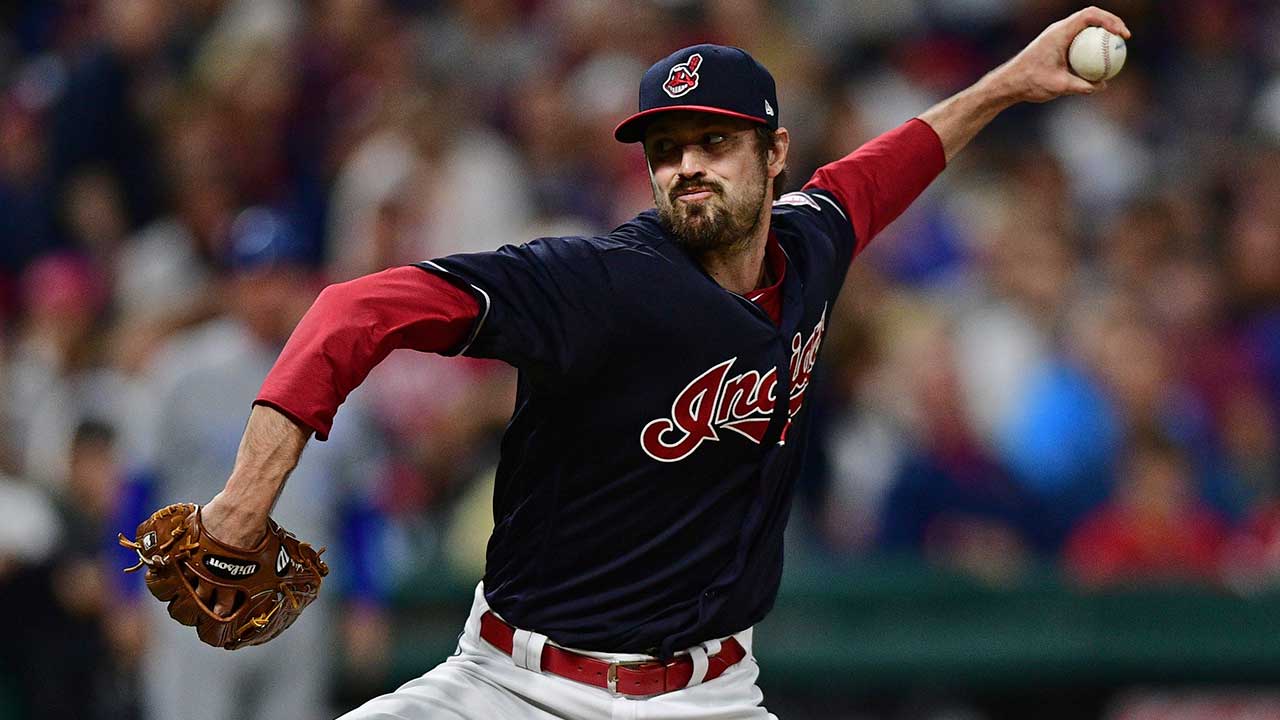 Position: Starter
Age: 31
2018 stats: IP: 82.1 | ERA: 1.97 | WHIP: 1.00 | SO: 89 | BB: 15
Former team: Los Angeles Dodgers
Potential fits: Dodgers, Brewers, Giants
When he's on the field, Ryu is a steady performer. The problem is it's hard to keep him healthy. The South Korean hurler owns a career 3.20 ERA over his five-year career, but he hasn't logged more than 130 innings since 2014. Along the way he has battled back, shoulder, elbow and groin issues that have each kept him sidelined for prolonged stretches. Despite the risks, the talent level the lefty brings to the table is appealing and at age 31 he still hypothetically has plenty of strong years left in the tank.
Position: Starter
Age: 36
2018 stats: IP: 177.2 | ERA: 3.65 | WHIP: 1.13 | SO: 193 | BB: 51
Former team: New York Yankees
Potential fits: Yankees, Mariners, Athletics
Happ has been a model of consistency over the past four years. The big southpaw was named a 2018 all-star based on his performance with the Blue Jays, but he was even better after the Yankees acquired him at the non-waiver trade deadline. The 12-year veteran started 11 games for New York down the stretch, going 7-0 with a tidy 2.69 ERA. Happ won't receive a long-term deal this winter due to his age, which makes him an intriguing option for any team looking to round out its rotation while not having to commit too much money or term.
Ben Nicholson-Smith is Sportsnet's baseball editor. Arden Zwelling is a senior writer. Together, they bring you the most in-depth Blue Jays podcast in the league, covering off all the latest news with opinion and analysis, as well as interviews with other insiders and team members.
Position: Reliever
Age: 30
2018 stats: IP: 40.2 | ERA: 3.10 | WHIP: 1.23 | SO: 34 | BB: 21
Former team: New York Yankees
Potential fits: Braves, Cardinals, Angels
From 2014-16 you'd be hard-pressed to find as dominant a closer as Britton. After losing much of the 2017 campaign to a forearm problem, the left-hander began 2018 on the disabled list with an Achilles injury, which delayed his debut until the middle of June. With the Baltimore Orioles completely out of contention, they dealt him to the Yankees ahead of the non-waiver trade deadline. He didn't see many save opportunities with the Pinstripes, and he'll likely be looking to return to a closing role in 2019 and beyond. Now we'll wait and see which team wants to make the gamble that he'll be able to return to his all-star form.
Notable pitchers with 2019 options: Clayton Kershaw
Honourable mentions: Jeurys Familia, David Robertson, Wade Miley