One of baseball's great beauties is that every new season brings the unexpected, and rarely do things play out the way we think they will. Still, identifying compelling storylines is easy, and as always, there's plenty of intrigue heading into 2016. Here are 10 things to keep an eye on.
1. BASEBALL'S CULTURE CLASH
Bryce Harper's description of baseball as "tired" in an ESPN The Magazine article demarcated the fault lines in a growing tug-of-war between the sport's buttoned-down traditionalists and an exuberant new generation of players. The old guard (look in the direction of Goose Gossage) and its disciples (Sam Dyson, cough) despise emotional on-field displays, such as Jose Bautista's epic and polarizing bat-flip in Game 5 of last year's ALDS versus Texas, while Harper gave voice to those in the game who are all about that swag. "I love Bautista," Harper told the Washington Post earlier this spring. "I love the way he plays. I love everything about him. I 100-per-cent agree with what he did in the playoff game, because you never know what you're going to do. You don't want to be a machine. You don't want to be a robot. You don't know what's going to happen. He hits a homer. You don't know, as a human being, what you're going to do. You have no idea. … That's him. That's the way he plays. That's the way Toronto is. When you have a whole country rooting for you, you're telling me you wouldn't go crazy in that whole situation, in that moment? You're crazy if you think that." Later he added, "It's personal expression. I love that." Thanks in part to the reigning NL MVP, the discussion is wide open now, and is one the sport needs to have.
2. COLLECTIVE BARGAINING
If talk of qualifying offers, revenue sharing, luxury tax thresholds and player-entry points makes your stomach turn, you won't like this at all. But the current collective bargaining agreement expires Dec. 1 and talks on some type of recalibration of the system governing the way the game functions will be taking place in the backdrop. There hasn't been a work stoppage in baseball since the 1994 World Series was cancelled, and owners and players will be looking to keep that run going.
3. TANK NATIONS
The point of sports is to win. But in Philadelphia, Atlanta, Milwaukee and Cincinnati this year, the point is to lose and lose big, as the battle for the first overall pick in 2017 is on. The signing bonus pool system currently incentivizes losing by allowing bottom-feeders to vastly outspend top clubs in the draft, and that's sure to be an issue in CBA negotiations.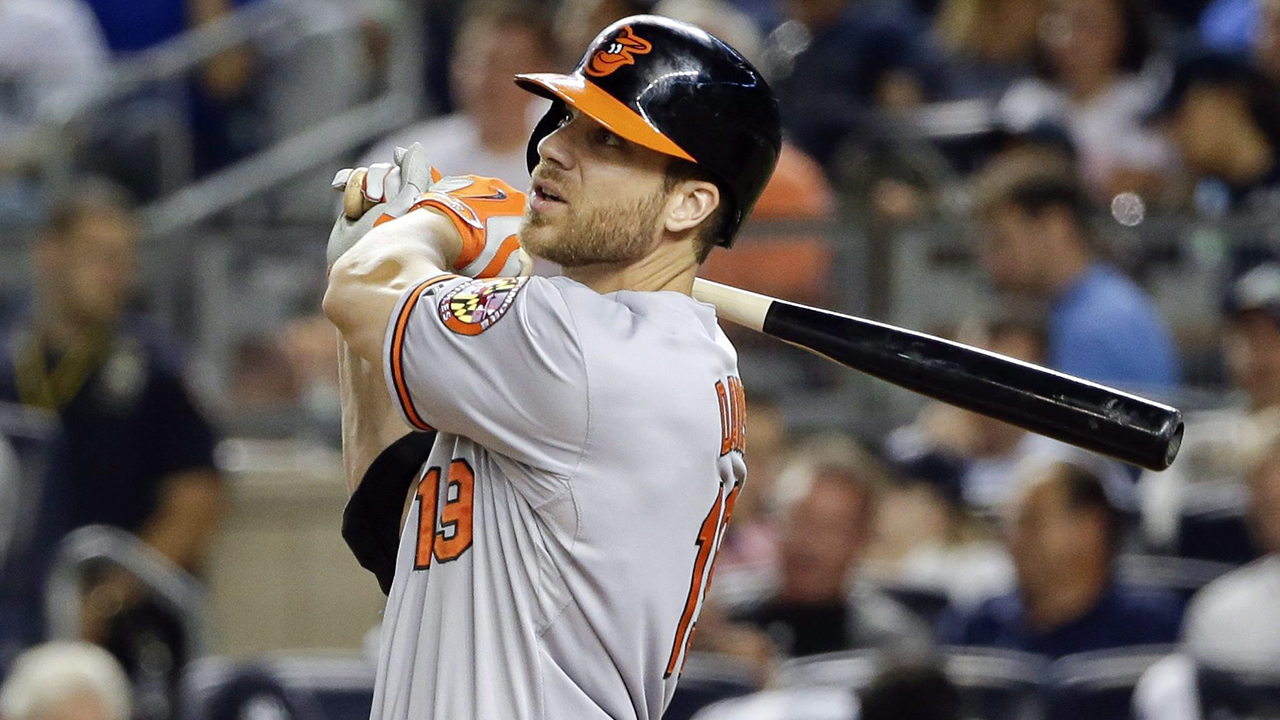 Chris Davis led MLB with 47 homers last season. (Frank Franklin II/AP)

4. RETURN OF THE BATS?
In 2006, there were 23,599 runs scored in big-league games, a number that a decade later was down to 20,647. Things bottomed out in 2014 when only 19,761 runners came across, bouncing back nearly 1,000 runs last year. Home runs in 2015 were also up in a big way – up from 4,186 the previous year to 4,909 – suggesting the decline in offence may be tapering.
5. SWING AND A MISS
On the flip side, strikeouts remain on the upswing in baseball, although the year-over-year increase from 2014-15 was only five Ks, at 37,446 last season. That's up significantly from 31,655 strikeouts in 2006, likely a product of increased velocity in the game and more specialized bullpen usage.
6. COMPETITIVE AL
Realistic or not, every team in the American League, save maybe for the Oakland Athletics, believes it has a real shot at contending for a post-season berth. Now, the pretenders will fall by the wayside as the grind plays out, but that still makes for intense competition for five playoff spots. Contrast that with the National League, where with four teams actively tanking (see above) and two more – San Diego and Colorado – actively pretending, there are at most nine teams in the hunt for five playoff spots.

Zack Greinke left the Dodgers to join the division-rival Diamondbacks. (Rick Scuteri/AP)

7. RAISING ARIZONA
No team raised as many eyebrows in baseball this off-season as the Arizona Diamondbacks. They signed Zack Greinke to a $206.5-million, six-year deal that lifted the ace from the Los Angeles Dodgers, sent a major haul of prospects to the Atlanta Braves for right-hander Shelby Miller, traded for shortstop Jean Segura, and later signed reliever Tyler Clippard. With perennial MVP candidate Paul Goldschmidt already in place, they should make noise in the NL West, but can they make up a 13-game gap with the Dodgers and eight-game spread on the Giants?
8. YOUTH IS SERVED
Mike Trout, Bryce Harper, Giancarlo Stanton and Manny Machado have been at the forefront of the game's youth movement, and now alongside them are talents like Jose Fernandez, Kris Bryant, Carlos Correa, Nolan Arenado, Carlos Martinez and Joc Pederson. The influx of so much elite talent is sure to transform the game.
9. CUBAN OPENING
As the United States and Cuba begin work toward normalized relations, the possibility of a proper talent pipeline opening between the island and North America increases. A more humane process that doesn't require defecting or human smugglers may already be in the works. The thaw in diplomatic relations between the longtime enemies already led to an exhibition between the Rays and Cuban national team, won 4-1 by Tampa Bay.
10. SLIDE RULE
Rule 6.01, or the Chase Utley Rule if you prefer, pertains to slides at second base on potential double plays, and is sure to generate all kinds of chatter. Runners can no longer deviate from their pathway to the base to take out a fielder and so-called roll blocks on defenders are a thing of the past, and players will be closely watching how the changes are enforced.