DUNEDIN, Fla. – The top pitching prospect in the Toronto Blue Jays farm system owns a fastball that sits in the mid-90s and can get up to 98, the way it did in his Grapefruit League debut over the weekend. The 20-year-old from Santa Monica, Calif., also has an IMDb page with three acting credits, a handful of modelling gigs on his resume and video of him dunking a basketball at Charlie Sheen's house posted to his Twitter account.
So yeah, Conner Greene is pretty much living the dream right now.
"Baseball is always first, baseball is what I love and now that it's my profession it's amazing, it's treated me nothing but well," he says, making clear where his priorities lie. "I'm not really pursuing acting, if jobs come around I'll always be open, so I don't really balance the two. I play baseball."
Last season, Greene played it particularly well, starting out in low-A Lansing, moving up to advanced-A Dunedin and finishing up at double-A New Hampshire, where he's expected to open this year. Even before last summer's pre-trade deadline shopping spree emptied the farm system of much of its pitching talent, he was gaining notice for his overpowering stuff.
Once all the deals went down, Greene became particularly important to the organization because he's the closest of the remaining high-ceiling arms to the big leagues.
Even still, much development remains, particularly in building up physically to endure the rigours of a 200-inning season. He threw a total of 132.1 innings on his slight 6-3, 165-pound frame in 2015 and "a huge goal is gaining weight for me right me now."
"I'm going to hopefully one day have a huge workload so I would like to be able to maintain strength throughout the season," Greene continues. "I'm binge-eating. Definitely a lot of burritos, a lot of protein shakes. It's not working yet, but hopefully it will come around."

(Conner Greene talking to the the media in Dunedin. Barry Davis/Sportsnet)
Among the things that came around for Greene last year was the effectiveness of his fastball, which allowed him to more effectively use his developing curveball and changeup. A seventh-round pick in 2013 out of Santa Monica High School, he posted a collective mark of 12-7 with a 3.54 ERA, averaging 7.8 strikeouts per nine innings against 2.7 walks.
"Fastball command was the reason why I was moving up," said Greene. "I was finally able to hit the inside corner, the outside corner, do what I want with my fastball to set up my secondary pitches."
A point of emphasis this spring is on trying to add some deception by throwing his curveball out of the same slot as his heater.
"It's coming along great," he said. "Hopefully it will break off the same fastball plane so hopefully big leaguers don't pick it up out of my hand."
He flashed that ability to blow away hitters Saturday in one inning against the Philadelphia Phillies, repeatedly hitting 98 while striking out the side around a walk. That sort of velocity tends to earn someone notice at their first big league spring training.
"Good arm," said Blue Jays manager John Gibbons. "He's one kid they're talking about in the organization that's got a chance. I understand too that he's really good friends with Charlie Sheen, so that tells you a lot about him."
And what might that be?
"He likes the limelight," Gibbons said with a grin.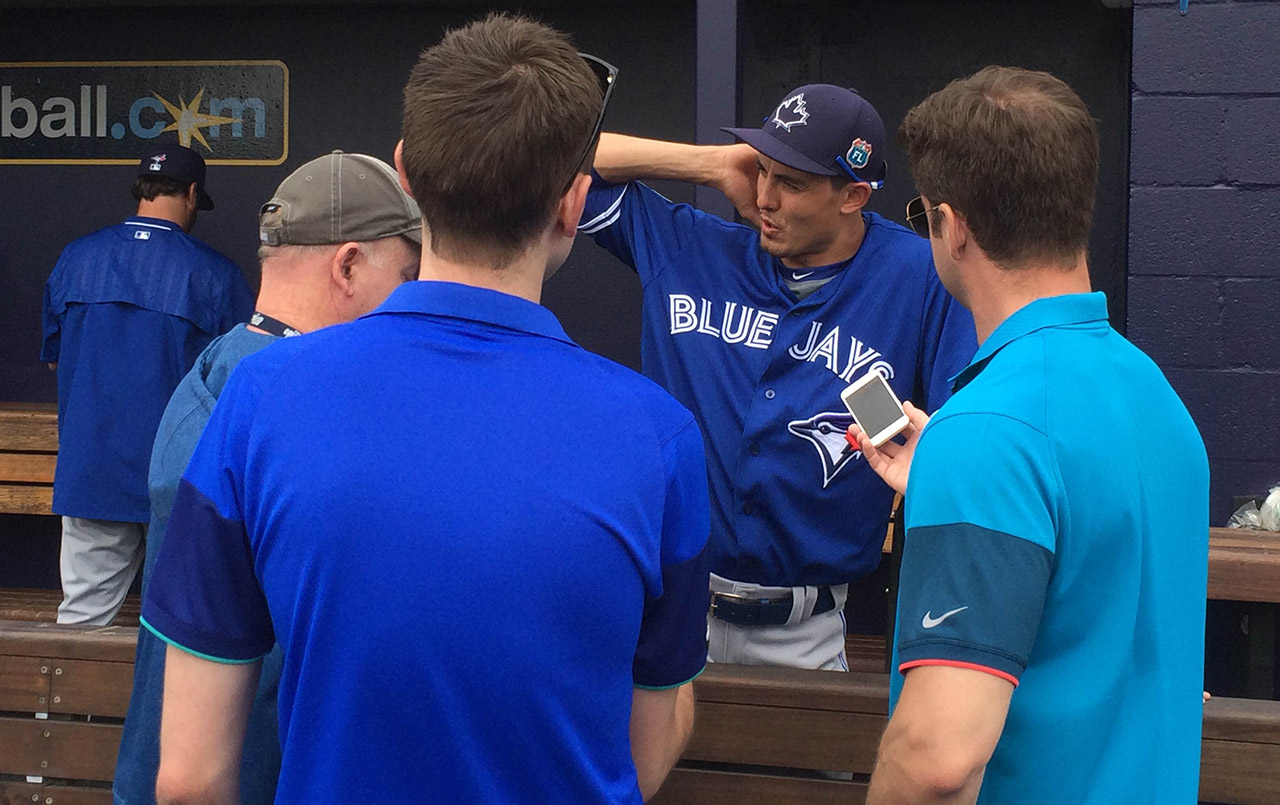 (Conner Greene stretches while being interviewed in Dunedin. (Barry Davis/Sportsnet)
Continuing to progress the way he has will certainly earn Greene his share of it. His friendship with Sheen started through Greene's high school coach, Tony Todd, who promised his pitcher an introduction to the Hollywood star if he got drafted.
True to his word, he connected them once the Blue Jays selected Greene, Sheen helped him land a couple of bit parts on his show Anger Management, and the two occasionally play catch.
"He'll come to hit at our high school and he can swing it a little bit, left-handed, not a bad swing. I've seen him take it out before," says Greene. "He's just always extremely sweet, he goes out of his way to make others smile. He loves baseball so he always wants to play catch with me, he's always asking.
"I pop his mitt and he'll pop my mitt, too, I'm telling you he probably gets up to the low 80s. He throws sidearm. It's hilarious throwing with him because he tries to do this whole shortstop motion, he does all the extra stuff. He's not bad at all at it."