TORONTO – The Toronto Blue Jays have started informing season-ticket holders that prices will rise by up to 17 per cent in 2018, the fourth straight year their fans will face an increase.
Subscribers to the Premium Dugout and 500 Level Lower categories will get dinged the most at 17 per cent, according to a new price chart distributed to some subscribers and shared by one consumer with Sportsnet on Friday.
Seats in 200 Level Bases face the smallest increase at seven per cent; Field Level Infield and 500 Level seats are rising by eight per cent; 100 Level Outfield and 200 Level Outfield nine per cent; Premium Infield 11 per cent; TD Comfort Clubhouse 12 per cent; In the Action and Field Level Bases 13 per cent.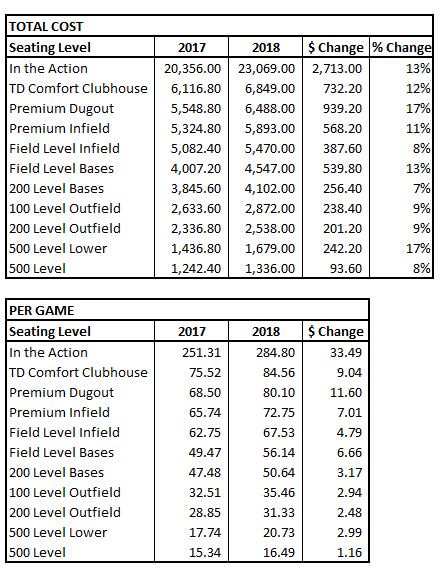 In dollar terms, the cost of a season ticket will now range from $1,336-$23,069, with the increase adding $93.60-$2,713 per ticket.
The Blue Jays headed into Friday's contest against the Los Angeles Angels leading the American League with an average crowd of 39,867 through 50 home dates. They were tops in the AL and third in the majors with a total attendance of 3,392,099 last year.
Word of the increase comes with the Blue Jays struggling through a difficult 2017 season in which they've been hampered by injuries and underperformance, and working to sell off short-term assets before the non-waiver trade deadline with an eye toward retooling for another run next year.
Blue Jays ticket prices remained unchanged from 2010 through 2014, when hikes ranging between 5-27.6 per cent on season subscriptions and 0.80-50 per cent on flex packs were put in place for the 2015 season.
After the Blue Jays' first post-season appearance since 1993 in 2015, prices rose an average of 10 per cent for the 2016 season, while this year, season-ticket prices rose an average of nine per cent for early-bird renewals as part of a wide-scale matrix restructuring.