DUNEDIN, Fla. – There's a normalcy to being with the Toronto Blue Jays now that's making Troy Tulowitzki feel more comfortable this spring than he did last year following his acquisition from the Colorado Rockies.
The stunning trade, coming after assurances he wouldn't be moved, turned his world upside down, and after the Game 6 loss to the Kansas City Royals in the American League Championship Series, he told a small group of reporters that parachuting into another club's season made it hard to feel settled.
Some four months later, with time to properly digest the changes both professionally and personally, and deepen the friendships he developed during a frenzied run to an AL East crown, the all-star shortstop is home.
"Coming to spring training and knowing the coaches and the organization a little bit and some of my teammates has definitely made this transition a little bit easier. So, that's nice," he said during an interview on a stormy Wednesday. "I made it known a couple times that (the transition last year) wasn't that easy just because I'd been in Colorado so long. But now that I look back at it, I'm a firm believer that things do happen for a reason, and I'm definitely happy to be here and I can't wait to start the year."
Among the things Tulowitzki is looking forward to is a break from the trade rumours that dogged him during his final seasons with the rebuilding Rockies, who gave him a $157.75-million, 10-year extension in 2010. Former general manager Alex Anthopoulos managed to pry him and now retired reliever LaTroy Hawkins away for pitching prospects Jeff Hoffman, Miguel Castro and Jesus Tinoco plus shortstop Jose Reyes, a turn of events Tulowitzki said last October made it "tough for me now to trust anybody in this game."
Then came the front-office turnover in Toronto, as Anthopoulos left just as Mark Shapiro took over from Paul Beeston as president, leading to the hire of Ross Atkins as general manager.
"You know what the game is about, anything can happen at any point in time, but I did find it a little awkward that Alex was the guy who came and got me and then talking about things we were going to do here in the long haul and how this organization is going to run," said Tulowitzki. "Then all of a sudden he goes off somewhere else, but it wasn't by his choice, I don't think, obviously things didn't work out. I think we're in good hands with the new people running the organization. Bottom line, the people in this locker-room here, the players, is what is going to win us games."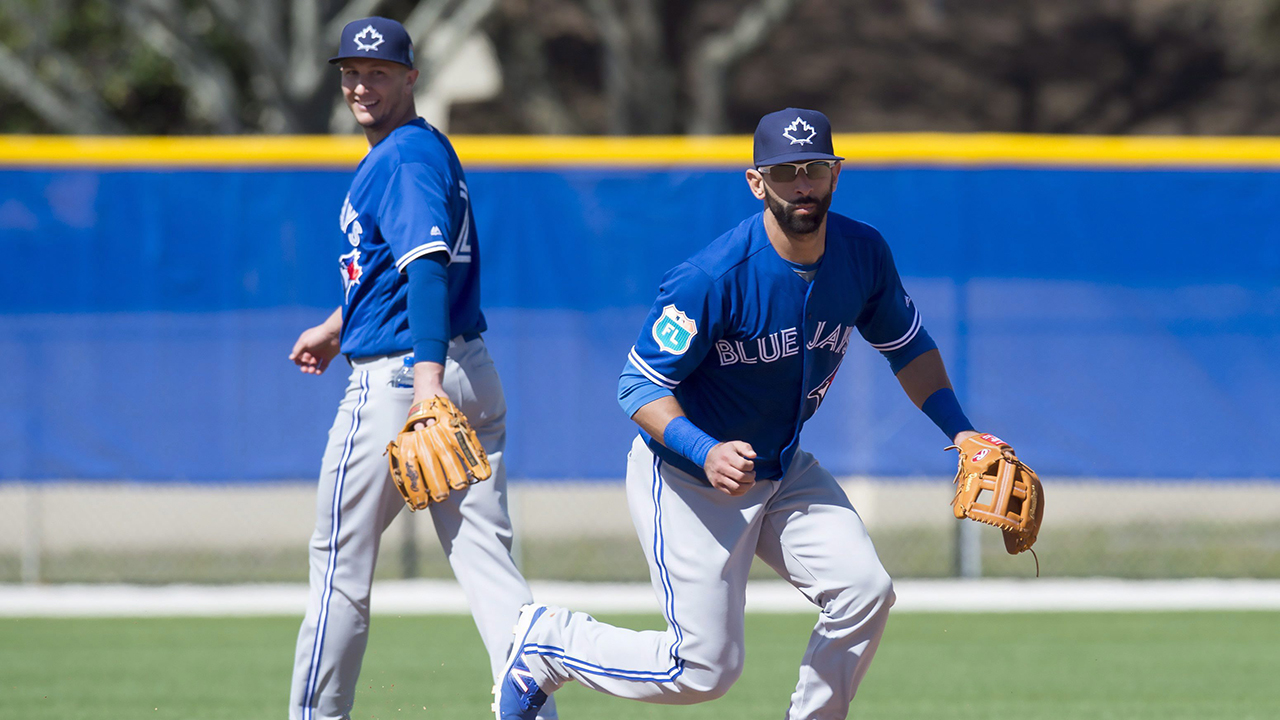 Troy Tulowitzki, left, smiles as Blue Jays outfielder Jose Bautista takes ground balls at shortstop on Monday in Dunedin, Fla. (Frank Gunn/CP)
How long this group remains together beyond 2016 has been a focal point so far this spring, as the Blue Jays have 10 pending free agents including franchise cornerstones Jose Bautista and Edwin Encarnacion. But while there is longer-term uncertainty, in Tulowitzki's eyes that's not all negative, either.
"It will be interesting, I'll tell you that," he said. "We can really use it to benefit us because sometimes you get a little bit more from them because they are hitting the market, and I think that's going to be the case with some of these guys.
"They're going to have some big years because they know what's at stake."
Regardless, Tulowitzki will play a pivotal role in the team's fate this year.
Manager John Gibbons praised his contributions following his acquisition last season, describing him succinctly as "a very professional player."
Still, while he provided stellar defence and helped fortify a dedicated and driven clubhouse following his arrival, Tulowitzki slumped at the plate, slashing .239/.317/.380 in 41 games with the Blue Jays, well off the .300/.348/.471 he delivered in 41 games with the Rockies beforehand.
To that end, he's been experimenting with moving from a toe-tap to a leg kick as the trigger for his swing, a product of his regular discussions about hitting with Josh Donaldson and Jose Bautista.
"Every off-season I try to get myself better as a player," Tulowitzki said. "I know I can be a way better offensive player than I was (in Toronto), I went through a few things and changed some things up to try and better myself. There's a little bit of a leg kick in there, but some of the stuff I do up top is real similar."
If the end result pushes him toward the slash line of .297/.369/.508 he's posted over a 10-year career, a Blue Jays lineup already bulging with mashers will become even more imposing. And the offence will need to help carry the load if he's to reach his ultimate goal.
"I want to win a ring, bottom line," he said. "All I care about is winning, going to the playoffs, year-in and year-out. Really, winning a ring is something I value the most."