DUNEDIN, Fla. – Day after day during a largely productive spring training for the Toronto Blue Jays, Troy Tulowitzki arrived early at Dunedin Stadium and stayed late, taking batting practice, fielding groundballs, getting treatment, and doing whatever he could. Sometimes he'd hold court by his locker in the most spacious corner of the clubhouse, grabbing one of the bats neatly lined up against the wall, resting it on his shoulder as he chatted with neighbours Marcus Stroman, Josh Donaldson and Aaron Sanchez.
Yet as his teammates incrementally and methodically built toward opening day Thursday versus the New York Yankees, the star shortstop remained stuck in neutral throughout camp, still dealing with the after-effects of the gruesome right ankle injury he suffered last July 28. And as the Blue Jays headed north for a pair of exhibition games in Montreal, Tulowitzki stayed back, still seeking answers on what it will take for him to eventually rejoin them.
"I don't think I've made much progress here in spring training just because I came in, honestly, with the expectation I'd be ready by opening day," he says during an interview. "That was the goal, and as I was going along that just became not a possibility because of certain tests I was put through and I was still having some of the pain and some of the issues. We had to kind of back off, regroup a little bit, put together another plan, and that's kind of where we're at right now."
Next steps in recovery unclear
At the moment, this is what Tulowitzki and the Blue Jays know about his ankle: The ligament tear and compression fracture that occurred when his foot clipped C.J. Cron's heel as he stepped on first base have healed, but those injuries are believed to have triggered more pain from his pre-existing bone spurs. Those bone spurs, which he guesses he's had for the past 3-5 years, caused discomfort, but never the type of unbearable pain he feels now when running, the prime hurdle between him and a return.
The next steps are unclear.
"I wish I had some answers for you," he says. "We're still at the drawing board in trying to figure out what is best, if that's from stuff in the weight room as far as strengthening stuff, is that from a rest standpoint, is that from an injection standpoint, is that from whatever different thing in trying to figure out what's best for me and what's causing my pain."
In the interim, Tulowitzki does the only thing he can – come to the ballpark and work with whatever he has on that given day, trying to get himself right.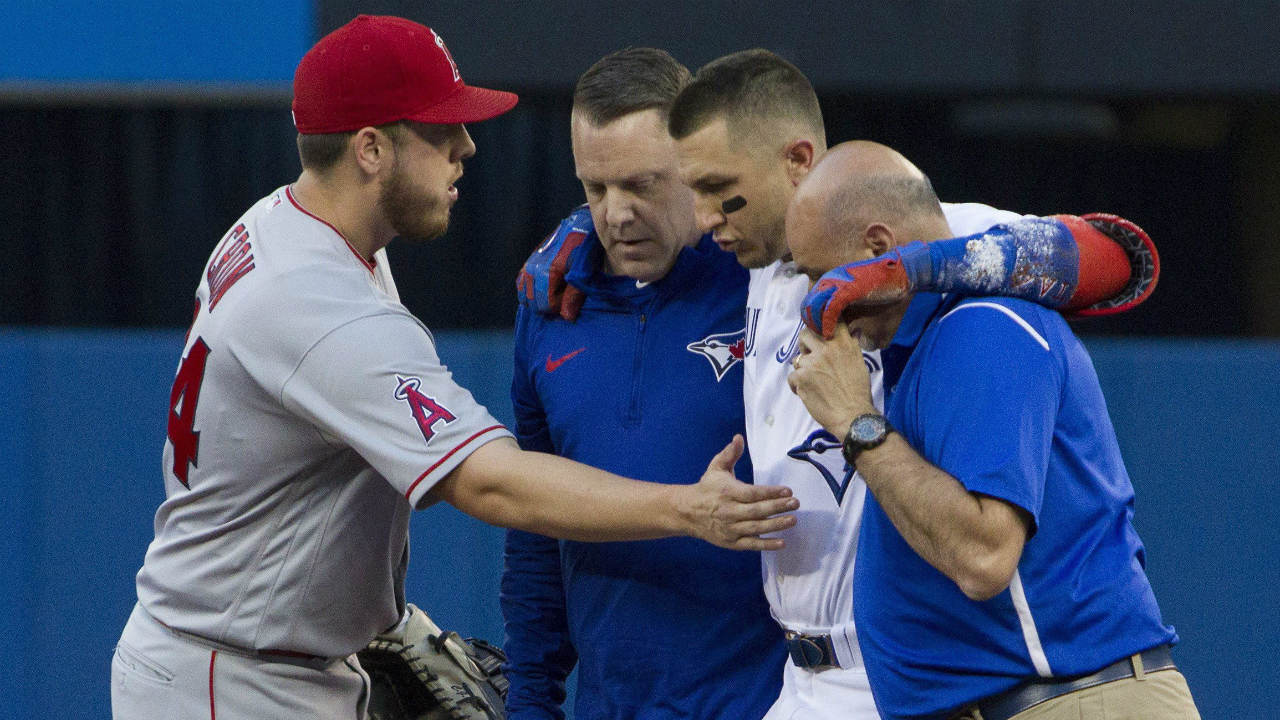 Insurance policies
Although Tulowitzki's recovery looked promising during the off-season, the Blue Jays still tried to protect themselves by building up the roster's infield depth. Aledmys Diaz, acquired from the St. Louis Cardinals for minor-league outfielder J.B. Woodman, will be the shortstop on opening day, with Danny Espinosa expected to beat out Gift Ngoepe for the backup role. Yangervis Solarte, another versatile infielder, can also fill-in at short in a pinch. Prospects Lourdes Gurriel Jr., and Richard Urena will be at triple-A.
From a team perspective, that's a good thing. Depth wins. But at the same time, watching the team head north without him, is "definitely tough, especially when you care about the game and love the game as much as I do," says Tulowitzki.
"It kills him. And it kills us to see it," says Donaldson, one of his closest friends on the team. "It stinks, because you know how passionate he is about the game, you know how much he loves the game, you know how big of a competitor he is and what he brings to our team. You want to see him out there contributing any way possible, but things happen for a reason. I can't say why. But I hope it works out for the best for him, and I hope it works out for the best for us."
Adds Marco Estrada: "It really affects a player when you know there's nothing you can do. He wants to help us win."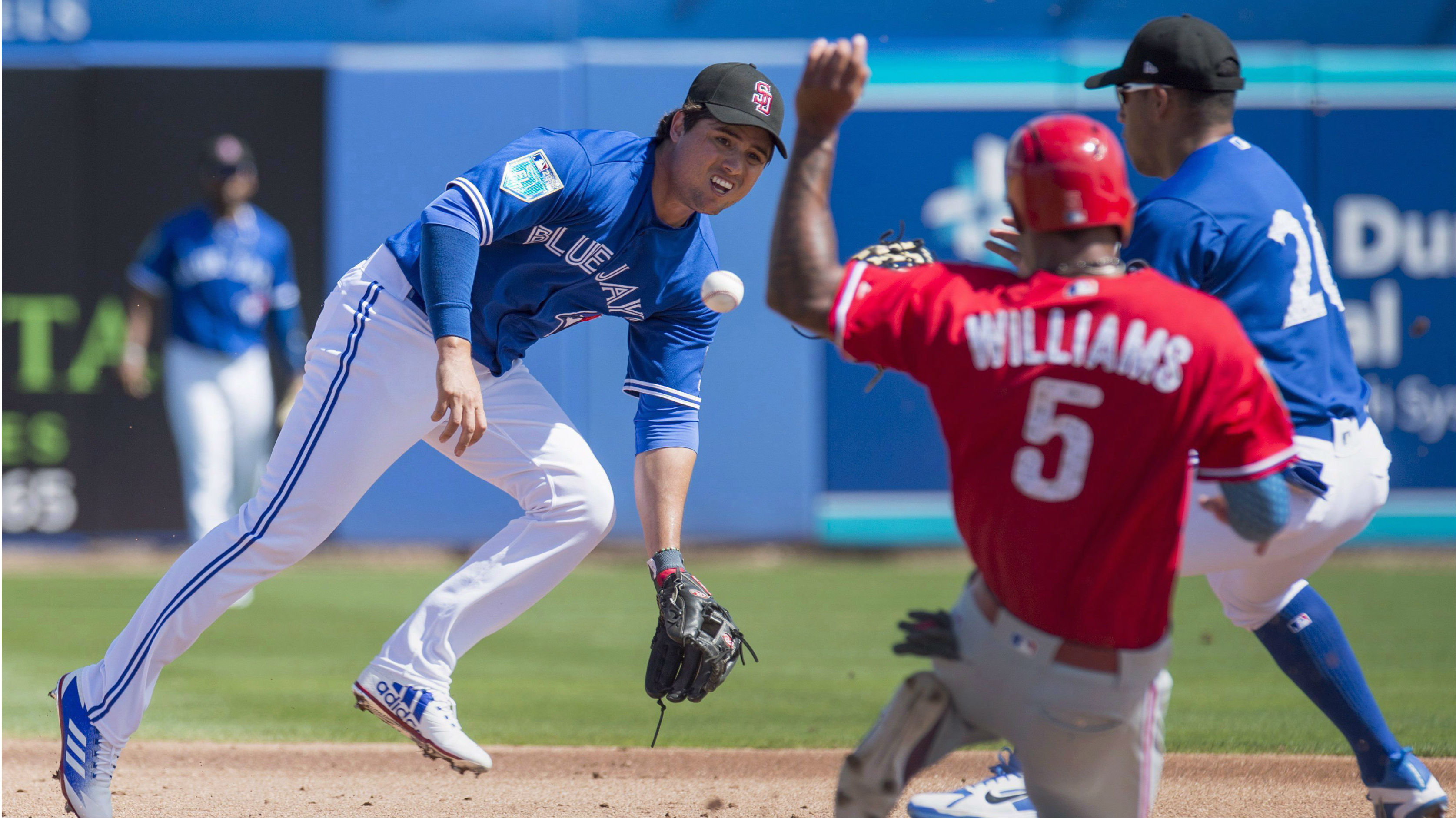 Public perception
Since Tulowitzki's acquisition, along with LaTroy Hawkins, from the Colorado Rockies in a stunning July 28, 2015 trade for Jose Reyes, Jeff Hoffman, Miguel Castro and Jesus Tinoco, the Blue Jays have twice gone to the post-season and done plenty of winning.
That is no coincidence, as Tulowitzki helped stabilize a shaky infield defence during 2015 and was among the team's pillars in 2016, delivering the go-ahead RBI single in the eighth inning of a 2-1 win over the Boston Red Sox on the season's final day to clinch a wild-card berth.
"For the most part, I would say winning is something I associate myself with."
Still, he's been underappreciated to some degree in Toronto because he hasn't produced with the bat at the same rate he did during his peak years with the Rockies. Resentment over his beefy contract is a contributing factor, as he's due $20 million this year and next, another $14 million in 2020, with a $15 million option or $4 million buyout in 2021.
Those salaries are often viewed out of context, as the Blue Jays essentially picked up him up for $50 million, spread over five years, more than what they owed Reyes, for whom there were no takers at the time.
Tulowitzki is a historically impactful shortstop, one of only six players to hit 200 home runs while playing the position, and second all-time in fielding percentage there, too, 0.0001 back of leader Omar Vizquel.
"There are so many people on the outside that just want to look at numbers and think you can do this from a numbers standpoint. That's what people talk about," he says. "They don't see what I know I bring to a baseball field by just being out there, and that's making other people around me better. I have a way of doing that, I know it's a strength of mine, so therefore people can say your numbers weren't quite this or whatever, but I don't really base winning ballgames on my numbers specifically. It's when I'm out there on the field, are there more wins than losses? For the most part, I would say winning is something I associate myself with."
Livestream the Toronto Blue Jays on the most popular devices. Plus, get over 150 marquee MLB matchups, the Home Run Derby, All-Star Game and Postseason.
A different type of shortstop
Tulowitzki is convinced he's coming back, and when he does, it will be as a shortstop. His entire baseball identity is tied to the position, stemming from his childhood, when he decorated his room with posters of shortstops like Cal Ripken Jr., Alan Trammell, Alex Rodriguez, Derek Jeter and Nomar Garciaparra. At six-foot-three and 205 pounds, he's bigger than most of his rivals and as a result he learned to play defence differently, relying less on fast-twitch reactions and more on taking routes and angles to balls that created efficiency of movement. Few throw with his accuracy and grace.
But he's also 33 now, coming off another major injury to a body that's been through far more than most. What he can bring to the Blue Jays upon his return is uncertain.
"I feel like I am very equipped to age with still being able to get it done at that position," Tulowitzki says. "And the only reason I say that is because I play the position differently than anybody does, I have my own unique style and that allows me to buy some years that other people can't."
Ben Nicholson-Smith is Sportsnet's baseball editor. Arden Zwelling is a senior writer. Together, they bring you the most in-depth Blue Jays podcast in the league, covering off all the latest news with opinion and analysis, as well as interviews with other insiders and team members.
The longer he goes without playing, however, the tougher it will be to come back. He was only 23 when he fully tore his left quad, 25 when he fractured his left wrist, 27 when he badly damaged his left groin, and 29 when he underwent surgery on his left hip.
Does his body have another big recovery in it?
"I know I'm not invincible, I know things can happen that you can't control, but I do like my chances," says Tulowitzki. "I know I'm a fighter. I know I've been through some things before and answered them. And another thing, that's the only way to look at it, right? I'm not going to get through it, trust me, if I'm sitting here talking to you saying I'm not quite sure I can do this. The only way I'm going to make it happen is if I've got a positive outlook on it, like I can do this."