DUNEDIN, Fla. — On his first day with the Blue Jays this spring, journeyman infielder, outfielder, catcher and anything else they'll let him play, Jake Fox, was getting outfitted with new gear from his new team, an experience the veteran has been through once or twice before. They asked him what he had, what he'd like to have, and what he needed to get through spring training with the Jays. "I was like, bro, I've been playing independent ball. They don't even give you bats," Fox says. "Whatever you have, I want it. Bring it all out here. I'll take anything you've got."
Fox, a 32-year-old with no hope of making the Blue Jays opening day roster, is the quintessential journeyman. Over a dozen years as a professional ball player, he's played for 19 teams across 10 levels of competition in three different countries. He's played everywhere from Daytona to Iowa to Tennessee to Reno. He's played in the majors, the minors, independent ball and two Mexican leagues. He's played on glorified hayfields, at Camden Yards and at Wrigley Field, where he got a rare double curtain call after hitting a go-ahead grand slam for the Cubs in 2009, a day he can still give you every last detail of. Name any five ballparks on the continent and chances are Fox has suited up in a couple of them.
"I'm a baseball mercenary. I'm a gun for hire," Fox says. "I have one tool and I do it really, really well."
---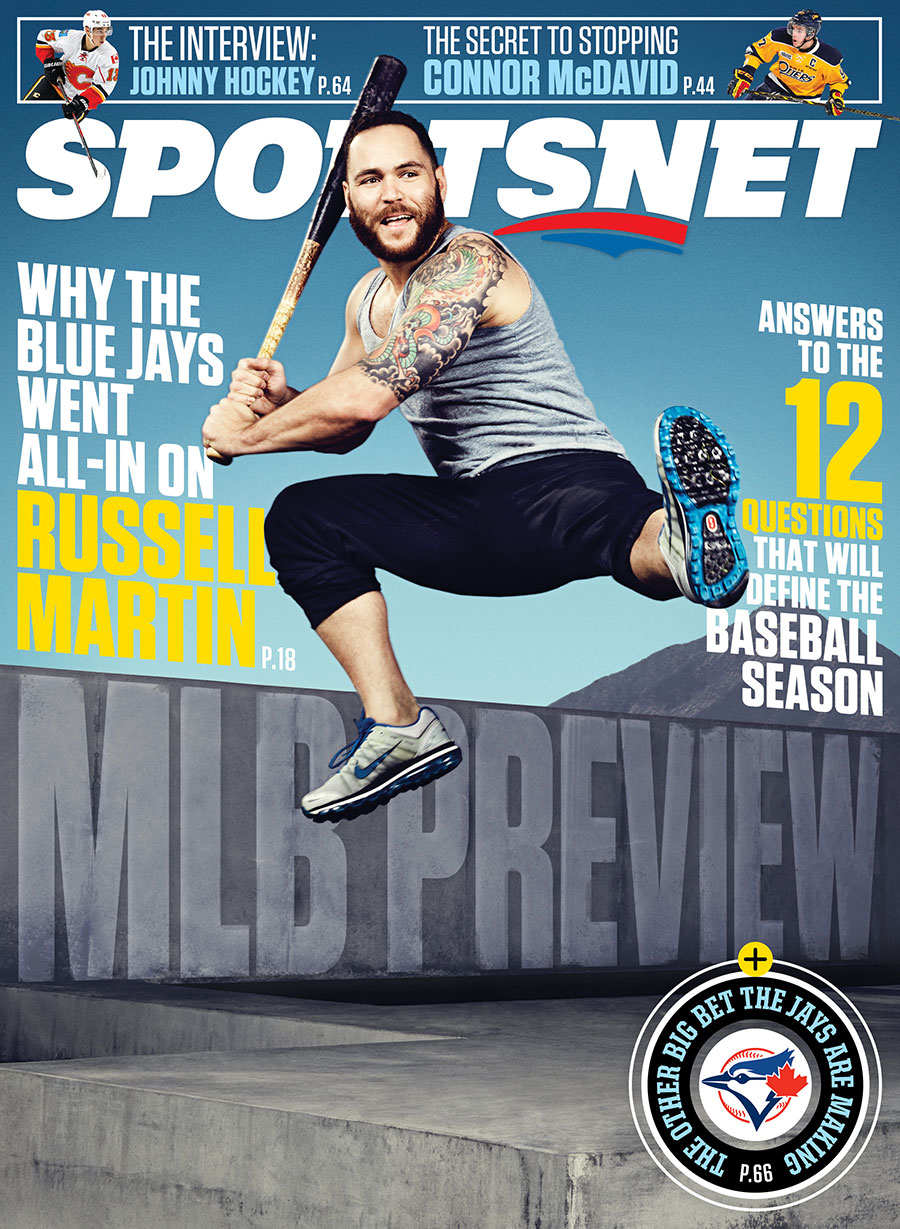 Sportsnet Magazine's MLB Preview:
Why the Blue Jays went all in with Russell Martin, and answers to the 12 questions that will define the baseball season. Download it right now on your iOS or Android device, free to Sportsnet ONE subscribers.
---
That tool would be power. He's hit more than 231 home runs in his affiliated career and has a .895 OPS over more than 1,000 minor league games. Last year he played 140 games between independent ball, Mexico and double-A, finishing with 38 homers and a ridiculous .979 OPS. He famously led spring training in 2011 with 10 homers in just 74 at-bats.
He just barrels. It's all he does. And it's a player profile that's fallen out of vogue in today's game which emphasizes all-around athleticism and versatility, demanding players be talented with their gloves and their feet, not just their bats. There is not as much room for a Matt Stairs, Adam Dunn or any other player who exclusively hits home runs. Many American League teams now use the designated hitter position as a rotating rest station to get players off their feet. The pure slugger is a breed nearly extinct.
Fox knows this. Last year when he was playing in Torreón, Mexico—where he was absolutely raking, with a 1.001 OPS and 16 homers in 57 games—he thought he was finished. He thought the game had passed him by. But then the Phillies called in June and brought him to double-A Reading for the rest of the season (he hit three homers in his first four games), before the Blue Jays sent him a contract offer in December. He has no idea why all that happened.
Seriously. He met with John Gibbons on his first day in Dunedin and the Blue Jays manager asked Fox why he thought he was there. "Skip, to tell you the truth, I don't know," he said, "but I'll do everything I can to make this team and play at this level."
He won't make this team; and he'll need the Blue Jays to undergo a catastrophic series of injuries to play at this level. But what he can do in Dunedin is stay in the game, hopefully long enough that someone, somewhere notices. He's been trying to play in Japan or Korea for a couple years but hasn't found a team with room to take him on. There's good money to be made playing in Asia, and with only so many bullets left in his bat, Fox would prefer to get the most value he can for them. He'd accept a minor league assignment with the Blue Jays if it meant being given regular at-bats, but earning bigger paycheques overseas would remain the ultimate goal.
He's spent parts of four seasons in the majors and made decent coin doing it. He's been smart with his money; he'll be fine for now. But there isn't a job waiting for him when he leaves the game, and he has a family to provide for.
His wife, Allison, had been living in Michigan while her father underwent cancer treatment, but recently started a new job in Arizona, and lives there now with the couple's two children: Molly, 4, and Owen, 2. Fox misses them tremendously. He spent part of his offseason teaching Molly how to ride a bike, and she finally got it a few days after he left for Florida. She was due to visit him at some point during camp and had her bag packed for two weeks in anticipation. If Fox does get what he wants and goes overseas to play ball, it'll mean more months away from his young family.
"It's at the point where, if baseball doesn't work out this year, the worst case scenario might be the best case scenario—because I get to go home to my kids," Fox says. "If I could, I'd freeze my daughter at the age she's at right now. She's so much fun. And I'm missing a lot of it. But that's the way it goes. I want to support my family, so I'm out here playing ball."
He was given just two pinch-hit at-bats this spring before he was sent out to minor league camp, hardly an opportunity to prove that he belonged. Where he goes from there is anyone's guess. Maybe he'll be minor league depth for the Blue Jays; maybe he'll catch on in another country where he can make more money; maybe he'll end up back in independent ball if things really go bad. He truly has no idea. The end of spring training triggers roster chaos as scores of players who aren't quite good enough for the majors hit waivers and are shuffled around like human pieces in 30 massive, simultaneously moving Klotski puzzles. You never know what opportunities are going to open up.
Some other players in camp have been asking Fox if he's upset that he didn't get more of a chance. Hitting 63 homers over the past two minor league seasons has got to be worth something. But through it all, Fox has been one of the cheeriest men in Dunedin. His experience in pro ball is an unglamorous one. But he's determined to enjoy it.
"I've learned not to expect anything anymore. I'm just here, waiting to see where this roller coaster might take me. As players, we get too caught up in where we're at, where we're playing, who else is getting time, who else is getting called up, all that crap. You have to know this is a business. I don't know what's going to happen this season. I have absolutely no idea. But I'm going to have a lot of fun doing it, whatever it is. It doesn't matter where I end up or how I end up there. I'm going to show up every day with a smile on my face and play hard," Fox says. "I'm going to go out there and do what I do until they won't have me anymore."