Everything Vladimir Guerrero Jr. does these days will be magnified to the umpteenth degree. So it goes when you are the No. 1 prospect in all of baseball.
And it looks like Guerrero Jr. knows it, too.
The Toronto Blue Jays prospect had some fun on Instagram Monday afternoon by posting a photo of himself at the airport. At first, the location tag said he was at John F. Kennedy International Airport in New York.
What's so significant about that? Well, the Blue Jays begin a two-game series in New York against the Mets on Tuesday, while Guerrero Jr.'s double-A team, the New Hampshire Fisher Cats, were in Hartford, Connecticut Monday for the opener of a three-game set.
Do the math and Hartford is a long way from Queens, N.Y.
So, naturally, the thought immediately dominated social media: Was Guerrero Jr. going to be promoted? And if so, could it be to the majors?
It didn't help that, a few minutes later, Guerrero Jr. removed the location from his Instagram post, before eventually deleting it altogether.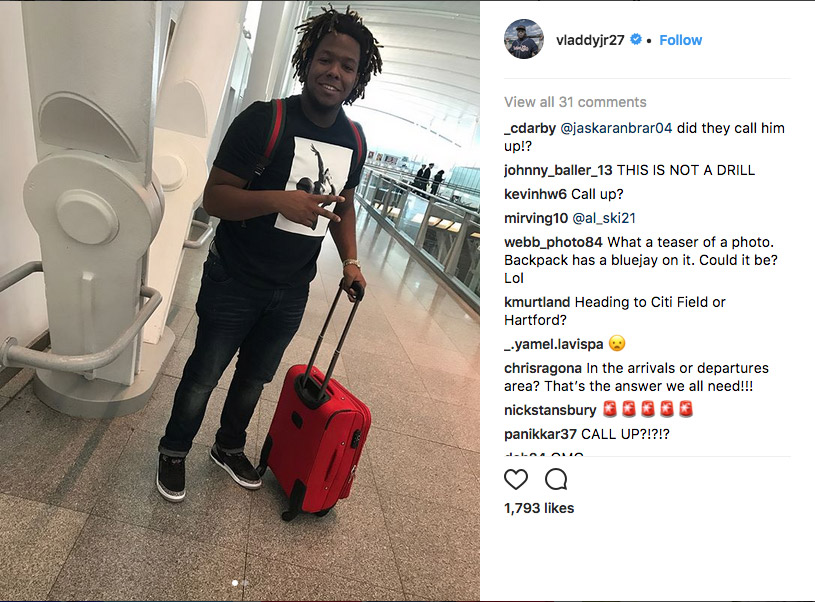 Through the whole process, the 19-year-old third baseman proved adept as an Internet troll, whether it was intentional or not. Turns out the photo he posted was from last year.
So really, it was all much ado about nothing.
But if there's one thing that was confirmed by Monday's events, it's that Guerrero Jr. has Blue Jays fans in the palm of his hands.
As if that was ever in doubt.