SURPRISE, Ariz. – During the month Vladimir Guerrero spent at triple-A Buffalo at the end of the 2018 season, one thing in particular that impressed Bisons manager Bobby Meacham was the competitive nature of baseball's top prospect. Now, all elite athletes inherently carry a self-belief that's rooted deeper than that of their colleagues, but it was the way the 19-year-old third baseman responded to a challenge that was really striking.
"I remember one day joking with him about how a guy kept pitching him in, the next time up he was leaking a little bit and he hit a fly ball to centre field for an out. So I said to him, 'Hey, these guys are pitching you tough. This guy's really coming in on you,'" recalls Meacham. "He just kind of looked at me and then the next at-bat, the guy tried to come in on him and he hit a line drive out of the ballpark.
"I was standing at third and I kind of laughed, thinking he's going to come around and give me a big smile, but same thing, shook hands, he went home. Between innings Danny Solano, one of our roving infield coaches, came over and said, 'Meech, Vladdy wanted me to tell you, that was for you.' He didn't make a big deal of it, but he could tell I was thinking, 'is he really that good'? And he was like, 'let me show you I'm that good.'"
Ben Nicholson-Smith is Sportsnet's baseball editor. Arden Zwelling is a senior writer. Together, they bring you the most in-depth Blue Jays podcast in the league, covering off all the latest news with opinion and analysis, as well as interviews with other insiders and team members.
All that talent is on display again at the Arizona Fall League, where Guerrero has nine hits through his first three games of what's essentially a finishing-school stint in the prospect showcase loop. Under different circumstances he might have already debuted in the majors, but the Toronto Blue Jays insist that they left him in the minors to focus on finer developmental points such as defensive footwork and his impact as a teammate.
Another driving factor, without doubt, is the club's manipulation of Guerrero's service time in an attempt to optimize its period of control, something that may also keep him from breaking camp with the Blue Jays next spring.
The artificial drag on his trajectory could easily have left the slugger frustrated and during an interview with Sportsnet's Stephen Brunt on Sunday at his condo in Arizona, he said, in comments interpreted from Spanish, that, "in terms of being ready, I believe I am ready."
"But, you know, I only try to control what I can control," he continues. "And what I can control is going out on the field and giving my best. I'm not rushing about getting called up or not, I'm just doing my job. They (the team) can worry about theirs."
Guerrero didn't seem concerned about the possibility of spending three weeks or so in the minors out of the gate next year so the Blue Jays can push his free agency back an extra year, saying "I've waited 19 years to play in the big-leagues, what's another three weeks?"
But when asked what he need to learn before being promoted to the big-leagues, he replied: "What do I think? … How to cook. Nothing else."
There's little ground to argue otherwise.
Focal points for Guerrero all season long have been improving his athleticism and first-step quickness, honing his defensive footwork and angles and growing as a teammate and leader.
Both John Schneider, Guerrero's manager at double-A New Hampshire this season, and Gil Kim, the Blue Jays' director of player development, cite the same example from the teenager that most impressed them this season, and it demonstrates his dedication on all fronts.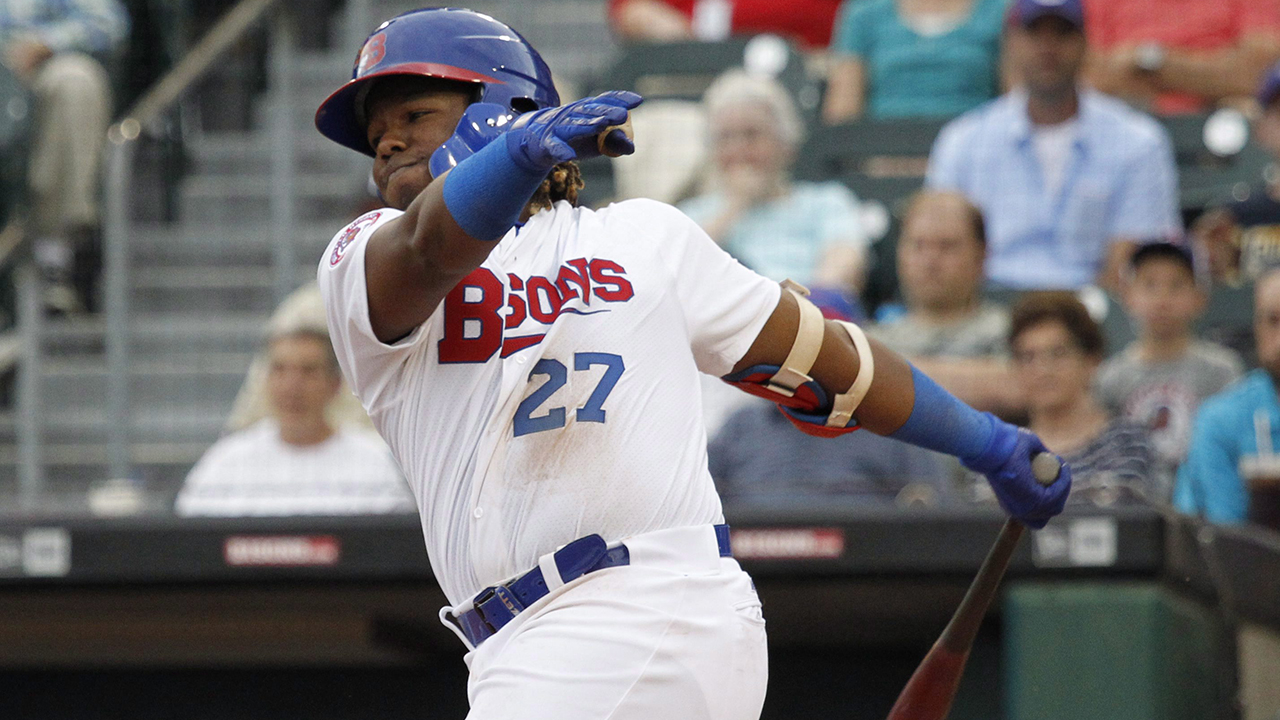 Before the start of a midsummer doubleheader, Guerrero walked into Schneider's office and said, "I want early ground balls, I need to work on bunts and I need to work on plays to my left."
"I said, 'Vladdy, you know you're playing both games today?'" recalls Schneider. "He said, 'Yeah, I know.' I said, 'OK, what time do you want to do it?' He said, '1:30.' So we went out there for about half an hour's worth of work and he was just focused on getting better at those two things and having fun with it. When guys come out and see our best player working like that, it makes it that much easier for everyone to see this is what you're supposed to do."
Adds Kim: "When a 19-year-old player in double-A before a doubleheader shows the proactiveness and accountability to say I want to do extra work right now, specifically working on the angle of his footwork to attack a specific ball, it showed maturity, it showed accountability, it showed commitment and that was really a wow moment."
The Blue Jays, "cautiously" in Schneider's words, introduced the need for an awareness of how impactful his actions both on and off the field are to the players around him to Guerrero this season to try and develop his leadership skills.
By virtue of performance alone, he's someone others automatically gravitate to, and "it starts with him taking care of his own business each day," says Schneider, "and how that translates into rubbing off on his teammates. We talked about it every day."
Guerrero, for his part, feels he already was a good teammate, "because I'm someone who respects others so they'll respect me. When I get to the clubhouse, I get along with everyone. I'll say hi to everyone. I'll sit in my locker and I'll talk if someone wants to talk. If not, I'll just focus on the game."
He's certainly done that in impressive fashion, making his arrival to the Blue Jays an imminent one.
That's why when asked what he wanted to tell the team's fans, he smiled, and delivered a simple and clear message, this time in English: "I'm coming."