• Injuries plague Blue Jays from the outset of the season
• Toronto's lack of rotation depth exposed
• Smoak breaks out big
Right from the outset, long before the 1-9 start they never recovered from, the Toronto Blue Jays were forced to play catch up on their season. The day before the first full-squad workout, Josh Donaldson suffered a tear in his right calf and didn't find level ground until late July. Prospect Dalton Pompey suffered a concussion at the World Baseball Classic and spent the entire year on the disabled list. Later in the spring, Roberto Osuna and Francisco Liriano suffered neck/back injuries that left them chasing full strength on the mound. Aaron Sanchez developed a blister far bigger than any previous one during his penultimate Grapefruit League start and spent the whole year in search of a solution.
Then the bell rang, the Blue Jays underperformed out of the gate and the inevitable attrition inherent to the grind of 162 hit – J.A. Happ's elbow, Russell Martin's shoulder, Troy Tulowitzki's hamstring and later ankle, Devon Travis's knee, Steve Pearce's knee. Eventually 25 players – a full big-league roster – over 31 disabled list stints lost 1,408 games to injury, the consequences of which eroded the best chances for a recovery.
Roster stop-gaps not quite up the task. Players forced out of position or role for extended periods. Too few prospects in the minors ready to step in. An inability to ease the burden on the healthy regulars due to a lack of bench depth and Kendrys Morales tying up the DH at-bats. The combination of a disjointed roster, not enough talent and too many square pegs in round holes inevitably led to the kind of mistakes on the margins – a base not covered, a ball in the dirt not blocked, a cut-off man missed, a runner not advanced – that slowly and painfully bleed a team to death.
[snippet id=3305549]
The issues are reminiscent of the 2013 season, the last time a spate of injuries left the Blue Jays in a year-long scramble mode. Repairing the issues this time will require deft off-season touches to address the things this team most desperately needs, starting with a capable leadoff man who can ensure that Josh Donaldson and Justin Smoak hit far more frequently with at least speed on the bases, if not men in scoring position. More games for the club's regulars should resolve some of the flawed fundamentals in the field.
But the starting point is health, and ensuring Blue Jays players are in a better position to succeed from a physical standpoint right from the outset. To that end, general manager Ross Atkins says that process begins with adding to and applying what the team believes are already "some of the best resources in professional sports," and "streamlining communication."
"In the case of Devon Travis and Aaron Sanchez, two young players that I feel like I let them down," Atkins says in a remarkable moment of candour. "There aren't decisions, as we look back, that we can find that we would have said we would have absolutely done that differently given the information we had at that time.
"Having said that, there were times in the season that I was frustrated, our players were frustrated because of some of the inefficiency of our communication. That happens in transitions, so that's on me, that's where I've got to ensure that doesn't occur … and when we are touching players with information and potential options and potential decisions to be made, that we're much more streamlined, cohesive and leading that process."
Donaldson goes down early
Josh Donaldson arrived at camp in peak physical condition and as prepared physically for a season as he ever had been. Then he suffered a calf injury that "was definitely a fluke."
"I've never torn a muscle in my body before and to have a tear in my calf from doing an exercise that I probably shouldn't have been doing at the time, that's part of the learning process," he says. "Learning what I need to do this off-season and then build up to the point that I'm not just sprinting right away after I haven't really run in three or four months. It just wasn't the smartest of things."
He spent most of the spring recovering, played in a handful of games at the end of camp and opened the season on time before suffering a setback six games in, trying to grind through a couple more contests only to end up missing six weeks. The extended in-season absence was his first since 2010 and "really having to fight to get my legs underneath me during the season made it difficult."
During his first three weeks after coming off the disabled list May 26, "I felt really good and I felt my body was progressing and doing the right things," says Donaldson. "Then you get to a point to where I haven't had the time to build up the stamina that it takes to play each and every day. I hit a lull there for a little bit for about two or three weeks, we played a bunch of really extended games in that time period … it put me in a position where I felt it was difficult to bounce back, and then we went on a splurge where it was consecutive games in a row, I wanted to be in there, so it's one of those deals where I didn't start to get comfortable again until right before the all-star break. Then as soon as I started getting comfortable a bit, then we went on a break for four days. Then it took me about a week to get it going again."
From July 24 onward, Donaldson batted .300/.410/.690 with 24 homers, 49 RBIs and 39 walks over 57 games. It was a monster stretch that pushed him to an OPS of .944, right in line with the .939 he posted during his MVP year of 2015 and last year's .953. But because his games played were down, his WAR dropped to 4.8 from 8.8 in '15 and 7.5 a year ago.
Next year, Donaldson says, "there's no doubt" he'll be back playing 150 or more games. Asked if the club's high performance department helps with that, he replies: "There are definitely some areas I think they can help at, but I'm probably going to take more initiative to doing what I'm doing on my own like I have in years past."
Rotation injuries expose depth issue
Perhaps no Blue Jays player endured as much frustration as Sanchez did, which is why Ross Atkins says he feels he let the electric-armed right-hander down.
The 2016 American League ERA champion's blister troubles resurfaced during a spring start March 27. About three weeks later, he was in Kansas City having a quarter of the fingernail on his right middle finger removed lengthwise to alleviate pressure on the hotspot.
On April 30, Sanchez returned and threw an inning against the Tampa Bay Rays, only for the nail to split lengthwise and send him back to the DL. He returned again May 14, developed a blood blister during his second start and went right back to the DL again. He came back July 7, got blitzed by the Houston Astros, made two more starts after the all-star break, another blister started forming and he hit the DL for a fourth time, this time to wait for the nail he had surgically removed to grow back.
Once it did, his attempts to return were cut short by a ligament issue in his troubled middle finger.
Would he have been better off if he hadn't had a portion of the nail removed?
"Who knows?" says Sanchez. "Obviously, I might have missed some time. I don't think I'd have missed as much as I did because last year there were times where I came out of games and I had a blister and I pitched five days later or six days later. I remember one of the times I had a blister and then I was on one of those 10-day stretches where I'm not going to pitch again.
"(The nail removal) was just something that we came up with. It happened my second start. Big picture is like, 'Do you want to deal with it for 28 more?' Or can we try and just kill it, nip it in the bud now? It just went south from there. There's not really much I can control on that – split nail, blister, split nail."
The day Sanchez left for the procedure, Happ suffered swelling in his left elbow after some bone-on-bone contact while throwing a pitch. A few weeks later Liriano landed on the DL with shoulder fatigue. Without any prospects waiting at triple-A for an opportunity, the Blue Jays cycled through a club-record 14 different starting pitchers, fourth most in the majors, and the bullpen ended up throwing a team-record 596.2 innings, the most in the big leagues this year.
Mike Bolsinger made five starts, Mat Latos, Cesar Valdez and Nick Tepesch three each, while Casey Lawrence got the call twice. That can't happen in 2018 if the Blue Jays are to contend, and getting Sanchez right is pivotal on that front.
Atkins says the Blue Jays "can drive a better process medically," through improved internal communications and that such challenges occur during the type of "transitions" the organization has been through over the past couple of years.
"We wouldn't have made any decision differently," he says. "The medical process is a very subjective one, it's hard to say what was absolutely best, which procedure is absolutely best. What we do is we use a process that weighs the pros, weighs the cons, understands the alternatives and presents what we feel is the best direction moving forward. We're doing a better job than most. We're just not good enough yet."
Poor fundamentals haunt banged-up Jays
On the afternoon of June 6, in the bowels of the Oakland Coliseum, Travis wiped away tears as he discussed the latest bone bruise and cartilage damage in his right knee. "It doesn't seem real," he said. "I don't really get it, but I know there's no time to feel sorry for myself. I have to do all I can to get back on the field."
Travis never did return, his late push interrupted by another setback. In concert with Tulowitzki's woes – a hamstring injury sent him to the DL in April before he tore ankle ligaments and suffered a compression fracture July 28 – the Blue Jays' middle infield was left to backups Ryan Goins and Darwin Barney.
Injuries to Martin and Luke Maille led to the addition of Miguel Montero, while Mike Ohlman and Raffy Lopez were also cycled through. Pearce and Ezequiel Carrera largely shared left field, producing at the plate but not in the field.
Not surprisingly, the Blue Jays slipped defensively and fundamentally.
"If we are healthier, that will be one thing that helps that area," says Atkins.
So too might be more work on those areas during spring training. But much as it was during the 2013 season, when poor fundamentals were also a problem, the fair and important question is how much is it a product of preparation and how much is it a product of personnel?
"I don't think it's as simple as saying more fundamental work, it's about how can we be smarter about it and including (players) in the process where we're not just creating change," says Atkins. "And not just expecting or assuming that because guys are experienced and veterans, that they don't need specific drill work. It often times happens in professional sports where the more veteran your roster becomes, the more individualized the work becomes because of routines. That's what we need to dig into."
[relatedlinks]
Smoak breaks out but Morales clogs up DH
Smoak's breakout is one of the best things to happen to the Blue Jays this season. The oft-maligned first baseman reworked his game on a number of levels to finally reach his potential, starting in the all-star game along the way to 38 homers, 90 RBIs and an .883 OPS, all career highs.
Those weren't the only bests he established. His 158 games played and 637 plate appearances, both team highs, and 1,301.1 defensive innings, second only to Kevin Pillar's 1,343.1, far surpassed his past totals, and in combination with painful bruises to his toe and calf suffered late in the season, left him limping to the end.
"I feel like over the last two or three weeks, not that I've been bad, but I just hit a wall there," says Smoak, who slashed .183/.315/.323 with two homers and 17 walks in September. "I feel like I could have done a better job of just grinding through the being tired type of stuff. But I haven't played every day in a couple of years, played the most games and had the most at-bats in my entire career. I've definitely learned from that."
A few more days at DH might have helped not only Smoak, but also several others carrying a heavy load in what at an average age of 30.8 years was the oldest collection of position players in baseball by a full year.
That can't happen with Morales hogging up most of the at-bats there, while logging only 103.2 innings in the field. When he started at first base last Friday, one of his teammates offered to draw him a map so he could find the position.
Pearce was expected to get more playing time at first but with Smoak hitting, the bulk of his reps came in left field. Given the club's season-long offensive struggles, resting them was difficult as the Blue Jays needed every impact bat they could find. Smoak ended up getting only two starts at DH.
"I feel like that always helps," he says. "At the same time, when you're swinging the bat well, you're not just going to take a day here or there. I didn't want a day off and I didn't ask for a day off but in hindsight, yeah, maybe I could have used a couple days of that."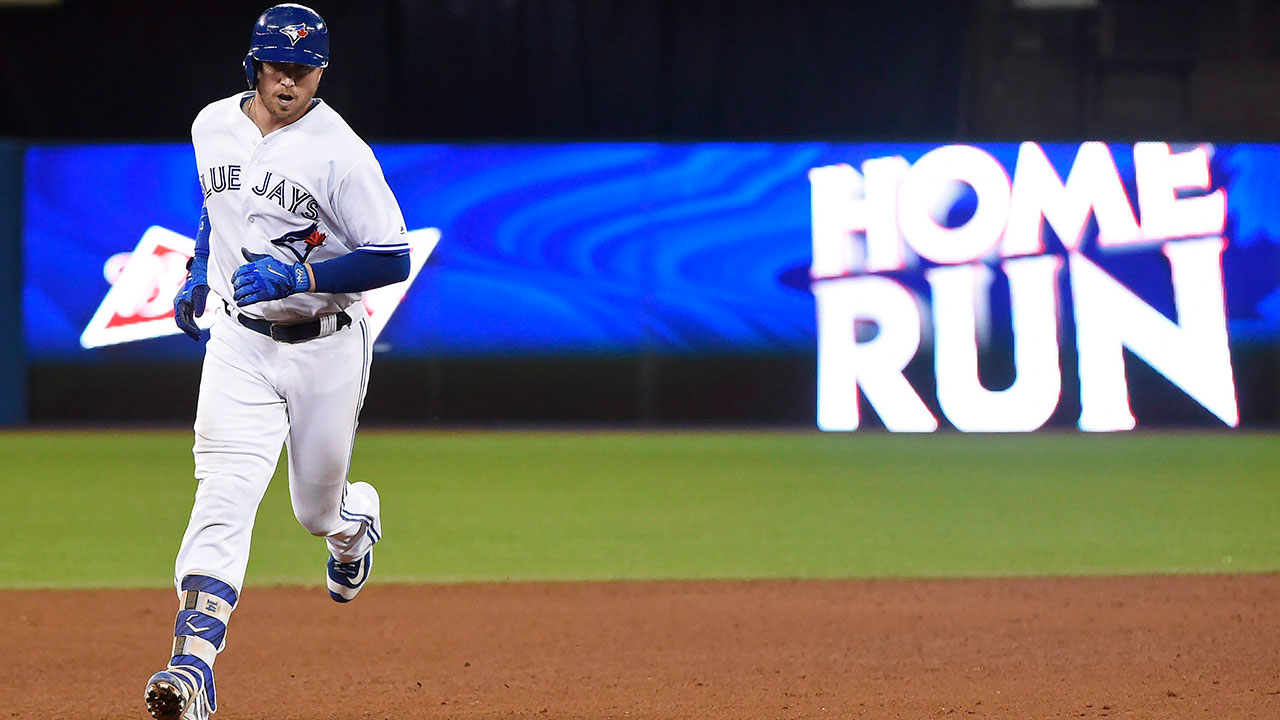 The pressure in that regard will only increase on the Blue Jays next season when Tulowitzki and Travis return from their injuries and will likely need tighter regulation of their workload.
Atkins is already talking about the need for depth up the middle – Richard Urena alone isn't going to be enough – which will ideally come in the form of a super utility type of player who can fill in all around the diamond.
"It's one of the biggest challenges in baseball because it's unlike any other sport that way because when a player is hot, you don't want to rest him, and the player doesn't want to rest, either," says Atkins. "It's easy to talk about in the off-season, it's easy for us to say, we're only going to catch Russ Martin five out of seven days and we're never going to break that. We're only going to play Troy at shortstop six out of seven and we're going to make sure he has two off-days out of every 10 days, or whatever the math may be that would be ideal. And then the season starts and someone gets hot or not, or your alternative you're not feeling so strong about for whatever reason.
"The biggest piece in that equation oftentimes is the player. When a player of that calibre wants to be in the lineup, it's really hard for John Gibbons to take him out. We need to be as proactive as we can to ensure that – there's going to be emotion, there are going to be hot and cold streaks – that we're managing things as efficiently as we can."
Therein lies the task for the Blue Jays this winter. As Atkins and crew go about plugging holes and finding upgrades for the big-league roster, they must simultaneously find ways to repair the cracks in the foundation that led to 2017's collapse, too.