As the Toronto Blue Jays contemplate a renovation of Rogers Centre, the trend in stadiums and arenas today is toward sports-anchored developments in which teams have a stake in the project. Here, we take a look into how such projects are changing things for teams and fans alike with reporting from Arlington, Texas and Toronto.

There is lots of truth in the old "Everything is bigger in Texas" trope, as anyone who's ever visited the Lone Star state can attest. From the portions on restaurant plates to the types of vehicles on the road, size matters, a reality that very much extends to the local sports venues. AT&T Stadium, the $1.3-billion home of the Dallas Cowboys, is a prime example of the local penchant for excess and is in part why neighbouring Globe Life Park in Arlington, the picturesque home of the Texas Rangers since 1994, will be replaced in 2020.
Under construction directly across the street from Globe Life Park is Globe Life Field, the Rangers' $1.1-billion answer to not only the House That Jerry Jones Built, but also to Minute Maid Park, home to the cross-state rival Houston Astros. Globe Life Field will feature a retractable roof to offer fans and players alike relief from the oppressive summer heat, along with several new premium areas that will come with premium price tags.
Among them are a new Home Plate Club, three different club spaces on the service level, a series of suites 16 rows behind the plate, plus open concourses on both the lower and upper decks. Even as capacity will drop to 40,000 from 48,000, the Rangers say they expect to generate more revenue-per-ticket to make up the difference.
"We certainly hope so," says Rob Matwick, the executive vice-president, business operations for the Rangers, and the point person on the project. "We think reducing the capacity will help drive (ticket) demand a little bit."
[snippet id=3966765]
The push toward expanded premium and mixed-use spaces at Globe Life Field – the "millennial areas," commissioner Rob Manfred spoke of during a visit to Toronto earlier this year – is but one part of the project building upon new trends in stadiums/arenas. Adjacent to the ballpark is the just-opened Texas Live! entertainment district, the latest mixed-use sports-anchored development designed to better entwine a variety of sport and social experiences. The Rangers are 50/50 partners in Texas Live! with The Cordish Companies, which is also behind XFINITY Live! in Philadelphia, the Power & Light District in Kansas City and Ballpark Village in St. Louis. Each combine bars, restaurants, hotels and, in some cases, residential condos. The Atlanta Braves developed a similar such area known as The Battery that connects to SunTrust Park, which opened last year.
Increasingly, stadiums and arenas are no longer single-purpose destinations where people spend three hours of their day. Instead, the event experience is now being built around all-in-one destinations for meals, drinks, shopping and socializing before and after a game, with the teams either sharing in or owning all the profits.
For teams such as the Toronto Blue Jays, who are currently working on plans to renovate Rogers Centre, the evolutions in sports-anchored developments and premium seating are a matter of staying competitive with clubs that have already opened such new revenue streams.
They also offer a way to connect with eager millennials seeking a larger experience than just a game while giving all fans a fun destination to congregate regardless of how the team is faring.
"It gives our fans an opportunity to come early before a ballgame, enjoy that experience, stay after, and when the hotel goes in, come and spend a weekend," says Matwick. "When the team is on the road, Cordish believes they create a clubhouse atmosphere where if nothing's going on a Tuesday night, something will be going on there, whether it's music, the ballgame or football, baseball, hockey, whatever, on the big screen. There will always be something going on at Texas Live! It gives people a destination place to go."
Could Rogers do more than just a Rogers Centre makeover?
What exactly the Blue Jays, and parent company Rogers Communications Inc., are planning for their 29-year-old dome is unclear. During a March interview with sportsnet.ca, team president and CEO Mark Shapiro revealed that he'd presented a few retrofit plans of varying degrees to his superiors while adding, "there's no scenario where you're not talking about hundreds of millions of dollars."
A few weeks later, during a Pitch Talks event in Toronto, Shapiro dropped an intriguing little breadcrumb that didn't generate as much notice as it probably should have.
"There's been absolute alignment and recognition and support (from ownership). It's only a question of how do we best do it," Shapiro said that night. "Does that fit into other things they want to do around the area, not just the stadium, and what's the best timing to do it? I think it'll be sooner rather than later. I think it'll be hopefully by the end of the season we'll have an announcement of what we're doing. But I trust and believe that it's going to happen soon."
The line "other things they want to do around the area," largely disappeared into the ether. Beyond dressing up the dome, what could Rogers really do? Rogers Communications Inc., owns the stadium itself, but the land beneath it belongs to Canada Lands Company (CLC), a crown corporation which issued a 99-year lease that runs through 2088 and is zoned for stadium usage only. That's why the building sold for only $25 million in 2004 – Rogers was the only company that had both an interest in maintaining the dome and was in position to leverage the facility.
Fourteen years later, a major investment is needed to make the building current. Precious little land beyond the footprint of the building falls under the Toronto Stadium Lands lot, which includes areas to the north, south and east of the building, but not the small square abutting the condo tower to the west, which is controlled by CLC. There's a hotel attached to the north side of the stadium which could perhaps be transformed, but that would be complicated given that it's a separate business.
The only area where there's some space is in Roundhouse Park to the southeast of Rogers Centre, which is controlled by the City of Toronto. The city's Real Estate Services Division administers the site, which houses a museum, a brewery and an entertainment and gaming venue.
One idea floated by a political insider is that Rogers Communications could try to jump into the city's discussions around Rail Deck Park, an ambitious project that would cover the railway tracks from Bathurst Street to the west and Blue Jays Way to the east with a park. The project is still in its infancy stages, but it's believed the city would need investments from the private sector in order to complete it.
Could Rogers gain some land for a development that would lie just south of the hotel attached to the dome through a partnership with the city on Rail Deck Park? Or perhaps the company, which is prioritizing a costly upgrade to its wireless network, could create a small entertainment area on the small patch of land to the building's west, currently under CLC control? Or perhaps something could be worked out with the city to further develop another part of Roundhouse Park?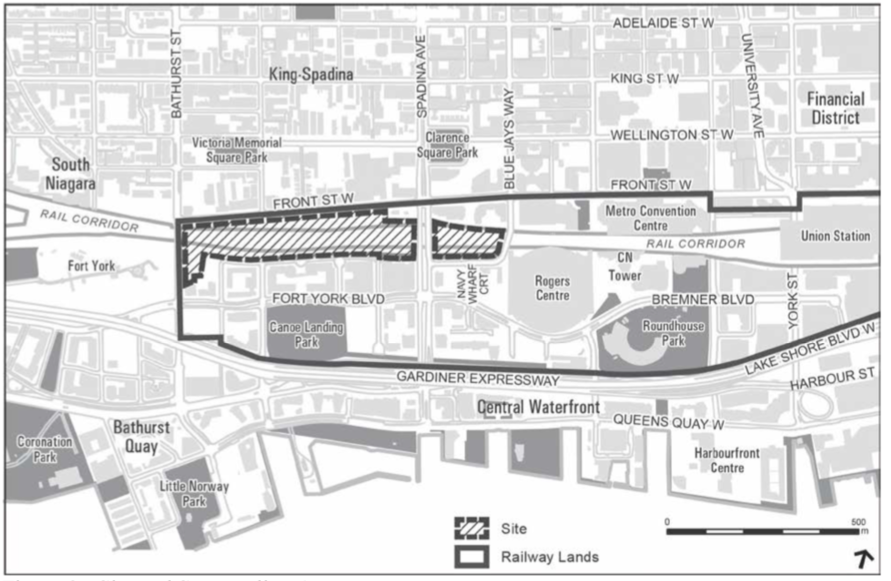 A real estate venture wouldn't be unprecedented for the Rogers family, which in 2016 invested in a $1.5-billion condo project in Mississauga. That investment came outside the company, which became a strategic vendor for the project.
"For Rogers, it's very important that we have our services where customers are, where small businesses are, where large businesses are," Edward Rogers told the Globe and Mail in May. "So getting your facilities in while something's being built is a lot easier than going in after the fact and less obtrusive for people that are living there or businesses that are working there," he said, adding that the company will offer its best new technology and services to the Mississauga development residents.
Could such a framework be the entry point to a renovation for Rogers Centre? Is that what Shapiro hinted at all those months ago?
Location key to any new development
An example of what's possible for the Blue Jays and Rogers lies a mere 700 metres east of Rogers Centre, where over the past decade Maple Leaf Square has helped transform the area around Scotiabank Arena (formerly known as Air Canada Centre). The venture was well outside the comfort zone of Maple Leaf Sports and Entertainment. Richard Peddie, MLSE's president and CEO at the time, was inspired by a visit to the "badly executed" Chelsea Village project around Stamford Bridge in London. He returned to Toronto convinced the English Premiership club "has an idea there," obtained board approval and eventually partnered with developers Cadillac Fairview and Lanterra Developments. Together they built a pair of tower condominiums featuring 872 suites atop a retail complex anchored by the highly successful Real Sports restaurant and bar, a grocery store, retail space, a boutique hotel, leased office space and a daycare.
Peddie's biggest concern at the time is a laughable one in hindsight – that a potential correction in the city's real estate market could cost the company millions on the condo towers. Instead property prices continued to skyrocket in Toronto, more towers continue to go up in the surrounding area and the entire Maple Leaf Square development continues to be a money-maker.
"Restaurants can do well," says Peddie. "Real Sports in its first year was the highest grossing restaurant revenue-wise in Canada. It was throwing off well over a million bucks a year or so, but this is a company that, I don't know what it makes today, but it's probably north of $100 million dollars in operating profit. So, it's a nice little piece of the business. In its good days, it's never going to make enough that all of a sudden it makes a huge difference, and in its bad days, it will never not make enough money that it becomes a big issue. The sports teams are the engines that drive that enterprise and that's just ancillary revenue."
Additionally, Maple Leaf Square turned out to be ahead of the curve in connecting a series of related products, services and experiences and marketing them under a powerful sports brand. And in keeping control of all the different elements, revenue that was going elsewhere now ended up in the company's coffers, while the square turned into a gathering place for fans regardless of where they lived and whether or not they had tickets.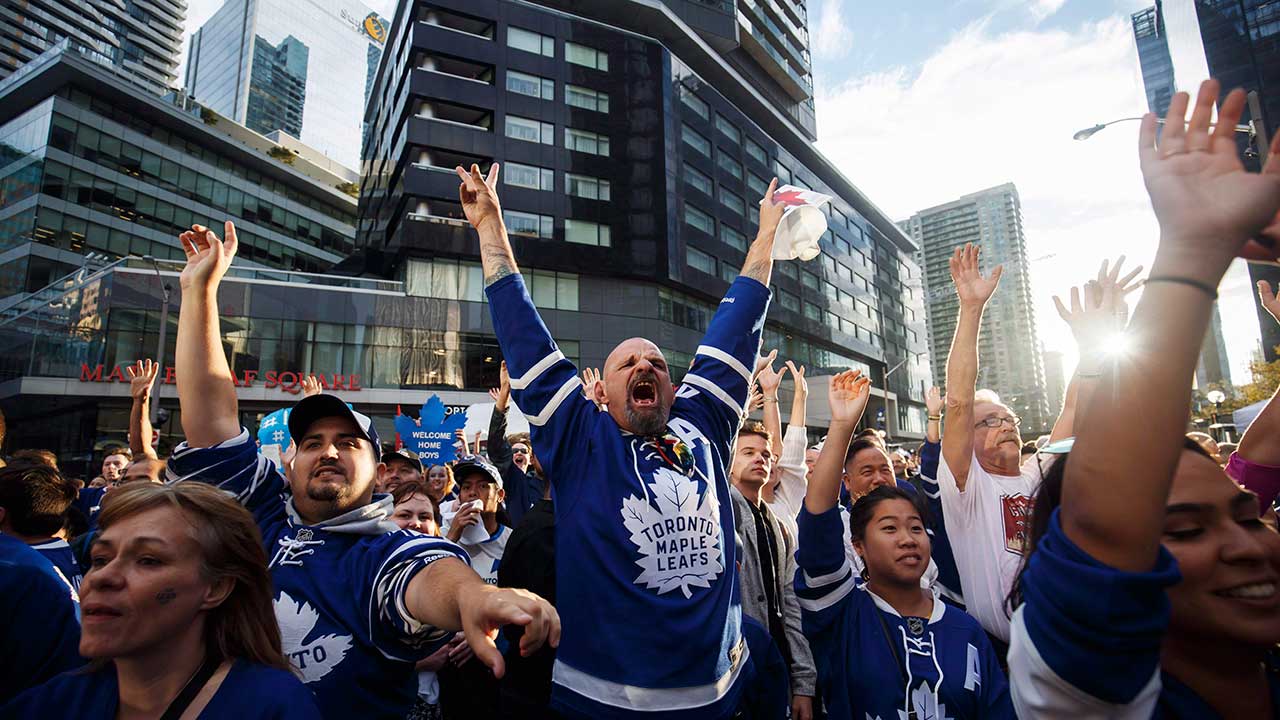 Location is obviously a key part of the equation and downtown Toronto is as ideal a spot as any team could hope to leverage.
"You don't build them in Kanata and you don't build them in (suburban) Phoenix – you don't build them with the hope of build it and they will come," says Peddie. "The concept is a good one. But the location is very important."
Renovations all about new fans, new revenue streams
The Texas Rangers aren't building a new ballpark and running Texas Live! in the hope people will come to Arlington, but rather that the people who already come will stay longer in the mid-city between Dallas and Fort Worth. Their current home, Globe Life Park, and future home, Globe Life Field, will be right in the heart of an entertainment district that attracts about 14 million people a year but remarkably lacks much infrastructure to serve them beyond baseball, football and the Six Flags amusement park. If you're coming in for a game from Dallas or Fort Worth, beyond a handful of dinky strip malls with a handful of unappealing eating or drinking options, there's nothing to get you there before, or keep you around long after.
"Everybody comes here for the games, but then they leave," says Rob Matwick, the Rangers executive. "We think we can we can become a little stickier, if you will, and get more people to stay."
Now, not only will the Rangers be able to help their fans build fuller days at the ballpark and generate revenue from Cowboys fans coming in for games, the new stadium with its retractable roof will also allow them to compete for concerts and other events year-round as their current park can't be winterized.
Like Turner Field in Atlanta, which operated from 1997-2016, the relatively short lifespan of Globe Life Park raised lots of eyebrows. If a new stadium only runs for 20 years, is a sizable investment in them worthwhile?
The Rangers investigated retrofitting Globe Life Park with a shade structure to cover some of the grandstands, or a retractable roof. But estimates ran south of $300 million, supporting columns may have been needed where the bullpens currently are, the upper deck stands and light towers would have been disturbed and the Rangers might not have been able to play through the work. In other words, it wasn't possible. Instead, the stadium will be repurposed like Turner Field, which is now the football home for Georgia State. The exact fate for Globe Life Park remains uncertain, but one possibility is that residential condos are built around the corners of the current park. The Rangers' current offices in centre field will remain, too, and be leased out to companies seeking work space.
Regardless, as the Rangers reshape their home, they're also reshaping their business, with a park that should generate more revenue and an entertainment complex that's opening new revenue streams while offering a new way to attract and connect with their fans.
"They contribute revenue, but you're not talking about $15-million benefits," says Matwick. "It's smaller than that. I don't really want to get into the specifics on it, but it's not going to fund payroll. When you look at it, it's revenue and it will be important revenue, but so will our special event revenue when we get to the new building.
"That's where we're working really hard to try to activate, and that's where we think if we can be successful on Ranger non-game days, in the winter, to bring more people into the new venue there then Live! will benefit from that, the hotel will benefit from that and that's where we have the opportunity to grow it."