CHICAGO – Wrigley Field always held a special appeal for Pat Tabler as he was growing up in Cincinnati, particularly on the rare occasions when he'd get to watch his beloved Reds on TV against the Chicago Cubs. Between the ivy, the constant day games and the bleacher bums, there was a mystique to the old yard on 1060 West Addison St. that other parks simply couldn't offer.
That's why he was particularly thrilled when the Cubs acquired him from the New York Yankees in the summer of 1981, with plans to promote him to the big-leagues once a players' strike was resolved. And that's why he was especially awed throughout a memorable debut Aug. 21, 1981 versus the visiting San Francisco Giants, a 4-3 loss that left him facing microphones for both good and bad reasons.
"I walk in before the game and I'm like, 'Oh my God, I'm at Wrigley Field. There are the bleachers, the ivy, my first big-league game. This is unbelievable,'" says the longtime analyst on Sportsnet's Toronto Blue Jays broadcasts. "Base hit my first time up. Again, this is unbelievable. I made a great play at second base. My mind was out of it.
"Fast forward to the eighth, it's 3-3, bases loaded, two outs. Ground ball to Ivan de Jesus, the shortstop. He flips it to me, I catch it. Let's go. Let's win the game. I go running off the field and (third baseman) Kenny Reitz is like, 'Stop, stop, stop!' There was only one out and the winning run scored. We lost because I couldn't concentrate on how many outs there were."
Tabler played 60 games over parts of two seasons for the Cubs before he was dealt to the Cleveland Indians as part of a six-player trade, and he's far from the only person to have a wild experience at Wrigley Field. Built in 1914, two years after Fenway Park, it's baseball's second-oldest stadium and the only place other than the Boston Red Sox's stomping grounds to offer an authentic throwback setting.
Wrigley is also romanticized more than any of the game's other grand cathedrals, its unique features and quirks, highlighted by the ivy-covered brick walls of the outfield, lending itself to the imagination in ways that give it extra cache.
For those reasons the Blue Jays' series at the Cubs that opens Friday – just their second-ever visit to the North Side and first since 2005 – is a destination weekend for the team's well-travelled supporters.
"I always felt like Wrigley was a yard, but at turns it was also a museum, which is what's cool about it," says Blue Jays infielder Darwin Barney, who was drafted by the Cubs and played in a parts of five seasons with them. "People go there for a lot of different reasons. It's a special place. It's definitely irreplaceable. It's going to be tough to ever move the Cubs from that stadium. For guys that have never been there, they're going to feel something they don't feel except maybe when we go to Fenway."
***
Between Babe Ruth's called shot, the Curse of the Billy Goat, Curse of the Black Cat, the late Harry Caray's seventh-inning stretch sing-alongs, Lee Elia's tirade, the unfortunate Steve Bartman incident and last year's World Series championship after an 108-year drought, there is no shortage of Cubs lore that helps give Wrigley Field its character.
But like any stadium, it has also its tawdry traditions, as well, with one particular discontinued rite of passage for rookie big-leaguers that is especially fitting of that description.
At the intersection of Belmont Avenue and Sheridan Road, about two kilometres from Wrigley, is a statue of American Civil War general Philip Sheridan atop a horse, which sculptor Gutzon Borglum (creator of the Mt. Rushmore memorial) portrays down to the most intimate of detail. Along the way, someone felt making rookies decorate the horse's delicates in team's colours would make for some harmless, if not wholesome, fun, and a ritual was born.
"That was my rookie initiation with the Marlins (in 1996)," says Blue Jays radio broadcaster Joe Siddall. "They said we're doing it on the way home from the game. We had to jump out of a cab – I think we had some pops in the clubhouse first – spray-paint the horse's balls and jump back in the cab."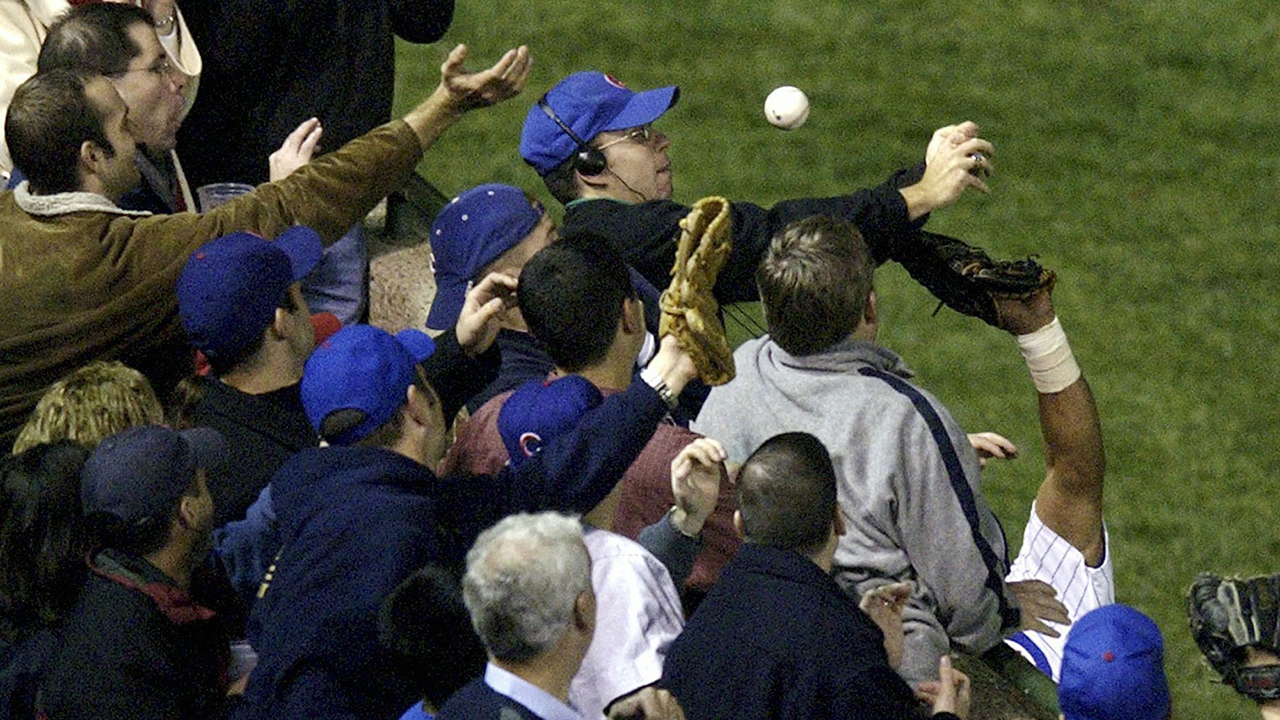 Blue Jays manager John Gibbons, who visited Wrigley as a player with the New York Mets in 1984, remembers being told to make sure not to look at the horse's junk because, "it's like a curse or something. I must have because I had a terrible series."
Gibbons went a combined 0-for-7 in a pair of losses.
Despite that, visiting Wrigley Field remains special for Gibbons, who was in his first stint as manager when the Blue Jays made their first visit in 2005, taking two of three.
When he was a player, "they had a lot of cookie-cutter stadiums like the Vet (in Philadelphia), (Busch Stadium in) St. Louis, turf fields, so that was an old throwback and there's so much history there, so I always enjoyed it. It can be a wild game if you get the wind blowing out. You've got the pillbox dugout. It's pretty cool."
***
The hitter-friendly dimensions are one thing, but Marco Estrada, who gets the ball in Sunday's series finale, finds something else the most difficult part of pitching at Wrigley Field.
"The wind," he says. "You never know which way it's going to blow. On days when it's blowing out, you do have to try and keep the ball down because it's not a massive ballpark. You get it up in the jet stream and it's out of there."
Estrada has made nine appearances, three starts, at Wrigley, posting a 4.45 ERA in 28.1 innings, and counts it among his favourites. But as a native of Los Angeles suburb Sylmar, Calif., there was another stadium that carried more appeal to him.
"Dodgers Stadium is one of the places where I always wanted to pitch," he says. "I haven't made a start there yet, but I've come out of the bullpen and basically they were doing me a favour. I wasn't supposed to pitch there that day (in 2014) and it was our last game there and (the Brewers) said, 'Hey, we know you want to pitch here, and haven't had the opportunity, do you want to get in today?' I said of course, so they let me pitch an inning. That's all I've done.
"But Wrigley, it's one of the more fun stadiums to go to. Especially right now that they're winning, the atmosphere is a little different there. It was one of the first places that I went to on the road to. I remember being out there shagging for batting practice and seeing how crowded the stands were. It was 2008 and they were winning, so a lot of fans were there already, booing you or cheering you. It's a lot of fun, something that's completely different from other stadiums."
Toronto Blue Jays on Sportsnet NOW
Want to stream every Blue Jays games this season? Sportsnet NOW has you covered. Catch every Blue Jays game, marquee MLB matchups, the playoffs and entire World Series.
Part of the experience for visiting players is a cramped clubhouse that Estrada diplomatically describes as "not one of the best."
"But it comes with the territory. The stadium has been around for a hundred years, just like (the one in) Boston. Fenway has probably the worst (visitors') clubhouse, but it's not their fault the stadium is really old and there's much room to build or add to."
Barney was born in raised Portland, but grew up a Red Sox fan because his youth team wore their colours. That's why as much as he enjoyed calling Wrigley home at the beginning of his career, "Fenway was always that place for me, and it still is."
"There's nothing like going to Fenway," he says. "Wrigley might have been that place for me, but that's where I was drafted and came up. That was always my home field, so it's near and dear in that regard."