As of 12:00 a.m., NBA teams are allowed to negotiate with free agents, but deals can't be signed until July 10. The following is a breakdown of the biggest players and teams set to change the immediate landscape of the NBA as free agency unfolds (plus, my advice to each on what they should do but probably won't).
Kyle Lowry
The deal: First off, the Raptors are trying everything in their power to convince Lowry to return to Toronto (it was recently reported that they may be willing to offer a five-year deal, one year longer than any other team can offer). But there will be significant competition given that Lowry is the best point guard out there by quite a wide margin (for context, those teams looking for a solution at the position are looking at Isaiah Thomas as a backup plan). There will be some appealing offers out there from teams like Miami and Houston, so while he's publicly claimed loyalty to the Raps in the past, Lowry's decision won't be easy.
The move: Although most didn't see it coming, you found a good thing in Toronto last year. And given your brief but eventful history in this league, there's a safe chance you might not find that anywhere else. Stay put (for what will probably be the highest $$$ offered), hold onto your "Alpha Dog" status, and keep building something.
LeBron James
The deal: As we've been anticipating since he famously took his talents to South Beach three years ago, the NBA's best player holds the destiny of the NBA in his hands yet again in the summer of 2014. The reports that surfaced this weekend suggesting that LeBron will seek the max salary amount (about $20 million/year) in his next deal complicate things. While he's more than deserving (and then some) of that kind of scratch, it could hinder the Heat's chance to bring him back AND add impactful new talent to the roster. Other teams offer James more attractive on-court options, plus he already took a big pay cut the first time he signed with Miami. Is he willing to do it again, or this time around will the decision come to take his talents elsewhere?
The move: Don't get stuck in another Cleveland situation like you experienced last year. You've sacrificed enough. Shock the world and sign with the Suns. Now you can be the highest-paid player on your team for the first time in your career and surround yourself with a promising and talented roster of guys who won't completely lose their abilities within two years. It's good to be the King.
Carmelo Anthony
The deal: It's safe to say any team that is pitching LeBron James right now is also trying to make a run for Melo, easily the second best FA available and the only player who can rival reigning MVP Kevin Durant in terms of scoring ability. They'll both warrant max contracts, but unlike James, Melo's presence alone doesn't turn a club into a title favourite. Melo experienced firsthand what it's like when a promising nucleus doesn't pan out (the nicest assessment of the Knicks you'll read this year) and so expect him to be fairly choosy when it comes to determining who he surrounds himself with.
The move: Sign with the first team to make a grand gesture in the free-agency process: The Chicago Bulls. Your scoring ability will address a serious area of need, while your teammates will be strong enough on defence to hide your deficiencies on that end of the floor. Meanwhile, you can form a big three with arguably more potential than Miami's, all while staying in a major media market.
Dwyane Wade
The deal: By all accounts Wade is one of the few players in the Tim Duncan mode who will stay with one franchise for as long as humanly possible. And as a surefire first-ballot Hall of Fame player not far removed from his prime, you'd think Wade isn't ready to consider himself much less than that when it comes to his pay rate. But in truth, last season was a reality check for Wade, who appears to be in danger of losing his superhuman abilities (if he hasn't already). Either way, his decision regarding his salary is in many ways as significant as LeBron's decision to stay or go.
The move: Stay and play for the only franchise you've ever known, for a nice chunk of change, in a city where you'll be one day be mayor. Either way, you win—go for another title run alongside LeBron, or compete on a solid team and get back to running an empire of your own or die trying.
Chris Bosh
The deal: It's hard to know what to make of the former Raptors star these days. He's still a very good player, but how much damage have the past few years playing third fiddle done to his psyche? Could he still handle a major scoring load night in and night out? Or is Bosh solely a complementary talent these days? He'll be a solid option for teams who don't manage to land a max player like Carmelo Anthony—that is, unless the rumours are true that Bosh is taking a major pay cut to stick with the Heat long-term.
The deal: Depends entirely on your ego/self-assessment. If you think you can still be the man—or close to it—head back home to Dallas and make a go of it with Monta and Dirk. Or stay in the same division and help take the Wizards to the next level. It could be worse. Much worse.
Miami Heat
The deal: On the surface, it would seem blatantly apparent that the opt-outs from the "Big Three" are either the first grand gesture in an attempt to restructure their contracts to allow for another meaningful player, or the signaling of the end of the would-be dynasty. By creating an NBA record $55 mil in cap space the former would certainly seem possible and maybe the most likely. However, it would a significant salary cut for at least two of the Bosh/Wade/James group to make that happen, which even a few months ago seemed about as likely as Jim Carey and Jeff Daniels getting together to do another Dumb and Dumber movie 20 years after the first. Huh? Never mind.
The move: Do whatever it takes to bring back LeBron. Failing that, bringing back Bosh and Wade, and add an established free agent like Kyle Lowry, or even Luol Deng. Don't worry; you'll remain competitive in the East—even if you will lose your "title contender" tag in the process.
Dallas Mavericks
The deal: Dirk Nowitzki is a free agent, technically, although the chances of him signing elsewhere are practically non-existent. But with the expiring contracts of Nowitzki, Shawn Marion and others off the books, the Mavericks have enough cap space to be players in the FA game—even after acquiring Tyson Chandler and his $14-million salary. Dallas will be an attractive destination because of the solid core and coaching staff already in place, ranking behind Chicago and maybe Houston in that regard (the Heat franchise is just too much in flux to tell).
The move: You're reportedly going hard after Melo. But a high-volume scorer doesn't make sense because you already have Monta Ellis for half the price (Ellis had a major bounce-back year last season and should figure to be a big part of the Mavs plans going forward). What's more, Dirk is still playing at an extremely high level, and he's surrounded by a fairly deep bench of solid role players. A guy like Kyle Lowry manning the point would really bolster the lineup while not fundamentally changing what worked for you last season.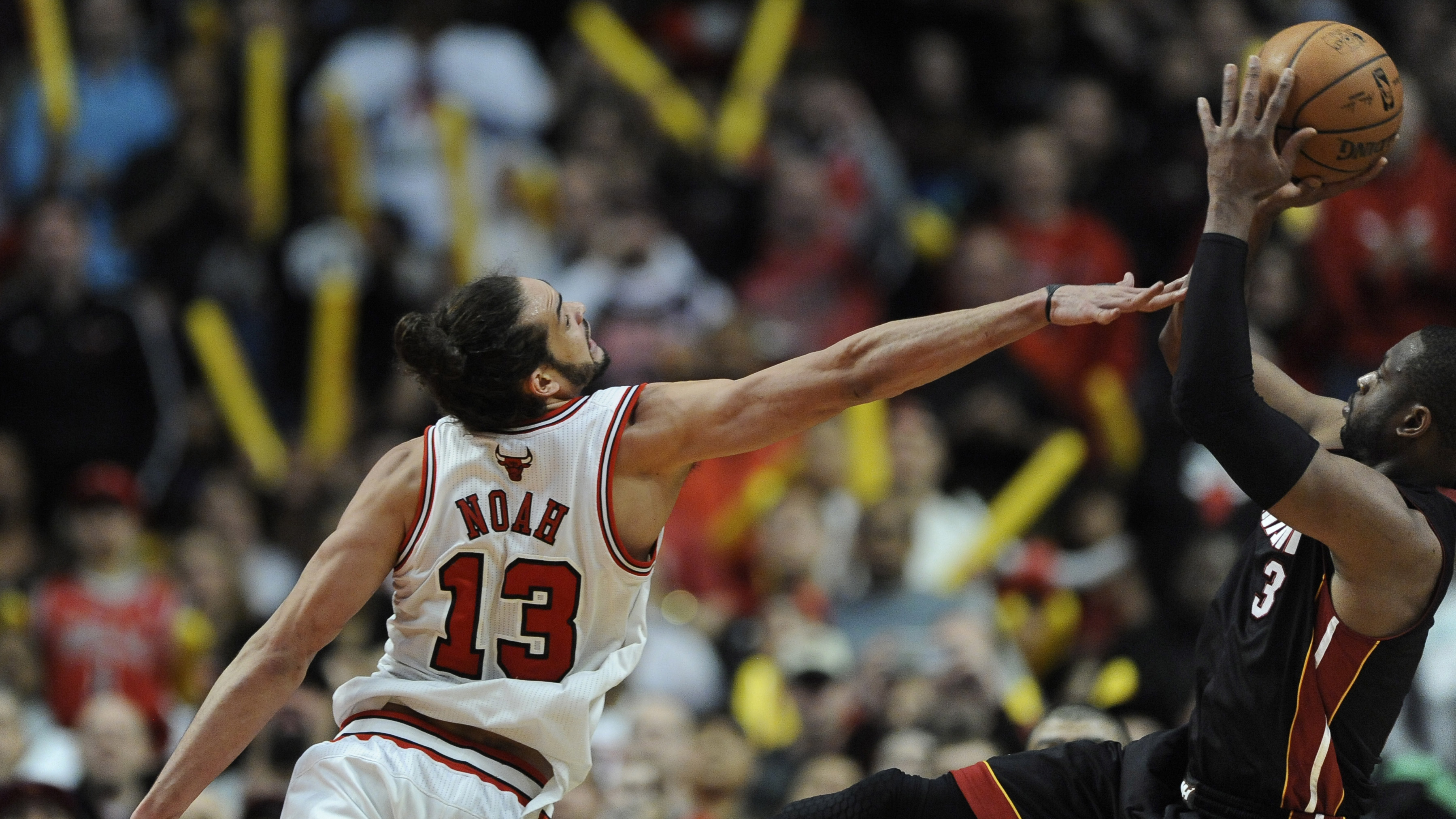 Chicago Bulls
The deal: A healthy Derrick Rose, Defensive Player of the Year Joakim Noah, Taj Gibson, Jimmy Butler, Dougie McBuckets, Mike Dunleavy, Tony Snell and Mike James (!). That's the best roster in the Eastern conference. Now add Melo to the mix. That's how good the Bulls are about to become, if they can convince a big-name FA to join them. The amnesty rule allows them to dump Carlos Boozer's egregious salary to create the space needed to make such a move, as did the Luol Deng trade to Cleveland last season.
The move: For the reasons listed above, the Bulls should go for it and ink Melo if they can get him to agree to come to Chicago. He'd transform an already deadly roster into an instant Eastern Conference powerhouse—and that's even if LeBron & Co. return to South Beach.
Luol Deng and Pau Gasol
The deal: Both former all-stars who have begun the next chapter in their careers and are still very valuable players when healthy (that last part is far from guaranteed). The Knicks were reportedly in hot pursuit of Gasol following the Chandler trade ("Why?" is a decent question) while Deng is a strong option for any team looking for a starting small forward.
The move(s): Pau, you're probably sick of losing and know that you can only perform at this level for a scant few more seasons. So why waste it hoping Kobe Bryant can recover from a torn Achilles and return to form on a Lakers team that may be closer to committing to a re-build at this point? Instead, stay on the west coast and take your talents to the Bay Area, where your size and passing ability from the post will make the Warriors even more fun to watch—if that's even possible. As for Luol, you'd make a great fit on the Atlanta Hawks beside Paul Millsap and Al Horford as guys who may not be the most exciting to watch, but are often overlooked in the big picture. With you on the wing, that's a very intriguing team in the East. If you're looking to head west, though, the Suns are easily the best fit and could use your veteran presence behind the scenes.
Marcin Gortat
The deal: The Wizards picked up Gortat from Phoenix on the eve of the season and then he provided his new team with exactly what they needed: An energetic, active, consistent double-double threat in the middle with rim protection to boot. He turned 30 in February, and he'll be looking to secure a long-term deal.
The move: Before the Tyson Chandler trade, the Mavs seemed like the best fit. But now? You might be best off staying put and hitching your ride to the John Wall/Brad Beal wagon in Washington.
Phoenix Suns
The deal: This is flat-out the most intriguing team in play here, yet still probably a long-shot to land the biggest names. Because their exciting core is so young, Phoenix is just a few small moves away from being able to absorb two max-level contracts and add them to the likes of Eric Bledsoe, Goran Dragic and Miles Plumlee.
The move: If you can convince LeBron to come to Phoenix, do it (hard-hitting analysis, that). But keeping in mind that Bledsoe is a restricted free agent this year and Dragic's contract runs out next season, you'll need to spend wisely in order to retain both and avoid a big step backward. So ultimately, missing out on Melo or 'Bron would keep you going in the direction you're already heading as an organic build centred on young, developing stars. Either way, there's a good deal of optimism surrounding your team moving forward.
Lance Stephenson
The deal: In the words of Bo Jackson, "your guess is as good as mine."*

*This was Bo's answer to all of my questions during an interview at a charity golf event. Maybe I just caught him on a bad day.
Houston Rockets
The deal: With two A-list players already locked up in James Harden and Dwight Howard, the Rockets have a lot to offer any prospective free agent, and it's why the biggest names are scheduled to meet with Houston during free agency. After unloading Omer Asik's grossly backloaded contract to the Pelicans before the draft, Houston is now just a Jeremy Lin trade away from creating enough cap room to offer a max contract.
The move: Here's a brilliant idea: Sign LeBron James. Failing that, sign Carmelo Anthony. Point is, the time to make a big splash is now. And it doesn't have to come in free agency (cue the Kevin Love trade talk).
Los Angeles Lakers
The deal: Well, that was an ugly year for the purple and gold, wasn't it? Yet the Lakers have enough cap room to spend on a max contract (impressive, considering the two-year/$48.5-million extension Kobe signed in November) and you know they want to attract as much star power to Los Angeles as possible. They'll be in hot pursuit of all the biggest names out there, and frankly could use help across the board, so they won't be particularly choosy either. That said, there will be space for an additional major contract on the books following next season, so they could try for the first in a series of big moves to attract LeBron and Melo, or another elite player. Other teams have so much more to offer in terms of the on-court product, and the "prestige" and winning tradition associated with their logo might be the biggest thing they have going for them at this point.
The move: If you can't get LeBron or Melo to town this summer, don't panic and throw your money at the next best guy—someone like Chris Bosh. That tier of player will help you win games, but won't do much for you long-term. Instead either wait for another big move at the trade deadline or 2015 free agency (assuming you're not willing to start over and rebuild—with Julius Randle in tow—the old-fashioned way).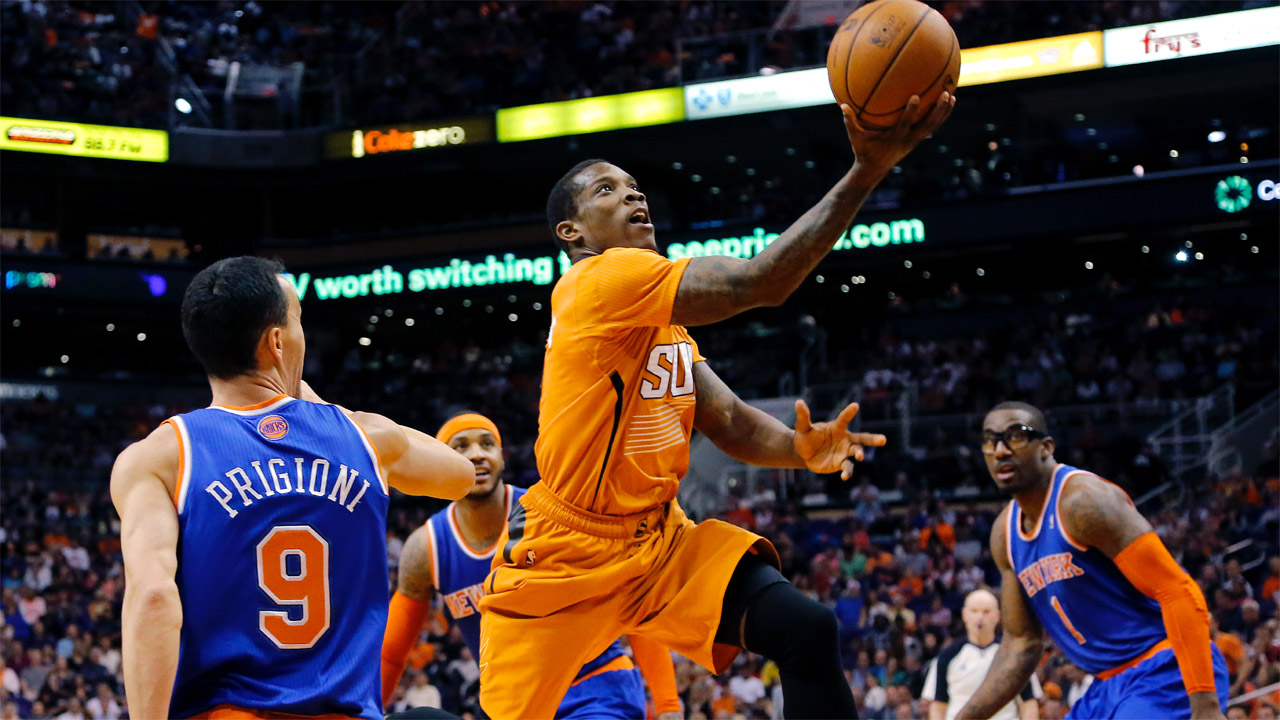 The RFA's
If a team with enough cap room whiffs on one of the bigger targets they could always lob a Godfather offer at one of the following restricted free agents (keep in mind all of these players' current teams can match any offer):
Eric Bledsoe
For a brief moment in time, it wasn't clear that a Dragic-Bledsoe backcourt could work, but Bledsoe's strength and athleticism allow him to move over to the two to allow the Suns' stars to coexist. The bottom line is Bledsoe is a good fit on Phoenix and one of the brightest young stars in the game. Don't be surprised to see the Suns offer him a giant contract before even giving other teams the chance to bid for his services.
Gordon Hayward
Because of the different ways he impacts a game, Hayward could conceivably be the third or fourth best player on a title team one day. For now he's just a solid young player with borderline all-star potential on the right team.
Greg Monroe
Really good, just not as good as we thought he'd be—at least not yet. On a younger team like, say, Cleveland, however, Monroe is a blue-chip player to have going forward, both as a player and trade asset.
Chandler Parsons
Because he was a lowly second-round pick, Parsons spent last season as the NBA's biggest bargain—a title he would hold again next season if the Rockets hadn't declined the team option on his contract. The move avoids a scenario for Houston where Parsons becomes an unrestricted free agent (in 2015), and allows the team to match any offer that comes his way this summer. And there should be plenty, as Parsons has proven himself to be a dangerous offensive threat, be it starting or coming off the bench. Because this is the NBA, you can fully expect a desperate team to throw way too much money Parsons's way once the rest of the dominoes have fallen.
Greivis Vasquez/Patrick Patterson
When these two came to the Raptors they were lauded as much for their potential to contribute on the court as for the fact that both of their deals came off the books this off-season. Fast forward to today: Vasquez and Patterson proved to be massive contributors on the Raps' dangerous second-unit, and have worked their way into the Raptors' plans as the team attempts to sign them to new deals in the coming weeks. But don't be surprised to see other clubs go after both players hard, as they each offer versatility and toughness at their respective positions that most every NBA team values—especially if the price is right. Vasquez's $3-million qualifying offer is likely less than he would garner on the market, and the same can probably be said for Patterson's $4.3-million offer.
Let the bidding begin!