The Toronto Raptors passed the halfway mark of their NBA season on Monday. Don't let the 117-110 loss in Philadelphia — which brought the Raptors' record to a franchise-best 29-13 at this point — overshadow what has otherwise been a historically strong start to Toronto's season.
With 42 games in the books, here's a complete mid-season report card for the 2017-18 Raptors.
KYLE LOWRY: B
Apart from a drop in scoring production, Lowry remains a steady leader for the Raptors and has adapted to the team's new style and the depth of talent around him with relative ease. He looked lost offensively to start the season, but seems to have found a groove playing effectively as both the lead guard and as a three-point threat when sharing the court with one of the team's two other point guards.
At just over 32 minutes per game, Lowry is averaging five fewer each of the last two seasons and is seeing the lowest amount of playing time since his first season in Toronto. The rise and usage of both Delon Wright and Fred VanVleet has been a major factor in the diminished playing time, which is a good thing for a team hoping to have one of it's important players at 100 per cent (or as close as possible) by the time the playoffs roll around.
Despite his reduced minutes, Lowry is still producing at a high level. As mentioned, his scoring numbers have dipped since last season (fairly significantly, from 22 to 16 points per game) as the Raptors' offence has developed more weapons across the board, but he continues to set a tone for his team and contribute in other areas of the game. He's fifth among NBA guards in rebounds, eighth in three-pointers made and 10th in assists.
He also sends a clear message to his teammates in the way he's willing to sacrifice his body for the team, leading the league in charges drawn at 0.56 per game.
Extra credit for a fairly bad-ass response to Ben Simmons on Monday.
DEMAR DEROZAN: A+
We're not sure what more you could want from DeRozan at this point in the season.
Like Lowry, his scoring is down (albeit by only about two points) and it's a good sign for the team as they develop scoring weapons around their go-to star. Meanwhile between 40- and 50-plus point games, DeRozan has continued to evolve his game (an annual trend), making a noticeable leap in his decision-making with the ball and when met with double or triple-teams. He's also developed his three-point shot into, if not a consistent weapon, at the very least a trait that is no longer a liability.
He's made a steady habit this season of stepping up big late in games, executing with a deadly floater, his signature mid-range game or attacking the rim to put teams away late.
So it should come as no surprise that he's making noise in the MVP discussion, currently in the top 10 of Basketball-Reference's MVP tracker. He won't win the award, but it's a good way to place DeRozan's stellar first half in context around the Association.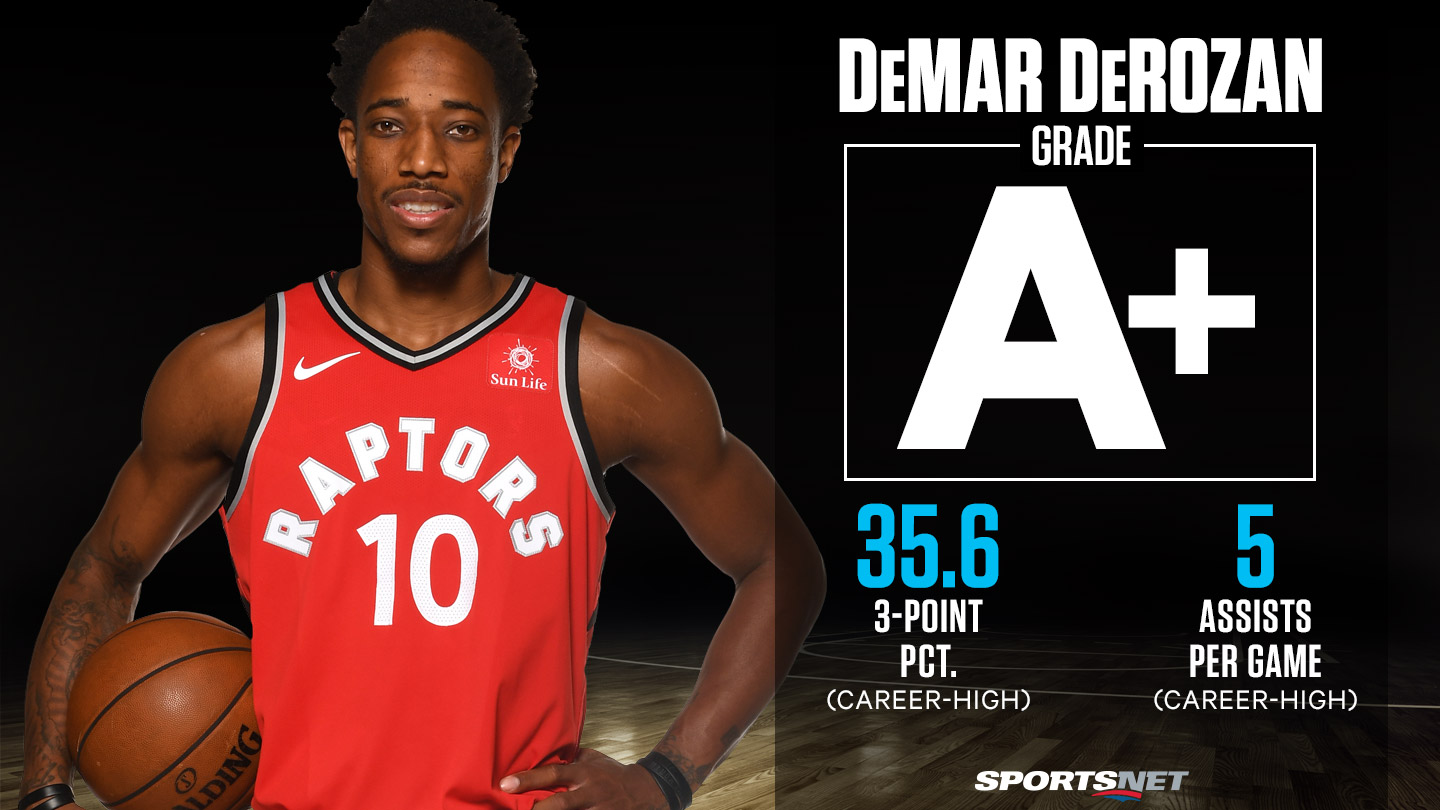 OG ANUNOBY: A-
Anunoby has quietly hit the rookie wall of late, which is causing some of his advanced statistics like defensive and net rating to drop from the elite rates earlier this season. But stepping back to look at the 20-year-old rookie's first half shows he's been found gold for a Raptors team that has been searching for a starting small forward in the three-and-D mould for a long time.
They've found that in Anunoby, who entered the season recovering from knee surgery earlier in 2017, yet has since started 30 games (in which his team has a tidy 22-8 record) while flashing his two-way potential in matchups with some of the NBA's most lethal scorers. Not a bad bounty from the 23rd overall pick for Masai Ujiri & Co.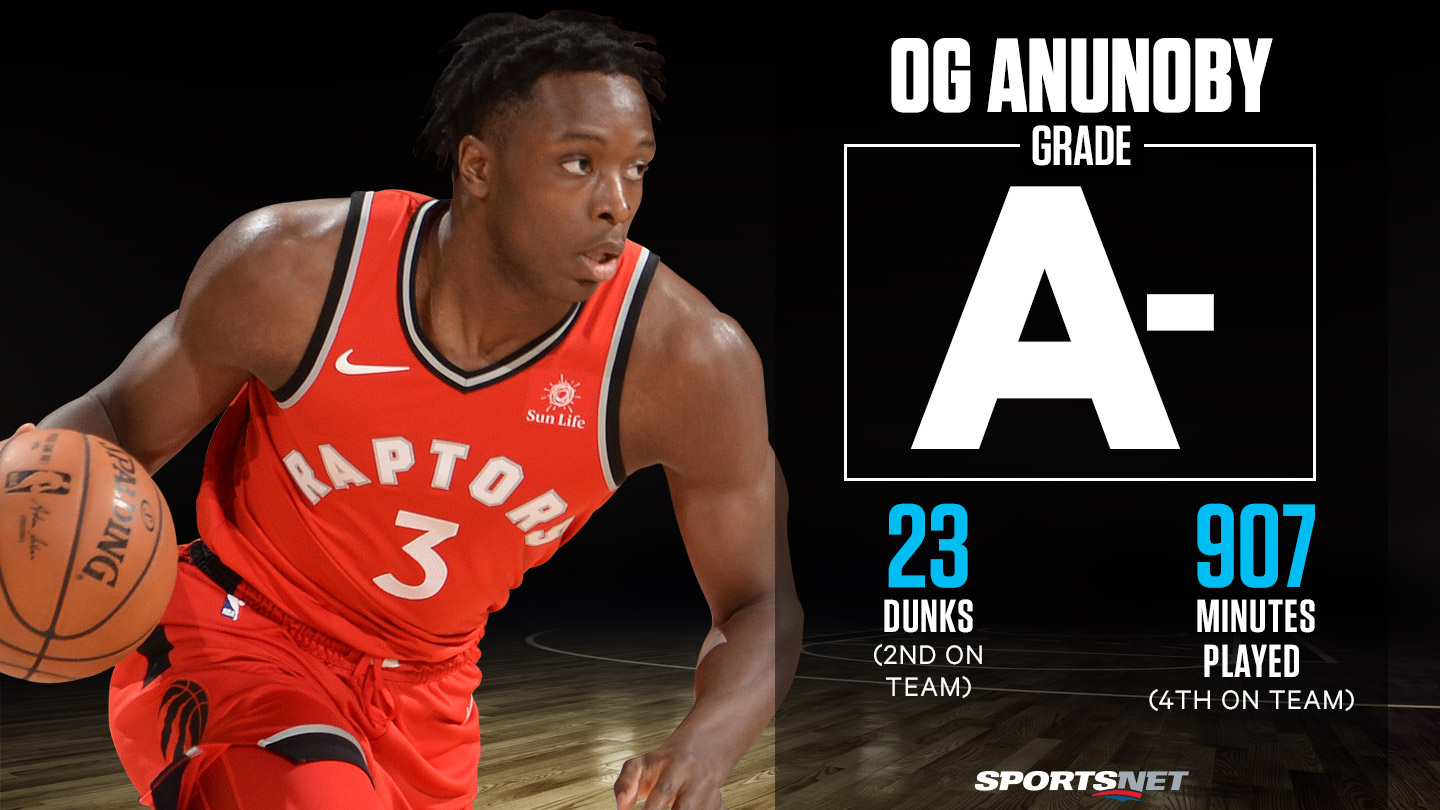 SERGE IBAKA: B+
It's hard to quantify it, but Ibaka has provided a presence to the team that adds an air of legitimacy to their contender status. He's been playoff-tested and, like the team's other leaders in Lowry and DeRozan, helps to establish something of a nasty tone for others to follow.
What you can quantify is Ibaka's impact on the court, where he's found his place in the Raptors offence after looking out of place too often down the stretch last season. He's emerged as a consistent tertiary scoring option, and has scored in double figures in all but one game since Dec. 1.
Ibaka will likely never be the defensive presence he once was in Oklahoma City, but he's formed a nice pairing with Jonas Valanciunas where he's able to cover for JV's deficiencies on that end of the court. His 1.5 blocks per game leads the team.
JONAS VALANCIUNAS: B+
As mentioned, sharing the court so often with Ibaka has helped to cover some of the weaker aspects of Valanciunas' game. In the same vein, the emergence of a complementary backup like Jakob Poeltl has also helped shield the Raptors' starting centre of criticisms of years past, meaning head coach Dwane Casey doesn't have to leave JV on the floor when the matchup is unfavourable.
His 21 minutes per game are the lowest in his six-year career, but it's helped to highlight his strengths. Valanciunas has been a model soldier in accepting a slightly-reduced role. When he is on the court, he's been a force down low, with 10 double-doubles on the season — eight of those coming over the past month.
DELON WRIGHT: B+
As I wrote about a couple weeks back, Wright has become an incredibly valuable asset coming off the bench for the Raptors. His ability to weave his way through traffic and get to the basket routinely disrupts defences, and his six-foot-five frame and long strides offer a nice complement to Lowry.
He went a stunning 5-of-6 from deep (in 19 minutes and change) on Monday, and is shooting the three at a career-best rate of 39 per cent with plenty of room for improvement. You can't help but imagine the growth in his playmaking, too: Wright is a smart and willing passer but only averages four assists per 36 minutes, which may speak to his utilization more than anything.
JAKOB POELTL: A
I can't really find any faults in what Poeltl has brought to the table for the Raptors this season. He has incredible hands and is able to catch and finish in traffic and on the run, where his deft footwork is stunning at times given his giant seven-foot frame.
Poeltl is shooting 65.5 per cent this season and has started to carve out a role as the Raptors' closer down the stretch of games, where his size, mobility and ability to both attack and protect the rim seems tailor-made for a big man in today's NBA. The 22-year-old sophomore might be the Raptors' most untradeable young asset.
PASCAL SIAKAM: B+
Siakam's energy is irreplaceable on this roster and his ability to zoom past opposing bigs helps his team put points on the board in a hurry. But that's just one part of an ever-growing game that makes it hard for him to hide on either end of the floor.
He's become one of the Raptors' most utilize bench pieces, and is a big reason the second unit has been such an asset. The biggest knock on Siakam has been the de-evolution of his three-point shot. His three-point rate is unchanged from last season … at a lowly 14 per cent. The only difference? He averages two three-point attempts per game this season, compared to 0.1 last year. Those numbers will have to change for Siakam to maximize his potential when on the floor.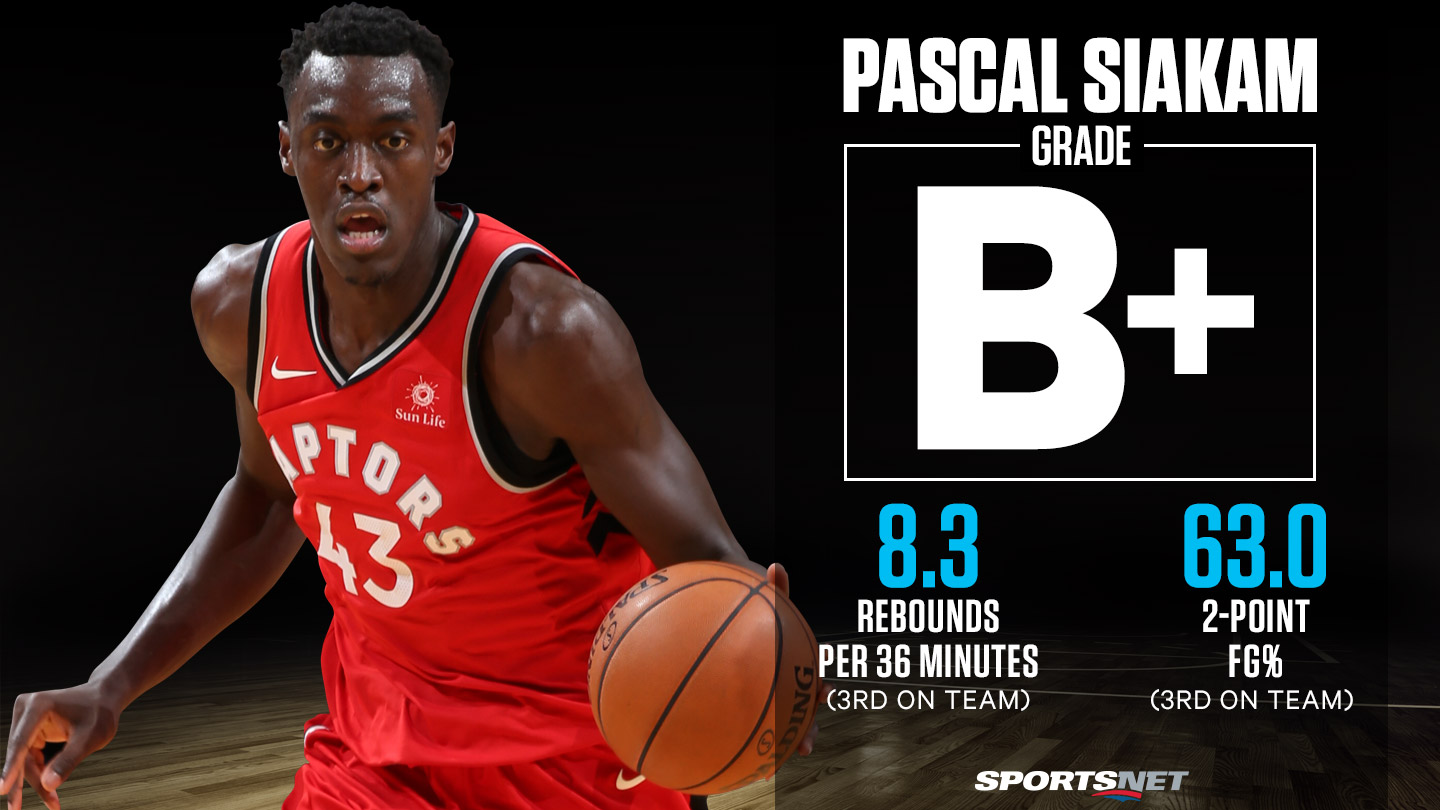 CJ MILES: B-
Miles is a tougher one to evaluate. He's certainly provided a boost from behind the arc for the Raptors and is at times an unconscionable shooter. Halfway through his first season as a Raptor, Miles is still trying to find his place on the team. At 18 minutes per game, the 30-year-old vet is seeing the floor less than he has in a decade, but he's making (and attempting) more threes than he ever has, and knocking them down at a decent 37.7 per cent clip.
Miles is a useful weapon for the Raptors and has the resume to be a strong closer on the court in crunch time — which makes his missed free-throws at the end of last weekend's Warriors game hurt that much more.
FRED VANVLEET: A-
VanVleet, not Wright, is Casey's go-to backup ball handler, and assumes lead guard duties when he shares the court with the other Raptors point guard. It's no surprise that he's become a favourite of his coach, thanks to his reliability with the ball in his hands and a consistent effort level.
The way he's stepped up in big games versus the NBA's marquee clubs says it all. VanVleet's progression from training camp tryouts to important rotation player is a legit feel-good story.
NORMAN POWELL: C
After a promising start to the season and a gig in the starting lineup, Powell's decline has been dramatic. His minutes are only down slightly from last season but with the emergence of VanVleet, Wright, Anunoby and Miles, his playing time is in serious jeopardy going forward. Here's betting he turns it around and finds a role on the team before the playoffs begin, but it'll be an uphill battle.
Most worrying for Powell has been his shooting, which seems to come from a shakiness and hesitation that we're not used to seeing from him. He's shooting a career-low 39.5 per cent from the floor and a worrisome 29 per cent from deep, numbers that will have to turn around for him to find a place on this team going forward.
Apart from his shooting rate, his numbers aren't all that different than last season, but there's clearly something missing this year. Because we expected so much more from the third-year guard heading into the season, his lack of production can feel like such a letdown.
LUCAS NOGUEIRA: B-
When he plays, Bebe rarely fails to make an impact but — stop me if you've heard this before — injuries have seen the fourth-year centre's role and minutes falter as the season goes on. Still, in just 10 minutes per game he's second on the club with 1.2 blocks, and in the right matchup (like last week versus Miami) could still have his moment to shine at some point this season.