Watching the last three games of the NBA Finals, it's hard to imagine that there were scores of sports fans calling Cavaliers-Warriors trilogy 'boring', or that their inevitable rematch is part of why the 2017 playoffs 'sucked'.
We were treated to a Finals matchup featuring all-stars and future Hall of Famers battling in their primes, culminating in a thrilling Game 5 matchup in which legacies were made and cemented on both sides of the ball. And while the rest of NBA post-season may have lacked nail-biters and buzzer-beaters, there were still plenty of performances that we'll remember for years.
So let's take a look back at the 2017 NBA playoffs and hand out some well-deserved awards:
Playoff MVP: LEBRON JAMES
Kevin Durant earned his Finals MVP award, posting scoring numbers we haven't seen in nearly 20 years — all while acting as the primary defender on LeBron James.
James averaged a triple-double in the Finals, the only player to do so, but he was consistently incredible throughout the post-season. He's the reason the Cavaliers had a fighting chance to take a game or two off the historically good Warriors in the first place, and was the reason the Cavs trounced every other team that stepped in their path en route to the Finals. James ran up against a virtually unbeatable team, but until then was literally unbeatable by himself.
In the process, he took his game to another level, coming up with big plays when his team needed them and performing with incredible efficiency. In 18 post-season games James averaged 32.8 points, 9.1 rebounds, 7.8 assists, 1.9 steals, and 1.3 blocks while shooting 56.5 per cent from the floor and an impressive 41.1 per cent from deep, making two and a half threes per game.
And James had plenty of ridiculous highlights, to boot. There was this opening salvo against the Raptors:
And of course his self-alley-oop in the Cavs' lone Finals win:
But my personal favourite was this moment in last night's loss, when James channeled his inner-Shaq:
Durant played out of his mind in the Finals and Curry was in MVP form all playoffs, but in the wise words of Rihanna, "The King is still King."
Breakout Performer: GIANNIS ANTETOKOUNMPO
The Greek Freak may have only played one round in the playoffs — his Milwaukee Bucks lost to the Toronto Raptors in six games — but it was enough time to put the NBA on notice.
Antetokounmpo had already enjoyed a breakout regular season campaign, earning his first All-Star berth while leading the Bucks to the post-season. But with running mate Jabari Parker sidelined with injury, his jaw-dropping one-man-show routine versus the Raptors was nearly enough to knock out a team that had reached the Conference Finals the prior season.
This wasn't his first playoff appearance — that came in 2015, when he averaged 11 points on 36 per cent shooting and seven rebounds — but holy hell was it his best in what could be a long reign of playoff dominance. In 2017, Antetokounmpo averaged 24.8 points, 9.5 boards, four assists, 2.2 steals and 1.7 blocks on a wildly improved 53.6 per cent shooting. He also did things like this:
After what we saw this post-season, it's not all that hard to imagine The Alphabet, just 22 years old, as the best player on the court on the NBA's biggest stage in the not-so-distant future.
Defensive Player of the Playoffs: DRAYMOND GREEN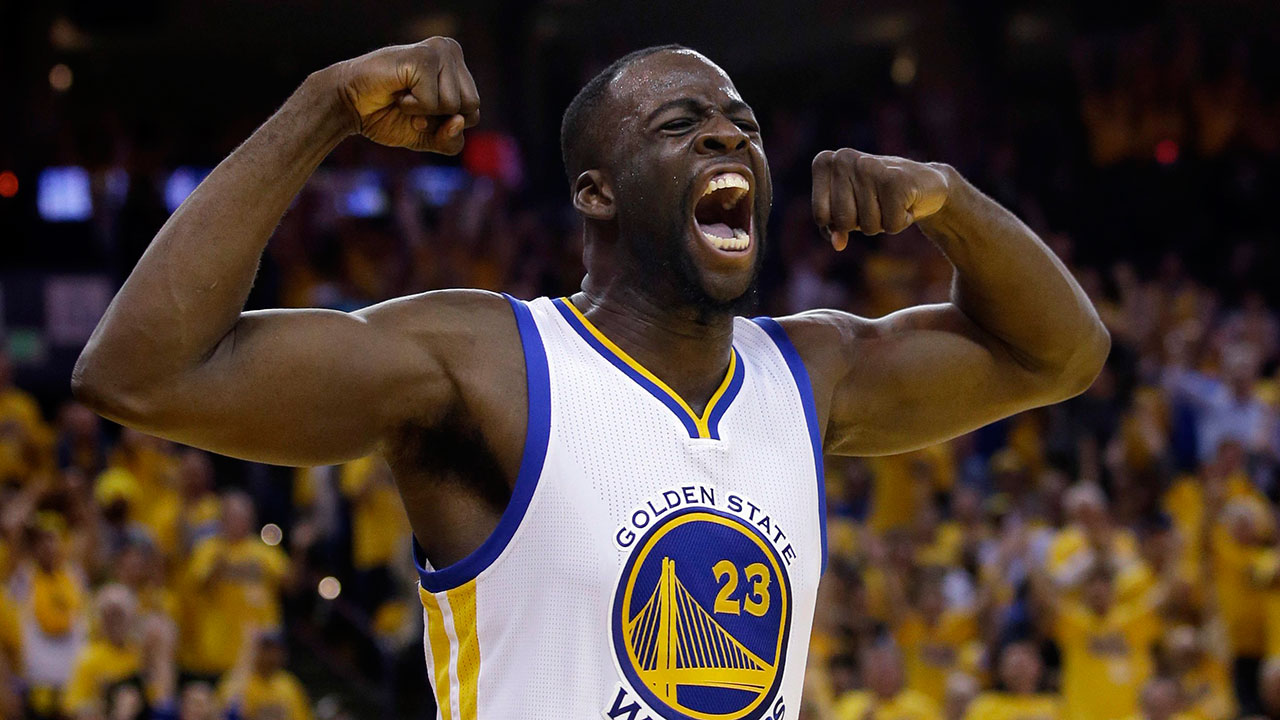 Green's role quarterbacking Golden State's unique, switch-heavy defence was instrumental in its 16-1 playoff run. Of all starters he had the best defensive rating in the playoffs at 98.6 (lower is better), and that number dropped to 83.5 in the fourth quarter.
With averages of nearly two steals and two blocks per game, Green continued his dominant regular season with clutch plays like this one:
Sixth Man: ANDRE IGUODALA
The perfect player playing the perfect role, Iguodala was predictably effective off the bench for the Warriors, where his combination of defensive ability, basketball intelligence, passing, athleticism, hustle, and clutch shooting all proved key at different parts of the playoffs.
The numbers won't stand out to you with a playoff line of 7.2/4/3.2/0.9/0.4, but all you had to do was watch a Warriors game to see the impact he had on his team. Iguodala's performance in the title-clinching Game 5 — a playoff-high 20 points on 9-of-14 shooting — sealed the deal for an award that was his to lose.
ALL-PLAYOFF TEAMS:
First Team: Kyrie Irving, Steph Curry, LeBron James, Kevin Durant, Draymond Green.
Second Team: John Wall, James Harden, Andre Iguodala, Kawhi Leonard, DeAndre Jordan.